Top 10 Ways to Improve Productivity While Working from Home
It sounds like a dream come true-working from home! Slippers to the office every day! No commute! Surrounded by your loved ones in your happy place! The freedom to work from a coffee shop or park if you want!
Have you been moved to working remotely by your company due to the corona virus? Are you finally starting your own company, the one you've been dreaming of? If you need help setting up your company at the federal and state level, GovDocFiling.com has one simple form to help you start your business. Need help with a DBA, credit card processing or bookkeeping, we can help you there as well.
As long-time remote workers will tell you, however, working from home can lose its luster. With no one looking over your shoulder, it becomes easy to postpone important tasks to later. Your child asks for attention and doesn't understand why you don't hop to like you do over the weekends. Hey, there's the TV and your favorite gadgets-wouldn't it be more fun to play with them than to work? And working from a coffee shop is all well and good until a global pandemic closes them down, making "work from home" feel more like "house arrest."
The truth is, working from home productively is an art and a skill that takes motivation and practice. Here are ten ways to improve productivity while working from home:
Establish a Morning Routine
No one rolls out of bed ready to work. That alarm clock you hated, the commute you despised-they actually served a purpose, getting you up and getting you ready. A morning routine is like warming up for a race. Ticking boxes on a checklist of rituals gives remote workers a chance to practice self-care and wake their brains up for work. Your morning routine could include:
Wake up with a cup of coffee and some vitamins.
Go for a short jog or walk.
Scan the news or do some light reading.
Prepare a light breakfast for yourself or your family.
A quick activity with your kids.
favorite show or podcast.
Get Dressed!
You don't have to wear business casual around the house, but too many days in your pajamas and you start to feel like a slob. Don't let grooming and hygiene go by the wayside just because no one will see you work. Especially if you have a spouse, do it for their sake! Take a shower, freshen yourself up, and dress for success. Maybe dress like you would to a garden party. Now you're ready for a remote workday.
Designate Office Space-And Defend It!
Working from home means freedom, but that freedom can betray you. If you plop down with your laptop on the sofa where you regularly watch TV, that remote control may be too tempting to resist. Instead, designate part of your home as your "office." This is your "workspace," and when you sit down at your desk, you are in "work mode." Preferably it has a door you can close so your family can respect the boundaries of your work. Even if it's just a desk in the corner of the living room or garage, try to face it away from distractions and set a boundary-when you're here, you're working!
Get a Great Chair
Speaking of sitting down at your desk, the quality of the chair you sit in makes a difference in your productivity. You will be in that chair for hours, so invest in a comfortable, ergonomic chair as office managers do. Your body will thank you in the form of reduced back pain and better blood flow.
Set Your Schedule-And Stick to It!
Without supervisors cracking the whip, a remote worker must be self-motivated. Starting to work "whenever" usually doesn't cut it. You could wind up behind on critical tasks and have to extend you workday to "family time." On the other end, not having a "clock-out" time means your work can literally follow you home-because you are home. Set a "clock-in" and "clock-out" time and stick with it. Children especially (and some spouses) may have trouble understanding that you are "here" but not available, but this can be an important lesson in respect and boundaries for them.
Build In Breaks
While you are putting together that schedule, make sure to include break times. Employers are required to give employees breaks, and you should give yourself breaks too. If you work too long and continuously, your mind starts to get foggy and your productivity will suffer.
Turn Off Notifications
vices demand our attention even more than our children, sometimes. They chime with notifications of news, social media messages, text messages, dating app match notifications, app updates … all the critical stuff. This is why some offices insist that employees silence their phones while at work. You should consider a similar policy. With your phone distracting you every few minutes or seconds, it can be hard to focus and be productive. Consider silent, "do-not-disturb," or switched-off modes.
Create Structure
You may be able to set routines, start/end times, and a controlled workspace, but once you are at your desk and ready to go … what do you do? If the answer is "everything" or "whatever you want," it can be hard to know where to start. Impose structure on your remote workday in whatever ways set you up fo success. You can divide your calendar day into hourly tasks managed off a calendar, or you can manage to-do lists and outboxes with a task-organizer app like Trello or Asana.
Resist Clutter
When you wok from home, there's no one to empty your wastebasket. You are in charge of managing your own clutter. Paper that arrives on your desk might go "out" in a digital scanned format, but there's no other desk for that physical piece of paper to go to. Improve the productivity of your remote work by decluttering your workspace at least once a week.
Establish a Nighttime Routine
Just like a good morning routine can prime a remote worker for a productive day, a good nighttime routine can help you prepare for the next productive workday. Set the tone for tomorrow with one or more of the following evening tasks:
Make a "to-do" list for tomorrow.
Write down the #1 most important task for tomorrow and lay out the materials for it so you can hit the ground running.
Review at least one piece of reading material you know you'll use tomorrow.
Working from time can be a blessing and a curse, but with the right tools, mindset and a little bit of planning, you can be as successful at home as you are at the office. If you have not yet completed your business formation and are unsure which business entity is right for you, take this simple survey. Our simplified, one page form can help you set up your business at both the state and federal level, click here to get started.
About the author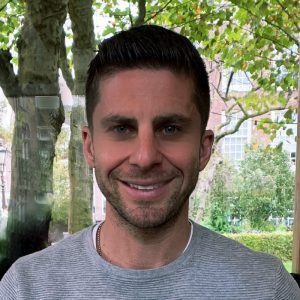 From selling flowers door-to-door at hair salons when he was 16 to starting his own auto detailing business, Brett Shapiro has had an entrepreneurial spirit since he was young. After earning a Bachelor of Arts degree in Global and International Studies from the University of California, Santa Barbara, and years traveling the world planning and executing cause marketing events, Brett decided to test out his entrepreneurial chops with his own medical supply distribution company.
During the formation of this business, Brett made a handful of simple, avoidable mistakes due to lack of experience and guidance. It was then that Brett realized there was a real, consistent need for a company to support businesses as they start, build and grow. He set his sights on creating Easy Doc Filing — an honest, transparent and simple resource center that takes care of the mundane, yet critical, formation documentation. Brett continues to lead Easy Doc Filing in developing services and partnerships that support and encourage entrepreneurship across all industries.