Gusto is among the most popular online payroll software solutions in the market, and for good reason. As you'll find out in this comprehensive Gusto review, the platform offers more than just automated payroll services.
With Gusto, you'll be able to file taxes automatically, hire employees, keep track of all your important forms like W-2s and 1099s, track time, administer benefits, manage your teams, and review their performance.
What's more?
Unlike most online tools out there, Gusto was made with contractor-based employers in mind. There's an exclusive plan for contractors only that such businesses can take advantage of.
This Gusto review discusses all these features in detail, so you can decide if Gusto is the employee management solution you're looking for.
Let's get started.
Gusto Review at a Glance
Launched in 2012 as ZenPayroll, Gusto proudly serves over 300,000 businesses and processes tens of billions of dollars in payroll. The platform supports both manual and automated payroll taxes for all 50 US states.
Gusto is among the top online payroll solutions helping businesses hire, pay, and manage employees and contractors. It was built for small businesses and startups, allowing them to manage both remote and on-site employees easily.
Most Gusto customer reviews suggest that the software is easy to use, has a friendly interface, and has lots of useful features.
The next section of this Gusto review will expound on each of these features.
Gusto Features
Here are some of Gusto's key features discussed in detail:
1. Payroll
Gusto's payroll feature is easy to use and provides flexible options to manage your team's payments. You can automate this feature and have it run on autopilot by simply setting your employee's salaries or hourly rates on their profile and including their payroll run dates.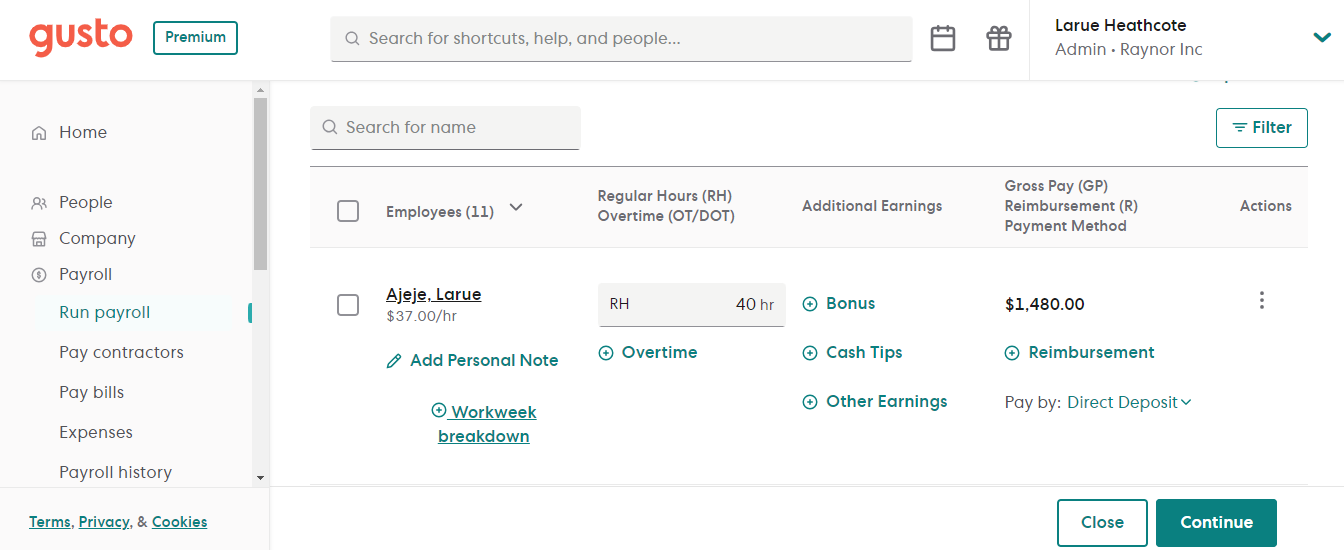 Image via Gusto
Alternatively, you can choose to run your Gusto payroll manually. Gusto lets you do this in three easy steps.
You'll need to check your employee hours
Enter employees' paid time off if any, or deny or approve time-off requests
Preview your payroll, then submit it.
The process will be a bit more lengthy for contractors since their payment amounts are not automatically pre-set.
Gusto allows you to have varying pay dates for different employees, so you can run your payroll at varying times. For instance, you can make weekly, monthly, biweekly, or even annual payments.
You can run your payroll as many times as you need to every month without incurring any extra costs.
There's a direct deposit option for users on all plans. For the lowest-tier plan, you'll get 2-day and 4-day deposit timelines. If you upgrade to the Plus plan, you can get next-day direct deposits, allowing you to prepare your payroll one day in advance.
2. Payroll Taxes
Gusto lets you run payroll taxes regardless of where your employees are located in the US. These taxes are also filed automatically with no extra charges.
The platform keeps a record of employee income and pay stubs. Employees can then have lifetime access to all these records from their respective profiles.
Gusto also organizes and stores your W-2s, 1-9s, and 1099s online in your Gusto account so your team can access them each year for tax returns.
3. Employee Benefits
Gusto allows you to set up employee benefits easily. As you'll learn in this section of this Gusto review, the platform's provisions go beyond the basics.
The options provided will set the tone for the benefits you want to avail to your employees.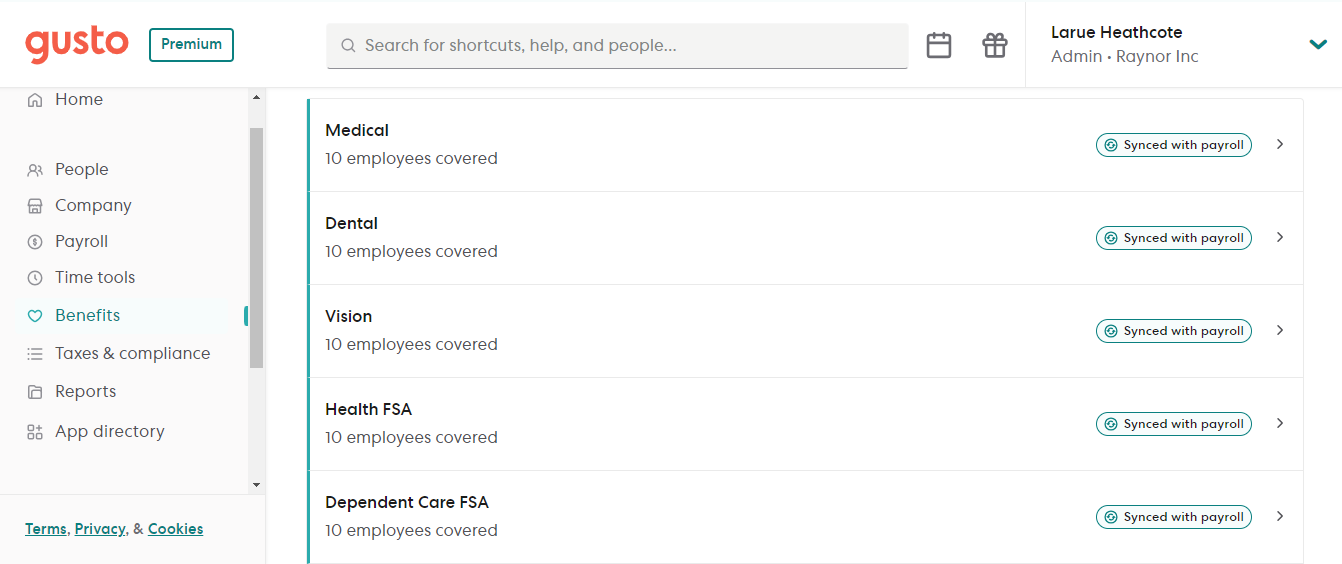 Image via Gusto
Let's review some of them below.
Health insurance benefits: Gusto allows you to set up group dental, health, and visual medical insurance for your employees. Other benefits you can set include health savings accounts, disability insurance, life insurance, flexible savings accounts, etc.
You can set up a new health benefits plan and have Gusto as your broker at a fee, or add an existing plan or switch brokers from Gusto's benefits platform. Employees can opt in or out of these plans at will through the platform.
Wellness benefits: Here, you can add some wellness benefits to your account, such as housing benefits, stipends, etc. The system will automatically track these and tax them accordingly.
401(k) benefits: Set up a retirement savings plan for your employees with Gusto's 401(k) ever-growing list of partners. Employees are more likely to participate in such contributions if their employers provide the opportunity.

And if you already have a 401(k) set up for your employees, you can move them over to Gusto. This is, however, only currently available if you're working with any of Gusto's partners. Your team will also be able to access their contribution details from their Gusto account.
Worker's compensation: This form of insurance is a requirement in most US states, and Gusto helps you set it up easily. It protects your team in case there's an illness or worse still, an injury that occurs as a direct effect of their job.
If you set up your workers' compensation with Gusto's partner, NEXT Insurance, you will not need to pay lump-sum premiums as is required with most insurance companies. Instead, your premium will be spread out over a year and the deductions will be made every payroll.
Commuter benefits: You can also set up commuter benefits to help your employees pay for commuting expenses or manage other car perks.
College savings: This allows employees to make post-tax contributions towards college tuition fees. Gusto partners with Gradvisor to administer a 529 college savings plan to make this possible.
Charity matching: This benefit allows your employees to donate to charities of their choice by having the deductions be made directly from their paychecks. Employees get to choose the amount they would want to contribute each month.
You'll be able to sync these benefits with payroll so the contributions are deducted accordingly. I.e, you'll specify how much the employer and employee contribute toward each benefit and it will reflect accordingly on your team's payroll.
You can also add custom benefits for your employees besides the ones provided by Gusto.
4. Time Tracking Tools
When working with hourly employees, it's crucial to have an effective time-tracking tool. Gusto provides a built-in time tracking feature, as well as a Time Kiosk feature, in case you need your employees to clock in and out from their devices.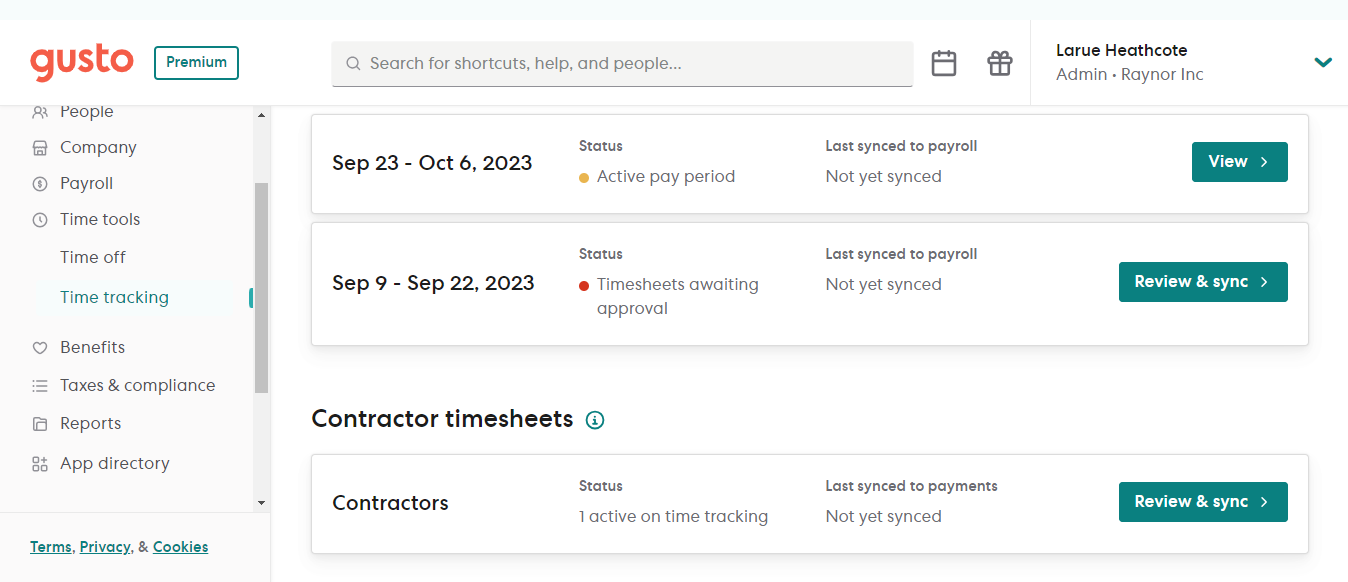 Image via Gusto
This is also the feature that manages your employee time-off schedules. Here, you'll find some standard paid-time-off suggestions such as paid sick leave and holiday leave. Gusto also makes it easy for you to create your own paid time off policy.
This feature is as easy to use for your employees as it is for your HR team. Here's everything employees can do from their Gusto time tool dashboard:
View accrued and used time off
Initiate a time off request. Here Gusto provides 10+ options to choose from, including parental leave, bereavement, sick leave, etc. You can then enter the dates for your request.
Your employees can perform the above activities from the Gusto Wallet App as well.
Gusto's time tracking features are only available on the Plus and Premium plans only. The Time Kiosk feature is available as an add-on in the Plus plan and is included in the premium plan.
Users on the Simple plan can only integrate the platform with external time-tracking applications to be able to run hourly projects and sync those up with employee payrolls.
Gusto provides a list of top time tracking applications you can easily integrate with, such as AttendanceBot, 7Shifts, ClockShark, etc.
5. Recruiting and Onboarding
Let's review how Gusto helps HR teams streamline their hiring and onboarding process.
Gusto provides a recruiting and onboarding feature, and it's available on all plans. However, the Simple plan has only the basic recruiting features, while the advanced features are on the Plus and Premium plans.
Here are some of the items that you can expect from this feature:
Custom onboarding checklists for your new hires. This helps you keep track of all the requirements you'll need to get your employees set up, including items like benefits, signing contracts, etc.
Online offer letter templates that you can personalize to fit your job posts and save for reuse. This way, when you're done with your interviews, you can easily send an offer letter and await your response.
Customizable job post templates. Here you can post a job listing publicly and be able to track the applications that come along.
Besides these useful functions, Gusto also allows you to share important documents online and request e-signatures while at it. This makes the hiring process incredibly seamless, as you'll be able to connect with your employees remotely.
All your documents will be stored online for easy access too.
Gusto provides personalization features for your onboarding process to help make your new hires feel like they're part of your team. For instance, you can easily send a digital welcome card to your new employees once they sign your offer letter.
You can also integrate the platform with other external hiring applications and easily track your workflows. There's a list of options, and you're likely to find some of your preferred onboarding apps on the list, like Jazz HR, ApplicantPro, and Ashby.
6. Talent Management
Besides payroll and recruitment, HR officials need to nurture employee talent to optimize productivity. Being an all-in-one human resource management tool, Gusto provides a few crucial talent management features to help make this possible.
The first is a feedback-based feature that is meant to nurture and retain talent. This feature allows team members to provide performance reviews to other team members. The options include:
Self-review
Manager review
Upwards review
Peer review where employees can request feedback from their peers and so forth.
This saves companies the trouble of having to find a separate performance review tool. However, if you still need a more nuanced performance management application, Gusto allows for such third-party integrations.
Some applications on the list include Culture Amp, Engagedly, and Trainual, among others.
7. Reporting and Insights
Gusto provides holistic insights to help you understand your team and improve performance. One of them is that you can send anonymous surveys to your employees to review their level of satisfaction in their positions.
This way, you can be able to take action on the feedback they provide. You can also complete these survey results over time, identify trends, and make changes.
The platform also provides reports including time-tracking contractor reports, payroll reports, and more. You can create custom reports for your specific needs, for instance, if you want to apply for a loan.
8. Employee Portal Access
Gusto allows your employees to manage their tasks by allowing them access to their personal Gusto accounts. Through the employee portal, they can perform lots of different tasks including.
These tasks include:
Choose which benefits they'd like to be a part of and track their contributions
Review paychecks and track income
Download onboarding application documents
Sign onboarding documents or any other crucial contracts
View paystubs and create different savings accounts through the Gusto Wallet Application
Fill in personal details into the Gusto system during onboarding. This reduces administrative work for HR officers.
Request for paid time off, and more.
Some payroll providers do not give employees access to their payment details for long periods of time. But with Gusto, if employees lose their payment stabs, they'd still be able to access these records years later from their profile.
9. Compliance
It can be difficult to keep track of labor laws and other compliance requirements. Gusto sends compliance alerts in case there are any changes to state or federal labor laws.
Other built-in compliance policies include ACA, HIPAA, and COBRA. These are especially useful when administering benefits to employees.
10. Customer Service and Support
Gusto offers a wide range of customer support options for businesses, whether you're on the Simple or premium plan. You can reach their team via email, phone, or live chat and you'll be able to get in touch with human representatives.
This is very useful for users who are new at setting up payroll and employee benefits
Besides, if you want priority payroll support, you can have it as an add-on feature or access it on the Premium plan. Premium plan users also get a dedicated customer support manager and access to HR experts.
There are also additional DIY resources to help you complete tasks, such as:
A resourceful help center
Onboarding checklists
HR resource center
Step-by-step guides
A blog section and more.
The only downside is that customer support is not available on weekends.
This next section reviews Gusto's unique features.
What Sets Gusto Apart?
Gusto comes with a few additional features that set it apart from most other HR solutions. Let's review what these features are.
Paycheck Splitter
This feature allows your employees to split their paychecks between different accounts, choosing how much money gets deposited where. This way, employees can set their financial targets and achieve them easily.
It's all possible on the Gusto Wallet App, which comes with different financial benefits to employees.
Gusto Wallet App
This application is useful for your team. It allows them to access, track, and save their money on the go. It's a financial wellness tool to help employees create savings accounts (up to five) and allocate contributions to each account as they deem fit.
Further, this feature allows employees to transfer money from their savings accounts into their spending accounts instantly.
The Gusto Wallet App includes a Visa debit card to make transactions easier. Employees also get to set up direct deposit, earn more interest, and withdraw money freely in up to 37,000 ATMs countrywide.
If you use Gusto for your HR management, then your employees can benefit from some of its budgeting tools as well.
They can set up their budget monthly expenses and track how their spending stacks up every month. This way, they'll get to monitor their spending habits right from their Gusto spending account.
All these financial additions are crucial and are not included with lots of payroll services out there.
Domestic and International Payments
Depending on the budgets allocated to each task, companies tend to hire full-time employees for some roles and contract other roles to temporary employees. Such gig-based contracts are sometimes international too.
With Gusto's payroll, companies can hire contractors from different countries without worrying about pay rates or schedules. The software can support such contracts as seamlessly as it does domestic full-time employment.
Forms such as W-8 BEN (E) and W-8 BEN are available on the Gusto platform to be filled by international contractors. This is to ensure that all contractors remain compliant with US tax laws.
The next section of this Gusto review takes you through how to get started with the platform.
How To Get Started With Gusto
As an employer, getting started with Gusto is easy. Once you provide a few details about your company and employees, you'll be taken through an interactive demo.
This demo gives you a review of what your Gusto account will look like. These include:
Your payroll dashboard
Time tools
Downloadable forms and
Benefit dashboard
Report and more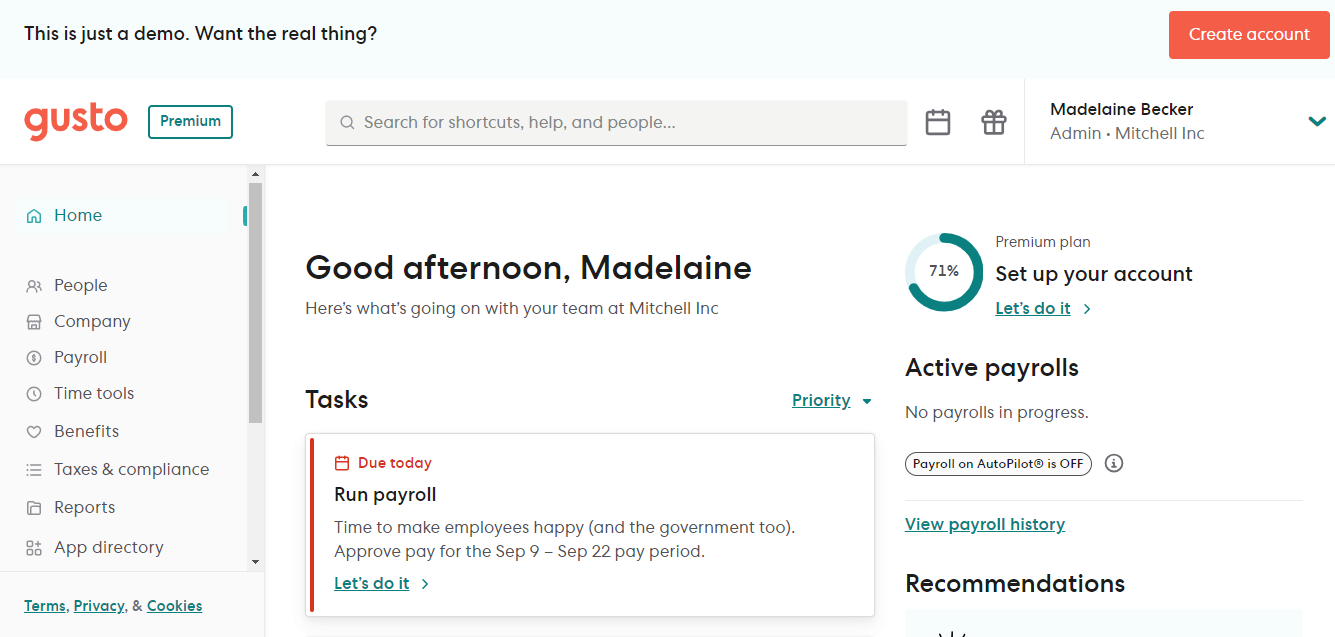 Image via Gusto
Gusto will not charge you any setup fees and you can request assistance from the team, for instance, when setting up your payroll or adding benefits.
Depending on what you're going for, you can then choose a plan.
The lower plans offer fewer recruiting and payroll capabilities and you can upgrade for advanced functions as your business grows. There are also a few add-ons that you can include to further customize your plans.
Employers can also give their employees access to their Gusto account so they can set up their profiles. With this access, employees can sign employment contracts, view their paychecks, update their personal information, and more, as mentioned earlier.
Next, we'll review Gusto's pricing, and see if it fits your budget.
Gusto Pricing Plans
Gusto provides four pricing plans for different business needs and budgets. This section reviews each Gusto plan, along with the features they come with.
Simple ($40/month + $6/month per person)
This plan is ideal for smaller businesses operating in one state and just looking to cover some basic HR functionalities. Here are some of the features you can expect on the Simple plan:
Full-service single-state payroll, including W-2s and 1099s
Full customer support via email chat and even access to extended support hours
Lifetime access to employee self-service portal
Health insurance benefits and Gusto brokered administration
Basic hiring and onboarding features like hiring documents and onboarding checklists
Employee financial benefits, including college savings, 401(k), Workers Compensation, etc
Custom admin permissions to limit access to certain tasks
Integrations with other useful tools, such as accounting and time-tracking software
Payroll and time-off reports
Plus ($80/month + $12/month per person)
The Plus plan comes with everything on the simple plan plus the following features:
Full-service multi-state payroll, unlimited payroll runs, and all the forms you need
Next-day direct deposit
Advanced hiring and onboarding tools like applicant tracking systems and job posts
Paid time-off management and policies
Built-in time tracking and project management
Workforce costing and reports
Team management tools like employee directories and welcome e-cards
Performance reviews and evaluations
Team surveys and insights
There are a few add-ons that you can include in your Plus plan. These include priority support and HR resources that you'll pay an extra $8/month per person.
You can also add the Time Kiosk feature that allows you to turn any connected device into a clocking-in device. This way, employees can clock in their hours from wherever they are. This feature costs $4/month per Time Kiosk User.
Premium (Exclusive Custom Pricing)
This plan offers everything on the Plus plan plus:
A dedicated customer success manager
A human resource center with HR best practices, job description templates, labor law policy templates, etc
Compliance alerts for state and federal laws
Access to certified HR experts for any inquiries
Full-service payroll migration and account setup
Health insurance broker integration if eligible
R&D tax credit discount
Waived fees and exclusive pricing
Expedited priority customer support
Time Kiosk
Contractor Only ($35/month + $6/month/contractor)
This plan is best for businesses that hire contractors or work solely with them. Here are some features you can expect:
Unlimited contractor payments across all 50 states
1099-NECs at the end of every year
4-day direct deposits
New hire reporting is available in case it's a requirement in your state
You can get international contractor payments as an add-on
This plan does not include any other add-ons besides the one listed above. It also does not include backup withholding or any other contractor withholding required by some state agencies.
Gusto Pros and Cons
As you can already tell from this Gust review so far, the tool has its perks and drawbacks. This section reviews these pros and cons, so you can see what Gusto does well and what's lacking.
Let's start with the upsides.
Pros
Here are some advantages of using Gusto as your online payroll service provider.
Comprehensive payroll tool: Besides payroll processing for various salaries and benefits, Gusto provides other crucial HR services as well. These include helping you manage employee benefits, payroll tax filing, recruitment and onboarding, talent management, and more.
Offers a time and project tracking tool: This is a useful feature for businesses that employ remote workers. You'll be able to record everyone's hours and automatically have that reflected on their payroll.
Tool integrations: Gusto provides integrations with popular business intelligence tools. These include accounting tools like QuickBooks, communication tools like Slack, and more.
Contractor-only plan is available: This allows businesses that work only with contractors to pay for the features they need. As opposed to paying for a fully-fledged plan and only using a few of its features.
Employee self-service: Through this portal, your employees can enter and change their personal information, sign important documents, review their details, ask for time off, and more. This way, your HR personnel have fewer tasks on their plate.
Employee finance tools: The Gusto Wallet application keeps employees and their income in mind, providing savings and budgeting capabilities to help them manage their pay better.
Automated tax filing: With Gusto's automated payroll tax filing, your business can remain compliant with tax laws and avoid IRS penalties. This way, you don't have to file taxes manually and risk making errors. Neither do you have to keep up with changing tax laws as Gusto does this for you.
Different pay schedules: This ensures that you have flexibility in the way that you pay your employees, especially for those with varying contracts. You can create bi-weekly, monthly, quarterly, or even annual payment schedules for different employees.
Clear user interface: Despite being a robust tool with lots of different features and functionalities, Gusto's user interface is easy to navigate. It's neither clunky nor crowded and every menu item is quite easy to spot, whether you're accessing it from the company dashboard or the employee side of things.
Custom reports: Gusto allows you to download custom reports for specific metrics you want to track. For instance, you can choose to download a payroll report customizable by earnings or pay range, etc.
Customer support: Gusto provides numerous customer support options for their customers and this only gets better as you upgrade. You will have help all the way from the time you get your account and continuously throughout your experience if need be.
Cons
Just like any other software solution, Gusto has a few drawbacks. These include the following:
Lacks a geo-tracking tool: This is useful for companies that manage remote employees or hourly field workers. With Gusto, you'd need to integrate a geo-tracking tool to be able to get this functionality.
No mobile payroll app: The only mobile application available is useful for employees and their financial needs. There are, however, no payroll applications that allow companies to manage their teams on the go.
Limited integrations: While Gusto provides numerous possibilities as far as integrations go, there are still limitations with some major platforms. For instance, Gusto integrates with Google Workplace but not with tools like Office 365.
Lacks free trial: When onboarding with Gusto, the platform offers a demo to introduce you to the software, after which you'll get right into a paid plan. There are no freemiums or free trials, unlike most other tools.
No international payroll: Gusto provides payroll capabilities only for US-based W-2 employees.
How Gusto Stacks Up Against Top Competitors
Let's review how Gusto compares to some top payroll platforms in the market.
Gusto Vs ADP Run
One of the top contenders in the cloud-based payroll software market is ADP's payroll tool, Run. ADP Run is a payroll service built for small businesses with fewer than 50 employees.
It's a simple payroll and benefits administration solution. If your business outgrows ADP Run, you'll get the option to expand into enterprise-level plans depending on the number of employees you gain.
There are numerous HR solutions for payroll, task force management, benefits administration, and more on the ADP platform.
However, the pricing for ADP Run is not provided, and you'd have to talk to sales to get a quotation. Gusto outshines ADP Run this way, in that you'll know exactly how much a plan costs and what features to expect just by visiting their website.
Gusto and ADP Run both provide essential human resource management features like payroll, access to important forms, time tracking, etc.
However, Gusto has a few upsides over ADP Run and these include:
Unlimited payroll
No extra charges on W-2 and 1099 files
Employee lifetime access to their portal
Contractor-only plan
ADP Run on the other hand has the advantage of providing multi-state payroll capabilities on all plans. This is unlike Gusto, which limits this feature on the Simple plan.
Overall, Gusto is best for small businesses looking for an affordable payroll tool with an easy-to-use interface.
ADP Run has a long list of services offered, is easy to use, and is a smaller version of a larger enterprise-level solution. It's therefore suitable for businesses looking to grow significantly, as it offers great scaling opportunities.
Gusto Vs QuickBooks Payroll
Here's how Gusto compares to Intuit's popular online payroll service, QuickBooks.
Gusto's Simple plan is slightly less expensive than QuickBooks's lowest-tier plan, the Core plan. The latter costs $45/month plus $6 per employee per month while the former costs $40/month plus $6 per month per employee, as stated earlier.
QuickBooks allows for same-day direct deposit on the higher tier plans while Gusto has the option for next-day deposits.
This means that with QuickBooks, you can run your payroll in the morning and have your employees receive their payments before their workday ends.
Though Gusto integrates with QuickBooks, companies already using any of Intuit's accounting solutions would not need an integration.
Most of their services are pretty similar, only that Gusto gives you the option to broker your health insurance benefits. If you're already partnering with a different broker, you can still retain them on the Gusto platform.
QuickBook's insurance benefits are brokered by SimplyInsured. This can be limiting as its services are unavailable in states like Vermont and Hawaii.
On a general scale, QuickBooks is a bit less robust and would be more suitable for smaller businesses. Gusto is more suited for scaling businesses as it offers a wider range of capabilities as you upgrade your plan.
Gusto Vs OnPay
OnPay is another one of the best online payroll services for small businesses. It's a comprehensive solution offering error-free tax filing, benefits administration, and payroll.
OnPay only offers one payment plan that costs $40 plus $6 per month per employee. This is similar to Gusto's Simple Plan.
While it's technically cheaper, OnPay does not offer as many services as Gusto does, For instance, while the time-tracking feature is included with Gusto, you'd have to integrate with a third-party tool to track time with OnPay.
This is not to say that OnPay does not have some significant advantages over Gusto. These include:
You get next-day direct deposit with OnPay, while Gusto limits this feature to high-tier plans only.
OnPay lets you run multi-state payrolls, something that you can't do on Gusto's Simple plan.
OnPay offers one month free while Gusto lacks a free trial
That said, you'd only be better off using OnPay over Gusto if you're on Gusto's Simple plan. OnPay is suitable for small businesses but not very suitable for scaling ones.
Gusto on the other hand, has many more features for medium-sized businesses giving you better scaling opportunities.
Is Gusto Right For Your Business?
Gusto was built with growing businesses in mind and it is suitable for small to medium-sized companies. It provides a perfect balance for businesses with contractors as well as other employees.
Hopefully, this Gusto review so far has helped you decide if its the tool you're looking for. Still confused? Here is a quick way to tell if Gusto is the right fit for your business.
Gusto is best for:
Small businesses that have full-time employees and part-time contractors
Small businesses with both remote and on-site employees
Small businesses that appreciate flexibility in pricing plans, being able to pick and choose which features to include
Gusto is not recommended for:
Companies hiring W-2 employees outside of the US
Companies needing robust performance management capabilities
Frequently Asked Questions
Q1. Can Gusto be trusted?
Gusto is a fully trustworthy online payroll service that offers automated payroll and tax filings, great benefits administration, time tracking, hiring and onboarding features, and many more.
It's among the top payroll platforms in the market for small businesses, especially those with contractor-based employees. So yes, you can trust Gusto with your payroll needs and join over 300k businesses already using the platform.
Q2. How does Gusto compare to ADP?
Both Gusto and ADP are excellent online payroll solutions, each with its strengths and weaknesses. Gusto is known for its ease of use, affordability, and extensive range of features. It's best suited to small businesses with both contractor-based and full-time employees.
ADP, on the other hand, is an enterprise-level human resource management tool with a wide range of features and plans for different business sizes. ADP Run is their platform for businesses with less than 50 employees.
ADP's pricing is less transparent, and you'd have to contact the team for quotations, while Gusto offers flexible pricing.
Q3. How much does Gusto charge monthly?
Gusto has four pricing plans, each with different monthly charges. Here's what that looks like:
Simple: $40/month plus $6/month per employee
Plus: $80/month plus $12/month per person
Premium: Custom-based
Contractor only: $35/month plus $6/month/contractor
Q4. Is it hard to learn Gusto?
Despite having numerous features, Gusto is a pretty easy tool to learn and use. The user interface is clear and straightforward. In fact, most of Gusto's positive customer reviews point to how easy the tool is to use.
Q5. Does Gusto offer direct deposit?
Gusto offers direct deposit options in three timelines: next-day, two-day and four-day deposits. With the Simple plan, you only get 2-day and 4-day direct deposit options, which means you'll need to process payroll 2-4 days in advance.
Next-day direct deposits are available on the Plus plan going up and you only need to prepare your payroll a day in advance.
Gusto Review: Wrap Up
Gusto is a solid online payroll solution that goes beyond the basics to offer comprehensive employee management services at an affordable rate.
Hopefully, the above Gusto review has been useful in helping you decide if it's the best solution for your business.
Overall, with its ease of use and robust features, Gusto is recommended for small to medium-sized businesses. Features like time tracking, hiring and onboarding, automated payroll and tax filings, and benefits administration are all useful for any HR team.
Besides saving time, Gusto streamlines employee management tasks and makes it easier to retain and remunerate teams. Whether you're dealing with remote contractors or full-time employees, there's a plan to fit each of these needs.
Are you considering Gusto for your business? You can easily get started here.
About the author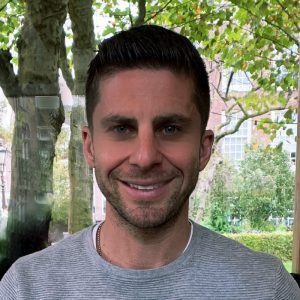 From selling flowers door-to-door at hair salons when he was 16 to starting his own auto detailing business, Brett Shapiro has had an entrepreneurial spirit since he was young. After earning a Bachelor of Arts degree in Global and International Studies from the University of California, Santa Barbara, and years traveling the world planning and executing cause marketing events, Brett decided to test out his entrepreneurial chops with his own medical supply distribution company.
During the formation of this business, Brett made a handful of simple, avoidable mistakes due to lack of experience and guidance. It was then that Brett realized there was a real, consistent need for a company to support businesses as they start, build and grow. He set his sights on creating Easy Doc Filing — an honest, transparent and simple resource center that takes care of the mundane, yet critical, formation documentation. Brett continues to lead Easy Doc Filing in developing services and partnerships that support and encourage entrepreneurship across all industries.