Wondering how to scale your business?
You've arrived at the right spot.
Suppose you figured out how to start a business—you developed a product or service, found customers, made some sales, learned how to grow a business. Congratulations! The market has said "Yes" to your idea! 90% of businesses don't even make it to that step.
You figured out how to start a business and how to grow a business. If you want your marketable idea to become an engine of prosperity in your life, it's time to think about how to scale your business.
Many "business owners" don't own a business so much as they own a job.
They may be their own boss and set their own schedule, but they could effectively fire themselves by not showing up to work. The business would fall apart. Customer service and the closing of new business would come to a halt.
Even if these "job-owner" are happy to come into work every day, their earning potential is limited. If they try to take on more business, they find themselves overwhelmed and underperforming. They could try raising their fees, but the market will only bear so much before customers jump ship to a more affordable competitor.
What's the solution? Developing a plan to scale your business.
If you serve ten clients, by discovering how to scale your business, you can serve 100. If you make ten sales a month on your e-commerce store, by discovering how to scale your business you can sell 100.
How is this possible? After all, there's still only one of you, not ten.
The proper scaling plan can make this a reality. By increasing your capacity, you can:
Free up your time as CEO to improve your business … or spend that time with loved ones and on hobbies.
Build wealth by growing your business without limits.
Turn your business into an asset that can be sold for a big payout.
Not sure where to start? Here's how to scale your business …
How to Scale Your Business: Proven Ways That Work
Scaling your business is so much more than just growing it. When you scale your business you should also know how to take on the increased workload in a cost-efficient manner.
Learning how to scale your business means being comfortable handling the increased workload, meeting business demands, meeting customer expectations without overstretching or suffering.
So, what is the right time to scale your business?
If you see the below signs, it may be time to scale your business.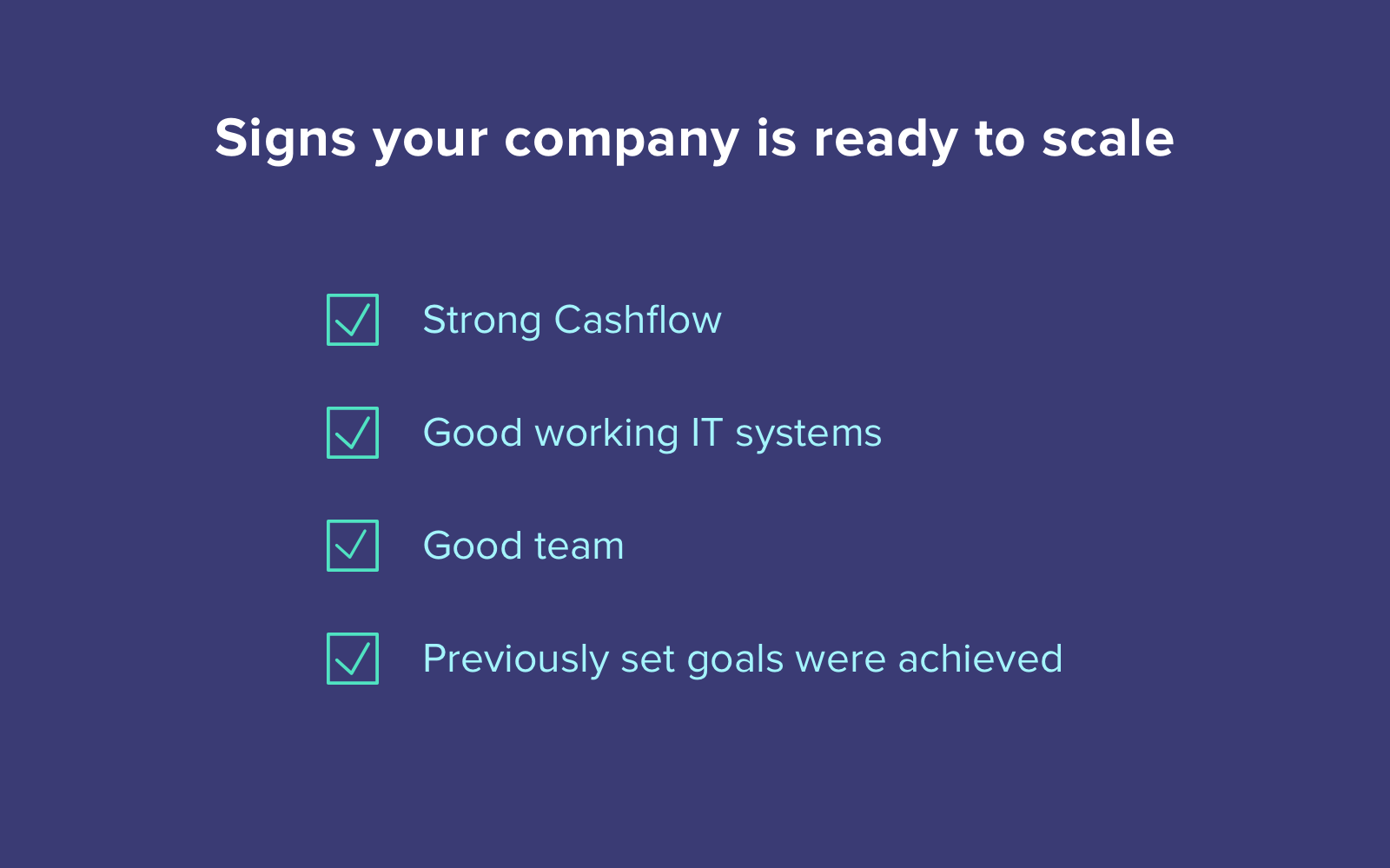 Image Source: Cleveroad
Do you want to learn how to scale your business? We have a list of proven tricks that surely work.
Let's dive in.
Also Read:
Try to Fire Yourself
Obviously you are not completely replaceable in your business. However, many of the day-to-day tasks that take up the bulk of your time could better be done by someone else—like an employee, outsourcer, or automation.
As CEO, your time is valuable. You should devote it to the "high-level" tasks that bring in new business, innovate new products and services to sell to your existing customers, or improve the products and services you already offer.
Start by keeping a detailed log of everything you do in your business life. For bonus points, include your personal life on the list! Firing yourself from mundane personal tasks can free up time as well.
Keep the log for a week, then ask yourself a tough question—"Which of these things is it physically possible for someone else to do, without sacrificing the quality?"
You are especially looking for repetitive, menial tasks that could be performed by automation, hired out, or an employee that you specially train to do it your way.
Common places to look include:
Replying to emails.
Managing your calendar.
Generating invoices and proposals.
Fulfilling sales orders (shipping and handling).
Inventory management.
Lead and client follow-up.
Posting online ads.
Designing ad creative, video thumbnails, and other graphics.
Updating your blog or website.
As a leader, you should learn how to delegate. Having too much on your plate means your focus is diverted from the main activities that can help you scale your business. Delegating builds trust, empowers your team, and facilitates professional development.
If you truly want to scale your business, delegating tasks is crucial.
Here are some tips to delegate effectively.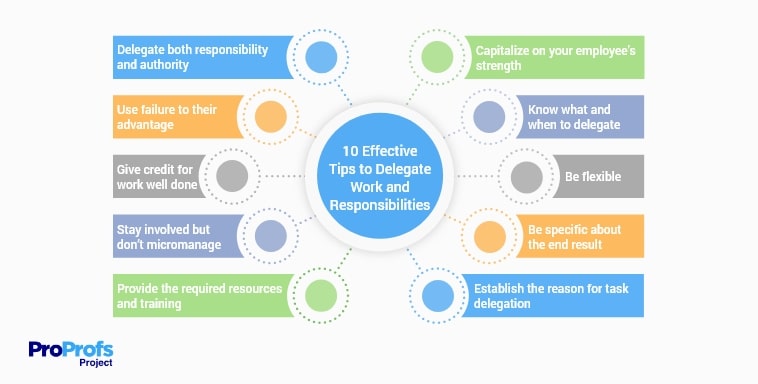 Image Source: ProProfs
Find Ways to Automate
In the digital age, many repetitive tasks can be automated. Automation should be your first priority whenever you can swing it, because it usually costs less than outsourcing or hiring. Automation software typically requires only an affordable one-time payment or monthly fee, not a living wage plus payroll taxes.
The image below depicts the many benefits of automating your internal processes.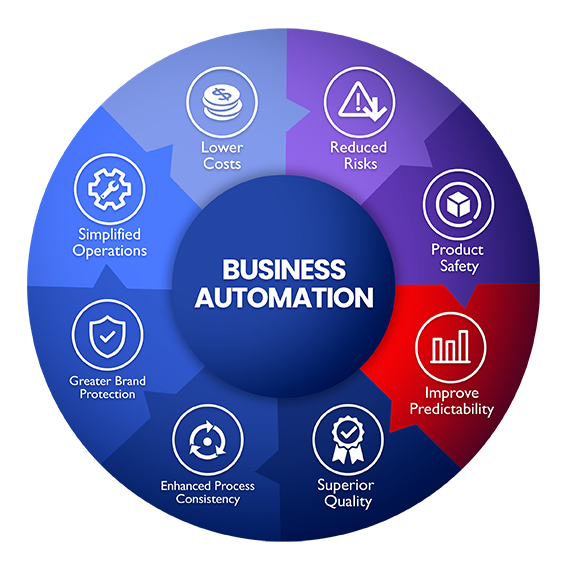 Image Source: Websfarm
Also Read:
Here are some tasks to consider automating as you plan how to scale your business …
Instead of cold-calling prospects, could pay-per-click or social media ads generate the leads you need? Amazon, Google, Facebook, and other services offer automated marketing solutions that put your pitch in front of targeted eyes.
You may think you need to be on the phone or in front of your prospects to close them, but many profitable businesses automate their sales closing process. Consider replacing your existing website with a "sales funnel" designed in ClickFunnels or Builderall, which walks prospects step-by-step through a "buyer's journey" of engagement, interest, and excitement. If you arm your sales funnel with videos of you pitching your product, you can keep your passion and personal brand integrated into the sales process … but you never have to burn time on the sales pitch again!
Sign up for an appointment-booking app like Accuity or Gigabook that allows prospects to book their own appointments without the back-and-forth. Tied to your digital calendar (Google Calendar, Apple Calendar, etc.), a good booking app automatically populates the appointment in your calendar, along with relevant details.
Instead of expending your own time calling and emailing prospects or customers to follow-up, use MarketHero or Builderall to design an automated "follow-up" email sequence to keep them engaged, offer value-added content … or even pitch new products!
A proposal-generating app like Dubsado or Builderall can allow you to send proposals with one click. You can even arm them with questionnaires, contracts, and an invoice with a "Pay Now" button.
Certain business functions can be very easily automated, such as:
Accounting and payment processing
Customer service
Marketing
IT management
Administrative tasks, and so on.
If you need help with DBA, LLC formation or other legal documents, such as LLC Operating Agreement, Non-disclosure Agreement and more, you can partner with third-party agencies. That should help speed things up.
Find Ways to Outsource
"Outsourcing" is sometimes misunderstood. Many people think it refers to hiring a "virtual assistant" in a foreign country, but this is more like an employee … who happens to live in another country.
"Outsourcing" refers to hiring another business to perform services you might otherwise perform yourself. You probably already outsource a little bit if someone else manages your website, runs your payroll, or designs your logo.
Outsourcing is often the second phase of scaling a business, after automation. A business-to-business vendor may be more expensive than hiring an employee, but you don't have to train an outsourcer—just do your homework and place the order. Not sure where to start? Check outsourcer marketplaces like Fiverr, Upwork, or specialty marketplaces like 99designs or WriterAccess.
Outsourcing can be incredibly helpful when you want to learn how to scale your business. Here's how it can help: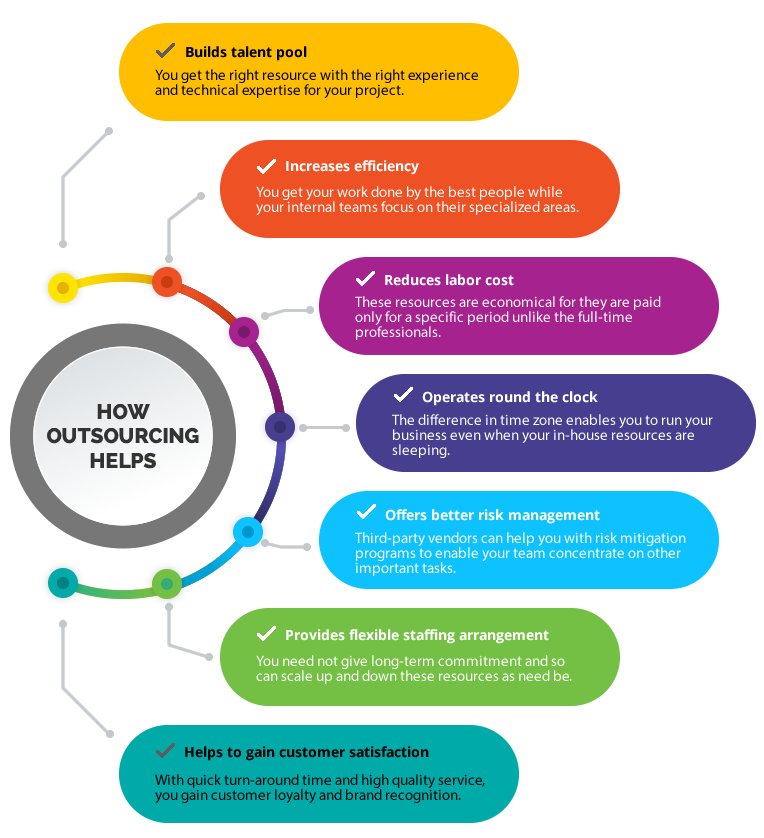 Image Source: WBPRO
Here are some tasks to consider outsourcing when planning how to scale your business:
Even if you use a DIY app like Wix or ClickFunnels, the learning curve and time commitment can undercut your web design goals. Consider hiring a pro. such as Straight North. With their expertise, they can probably make it work better, look better, and launch faster than you can.
Hire freelance writers, designers, animators, actors, videographers, photographers, models … anything you need to put a professional face on your business.
There is an art and a science to digital marketing techniques like paid search and SEO. You could sink thousands of dollars on failed DIY Facebook ad campaigns, for example … or you could pay an expert to get it working fast.
If you stock, warehouse, package, and ship orders yourself, your sanity will not survive scaling from ten orders per week to 100 orders per week. Amazon sellers can take advantage of "Fulfillment By Amazon," which can receive, warehouse, ship your orders, and process returns for a nominal fee. Even if you don't sell on Amazon, third-party fulfillment houses can still step in to handle the overflow.
Consider outsourcing customer calls, emails, and chats to a call center. You will probably have to supply scripts and a detailed FAQ, as well as handle escalation calls. You may also consider outsourcing your payroll processing.
Automations like sales funnels, lead funnels, and proposal generators can be a lifesaver … but they also take time and effort to set up. Consider hiring an expert to set up your automation for you. Automations cannot help you scale if you never take the time to create them.
Managing your own books can be overwhelming, especially with companies like, bench.co and 1-800Accountant are available to offer as much, or as little, support as needed.
Consider Hiring
If you have an ongoing task that you can train an employee to do, keeping the task "in-house" and adding an employee to your team might be the more economical option. Some people prefer to hire locally; others do well with foreign VAs. Either way, any business that gets busy enough should eventually consider hiring as a scaling method.
Unfortunately, strategic hiring is not given its due importance by many small business owners when scaling businesses.
Having the right employees onboard according to your business model plays a key role in delivering sustainable growth.
With the right employees in your organization, you reduce the need to hire again and again for various leadership positions you may develop in the future.
Needless to say, hiring the right people is a crucial part of your scaling strategy. You need to ensure that they have the right people onboard. After all, your business is only as good as your employees.
Here's why hiring the right people is important when learning how to scale your business.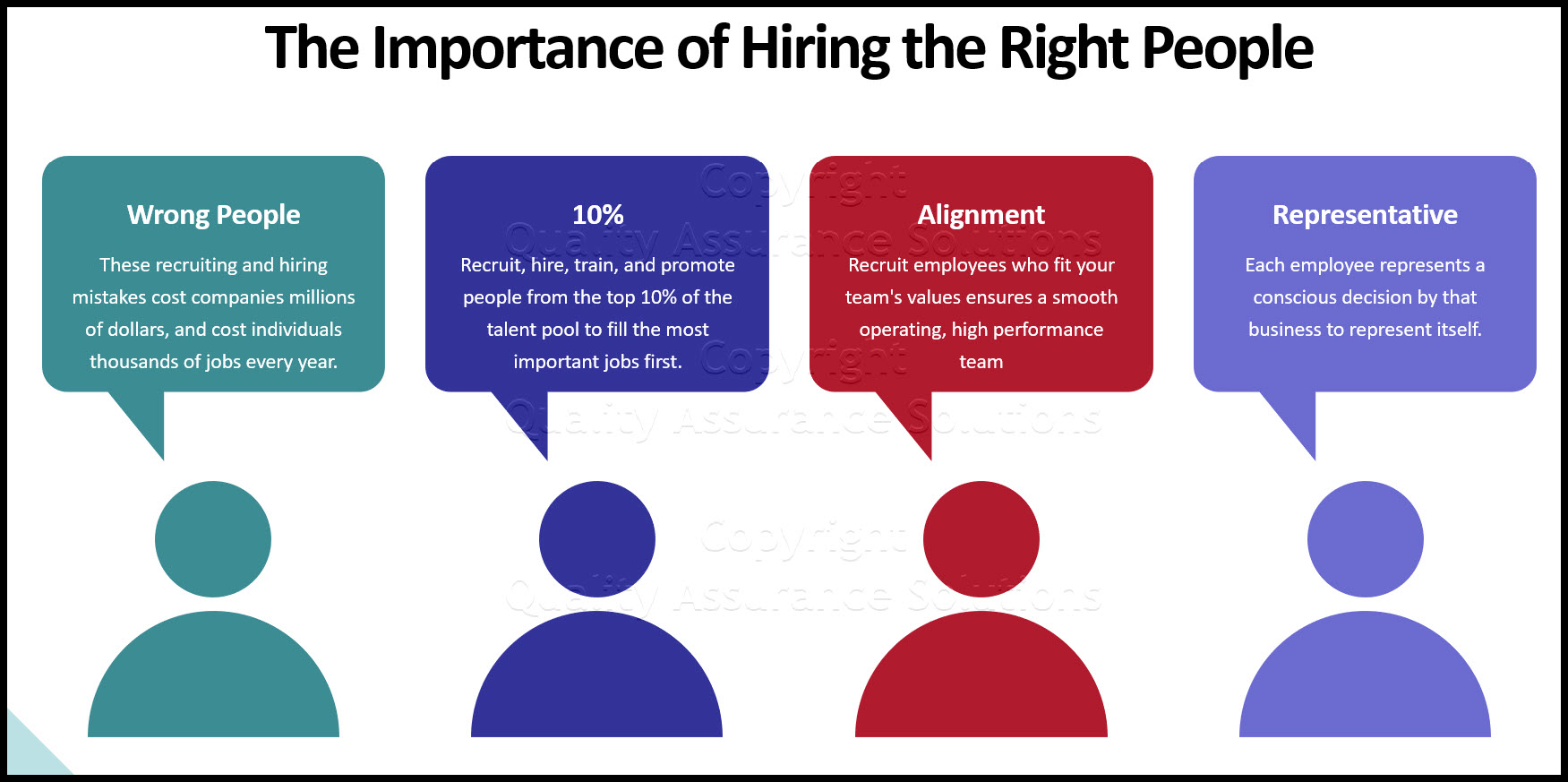 Image Source: Spreading The QA Word
Anyone who hires should put some thought to designing written and video training. A screen-recording service like the Chrome extension Loom can be used to record your screen while you perform your daily tasks. Save the video in a shared location or repository, and you can direct any new hires to that video to learn how to do what you do!
Here are some tasks to consider hiring in-house as you figure out how to scale your business:
Having someone field incoming calls, emails, and visitors is worth every penny in the time it saves you.
be done by someone else with a little training.
With some scripts and training, you could hire someone to do your cold calls and cold emails.
Content Creation. Consider hiring a staff writer, graphic artist, web designer … anything on the outsourcing list, really.
If you get big enough, you may save money by recruiting a full-time customer service specialist.
If your business relies on market research or other research to expand, an employee can easily be trained to do it for you, saving you hours every week.
Many small businesses never update their social media because they don't have the time or inclination. Still, savvy use of social media can be a tremendous booster for your business. Hire a social media maven to keep you current.
If you can hire someone to be another "you," that's a game-changer. You are now a franchise. As many people as you can find to do what you do, the bigger and bigger your business can grow. Your job is to set the tone and the company culture, emphasize company values and purpose, offer attractive incentives, and (as always) bring in new business!
Make Your Peace with Money
Buying new software solutions … buying pay-per-click ads … outsourcing things you could do yourself … hiring employees … one thing all these ideas have in common is that they cost money.
"I can't afford it right now!" stops many business owners from scaling their way to prosperity and dominance of their industry.
In order to learn how to scale your business, you should make your peace with money in two steps …
Frivolous spending doesn't help any business, but it definitely still "takes money to make money." The key is to adjust your mindset from scarcity to expansion. Social media ads cost money, for sure, but if you can make a campaign that earns you $2 for every $1 you can spend, why wouldn't you throw every dollar you had? It's a craps table where you win every hand.
Even rich people usually start businesses with other peoples' money! If it feels like too big a risk, there are ways to mitigate that. You may qualify for a loan insured by the US Small Business Administration, which guarantees you against loss of the principal! If you don't qualify, other loan programs exist. Even many credit cards offer an introductory period with 0% interest, and small business credit cards typically offer high credit limits.
Investing and reinvesting in your small business is a crucial part of learning how to scale your business. As your company grows and you acquire new customers, it is crucial to invest in resources that support growth.
Certain investments make running your small business a lot easier. These investments save both time and money, helping you redirect your energies to finding sustainable ways to scale your business.
Some worthwhile investments for your small business are as follows:
Information Technology
When you start your small business, you may want to do everything on your own, from marketing to sales to customer services. However, as your business experiences rapid growth, it may not be possible to handle all of it yourself.
Investing in technology solutions or outsourcing your IT function can free up valuable time for most entrepreneurs. The time and energy saved can be used on more important tasks necessary to scale your business.
Marketing
Investing in marketing is essential to increase sales and get more clients. The right marketing strategy implemented when scaling a business can ensure long term success.
Cybersecurity
In today's digital world, most of our work is done online. As a business owner, a large chunk of your business operations and transactions are done online.
Investing in cybersecurity is, therefore, extremely important to safeguard your customers and business from cyber threats and data breaches.
Customer Experience
Customer experience is the key driver for business growth. When you deliver a positive customer experience you are not only able to retain more customers but also promote brand loyalty.
In fact, according to McKinsey, improving customer experience is the top priority for business leaders across the world.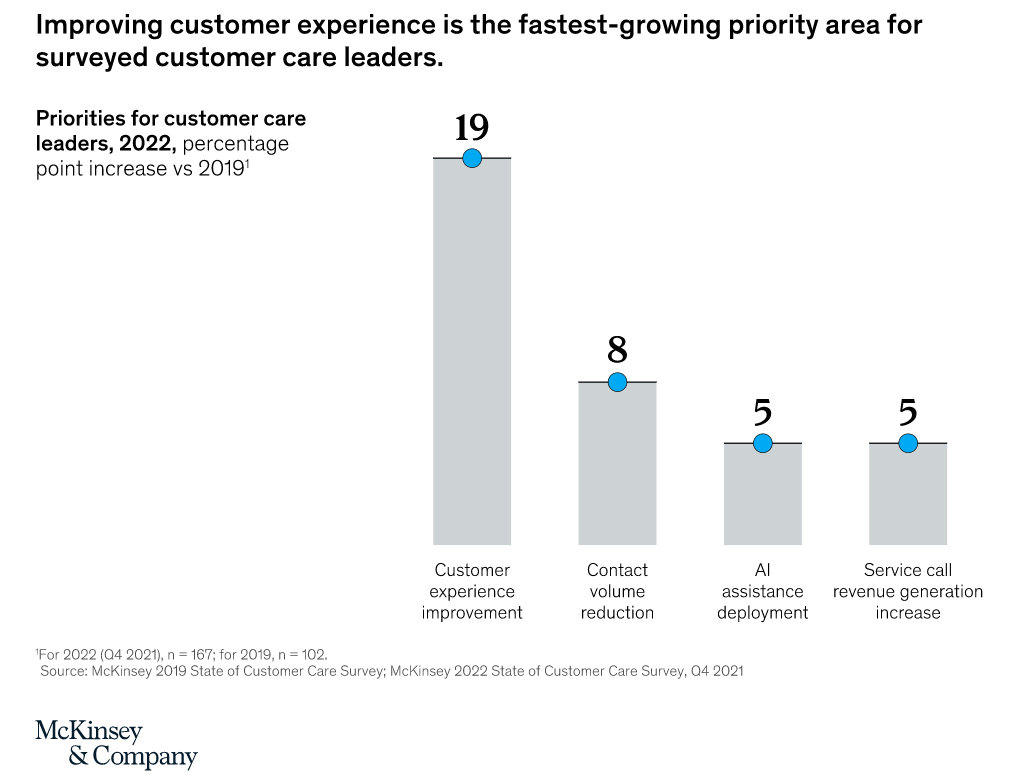 Image via McKinsey & Company
Remember, you are attempting to scale your business at a time when the market has already approved your business—by buying from you! 90% of businesses never get that far. Don't hold back your growth because you have not made your peace with money!
FAQs
1. What are the steps to scale your small business?
The following steps can help you scale your business:
Plan for the future
Evaluate your supply chain
Hire strategically
Outsource for more efficiency
Automate wherever possible
Seek new capital
2. When is the right time to scale your business?
If you start seeing these signs, then it is time to scale your business:
Being forced to turn down potential opportunities
Surpassing previous goals
Repeatable sales and strong cash flow
Proven concept with a reliable infrastructure
An atmosphere of minimal risk
3. How long does it take for you to scale your business?
The time it takes to scale your business varies from business to business. It also depends a lot on the people managing and running the business. Most businesses take at least 2 to 3 years to become profitable.
A lot of businesses become successful only around the 7 to 10 year mark. You can successfully scale your business only post that, which means it is not possible to give a definite timeline about how long it takes to scale your business.
4. What are some mistakes to avoid when you scale your business?
When learning how to scale your business, you should avoid the following mistakes:
Handling too many tasks on your own
Poor hiring decisions
Not having a solid business plan for scaling your business
Scaling too fast or too soon
Inadequate financial planning
5. Why is it important to scale your business?
It is very important to know how to scale your business, regardless of the size of your business or the industry you operate in. Scaling the business is even more important for startups and small businesses.
Scaling is critical because it helps your business achieve sustainable growth and generate more revenue without a substantial increase in expenses.
Learning How to Scale Your Business Takes Time and Effort
If this seems like a lot to take in, it is. Learning how to scale your business is a big task. Start small. Pick one suggestion from this guide, get it handled, then move on to the next one. Rome wasn't built in a day, but eventually, it was built … and so it will be with your empire!
About the author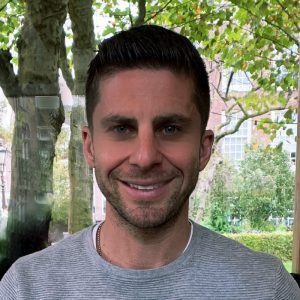 From selling flowers door-to-door at hair salons when he was 16 to starting his own auto detailing business, Brett Shapiro has had an entrepreneurial spirit since he was young. After earning a Bachelor of Arts degree in Global and International Studies from the University of California, Santa Barbara, and years traveling the world planning and executing cause marketing events, Brett decided to test out his entrepreneurial chops with his own medical supply distribution company.
During the formation of this business, Brett made a handful of simple, avoidable mistakes due to lack of experience and guidance. It was then that Brett realized there was a real, consistent need for a company to support businesses as they start, build and grow. He set his sights on creating Easy Doc Filing — an honest, transparent and simple resource center that takes care of the mundane, yet critical, formation documentation. Brett continues to lead Easy Doc Filing in developing services and partnerships that support and encourage entrepreneurship across all industries.[/vc_column_text][/vc_column][/vc_row]