So you want to learn how to start a business…
Maybe you have a big idea, have thought about or are in the process of starting a business. It can be overwhelming to map out how to bring your idea to life or even determine where to start. But the journey of a thousand miles begins with a single step — and we're providing 14 steps on how to start a business.
Read on to learn the essential steps of starting a business that can help you start on the right foot and make your business a success.
Let's get started.
Step 1: Come Up with a Business Idea
The first step in this guide on how to start a business is to come up with a unique and feasible business idea.
Every great business idea starts with an unmet market need or a problem that needs a solution. However, just because there is a market need does not mean you're the right person to help meet it or start a business around it.
Why?
Because you need the required skill, expertise, and resources to start a business and run it successfully. That's why your business idea should be within the limits of what you can accomplish.
To sum up, your business idea should be one that has market demand and one that you have the capacity to execute well.
Make a list of ideas that meet this criterion and then shortlist further based on feasibility and market potential. For both of these, you'll need thorough market research, which we'll cover in the next step.
Step 2: Conduct Thorough Research
Before you take any further steps listed in this guide on how to start a business, you need to test out your business idea and assess its feasibility.
Ask yourself the following questions:
Is there substantial market demand to make your business profitable?
What is the total market size and what share of it can you realistically capture?
What is the level of competition in the market and barriers to entry?
How easy or difficult it will be for you to capture the market?
Do you have sources of funding to start the business?
Are the operational costs too high to make it a profitable business?
Answer these questions by conducting thorough market research and competitor research.
Here are some research methods and tools that you can use for doing market and competitor research:
Primary Research
This involves going directly to the end consumers and gathering first-hand information on their needs, wants, and preferences.
You can conduct primary research using:
Focus Groups: In this method, you bring together a group of people (usually your ideal or target customers) and ask them questions in a moderated setting. You can seek feedback from them on your business concept and products or services, and also ask for suggestions on how you can improve these further.
Interviews: Interview industry experts to find understand the market dynamics and learn how things work. This will help you understand whether you have a real chance of entering and capturing the market or not.
Surveys: You can run online surveys to gather information about your target audience, their buying habits, needs, and preferences. There are many mass-survey panels that can help you reach a specific target demographic.
Field Research/Observation: This involves doing ground-level research by going to your competitors' stores, warehouses, etc. This is used to understand the operational and logistical side of things and how they work in any particular industry.
Find out the ground reality by observing and assessing how other businesses operate within your niche and what works and doesn't work for them. Ask consumers what you can offer that's better than what is currently available in the market.
Secondary Research
This method of research involves gathering data from secondary sources like research studies and reports. Unless your business idea is something truly new and innovative, chances are that you can find a research report on your chosen industry or niche.
For most industries, you can find government and private sources of information with quantitative data on number and size of businesses, revenue, and other important metrics.
The US Census Bureau, for example, provides tons of statistical data on businesses by industry and NAICS codes.

Image Source: US Census Bureau
To get more information on your potential competitors, you can check their annual reports, websites, and other public sources of information.
Porter's Five Forces Model
Another crucial piece of information you need before starting a business is understanding the level of competition in the market you plan to enter.
One of the best ways to do that is to use Porter's Five Forces model. The model tries to determine the level of industry competition using five sources of competitive pressure:
Competitive Rivalry: What is the number and strength of your competitors? What products or services are they offering and how can you differentiate yourself?
Supplier Power: How many potential suppliers are there in the industry and how much power do they hold? Many suppliers would mean healthy competition and fair prices while few suppliers would hold more power.
Buyer Power: How many potential buyers exists and what is their average order value? How easy is it for buyers to switch brands and how much power do they have?
Threat of Substitution: Are there other products or services that can help solve the need that you do? How easy is it for buyers to switch to a different product or service altogether?
Threat of New Entrants: How much investment and effort does it take for a new player to enter the market? If it is too easy to enter, you might face competition from many companies that may enter the market. If it's too difficult to enter, you might need substantial money and effort to start your business.
Here's a visual representation of Porter's Five Forces model for easy reference: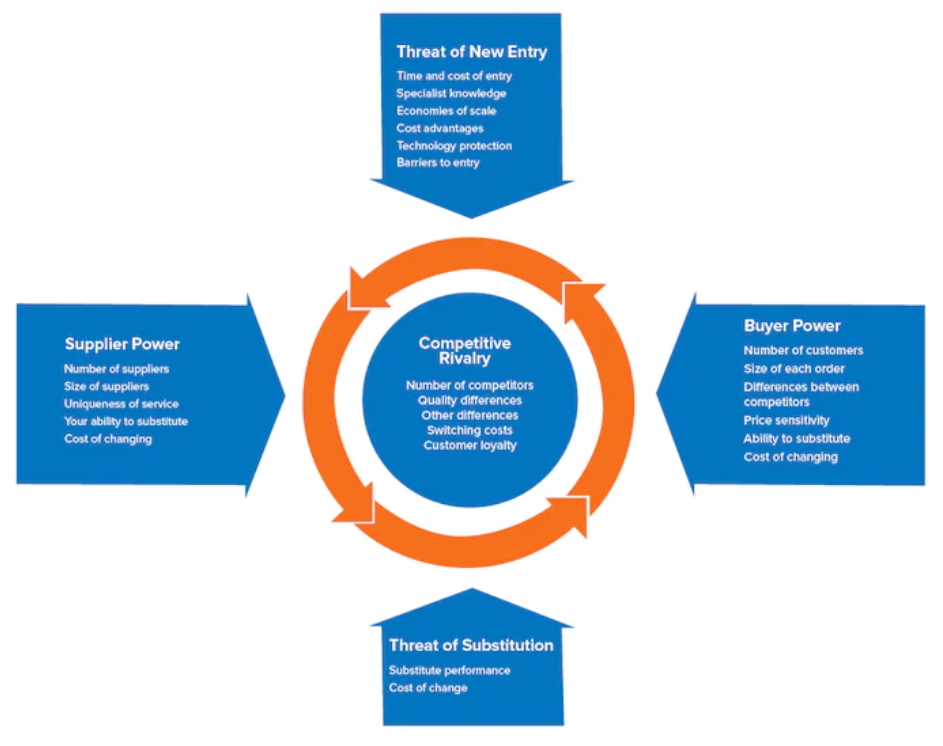 Image via MindTools
After you've conducted your research, assess if your business idea is realistic and viable and whether it can be profitable. If the answer is yes, move on to the next steps of this guide on how to start a business.
Step 3: Assess Financing Needs and Sources
One of the important steps in this guide on how to start a business is assessing your funding requirements and identifying sources of funding.
Unless you're starting a Sole Proprietorship at a local scale with your own money, you will almost definitely need external financing to start a business.
To start with, you'll need to estimate your business startup costs. Here are a few costs to consider when calculating that:
Renting or purchasing costs for office space
Equipment and raw material costs
Costs for warehousing and stocking inventory
Cost of tools and software needed for your business
Other office costs like utilities, office supplies, etc.
Employee salaries and benefits for your team
Cost of state filings and obtaining licenses and permits
Insurance costs and legal fees
Marketing and customer acquisition costs
Buffer for unexpected expenses
Once you've calculated your initial startup costs, you also need to estimate your working capital requirements and future funding needs.
The next step in this guide on how to start a business is to find sources of funding for your business. Here are some options you can consider:
Founders: This is the option where all the founders contribute some amount from their personal savings to start a business.
Banks: You can secure business loans from banks like Chase.
Friends & Family: You can ask your friends and family to invest in your new business.
Angel Investors: Sometimes experienced entrepreneurs may invest in other businesses if they see the potential. Such investments are more informal than loans and equity funding.
PE Firms: Private equity firms invest in private businesses, often with the intention of growing them and selling them later.
Venture Capitalists: This is a type of PE funding where investors fund risky, early-stage ventures. Businesses use this sort of funding to grow faster than they normally would.
Initial Public Offering: This type of funding is available only for corporations that go public and issue stock to raise money. This is not often the first stage of funding but is often used by businesses to expand and grow after the initial phase is over.
When you start a business, you'll need funds not just for the initial startup costs but to expand and grow the business later. You will sometimes also struggle with day-to-day operational costs, which is one of the main reasons businesses fail.
To avoid this, you might need quick, short-term funds to overcome your operational challenges. Luckily, we have a solution for you.
Our trusted partner MB Capital Solutions offers unsecured business lines of credit that you can use for short-term or urgent funding needs.
Step 4: Choose a Legal Business Structure & Name
When discussing how to start a business, we can't ignore one of the most important business choices—choosing the right business entity. This step in this guide on how to start a business can come before making a business plan or in conjunction with it.
You need to choose a business structure or entity type, that best fits your business. This step is critical, as it determines the legal classification of your company, how your profits are taxed and the type of bank accounts you are able to open. If you are unsure of which entity type is right for you, you can take a quick survey by clicking here.
Here are some popular business structures that you can consider: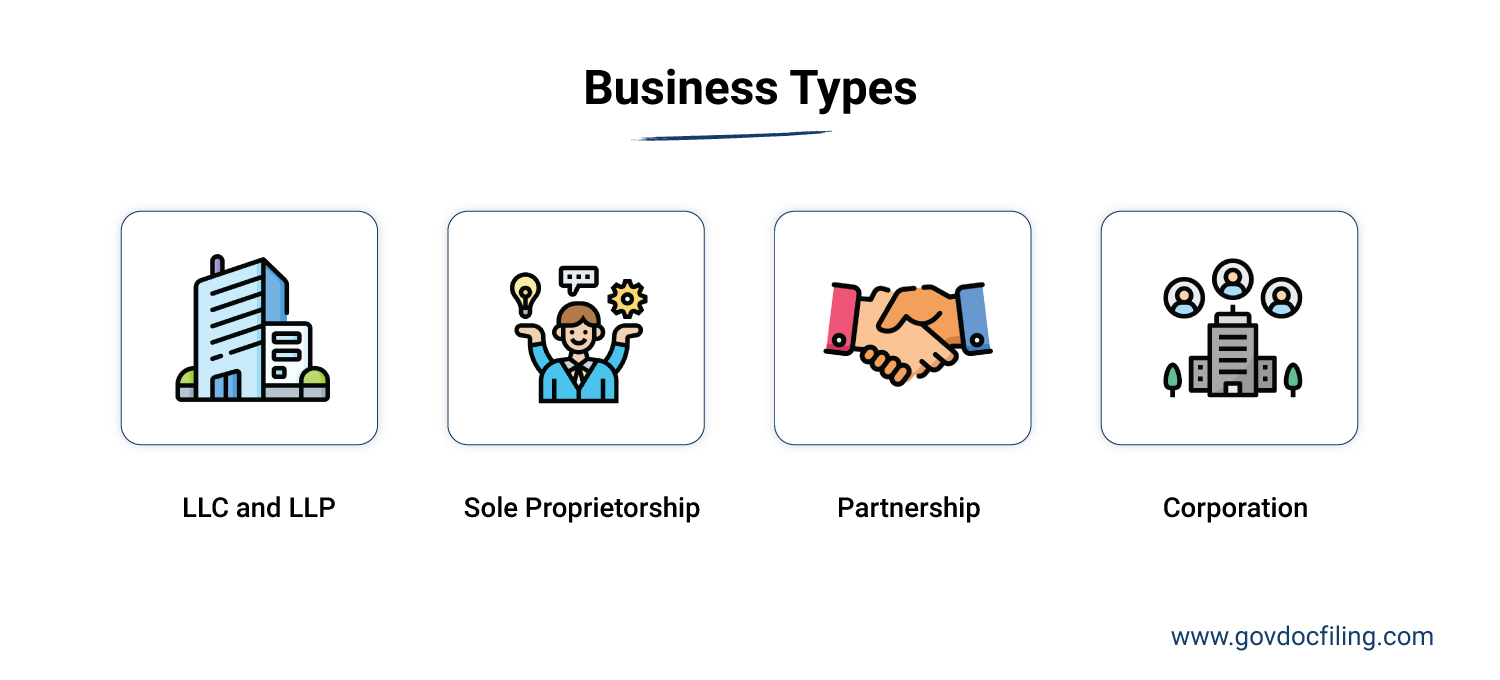 This is the simplest type of business structure that is cheap and easy to form. Here the owner is liable for all business profits and losses, and has complete control over the business administration. It is best for starting a small local business that you don't plan to expand nationally or internationally.
Check out the pros and cons of starting a Sole Proprietorship.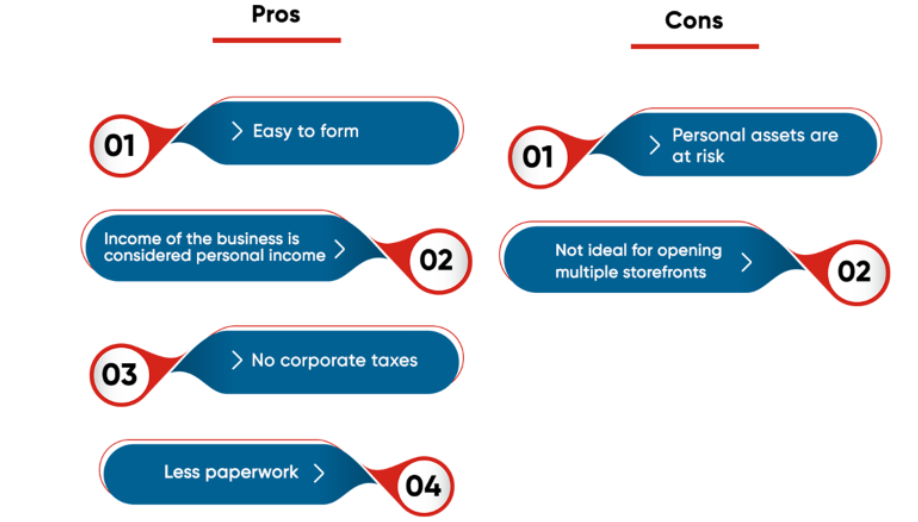 Pros
Gives you complete control over how you run your business.
Of all entities, this is the easiest and cheapest to form, with minimal paperwork.
The owner gets all the profits and taxes are filed as part of their personal tax return.
A Sole Proprietorship does not need to pay hefty corporate taxes.
Cons
The owner is personally responsible for business liabilities.
It is difficult to raise funding and expand the business to multiple locations.
This is similar to a Sole Proprietorship, except you have two or more partners who start a business together and share the profits and losses as well. This is often the preferred choice for licensed professionals like lawyers, consultants, etc.
Here are some of the pros and cons of forming a Partnership.
Pros
The partners retain shared control over the business and manage things per pre-decided arrangements.
Profits and losses are shared, so no one person is completely at risk.
Cons
There is still very little liability protection, as partners are responsible for business losses.
It is not as easy to raise funding for a Partnership as it is for a Corporation or even an LLC.
Limited Liability Company (LLC)
This is the most popular form of business structure preferred by small and mid-sized businesses. It offers liability protection for small business owners, while also providing the tax benefits of a Sole Proprietorship. Owners are not personally liable for business debts but can file business profits in their personal income tax returns.
Check out its pros and cons to see if starting an LLC the right choice for your business.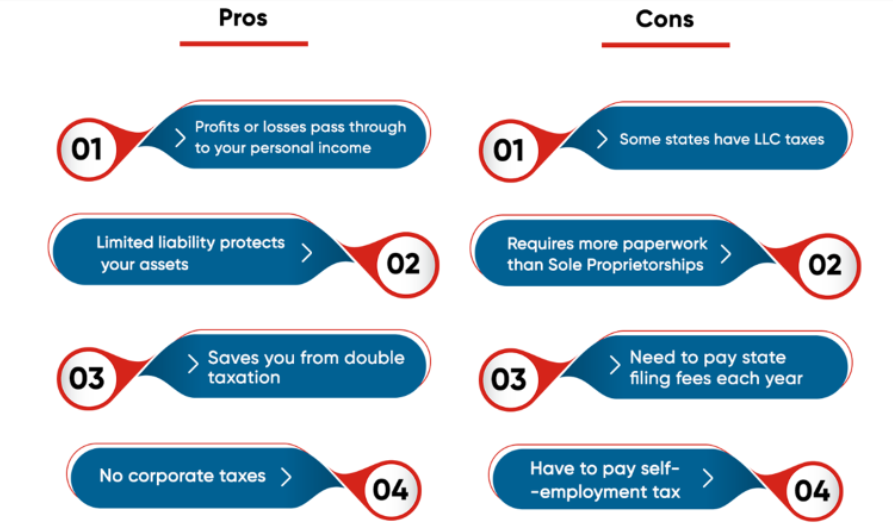 Pros
It offers the liability protection of a Corporation and the tax benefits of a Sole proprietorship.
An LLC can opt for pass-through taxation, saving itself from double taxation.
It provides liability protection for owners as they are not personally liable for business debts.
Cons
Some states may require LLCs to pay LLC taxes.
LLC members need to pay a self-employment tax.
LLCs need to pay annual state filing fees and are more complex to form than Sole Proprietorships or Partnerships.
This is the best choice for businesses that plan to expand internationally and would need substantial funding to scale up. It allows you to issue shares and raise capital for business expansion while also protecting your personal assets against business liabilities.
Here are some of the pros and cons of starting a Corporation.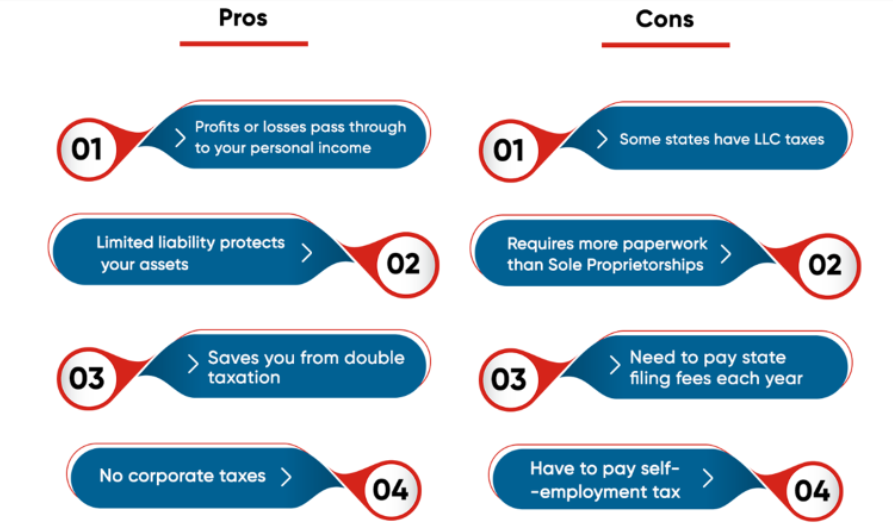 Pros
It is easy to raise funding by issuing shares.
This makes it easy to expand the business.
If you plan on creating a franchisee or expanding your business geographically, Corporations are the best entity for that.
It provides the best liability protection of all business entities.
Cons
Corporations are the most complex and expensive to form and run.
They need to pay high taxes and meet strict compliance requirements.
Corporations face the issue of double taxation where both the owners' personal incomes and the business income are taxed separately.
The business structure you choose will determine how your business is taxed, your personal liability, and the ease of raising capital. Make this decision carefully as it is one of the crucial steps in this guide on how to start a business.
You will also need to choose a unique and relevant business name, along with a related domain name for your website. If you want, you can trademark your name and business elements to protect them. You can also file for "doing business as" if you want to operate your business under an assumed name.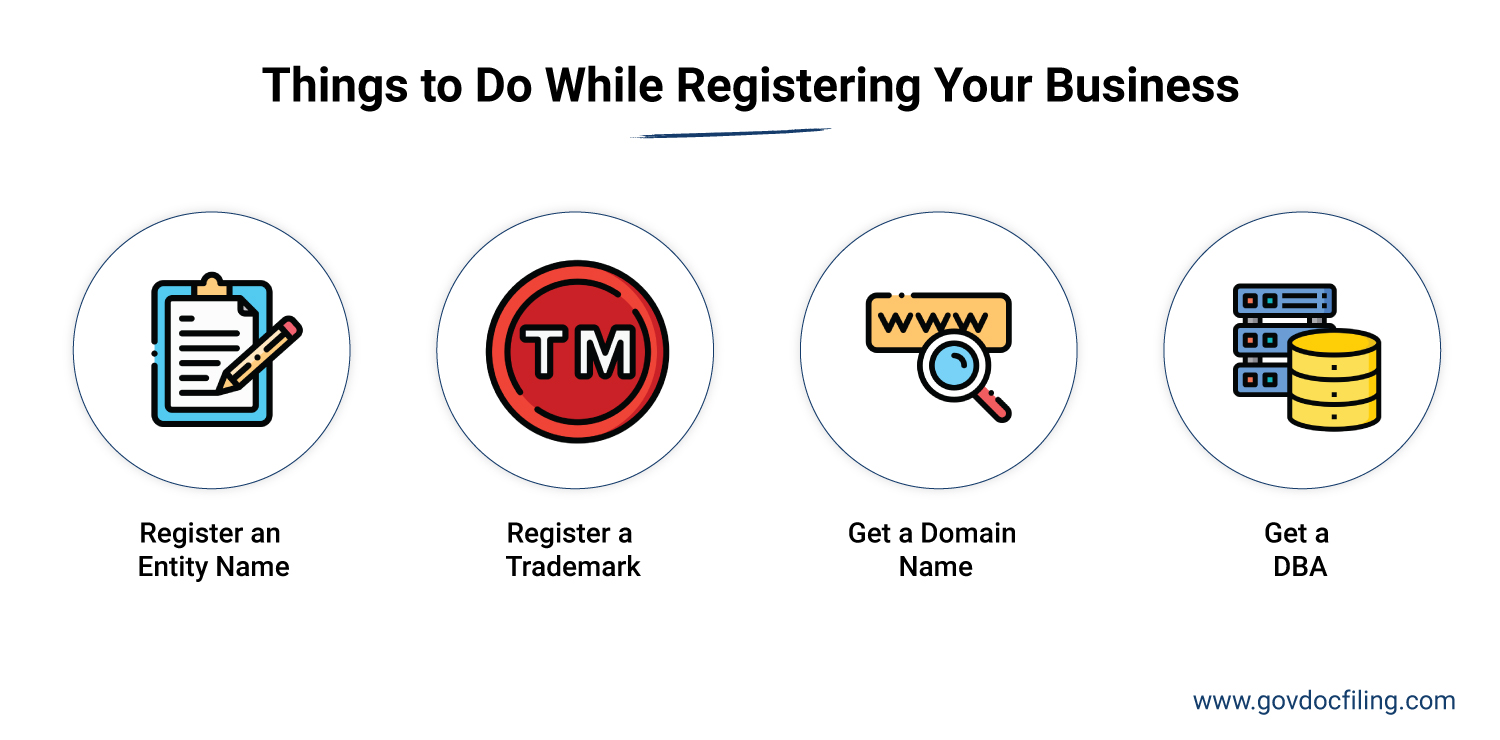 When choosing a business name, make sure that it is relevant to your business, unique, memorable, and short. Also, check whether a related domain name is available for your chosen business name.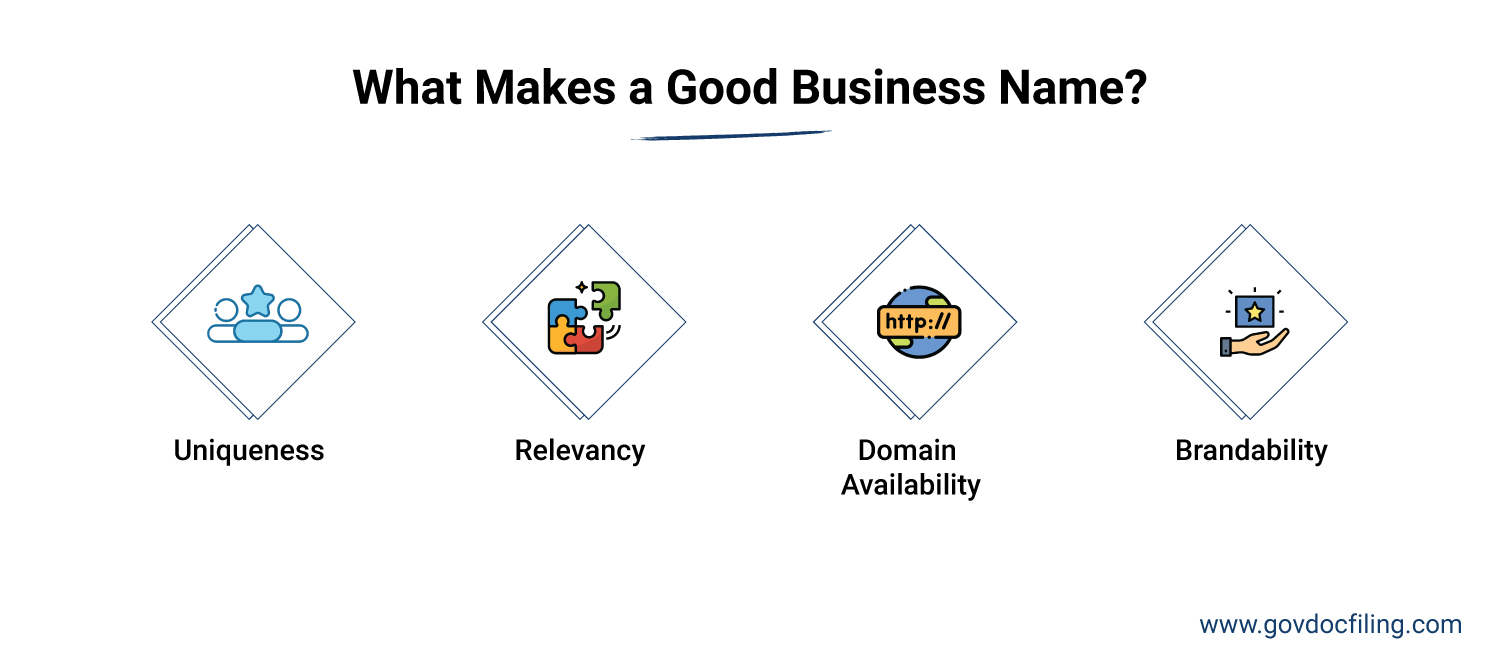 Step 5: Prepare a Business Plan
Once you have a great business idea and you've verified its market potential through research, you need to prepare a business plan.
A business plan is essentially a document that contains all the essential information about your business, your goals, and how you wish to accomplish these goals.
Here are some important elements of a business plan: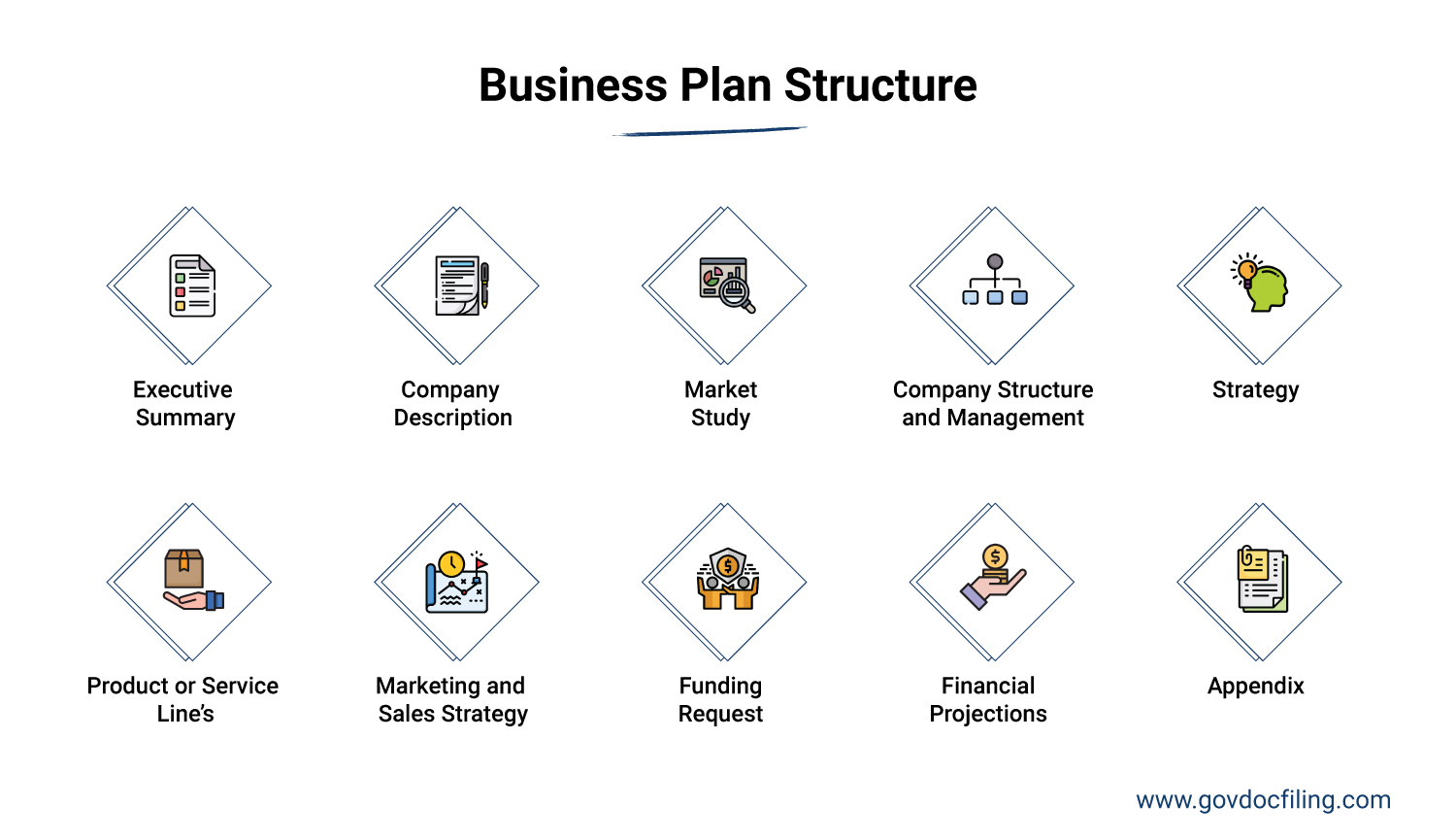 Summary: A brief summary of your business purpose, goals, plans, and everything else that you've covered in your business plan.
Company Description: A clear and well-defined description of your business concept, what your company will do, and what problems it aims to solve.
Market Study: All important data points from your market and competitor research that will affect your business decisions.
Company Structure: The list of your top executives, their roles, hierarchies, etc. You should also include management guidelines in the form of corporate bylaws or operating agreements.
Strategy: Create a well-defined financial plan for your company, including the strategy for breaking even.
Key Offerings: List the products or services you plan to offer, how you'll price those, and how they differ from those offered by your competitors.
Marketing Strategy: Include your go-to-market strategy and plan for capturing the market including how you'll position and differentiate your brand.
Funding: List your sources of financing—whether you want to fund using your own money or if you have other sources of funding. Also mention how much initial funding you expect while starting a business.
Financial Estimates: Include details on how much revenue you expect to generate, when you estimate to reach the breakeven point, and your plan for future funding needs.
Creating a business plan is one of the most crucial steps in this guide on how to start a business because it sets the direction on how to proceed. Without a clear business plan, it's very easy to get lost and lose sight of what you initially wanted to accomplish.
Step 6: Register Your Business and Get an EIN
Just as you as an individual have your own Social Security Number, your business also requires an identifying number, known as a federal Employer Identification Number (EIN) or Tax ID. This unique nine-digit number is provided by the Internal Revenue Service (IRS) and allows you to open a bank account, engage in vendor contracts, hire employees, earn and report income, and more for your business.
Once you have determined your entity type, you will need to fill out and submit an SS-4 form, along with a one-time filing fee for processing. GovDocFiling offers same*- or next-business-day processing and delivery of Tax IDs securely via email, unless bundled with state filings. The filing fee is a tax-deductible expense and comes with expert customer service and a guide to your next filings.
Depending on the entity type you choose when filing for your federal EIN/Tax ID, you may need to also alert the state in which you plan to do business. If your entity type is a Corporation, LLC, Sole Proprietor/Partnership or Non-profit, you should review your state's filing requirements to ensure you're operating your business in compliance.
Several rules of thumb include: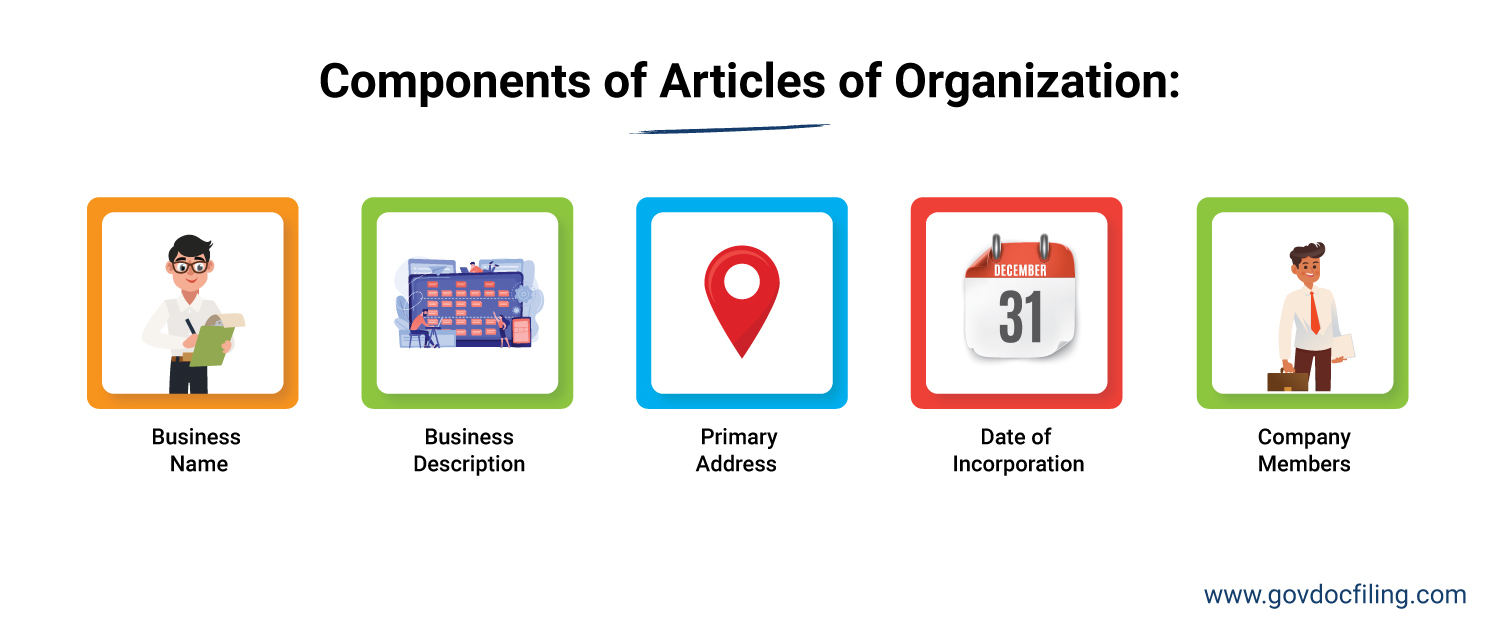 Sole Proprietor/Partnerships have the option to file a DBA ("Doing Business As") or Fictitious Business Name)
Non-profits that plan to raise funds from the public may be required to register with their state
The good news is that once you complete your EIN application, you will have everything you need to also do your state formation.
The process of registering your business with the state can be tedious and overwhelming for first-time entrepreneurs. If you need help expediting the process and making it hassle-free, you can use the services of a business formation service provider like GovDocFiling.
Step 7: Get Business Permits and Licenses
One of the common mistakes entrepreneurs make is thinking that the process of learning how to start a business ends when you learn how to register a business with the state. That's not true.
As such, there are many steps in this guide on how to start a business that are yet to be completed, so pay attention.
You can't start operating your business, even after registering it, until you acquire all the necessary business licenses and permits. These would differ by your type of business, industry, and location.
For example, starting a retail business would require different permits than starting a trucking business in the same state.
Similarly, starting a business in Arizona might have very different requirements than starting a business in New York.
That's why one of the crucial steps in this guide on how to start a business is finding the requirements within your state and obtaining the required permits.
Here are some examples of common business licenses and permits.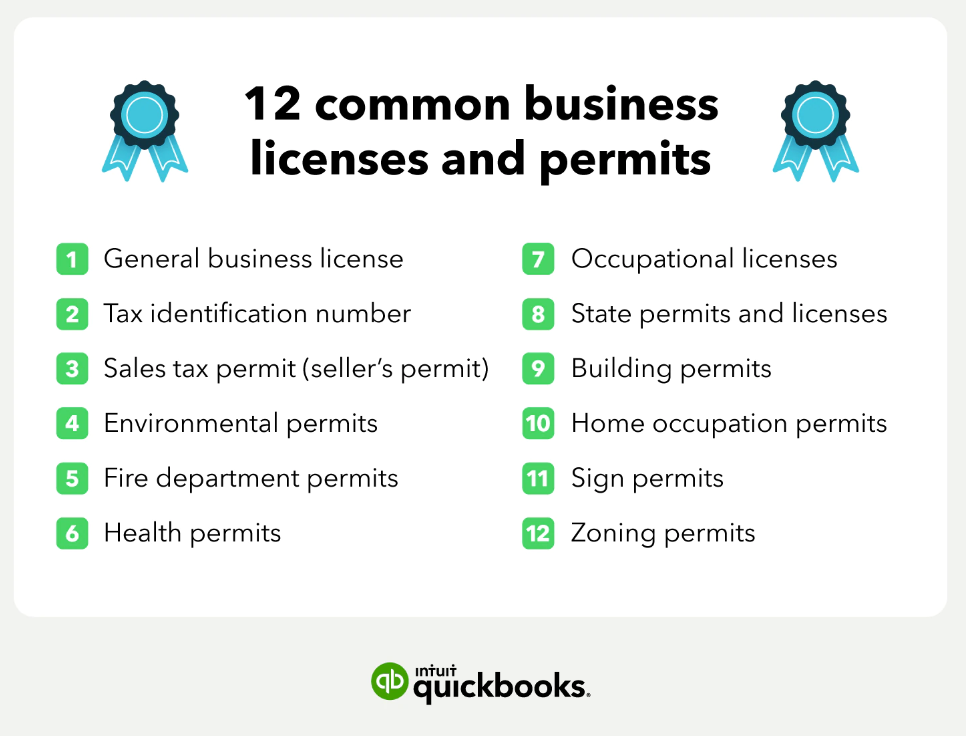 Image via Quickbooks
Step 8: Hire Employees and Manage Payroll
We're now done with most of the initial steps in this step-by-step guide on how to start a business. You've chosen a business idea, created a business plan, and even registered your business. Now, it's time to start running your business and for that you need employees.
We can't emphasize enough the importance of hiring the right people for your new business as they will determine the success or failure of your business.
When starting a business you need a strong management team of senior-level employees who can don many hats. As your business grows, you will of course build a bigger team with a dedicated resource for each role. However, that may not be possible initially due to a limited budget.
That's why it becomes important to hire people who like the challenge of working in a startup environment and taking on multiple roles. Also, this is the time when you set down your business values and work culture and hire people who align well with your values.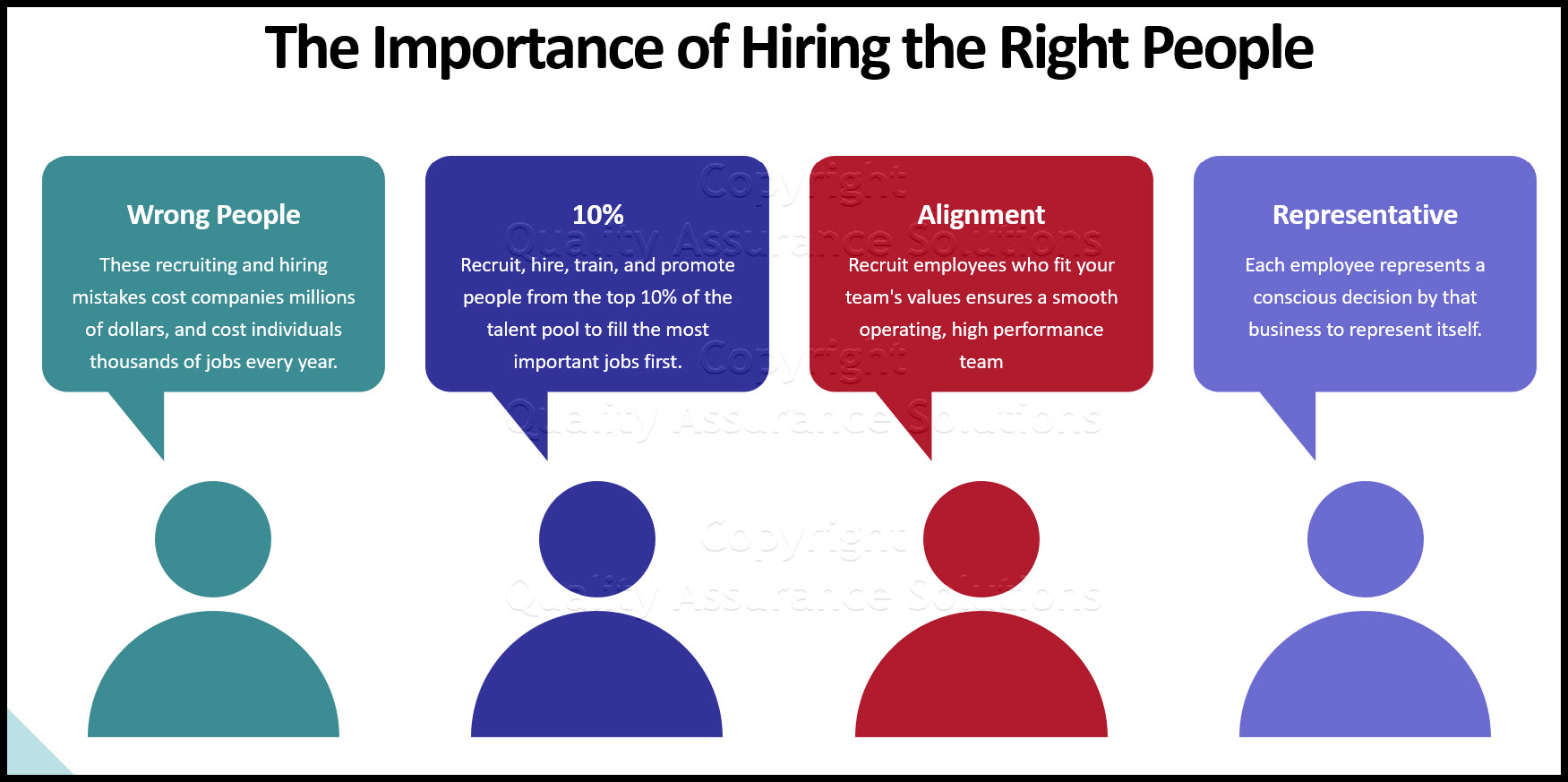 Image Source: Spreading The QA Word
Another important consideration when hiring employees is payroll, let's discuss that briefly.
Your business may be a one-person operation — in which case, cutting paychecks likely won't be on your to-do list. However, if you have or plan to hire employees at any point, including freelancers or independent contractors, you will need to pay them. Consistent, accurate paychecks are essential to the retention of hired help.
Along with paychecks come taxes. Employers are tasked with making sure they properly withhold the appropriate amount of taxes from employee paychecks, including state and federal income, Social Security and Medicare taxes, which are determined by each individual employee's W-2 and W-4 forms. Failure to do so can result in an IRS audit and serious financial and/or legal consequences.
Benefits are another aspect of payroll that you will run into as you hire employees. Life insurance, 401(k) contributions, as well as health, vision and dental insurance — while not mandatory — are typically offered in some combination to new hires.
Keeping all of this organized is no small feat. Finding a partner or software that can help manage payroll automation and deductions for tax, health benefits and retirement contributions will help keep your business running smoothly. For small businesses, we recommend evaluating Run by ADP. If your operation becomes large enough, hiring human resources and/or accounting personnel may be warranted.
Step 9: Open a Business Bank Account
Payroll, inventory, expansion, accounts payable and supplies are all business functions that require banking and cash flow. Once you have your Tax ID and any applicable state formation documents, you can (and should) open a business checking account and consider a business savings account.
Be aware of the different types of checking and saving accounts for businesses, as they can differ from personal accounts with a variety of options and benefits. These options will vary depending on the bank or credit union you choose to open an account with.
It's important to understand what kind of relationship you want to have with your bank, as your experience will vary with a smaller regional bank than with a larger bank (Chase, Wells Fargo, etc.).
Important features to look for in a banking partner can include online banking and mobile money management, multiple signers, interest checking and merchant accounts, and the ability to accept payments in store or online.
Once you establish at least a basic business checking account, we recommend exploring credit card options provided by your bank. Many allow you to earn points for travel, cashback, or other incentives for your business. Others like Chase Business Banking offer you up to $200 with qualifying activities, learn more here. You have to spend money for your business, so you might as well get something in return!
Irrespective of which bank you choose, here are some common documents you'll need to open a business bank account.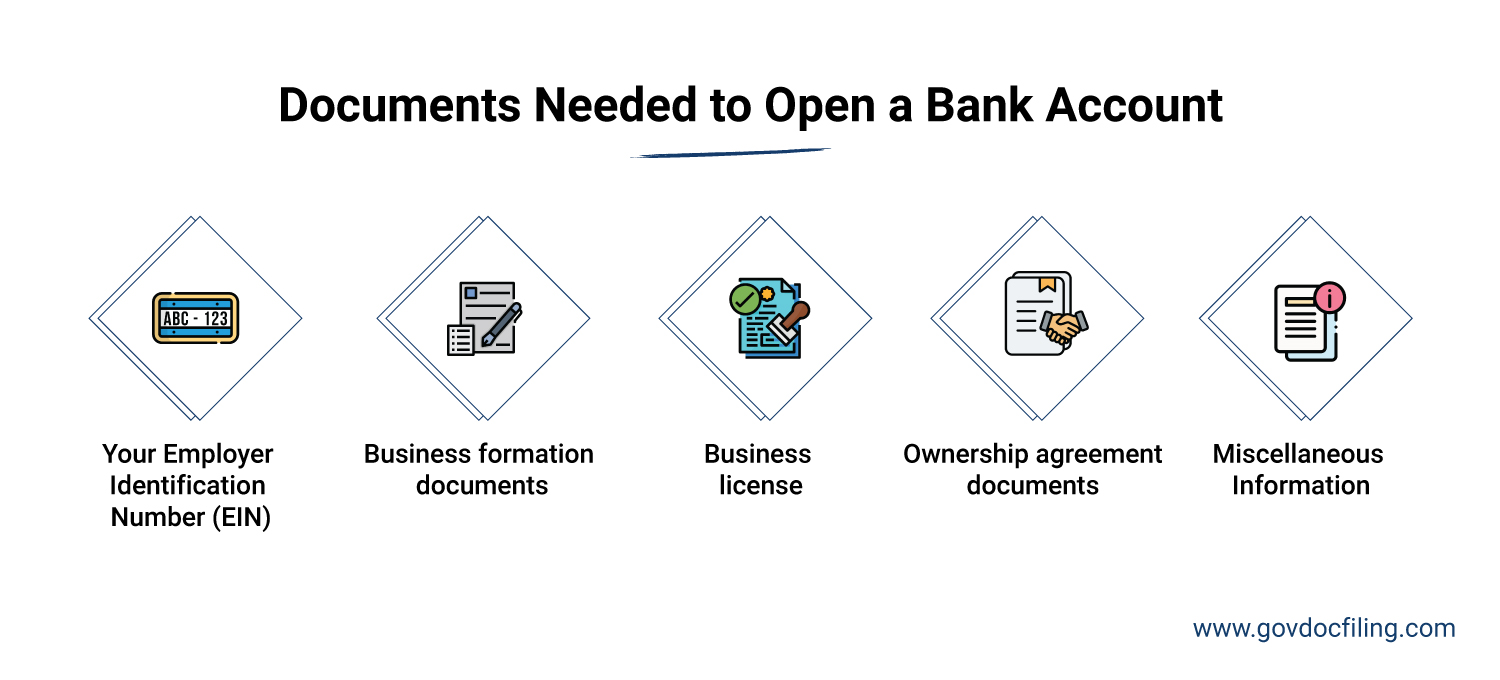 Open a Bank Account with Chase
Step 10: Set Up Bookkeeping and Accounting
Your business lives and dies by the books. That's why setting up your bookkeeping and accounting processes is one of the crucial steps in this guide on how to start a business.
Owners of startups often take on the responsibility of bookkeeping while growing their business, due in large part to limited resources.
There are a number of accounting software platforms that can be downloaded or purchased for a nominal fee or subscription to assist in making sure you're keeping track of your business finances. If you're not sure where to start, we recommend evaluating Bench, FreshBooks, or QuickBooks.
But let's face it — accounting can be complicated, and we're not all numbers people. Sometimes it's best to leave it to the professionals. If your books start to grow beyond your ability or understanding of accounting, it's probably a good time to hire a professional.
A bookkeeper or certified public accountant (CPA) can ensure your records are up-to-date and accurate so you can analyze financial reports to make smart business decisions.
Don't skip this step in this guide on how to start a business to ensure that you're able to run your business smoothly while staying compliant with state policies.
Step 11: Insure Your Business
One of the most overlooked steps in this guide on how to start a business is getting your business insured. No matter how well you plan things, something unexpected can always happen that may throw your business off course.
From temporary business closure to property damage, there are a lot of things that can go wrong. If you have the right business insurance, you can overcome these losses. Here are some common types of business insurance that you can get.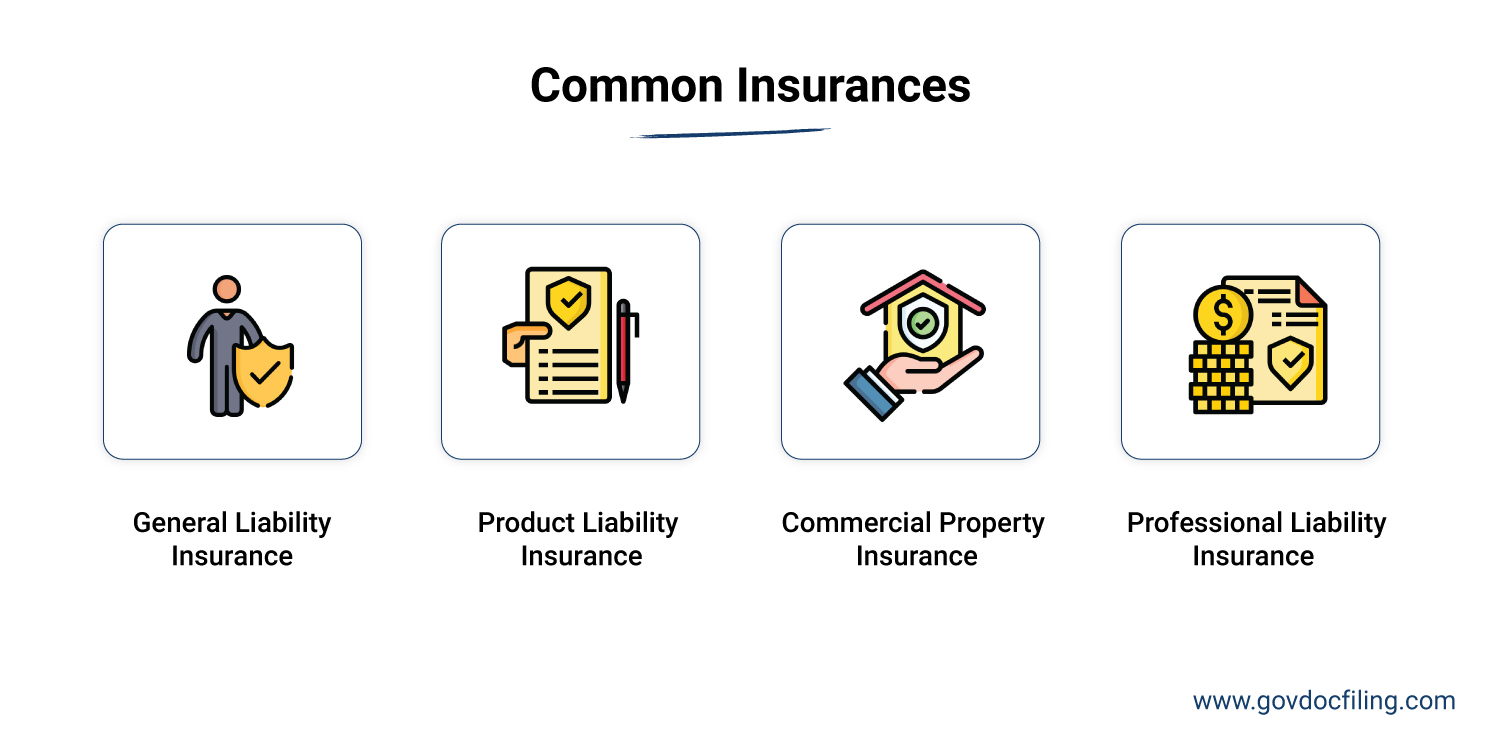 We, at GovDocFiling, have done the hard work for you by finding the best insurance providers and policies for your business. We've partnered with Next Insurance to get you the best insurance covers for your business.
Step 12: Market Your Business and Win Clients
This is one of the steps in this guide on how to start a business that may not seem important but actually may be the sole factor behind the success or failure of your business.
You may offer the best products and services but it will be futile if no one knows about them and buys from you. That's where marketing comes into the picture.
You need to start planning your marketing campaigns even before starting a business. You should have clear pre-launch and post-launch marketing plans to create buzz around your new business and win more customers.
Here are some marketing tactics that you can use:
Word of mouth marketing: Ask your family and friends to spread the word about your new business. This is especially effective if you plan to start a local business. Zara, the popular clothing brand, uses this every time they launch a new store. The brand relies on word-of-mouth marketing and social media marketing to generate buzz around its new store launches.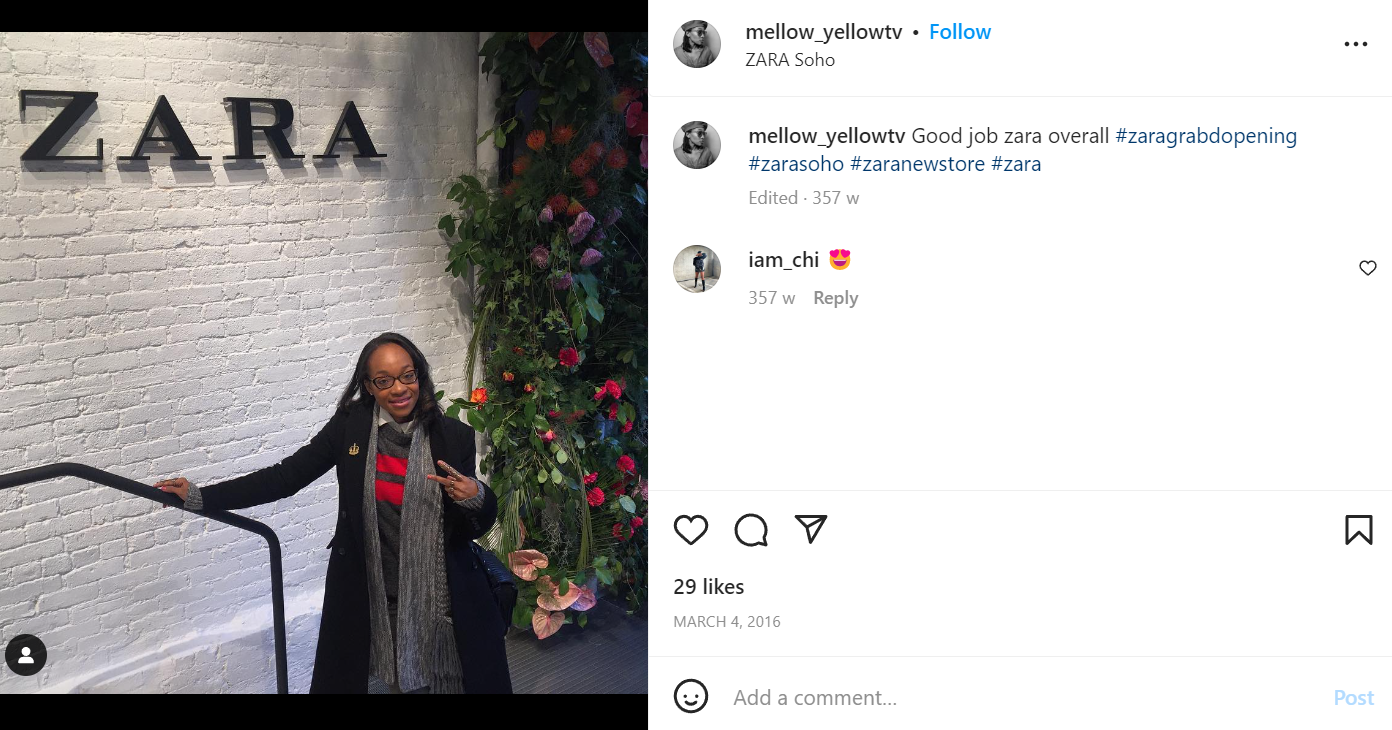 Image via Instagram
Social media marketing: Build a presence on social media by posting relevant content and creating buzz around your business launch. You can also use social media ads to reach more potential customers.
Fae Crate, for example, is a book subscription company that started in 2018. Through their consistent social media marketing efforts they've earned over 68K followers on Instagram in just 4 years. That's a testament to the power of social media, which can help new businesses reach their target customers.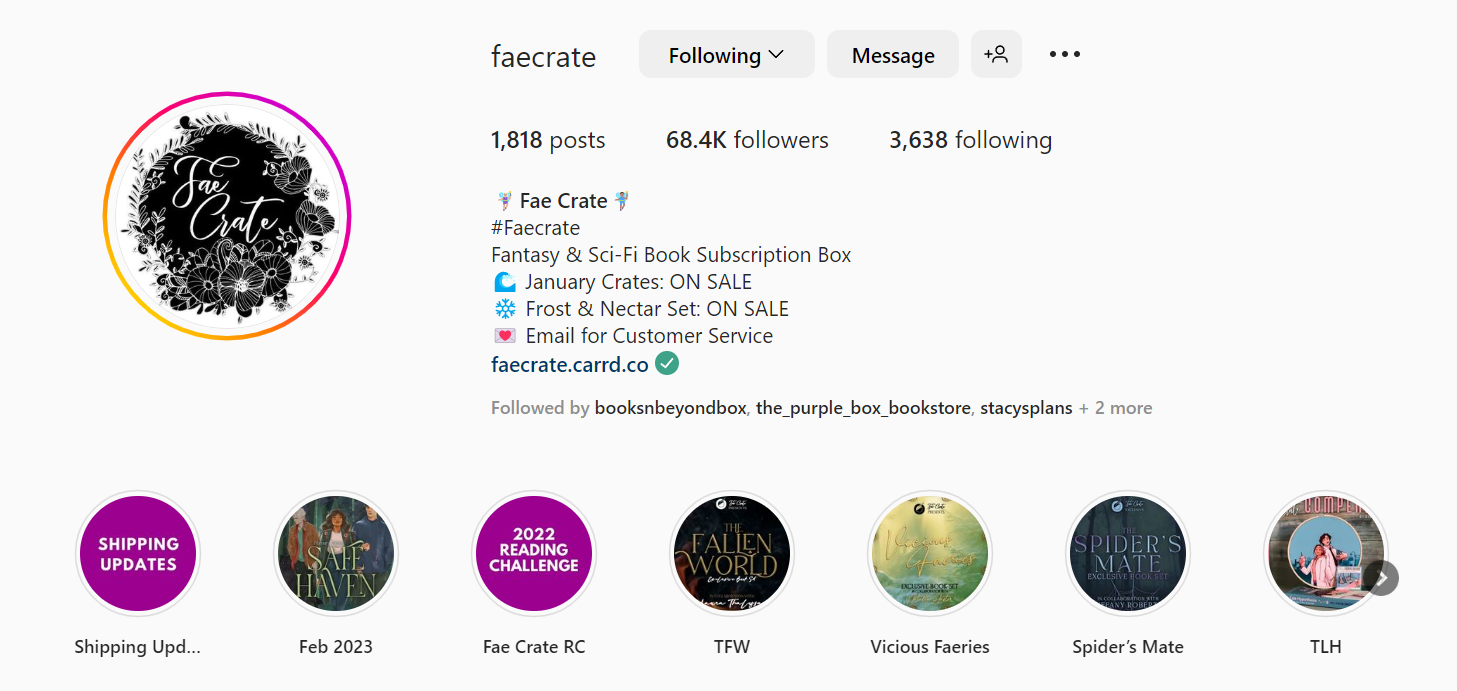 Image via Instagram
Influencer Marketing: If you want to create a buzz in the market about your new business, working with influencers is probably the best way to do so. Find influential personalities in your industry and get them to promote your new business even before it is officially launched.
Advertising: When starting a business your first marketing goal is to spread brand awareness and ads are the best way to do that if you have the budget.
Email Marketing: This is one of the most cost-effective marketing tactics that are great for new businesses. You can gather email addresses from forms on yoru website and encourage purchases using offers and discounts on first purchases, just like Birchbox does in the example below.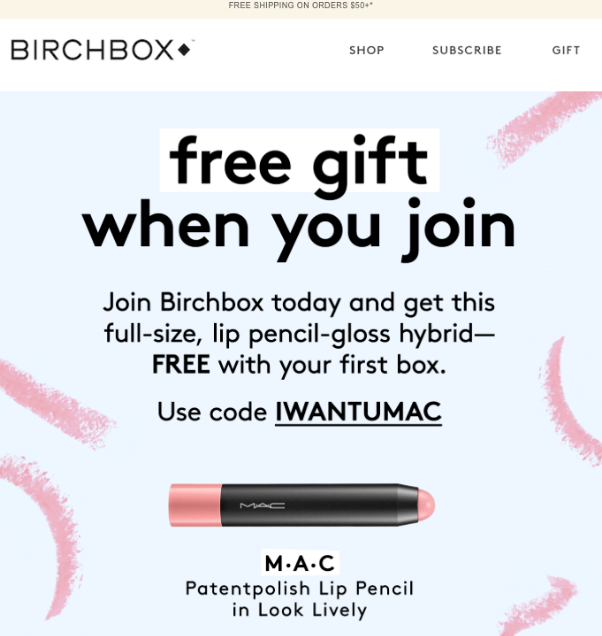 Image via Sellbrite
Apart from these, you'll also need to create an SEO-friendly website. After all, gaining organic search traffic is the most sustainable way of bringing in leads for your new business.
If you need help finding and registering the perfect domain name and designing an SEO-friendly website, our partner GoDaddy can help.
Our trusted partner GoDaddy offers complete web design, domain registration, and hosting services that are the best in the industry. With our link, you'll also get the best prices for their various plans.
Step 13: Seek Legal Protection
Every business needs legal services in some form or another. That's why seeking legal protection is one of the steps in this guide on how to start a business.
When you're starting a new business, you may not think it's necessary to insist on written agreements and contracts; however, they can save you thousands of dollars in legal fees and headaches in the long run.
Make sure you take the time early on to create thorough and legally binding agreements and contracts. Do not rely on verbal agreements with any of your partners or vendors, even if they seem trustworthy.
With business success comes increased exposure to predators and a greater importance to protect yourself. Lawyers can offer suggestions and advice that, if followed, can prevent lengthy and expensive litigation in the future.
If your business activities are exposing you to increased risk or liabilities, consult with a legal professional sooner rather than later. GovDocFiling has partnered with Rocket Lawyer for document review and legal advice.
Get Legal Services by Rocket Lawyer
Step 14: Scale and Grow Your Business
Technically the previous step was the end to this guide on how to start a business. However, any business needs to expand and grow to be truly successful. That's why we've included this as one of the steps in this guide on how to start a business.
You can scale your business in many ways, such as:
Growing your list of products and services
Entering new market segments
Expanding to new geographies
Or simply growing your customer base and revenue
The question is "what do you need to expand and scale up?"
The short answer is you need a mix of marketing efforts, technology, and money to scale your business.
Marketing will help you reach new audiences, reposition your brand, and create awareness about your brand in new markets and locations. Check out how Zara announced their new collection when it entered a new product segment.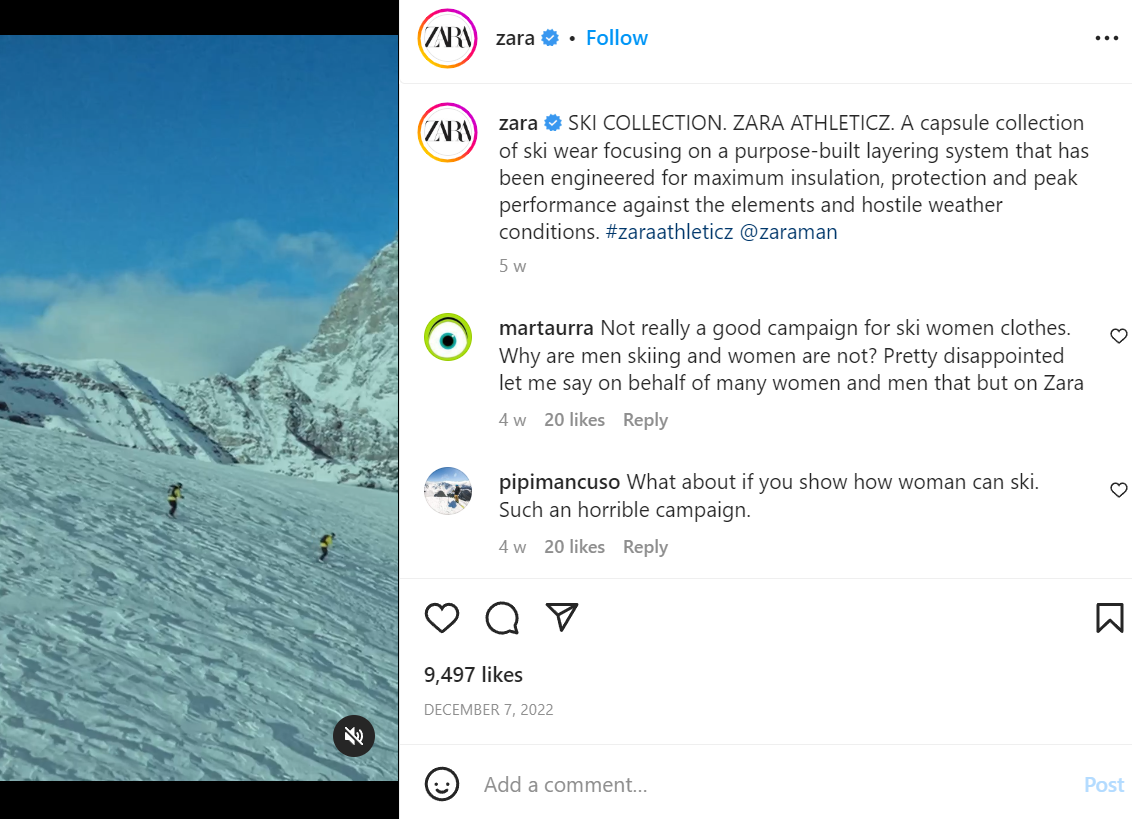 Image via Instagram
Technology will help you achieve the operational efficiencies required to scale your business. Automation, for example, can reduce errors, improve productivity, and free up resources that were previously used for routine and repetitive tasks.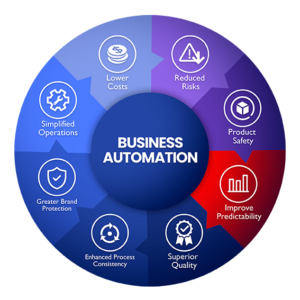 Image Source: Websfarm
Lastly, you'll need an extra round of funding to expand your business, whether it is by opening new stores or managing more inventory. If you have a Corporation, you can simply issue stock and get funding from the public. Otherwise, you'll need investors to fund the expansion of your business.
Check out the business financing solutions offered by our partner MB Capital Solutions and find the funds to expand your business.
That brings us to the end of this guide on how to start a business. Follow this comprehensive guide on steps to starting a business and launching the successful business that you always dreamed of.
FAQ
Q1. What are the steps to starting a business?
A. Here is the complete list of steps in this guide on how to start a business:
Step 1: Come up with a business idea
Step 2: Conduct thorough research
Step 3: Assess financing needs and sources
Step 4: Prepare a solid business plan
Step 5: Choose a legal business model
Step 6: Register your business and get an EIN
Step 7: Get business permits and licenses
Step 8: Hire employees and manage payroll
Step 9: Open a business bank account
Step 10: Set up bookkeeping and accounting
Step 11: Insure your business
Step 12: Market your business and win clients
Step 13: Seek legal protection
Step 14: Scale and grow your business
Follow our step-by-step guide on how to start a business to hit the ground running with your new business and ensure that it is a success.
Q2. How do I start a small business with no money?
A. If you don't have the funds to start a business, you can opt for online businesses that require skill and not much upfront investment. For example, you can become a freelancer and provide a plethora of professional services like consulting, writing, graphic designing, etc.
You can also start a Sole Proprietorship where you are the only employee. Once you have established your business and have a steady income stream, you can then try to get funding and expand your business.
There are many offline businesses that don't require any startup costs. You can, for example, become a babysitter, dog walker, and so on.
Q3. What is the best business structure to start a business?
A. That completely depends on your type of business, expansion plans, number of founders, tax preferences, and expansion plans.
A Sole Proprietorship, for example, is great for starting a small, local business with a single business owner who wants complete control over the business. A Corporation is perfect for businesses that have expansion plans and want to be present in multiple geographies.
An LLC is a great choice for most small and mid-sized businesses that want the best features of sole proprietorships and corporations. It provides liability protection while also offering tax benefits.
Compare the pros and cons of each structure and then choose the right one before you start a business.
Q4. What are the key elements of a business plan when starting a business?
A. Here are the key elements of a business plan that you need to make before you start a business:
Executive summary
Company description:
Market study
Company structure:
Strategy
Key offerings
Marketing strategy
Funding needs and sources
Financial estimates
Making a business plan is one of the most important steps in this guide on how to start a business. Don't skip this step if you want to start a business the right way and ensure its success.
Q5. What are the most important steps in this guide on how to start a business?
A. All the steps that we've mentioned in this postguide on how to start a business are important and can't be skipped. If you want to start your small business and make it a success, follow all these steps without missing any.
From validating your business idea through market research to registering your business and marketing it, you need to do it all. Starting a business is no easy task, but with the help of GovDocFiling, you can do it right.
Whether you want help obtaining an EIN or need affordable legal services, we can help you start a business and run your business successfully.
Conclusion
Starting a business is tough, which is why most new businesses fail within the first year of their launch. If you want to avoid this fate, you need to follow all the steps to mentioned in this comprehensive guide on how to start a business.
These steps on how to start a business are crucial to the success of your new business and will ensure that you hit the ground running.
If you need help with registering your business or obtaining an EIN or any other regulatory hassle, we are here to help. GovDocFiling makes business formation easy by expediting the process and taking care of all legal paperwork. Let us worry about the legal aspects, while you focus on growing your business.
About the author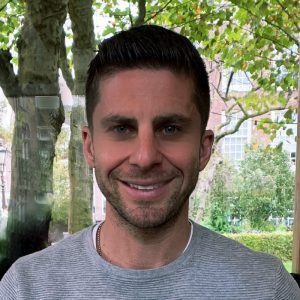 From selling flowers door-to-door at hair salons when he was 16 to starting his own auto detailing business, Brett Shapiro has had an entrepreneurial spirit since he was young. After earning a Bachelor of Arts degree in Global and International Studies from the University of California, Santa Barbara, and years traveling the world planning and executing cause marketing events, Brett decided to test out his entrepreneurial chops with his own medical supply distribution company.
During the formation of this business, Brett made a handful of simple, avoidable mistakes due to lack of experience and guidance. It was then that Brett realized there was a real, consistent need for a company to support businesses as they start, build and grow. He set his sights on creating Easy Doc Filing — an honest, transparent and simple resource center that takes care of the mundane, yet critical, formation documentation. Brett continues to lead Easy Doc Filing in developing services and partnerships that support and encourage entrepreneurship across all industries.