What a loaded question. If someone asks you "Is affiliate marketing dead," you don't have to be a mind
reader to guess that one of two things is true of the person asking that question:
1. He/she tried an affiliate marketing course and isn't making money.
2. He/she is considering purchasing an affiliate marketing course, but knows some crusty world-weary
guy at the end of the bar who said "Affiliate marketing … yeah, I tried that once … did pretty well at
it. But let me tell you something, kid … affiliate marketing is dead!"
One person you won't hear that question from is someone who made some of the $5.4 billion dollars earned by affiliate marketers in 2017, up from $1.6 billion in 2010 and expected to tip the scales at $8.2 billion by 2022.  If affiliate marketing is dead, nobody told them, or if they did know then they have pulled a Frankenstein and revived it.The truth is, asking whether or not affiliate marketing is dead is the wrong question. Affiliate marketing will never die.What may die are sources of traffic that individual affiliate marketers or groups of affiliate marketers had
come to depend on.
What Is Affiliate Marketing?
To understand why it isn't too bold to state that affiliate marketing will never die, it helps to understand what affiliate marketing actually is.  An affiliate makes money by referring customers to a business, for which service the business pays the affiliate a commission.  Nothing more than that. Sales commissions are as old as commerce itself. Call it a "kickback," a "payoff," whatever you like—it has always been worth it for a business to pay a portion of their revenue on a sale to the person who brought them the sale.  Affiliate marketing looks more complicated now that browser cookies and tracking pixels are a thing, but affiliates existed long before cookies and pixels, and they will exist long after cookies and pixels give way to a new technology. Businesses will always pay commissions to people that bring them customers.  All an affiliate marketer needs is stream of customers to refer to those businesses. That's where traffic comes in.
The Panda and the Penguin of the Apocalypse
There is no better example of the ground disappearing under an affiliate marketer's feet than the "Panda" and "Penguin" updates to Google.  The most crucial tool in an affiliate marketer's toolbox has historically been the website. Affiliate marketers design a (hopefully) attractive website or blog, festoon it with affiliate links, publish it on the web, and wait for the money to roll in.
Of course, that website needs traffic. Affiliate marketers who couldn't afford paid search usually relied on Search Engine Optimization (SEO), the complex and controversial process of tailoring a website such that it ranks high on Google searches. 91% of all organic search traffic stops at Page 1 of the Google search, so effectively all the traffic comes from ranking on Page 1.
The thing is, there are no set roadmaps for successful SEO. In fact, Google doesn't want people practicing SEO. They want sites to rise in relevance naturally due to the quality and popularity of the content. Search engines regard SEO as an attempt to rig their system.  In 2011, Google announced an update called "Panda," which applied a ranking modifier based on a ratio between a site's reference queries and backlinks. A year later, Google doubled down with the "Penguin" update, which specifically targeted "black hat" (in short, manipulative) SEO tactics. The result: sites that didn't make the cut got kicked off of Search Page 1 and out of the game permanently.
How to Make Money as an Affiliate Marketer in 2020 and Beyond
You can probably see what these affiliate marketers, dependent on SEO, did wrong. They became dependent on one source of traffic. When that traffic dried up, they had no recourse to stay in business.  Successful businesses don't have the luxury of no longer innovating. In fact, they have to keep innovating  faster to stay competitive.  To avoid falling into this trap, here are seven tips to make money as an affiliate marketer in 2020 and beyond:
1. Forget the Coupon Sites. There's no way for an upshot coupon site to compete with big boys like retailmenot.com. It's the classic case study of a former cash cow that went dry.
2. Cultivate Multiple Traffic Streams. Don't just rely on one form of traffic, especially one as fickle as organic search. Pursue streams of traffic on platforms like YouTube, Instagram, paid search, and Facebook AdManager.
3. Stay on the Cutting Edge. Instagram traffic is already consolidated around the "blue checkmark" profiles (verified influencers). Smart marketers already have their eyes peeled for the net big source of traffic.
4. Build an Email List. Most businesses don't make a profit on the first sale; instead, they thrive on the back end. Once you have a sizable email list built from customers who like your content, you can sell to them multiple times, giving you breathing room if one of your traffic sources dries up.
5. Settle In for the Long Haul. Affiliate marketing is not a get-rich-quick proposition. It takes time, effort, and patience to build a money machine out of your affiliate business.
6. Build a Durable Brand. Forget about finding that magic "piggy bank" of qualified traffic and focus on building a brand customers love. That way they will follow you from your blog to Facebook to Instagram to YouTube to whatever platform is next. Such a brand can monetize in multiple ways, including coaching, eCommerce products, educational products, etc.
7. Do What You Love. Building a brand is a labor of love. Only seriously consider a niche you would create content for even if you weren't paid. Months or years from now, you may be surprised to see that the affiliate dollars have started roll in and you didn't even notice it.
About the author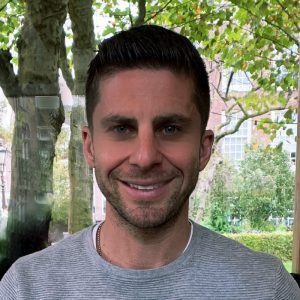 From selling flowers door-to-door at hair salons when he was 16 to starting his own auto detailing business, Brett Shapiro has had an entrepreneurial spirit since he was young. After earning a Bachelor of Arts degree in Global and International Studies from the University of California, Santa Barbara, and years traveling the world planning and executing cause marketing events, Brett decided to test out his entrepreneurial chops with his own medical supply distribution company.
During the formation of this business, Brett made a handful of simple, avoidable mistakes due to lack of experience and guidance. It was then that Brett realized there was a real, consistent need for a company to support businesses as they start, build and grow. He set his sights on creating Easy Doc Filing — an honest, transparent and simple resource center that takes care of the mundane, yet critical, formation documentation. Brett continues to lead Easy Doc Filing in developing services and partnerships that support and encourage entrepreneurship across all industries.