Do you know how to brand your business and create an emotional connection with your customers?
Branding can add value to your products and services, and help you stand out from your competitors. Just like Coca-Cola is more than a soda and Ray-Ban is more than a pair of sunglasses.
More than products, what consumers actually buy are the experiences they can have when they buy a product. That's why small business owners should build a brand to gain traction for their businesses.
You need to define everything from your target audience to brand voice, color palette, and product packaging. Learn how to create a brand that will be loved, trusted, and chosen by your potential customers.
Let's get started.
What is a Brand?
A brand is a set of features that distinguishes one company from another. It includes a:
name
logo
brand voice
identity,and more
It also refers to the overall customer experience that people have while communicating, interacting on social media, or buying something from your company.
All these features can be categorized into two broad categories – tangible and intangible brand assets. For example, the logo is a tangible asset that forms the visual representation of a company. It evokes emotions and highlights a company's personality.
Take Nike for example. Its logo is quite prominent and is one of the things we use to identify the brand. The logo appears on all Nike products and forms the visual representation of the company.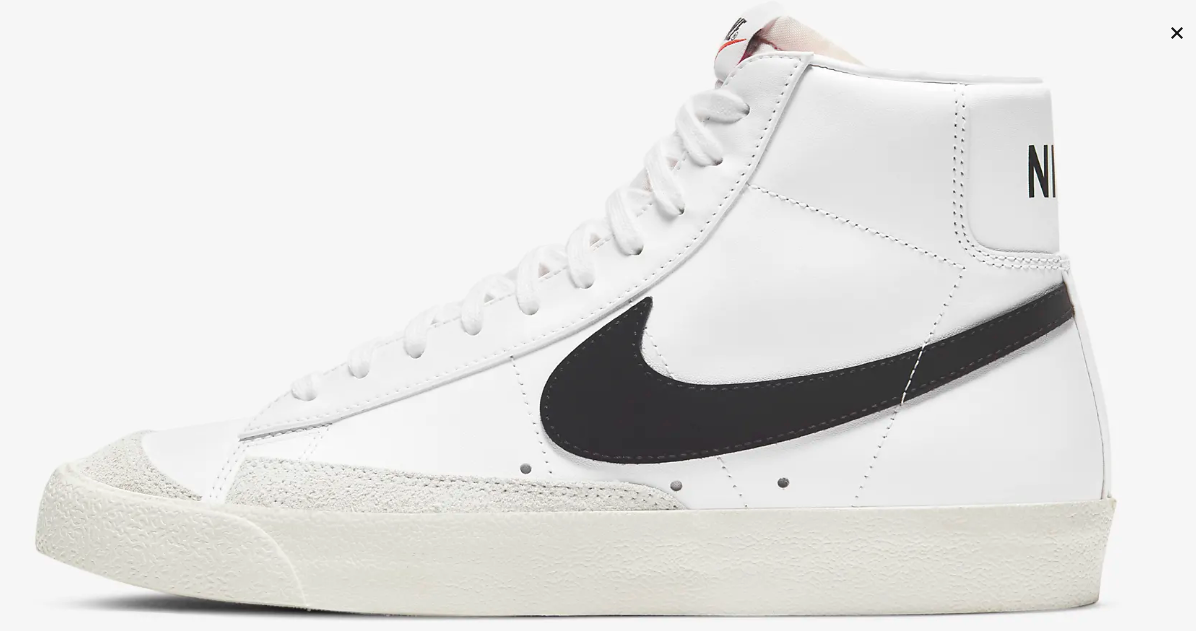 Image via Nike

On the other hand, brand identity is an intangible asset that also defines a brand. It's not something that you can see but it plays a key role in helping a brand connect with its audience.
Combining these elements is at the core of how to build a business brand. And since these elements determine how customers and outsiders perceive your business, you should take time to carefully craft each of these to create the perfect brand image.
The next thing you need to brand your business is to come up with strategic messaging that appeals to your target audience. Your brand messaging should communicate what makes you different from other businesses in your niche.
It should also capture the attributes you want your customers to see.
Branding is the process to turn your business into a solid brand that people recognize and trust.To start, you can work with a creative agency to design your logo and other visual marketing assets, such as social media banners.
Next, you'll have to train your employees on your brand values so all your customer engagements reflect these.
You can also choose to support certain social causes as a way to connect with your audience. Identify the social causes that matter to your target audience and support those by raising awareness, funding certain institutions, or attending certain events.
Some of the prominent social issues people are supporting these days include climate change, eco-friendly products, support for Ukraine, ethical sourcing, and equality.
Nike, for example, supports diversity, responsible sourcing, empowering communities, and protecting the planet.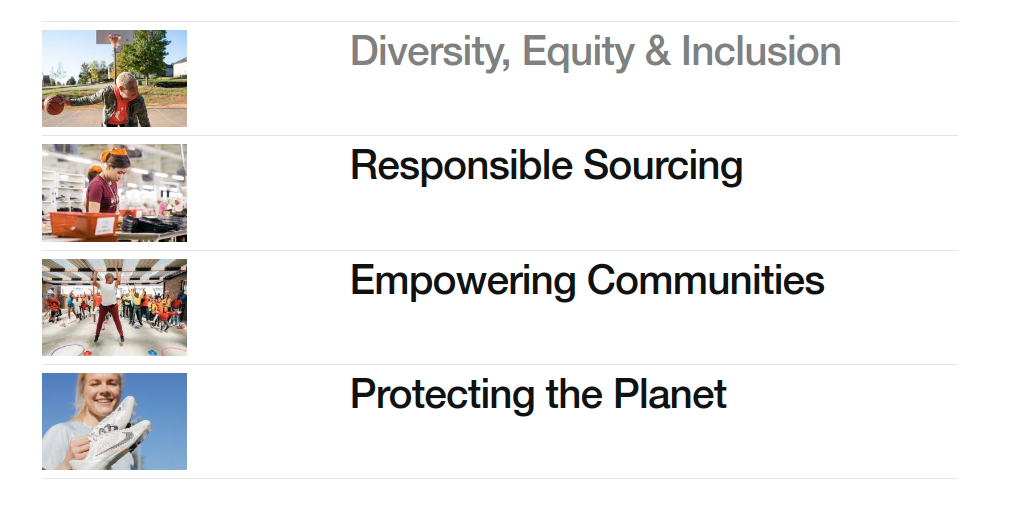 Image via Nike

Modern consumers want to know that the brands they support care about the issues that are close to their hearts. They are also not afraid to cancel a brand and express their disapproval on social media.
Why is Building a Brand Important for Your Business?
Businesses face a lot of competition in their quest to attract customers. Price is no longer the main differentiator and customers will not buy from your brand just because you have the lowest product prices.
As it stands, buyers want to know what you stand for, and that's why it's important to learn how to brand your business.
Branding is extremely important for small businesses as it:
Creates a brand identity for your business beyond your products or services.
Besides your products, what do people know your brand for?
Apple, for instance, is also known for innovation. As such, consumers expect Apple to use innovation to develop amazing products that solve their daily challenges.
The image below shows some of Apple's innovative products such as the iPad, AirPods, and Apple Watch. Consumers rely on these products for their everyday needs and expect Apple to keep innovating and developing more consumer products.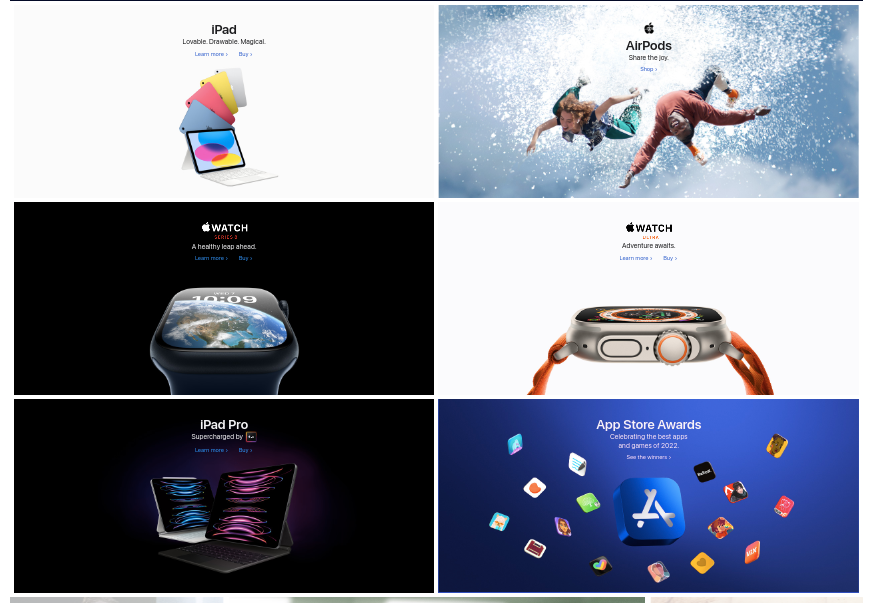 Image via Apple

As a business, you should also build an identity that defines what you stand for. If you provide simple goods or services in a highly competitive niche, you can create a brand identity that provides excellent customer service.
You can provide free delivery when a customer buys your products and after-sales support whenever a customer needs it. Such small things have a huge effect on customers and they will help you earn their trust and loyalty.
Makes your small business memorable and easily recognizable.
Another benefit of learning how to brand your business is that it helps you make your business more memorable.
When clients can identify your brand based on your visual assets such as your logo, it breeds familiarity. This also increases your sales since customers are more inclined to buy from brands they recognize.
For example, a thirsty customer walks into a convenience store to buy a refreshing drink. They come across several brands but the only one they recognize is Coca-Cola. In this case, chances are high that they will buy a coke and not any other cold drink.
Customers always find themselves in such situations where they have a pressing need for a product or service. And since they are paying to access the product, most wouldn't gamble their money on a brand they don't recognize.
This is how recognizable brands continue to make money as businesses that don't have strong brands continue to suffer. As such, if you thought learning how to brand your business was a waste of time, then you are in the wrong.
Brand recognition also affects how people interact with your content, ads, emails, and other marketing content. When people know your brand, you will get more likes, comments, and shares on social media.
You will also have a higher email open rate and a high conversion rate for your online ads, if you have a strong brand identity.
All these issues play a role in the growth of a brand. If you want more people to engage with your content, then focus on how to brand your business.
Distinguishes your brand from the competition.
With many other businesses providing similar products or services, standing out in a competitive industry can be challenging. However, when you master how to brand your business, it becomes easier for customers to identify your brand even in a crowd.
The values you stand for, your brand story, and your messaging provide you with a valuable opportunity to differentiate your business.
Leveraging these assets to showcase your uniqueness will help you beat the competition in your race to attract customers, and help you retain those who already buy from you.
Lush is a great example of a brand that uses its values to differentiate itself from the competition. The company only sells handmade cosmetic products and is known for its ethical sourcing practices.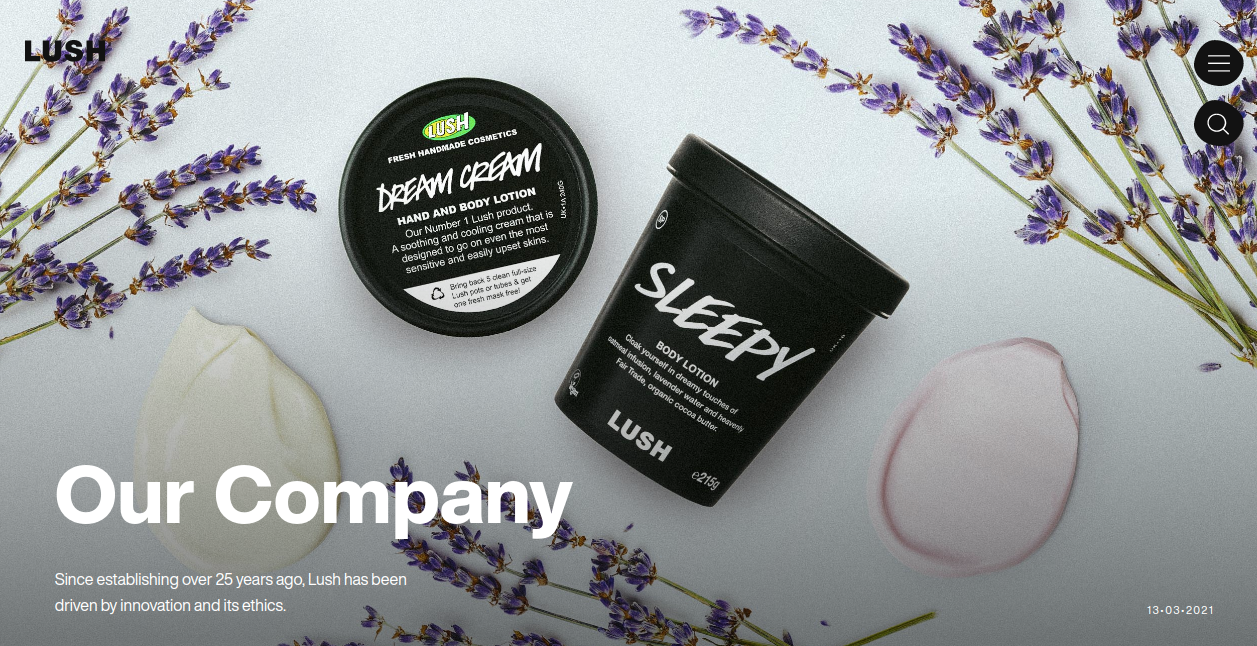 Image via Lush

The brand's greatest success is knowing that its core customers value social responsibility over top-of-the-range luxurious products made from harmful chemicals.
Supports your marketing strategies and increases their impact on your potential customers.
Marketing your business becomes simple when you create your brand assets. To market your business online and offline, you will use your logo and brand colors to make your promotional material stand out.
This will make your brand more recognizable, thus making it easy for you to connect with your target customers.
Brings pride to your employees as they'll be part of a solid brand.
Everyone wants to work for a recognizable brand. Such companies usually attract more qualified candidates than others when they post a job.
Since everyone wants to work with them, their recruitment costs are lower. They can even poach top talent from their competitors to work for them.
These are some of the benefits you enjoy when you learn how to brand your business. You are able to attract and retain your top talent. This will support your growth efforts since you will have competent employees to implement your brand vision.
How to Brand Your Business: 6 Steps
When it comes to branding, you need to do much more than designing a logo and placing it on all business communications.
Let's discuss how to brand your business from scratch.
Step 1: Discover What Your Brand is All About
First things first, you need to define what your brand is all about, who are you catering to, and what you have to offer. A well-documented brand strategy will serve as the foundation of your brand equity building.
Ask yourself:
What is the main purpose of your business' existence?
Which products or services will you offer to your customers?
Which problems will your product or service solve?
How are you different from your competitors?
Why should people care about your brand?
Leadership expert and author of "Start with Why" Simon Sinek created a powerful model on how to brand your business called "The Golden Circle." The model can help you discover what your brand is about.
The three parts of The Golden Circle are:
Why – The reason for your existence. This is what you're most passionate about.
How – The things you do to differentiate your brand from others.
What – Your product or services. How they solve customer problems.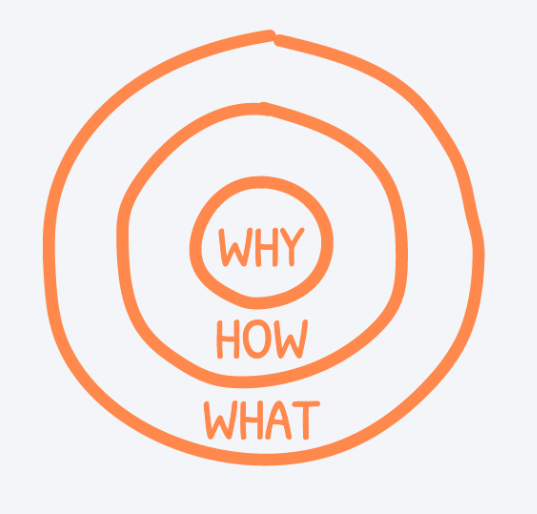 Image via Simon Sinek

When starting a business, most people tend to start with the "What." They first define the products or services they want to sell by studying the market to see what's missing.
There's nothing wrong with this approach but your chances of success are higher when you start with "Why."
To do this, you need to identify what you are passionate about and find ways to turn that into a business. Mark Zuckerberg was passionate about using technology to help Harvard students connect with each other.
That was how Facebook was formed and it has grown to become the most popular social media platform with 2.96 billion active users worldwide.
When you take this route when starting a business, it becomes easy to find ways to set your business apart. For example, if you are passionate about outdoor spaces and start a landscaping business, you can find creative ways to make the lawns of your customers look beautiful.
This will make your landscaping business unique from other providers who use the same old maintenance practices.
Need help registering your business to operate legally in your state? Our trusted partner Inc Authority provides quick and easy LLC formation services.
The last thing you need to do as you discover what your brand is about is to determine your mission and values.
Your mission defines why your business exists. For example, if you're starting a business formation services company like ours, your mission could be read, "We help entrepreneurs turn their passions into thriving enterprises by helping them set up their businesses with ease."
Step 2: Research Your Target Market and Competition
Figuring out how to brand your business starts with defining your target audience and buyer personas, and identifying your competition.
You should know who your ideal customers are so that you can cater to their needs, interests, and preferences through your branding campaigns. Understanding your customers will help you boost brand awareness, recognition, trust, and revenue.
These are some of the best ways to research your target customers as you learn how to brand your business:
Google your product/service and analyze the companies that show up on SERP.
Listen to the conversations of your target customers on dedicated platforms like Facebook groups and subreddits.
Talk to people who fit the profile of your target customer and ask them what products or features they want.
Purchase your product online or from a physical store to get a feel of the customer journey.
As you research and analyze the market, you want to take note of the following:
Who are the "low-hanging fruit" customers that you can sell to easily?
What are the established businesses in your space doing to attract and retain customers?
What are the top concerns that you need to address to appeal to customers?
It's crucial to understand your customers before moving forward as it will inform how your brand positions itself in the market. This will help you come up with a branding strategy that will set you apart from your competitors.
With an idea of what your ideal customer looks like, it's now time to create a buyer persona. If you have more than one buyer persona, you'll have to create a separate profile for each of your customer groups.
When creating a buyer persona, try to be as specific as possible. Ideally, you should give your persona profile a name to make it easy for you to highlight their characteristics.
After giving your persona a name, you need to highlight their features such as demographic, occupation, the tools they need to perform their job, age, the nature of the organization they work for, and their work objectives.
For example, if you sell CRM software and target the marketing managers in a B2C company with an annual revenue of less than $1 million, your persona can bear the name Marketing Mike.
Marketing Mike has the following characteristics:
Age: 35-44 years
Highest level of education: Master's degree e.g. MBA
Department: Marketing
Reports to: VP of Marketing
Size of organization: 11-50 employees
Work objectives: Brand awareness, lead generation
As you can see from the image below, the list could go on but you get the idea of what a customer persona should look like.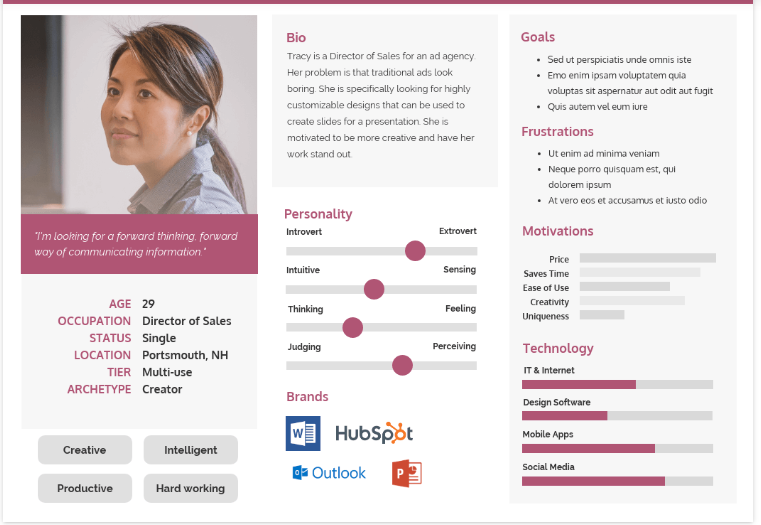 Image via Venngage

At this point, you could be wondering how a persona relates to how to brand your business. Well, the goals and needs of your customer determine how you will market and sell your product to them.
So, for Marketing Mike your organization should focus on delivering a branding strategy that caters to their goals of brand awareness and lead generation.
Understanding their goals will also dictate the media your customers are consuming and what motivates them to act. With this information, you can create a brand campaign that reaches them at the right time, through the right channels.
At the same time, it is also crucial to research what other businesses are doing to attract your target audience. You should not try to imitate your competitors, but it's important to know what they are doing well (and where they fail).
You should study your competitors' products and branding strategies to figure out how to outperform them. For instance, find out how your competitors have built their brands.
Identify the strategies they used to increase their following on social media. If a particular strategy stands out, you replicate it to brand your business.
Besides this, you should also get answers to the following questions:
Are your competitors consistent with their visuals and messaging across channels?
What's the quality of their products and how does it compare to yours?
Do they have reviews, brand mentions, or social media comments you can read?
What strategies do they use to market their business online and offline?
Competitor research will help you discover the best way to position your brand for maximum impact.
Step 3: Pick a Unique Business Name and Register It
As a small business owner, choosing a name for your brand is probably one of the biggest decisions you'll make as you figure out how to brand your business.
Your name will determine the logo you'll use, your website domain name, and trademark registration.
Ideally, you should choose a brand name that's difficult to imitate and is distinct from other brands in your space.
That's why you should take the time to choose a unique name that differentiates you from your competitors. If you plan to expand your business at some point, consider choosing a more generic name that will stay relevant as your brand grows.
Use the following approaches to come up with an appropriate business name.
Invent a word, such as Twitter
Use an unrelated word, such as Apple for smartphones and computers
Use a metaphor or suggestive term, such as GovDocFiling
Describe your brand literally, such as The Shoe Company
Combine two words, such as Pin + interest = Pinterest
Use your own name, such as Ford
Before settling for a name, it's advisable to run it by a small group of people. This can be your close friends, other business founders, or experienced marketers in your circle.
The reason for this is to get their opinion on what your name sounds like. This will ensure you don't choose a name that is offensive to some people or one that has a different meaning from what you intended.
Choosing a unique and memorable business name is important for solid branding. You should check with the USPTO's website to find out if your potential brand name has been trademarked by other brands.
You should also ensure the brand name you choose is available as a domain name. Buy it from a domain registrar such as GoDaddy and build your business website. Also, create a business email address for more credibility.
You need to register your company name as a legal entity type with the state and federal governments. We can help you form an LLC or a Corporation, or register your business as other entity types with our one, simplified business registration application.
If you want to conduct business with a different name than your registered business name, you can also file for a DBA (Doing Business As) in your state.
Step 4: Define Your Brand Values and USPs
Next step in this guide on how to brand your business effectively is to define your core values. These are the principles that guide your business strategy and decisions. These principles define your company culture, which affects how customers perceive your business.
One best practice to follow when defining brand values is not using generic words that don't capture what your brand stands for. Dig deep to find specific words that embody what you stand for as an organization.
Lastly, create your unique value proposition. This is the promise your brand makes to its customers.
Outline the key benefits your brand offers that no one else is offering. This will be the unique selling point (USP) of your business and you can use it for positive brand building.
What's the one thing that makes your brand different from the other brands in your target market?
It could be:
Quick and transparent customer service
Affordable products and services
Higher-quality products
Time-saving solutions
Eco-friendly products and packaging that promote sustainable living
To create the perfect USP, you need to take time to find out what truly matters to your customers. Use the following questions to understand your customers' needs and desires:
What do your customers really want?
How does your product solve their problem?
What motivates your customers to buy?
What will make customers choose your brand over your competitors?
The answers to these questions will help you create a unique selling point for your business. Then communicate the benefits and use cases of your product to your customers and give them a reason to choose your brand.
Step 5: Create a Brand Style Guide
You should define your brand's voice and create a style guide that can help everyone on the team understand how to present your brand to the public.
Your brand's voice can be professional, friendly, authoritative, or conversational based on your industry and the nature of your business.
Developing your voice is similar to creating buyer personas, but instead of focusing on your audience, you need to look inward to find your brand voice.
What are your values? What do those values represent? How do you want people to talk about your brand?
The answers to these questions are key to discovering your brand voice and figuring out how to brand your business.
Once you identify your brand voice, you need to consistently use it in your content and brand communications to help users connect with your brand. Draft compelling emails, publish informative blogs, and share captivating social media content to develop your brand voice.
Ensure your communication reflects your mission, brand values, and how you want customers to perceive your business.
As you develop your brand voice, you also need to define your tone. Do you want to use a conversational tone that relates to your target audience? Or will it be more helpful to use a professional tone to show competence?
Lifestyle company Fanm Djanm is a great example of a brand that uses its brand voice to appeal to customers. The brand is a strong supporter of women and it uses a tone that shows strength as well as celebrates sisterhood and self-love.
Fanm Djanm is also very consistent in its branding as you can see on its website and social media pages. The brand uses warm and vibrant colors, and powerful images of women to show what it stands for.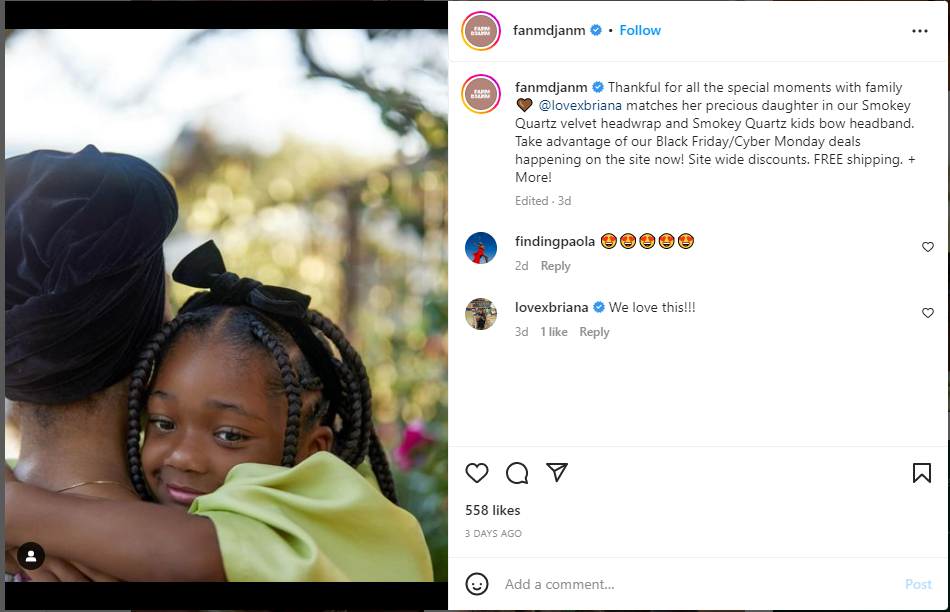 Image via Instagram
The copy on its website and social media also mirrors the brand values, thus helping the organization create a sense of community with its audience.
The next step in this guide on how to brand your business is to establish a look for your brand. You can use visual brand elements, such as a logo, color palette, and font, to create a distinct visual identity for your brand.
Your brand's style guide should include the following brand elements.
Logo
A logo is probably the first thing that comes to mind when you think about how to brand your business. After all, your logo is the face of your company and represents your brand everywhere.
Ideally, you should design a logo that's unique, easily identifiable, and usable on all platforms (something that's often overlooked).
Think about all the places where your logo needs to exist, such as:
Website
Social media profiles
Video or image ads
Product packaging
YouTube channel art banner
Favicon (the tiny icon that appears when a website is open on a browser)
Create a brand logo that looks great on all these platforms. While there are many tools you can use to create your logo, the best option is to hire a designer to make your logo.
A professional designer will inform you about the different types of logos, such as:
Brand emblems – Emblem logos usually feature an image placed inside a circle or shield. Such logos have a traditional and sophisticated look.
Example: Starbucks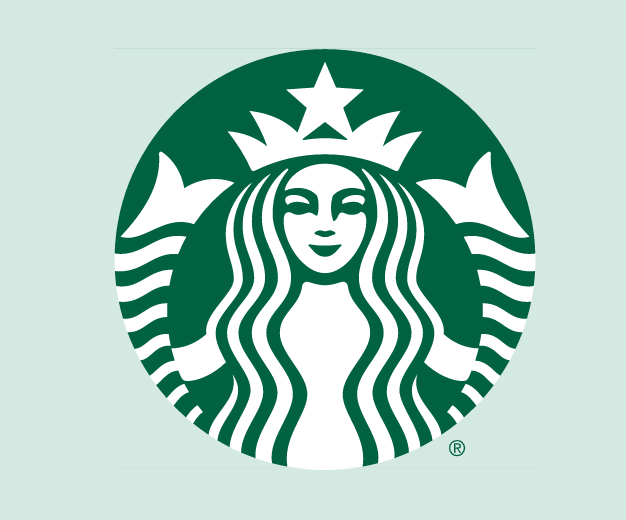 Image via Starbucks

Mascot logos – Mascot logos center around the face of a specific character who is the brand mascot. Such logos help humanize a business by creating a relatable brand personality.
Example: Wendy's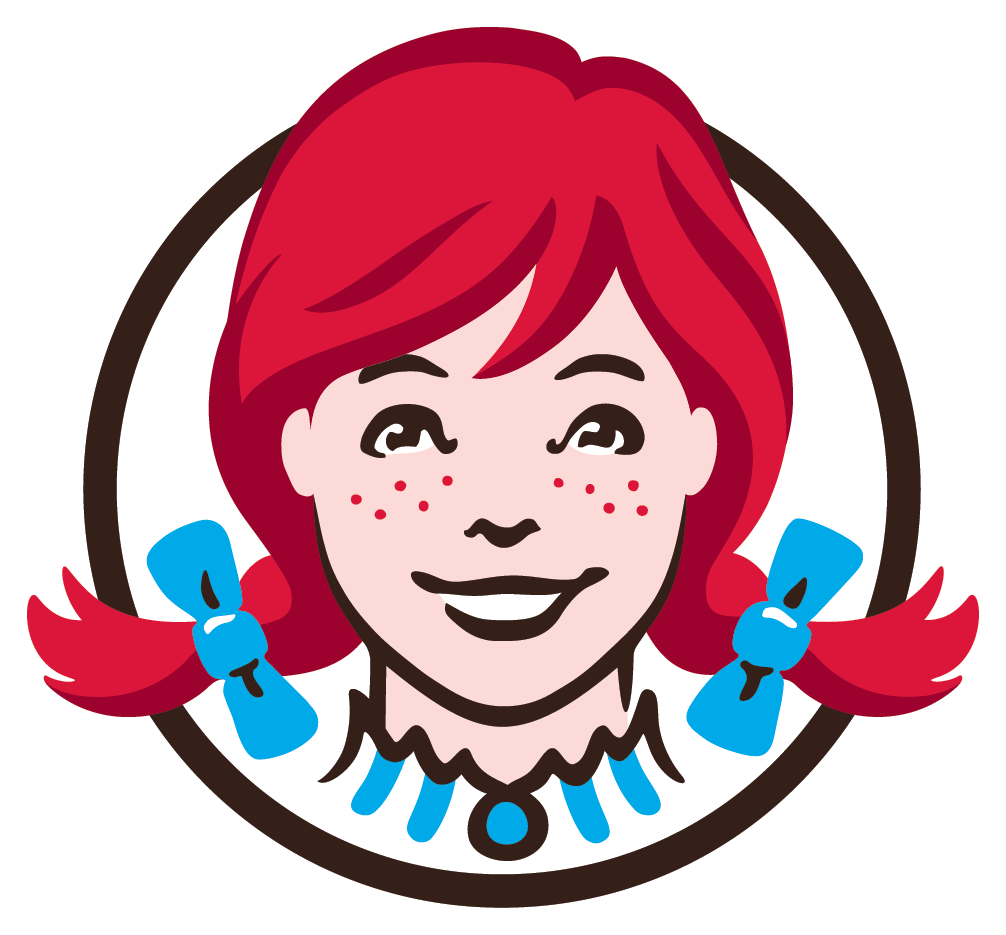 Image via Wendy's

Lettermarks – Lettermarks turn the initials of your business name into a logo.
Example: IBM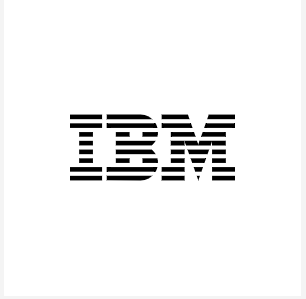 Image via IBM
Icon – Icon-type logos make use of a simple image as a logo. Icon logos are great for creating a memorable visual image of your brand.
Example: Twitter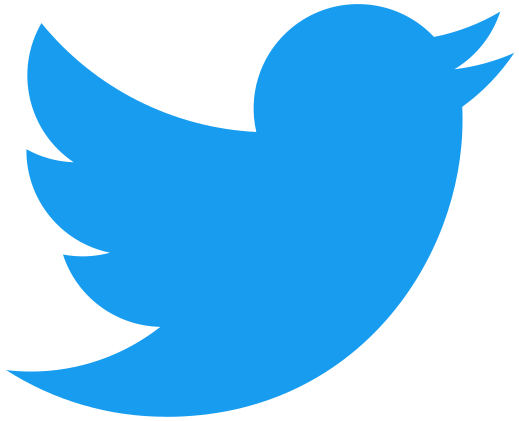 Image via Twitter
Wordmarks – Wordmark logos use a stylistic font to turn your brand name into a logo. Such logos are great for making a brand more recognizable.
Example: Coca-Cola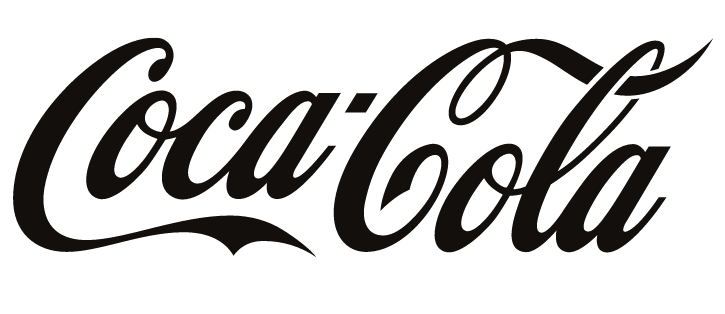 Image via Coca-Cola
Combination marks– Combination logos bring together a brand name and image together to make a unique logo.
Example: Meta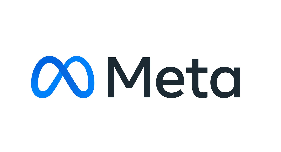 Image via Meta
Tagline
While a tagline is an optional part of learning how to brand your business, it's worth considering if you want to increase your brand recognition and reach. A tagline helps customers understand your brand and what you do.
The tagline you'll use depends on what you want to accomplish as a brand. For example, Red Bull uses the tagline, "Red Bull Gives You Wings" to tell consumers they can boost their energy levels with the drink.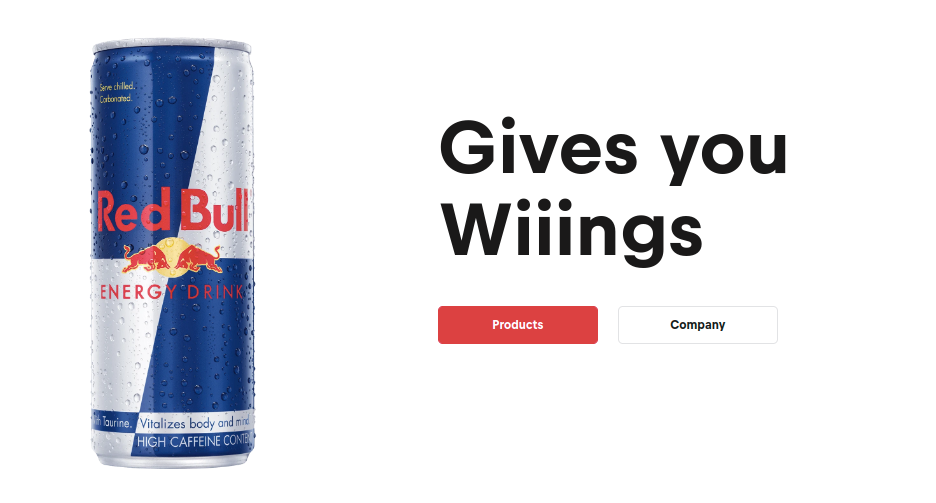 Image via Red Bull
Nike's iconic tagline reads, "Just Do It" to show the brand values of leading an active lifestyle.
The best tagline tells customers something about business while giving you another unique asset to add to your brand identity. Don't forget to incorporate your brand voice in your tagline as well.
Color palette
You also need to choose your brand colors as you learn how to brand your business. You need to be careful when choosing your brand colors since they convey specific feelings and emotions to your audience.
For example, Red Bull uses the colors red and yellow to portray feelings of excitement and optimism.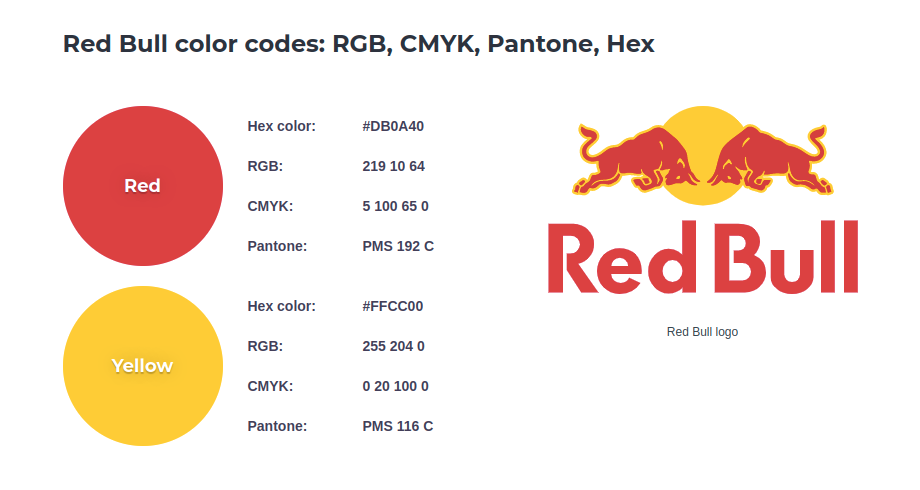 Image via US Brands Colors
When choosing your brand colors, pick those that are different from your competitors to avoid confusing your customers.
You should also consider how black and white text will look over your color palette. Use design tools to find colors that work together for your brand. Be sure to memorize the hex codes since you'll need them when designing your website.
Fonts and typography
In this step in this guide on how to brand your business, it'd be great to look at the fonts you will use on your website and promotional materials.
The best advice we can give you is to keep it simple when choosing your fonts. You don't want to use a complicated font that makes it difficult for people to understand what you are saying.
Also, you don't want to have too many fonts on your website. Pick one or two fonts to avoid confusing visitors when they land on your site.
For example, Apple uses the San Francisco font typeface on all its platforms.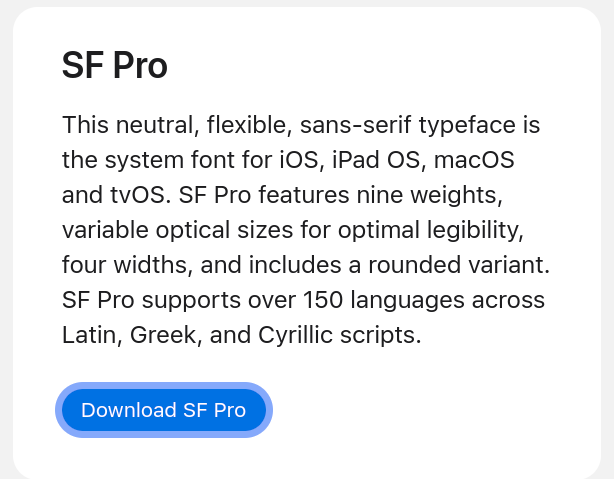 Image via Apple
Messaging tone
Your messaging tone is also important as you master how to brand your business. Your tone makes your brand recognizable online, thus helping you attract the right people.
One way to define your messaging tone is to think of your brand as a person. Come up with 3 to 5 adjectives that describe how you want customers to perceive you. For example, your adjectives can be funny, flamboyant, and outdoorsy.
This description will inform your communication on social media and the tone of your written content.
For example, Virgin Atlantic is known to be friendly and reliable. Its messaging tone on social media constantly strengthens that reputation.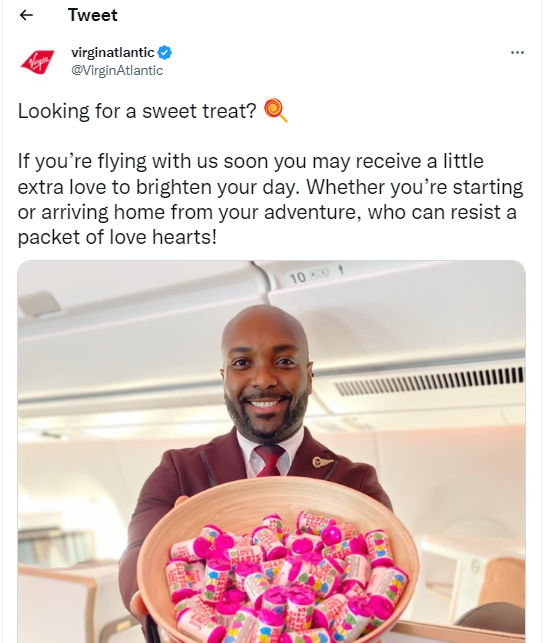 Image via Twitter
In the image above, you can see Virgin Atlantic offering its customers some extra love in the form of a sweet treat when they travel with them.
Photography style
It's also important to define your photography style as you work on how to brand your business. People perceive a brand based on the photos published on its website and social media.
As such, you need your photos to communicate your brand values and identity. For example, Orange, a Telecommunications company, has clear and specific guidelines for its brand photography.
The company asks photographers not to use staged images and instead use natural, spontaneous images. They also ask photographers to show the benefits the company delivers instead of showcasing their products.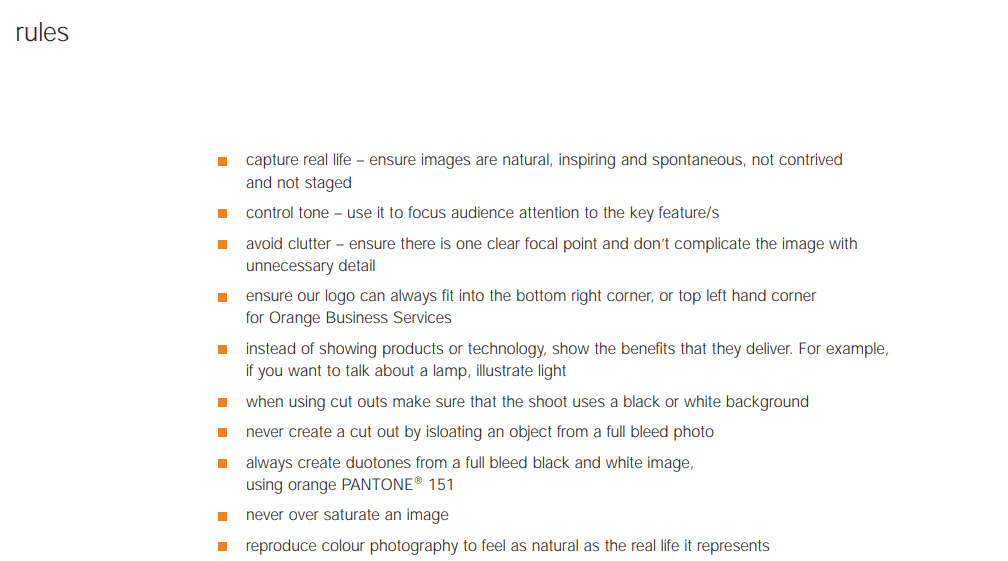 Image via Squarespace
Print and packaging guidelines
Your product packaging also gives you an opportunity to market your brand. When customers receive your product, they should be impressed by how it has been packaged.
To make your product packaging stand out, it must feature your logo and brand colors. Any text on the product package should be written in your official brand fonts.
Apple has a simple packaging design for its iPhone. The packaging has Apple's logo, the product image, and the word iPhone written in the brand's official font.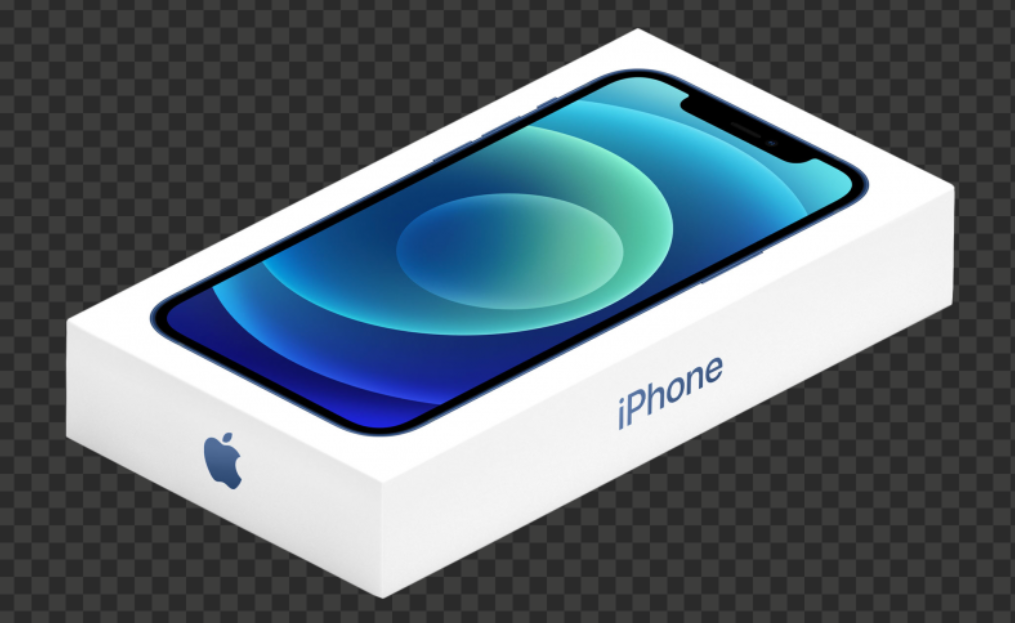 Image via Citypng
You should also ensure that you include your contact details and social media handles so that anyone who wants to learn more about your business can use those details to reach you.
These measures help increase your brand awareness since anyone who comes across your packaging will know who you are.
Website design elements
The last step in this guide on how to brand your business is creating a website that's consistent with your brand identity. Use your brand's logo, color palette, voice, etc. to design a website that accurately reflects your brand.
Hire a good web design company to design your website. You should include clear and compelling CTAs to motivate site visitors to take the desired action and great website content that provides value to your users.
Step 6: Integrate Your Branding Elements Across Marketing Materials
You are not done with branding your business until you integrate your branding elements across different marketing channels. You've invested a lot of time and effort to build a brand guide, now it's time to put it into action.
All your customer touchpoints, whether online or offline, should feature your branding. Taking every opportunity to add the brand elements that help you brand your business and make it recognizable.
You may not see the benefits of promoting your brand at first, but it's a long-term investment that makes your brand memorable and recognizable.
With your style guide set, take time to train your employees so they know how your brand should look and sound. This is important because every interaction with customers is an opportunity to demonstrate your brand values and identity.
Since employees are your chief brand representatives, this training empowers them with the relevant skills to positively engage your customers.
Once that is done, you can proceed with the integration process.
Make sure that you integrate your brand identity into every aspect of your business, which includes:
Website and blog design
Content
Product packaging
Marketing materials
Email copy
Social media presence
Blog posts
All branding and marketing resources
On your website, ensure your logo and brand colors feature prominently. You should also use your official fonts on any content on the website.
When you publish your content, such as blog posts, write in your brand voice. Your values and mission should also come out clearly through your content to help you make an emotional connection with your readers.
As we've already mentioned, your product packaging should feature your logo and brand colors. Any text on the packaging should be written in your official font.
Your marketing materials and email copy should demonstrate the values you stand for as a brand. Try to add your logo where possible and use your tagline to further strengthen your brand identity.
Social media is where you need to double your efforts as you work on how to brand your business.
The first thing you need to do to brand your business on social media is to use your logo as your profile photo. For the cover photo, you can use any other relevant photo.
Next, use the about section to tell visitors more about your business. You can choose to tell people what you do like Prada does on its Twitter page or show what your brand stands for as Nike does on Twitter.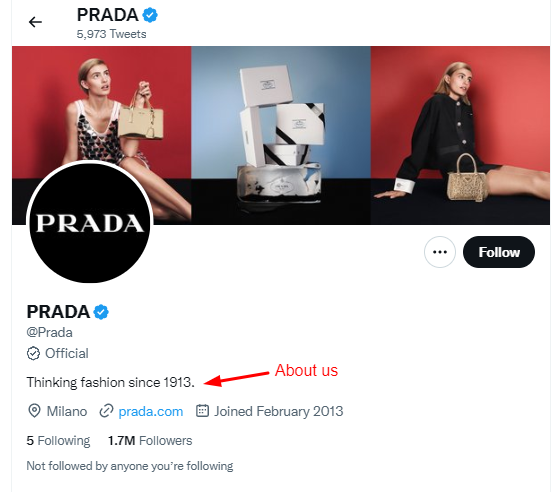 Image via Twitter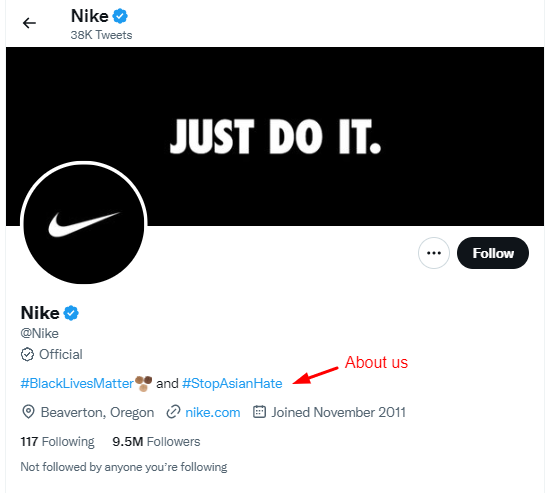 Image via Twitter
On social media, you also need to ensure your posts highlight your voice and personality. Your social media manager should also respond to queries and customer concerns in your voice while showcasing your values and personality.
Frequently Asked Questions
1. How do I brand my small business?
To brand your small business, you should:
Discover what your brand is all about.
Research your target market and competition.
Pick a business name and register it.
Define your brand values and USPs.
Create a brand style guide.
Integrate your branding elements across marketing materials.
2. What are the 4 steps of branding?
The four steps of branding include:
Discovering how you want your brand to be perceived.
Researching your target market and competition for better understanding.
Picking a business name, logo, tagline, and other visual branding assets.
Being consistent to build a strong brand across channels, ranging from product packaging to your company website/blog, and branding collaterals.
All small businesses should follow these steps to build a strong brand and help their target audiences recognize them.
3. How do I legally brand my business?
If you want to legally protect your brand, you should:
Register your business as a legal entity type.
Trademark your business name, logo, and tagline.
Buy a domain name for your business website.
Copyright your website content.
Copyright your logo design (for added protection).
One example of a brand that has trademarked its business name, logo, and tagline is Nike. The company has trademarked its swoosh symbol, the phrase, "Just do it," and the name, "Nike," to legally brand their business.
4. What does it mean to brand your business?
Building your brand refers to creating a distinguishable brand identity or image for your business in the target market. It includes creating a unique brand experience for your customers and potential buyers across touchpoints.
5. What are the key features of a brand?
The key features of a brand include:
Brand name
Logo
Tagline
Brand voice and personality
Brand story
Core values
Ready to Build a Unique Brand for Your Business?
Building a solid brand identity for your business can help you attract, engage, and convert more customers over time. It can help boost the recognition, trust, reputation, and revenue of your company.
Do you need help starting your business from scratch? Get in touch with our business formation experts for advice.
Start your business faster and correctly by letting our experts do the paperwork for you.
Easy, secure, & expedited filing process