In part I of "Steps to starting a business," we covered the five essential steps to establishing your business, including your Federal Employer Identification Number, state formation documents, banking options, bookkeeping and legal protection.
While those steps are typically required to get a company off the ground, there are other ancillary considerations every business owner should explore to take a company to the next level and increase its chances for success. The five additional steps GovDocFiling recommends are outlined as follows.
Step 1: Payroll
Your business may be a one-person operation — in which case, cutting paychecks likely won't be on your to-do list. However, if you have or plan to hire employees at any point, including freelancers or independent contractors, you will need to pay them. Consistent, accurate paychecks are essential to retention of hired help.
Along with paychecks come taxes. Employers are tasked with making sure they properly withhold the appropriate amount of taxes from employee paychecks, including state and federal income, Social Security and Medicare taxes, which are determined by each individual employee's W-2 and W-4 forms. Failure to do so can result in an IRS audit and serious financial and/or legal consequences.
Benefits are another aspect of payroll that you will run into as you hire employees. Life insurance, 401(k) contributions, as well as health, vision and dental insurance — while not mandatory — are typically offered in some combination to new hires.
Keeping all of this organized is no small feat. Finding a partner or software that can help manage payroll automation and deductions for tax, health benefits and retirement contributions will help keep your business running smoothly. For small businesses, we recommend evaluating Run by ADP. If your operation becomes large enough, hiring human resources and/or accounting personnel may be warranted.
Step 2: Financing and loans
Not many business owners can fund their operation on their own without outside help. If your business activities require additional financial resources, you will want to look into a financing partner and/or a small business loan. Many financial institutions, such as banks and credit unions, provide capital (usually via a line of credit) to businesses to help them pay for daily operations, manage fluctuations in revenue and expenses and ultimately achieve their goals.
Small business loans allow business owners to borrow a set amount of money and allocate it across business expenses as they see fit. However, the terms of a small business loan can vary greatly depending on the lender, interest rates, your credit score and more.
If you are unsure of the financing option that will best compliment your business strategy, we recommend NAV Financial Services for additional guidance.
Step 3: Insurance
If you're in business, you're exposed. While the number of risks you're exposed to is almost unlimited, you might only need basic coverage to start out. This coverage might include general liability insurance – which guards against things like accidents, injuries, property damage and lawsuits – or commercial auto insurance if you use vehicles for work.
As your business grows, so do your liabilities. Other coverage you may want to consider include:
Property insurance – protects your commercial buildings and most of your personal property

Business income interruption insurance – you can still pay your bills in the event of a business interruption

Professional liability – protects you against claims that a professional service you provided caused your client to suffer financial harm due to errors or omissions
Determining the level of protection you need will vary business to business, and a legal advisor can guide you toward the right insurance policies. The first step is to think through the types of "worst case" situations and types of liabilities that are applicable to your business.
Step 4: Website
We live in a digital age. If your business doesn't have at least a basic website, you've already lost credibility with most potential customers/clients. You don't need to know how to code or be a graphic designer to build a well-functioning, aesthetically pleasing website. There are many free or inexpensive tools available, such as Wix.com or Weebly.com to help you do so. These tools can also guide you through additional considerations for your website, such as mobile responsiveness and search engine optimization.
If you are planning on selling a product, having an online store is essential. eCommerce companies will need to build out a website that allows for products to be easily uploaded through some type of shopping cart software. Because this type of website often requires back-end development, security, responsiveness and a certain level of customization, hiring or at least consulting a digital partner is necessary.
Step 5: Promotion and marketing
Once you have an established business and website, you will want to promote your offerings and ensure customers can find you. The way in which you should advertise your business will depend on your target audience.
Some options include:
Email marketing: Consistent outreach to your clients/customers via frequent emails that provide value-added content or showcase new products/sales

Search engine marketing: Ads that link to your website and appear for certain search terms. Also known as pay-per-click advertising, you only pay for every ad click

Search engine optimization (SEO): strategies to ensure your website ranks high for particular search terms related to your business
Keep in mind that there is no one-size-fits-all approach to reaching potential customers. The way in which you reach them today might not make sense tomorrow. Because digital marketing and search engine algorithms are constantly evolving, we recommend consulting an outside agency or expert to manage the strategy for your business. You can email info@govdocfiling.com if you are interested in being connected with an SEM, SEO or digital marketing agency that is a good fit for your business.
The above steps serve as ancillary considerations for new business owners but should not be prioritized over the essentials. If you need guidance on any of the services mentioned in part I or part II of this blog post, reach out to here. GovDocFiling will take care of the important stuff so you can focus on the big picture.
About the author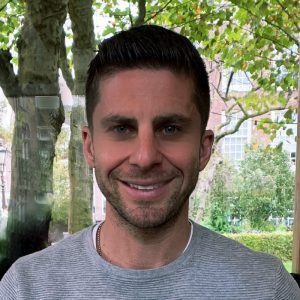 From selling flowers door-to-door at hair salons when he was 16 to starting his own auto detailing business, Brett Shapiro has had an entrepreneurial spirit since he was young. After earning a Bachelor of Arts degree in Global and International Studies from the University of California, Santa Barbara, and years traveling the world planning and executing cause marketing events, Brett decided to test out his entrepreneurial chops with his own medical supply distribution company.
During the formation of this business, Brett made a handful of simple, avoidable mistakes due to lack of experience and guidance. It was then that Brett realized there was a real, consistent need for a company to support businesses as they start, build and grow. He set his sights on creating Easy Doc Filing — an honest, transparent and simple resource center that takes care of the mundane, yet critical, formation documentation. Brett continues to lead Easy Doc Filing in developing services and partnerships that support and encourage entrepreneurship across all industries.