The gig economy is becoming increasingly popular, which is why more and more people now want to work independently. Understanding the benefits of being an independent contractor can help you figure out if it's the right fit for you.
An independent contractor or a "freelancer", is someone who is providing a service or talent to a variety of clientele with no long-term committed employment contract. It has become a popular way to generate revenue as a side hustle, but many are beginning to find full-time income with this type of work.
A lot of that has to do with the internet. You will find many websites that allow someone to do remote work in a variety of different fields. There are freelance writers, developers, visual artists, customer service, accountants, and more!
The internet has enabled many people to begin making money off their existing skills or encouraging people to learn new ones and engage in their entrepreneurial spirit. So, what are the benefits of being an independent contractor?
Let's find out.
Top 5 Benefits of Being an Independent Contractor
Here are the top benefits of being an independent contractor.
Remote Work
What if your home was your office? What if you could cut out the rigorous time-consuming commute to the office every day? What if you wanted to generate a little extra money while away from the house?
Maybe you catch yourself with some free time while waiting for a friend at a coffee shop and are able to earn a few extra bucks for that upcoming latte. Remote work is incredibly flexible and it is becoming more and more feasible as technology progresses. While not all independent contractor work falls under remote capability, there are a ton of remote opportunities depending on your field.
Why is remote work suddenly so popular? The pandemic is a big reason behind it.
The global pandemic changed the way the world worked. It caused a massive shift in employee expectations with people looking for better work-life balance and flexibility in their work.
According to a report, 90% of employees felt they were more productive when working remotely instead of from the office. 84% of employees were even willing to take a pay cut to continue working remotely.
Of course, there are many benefits to working from home, such as maintaining a better work-life balance and saving money and time on daily commutes. There are many other benefits, as shown in this image by OwlLabs.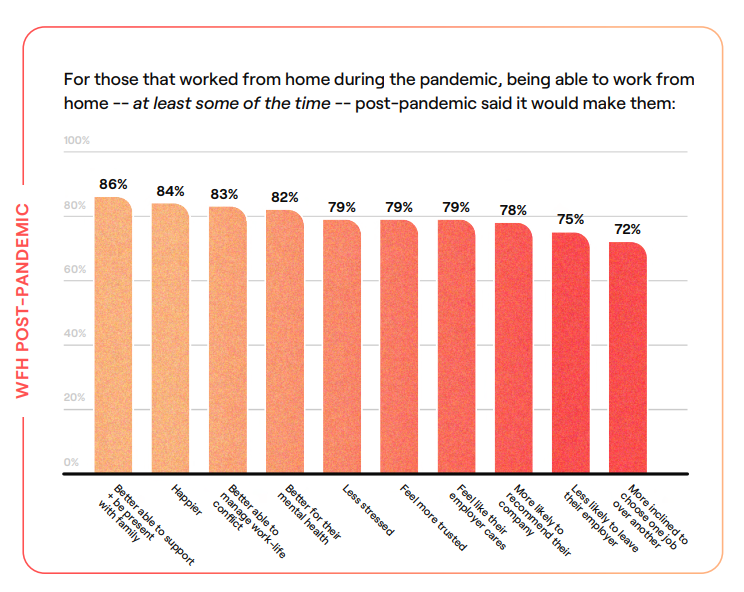 Image via OwlLabs
Being an independent contractor gives you greater control over how and from where you work. You may work from home or even decide to become a digital nomad.
Becoming Your Own Boss
One of the biggest benefits of being an independent contractor is that you can be your own boss.
Not many people love their bosses. In fact, it is often one of the main reasons people leave their current jobs. When you work for yourself you are YOUR own boss. The relationships between a client and you are far more dynamic. Since you are providing a direct service, you have a lot more authority over your own work.
You will be responsible for other elements of your employment, like benefits, taxes, and deciding when to vacation! However, the reduced stress overall makes this a very attractive benefit of being independent.
Have you ever been in a job with a scary amount of workload? Did you ever have to handle a colleague's workload because they were sick? Then you know how stressful it can get.
And a heavy workload is the leading cause for workplace stress, according to Zippia.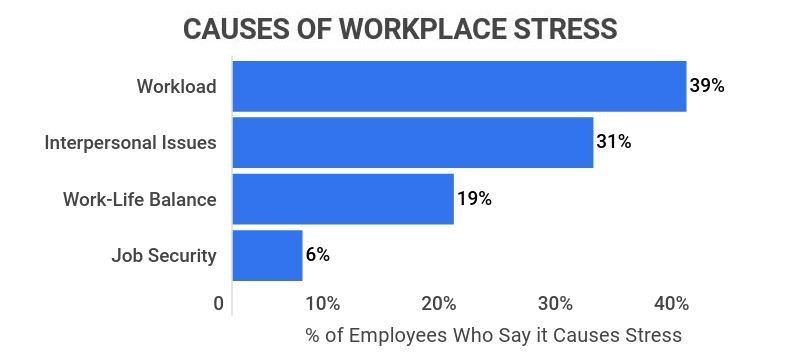 Image via Zippia
Being an independent contractor allows you to be in charge of your workload. You can figure out different ways to improve productivity, which will help you take on more jobs. You may also keep a lighter workload if you please, depending on your schedule and availability.
One of the significant benefits of being an independent contractor and your own boss is the flexibility you get. You can decide the number of hours you work in a day, as well as the number of days you work in a week. This means that if you want to study or pursue other interests, you have the freedom to do so.
You may also be able to choose your working hours. Whether you are an early riser or a night owl, you get to choose the hours you are the most productive. This is not possible if you are employed and need to work standard office hours.
You Can Work Part-Time
Did you know that over 400,000 Americans work two-full time jobs? Having a second income gives you greater financial stability, helping you get closer to your financial goals. However, taking on two full-time jobs may not be everyone's cup of tea.
One of the benefits of being an independent contractor is that you can create a second income source, without taking on a full-time job. Since you decide the number of hours you work, you can also start it as a part-time gig.
The image below depicts why many people like to work part-time.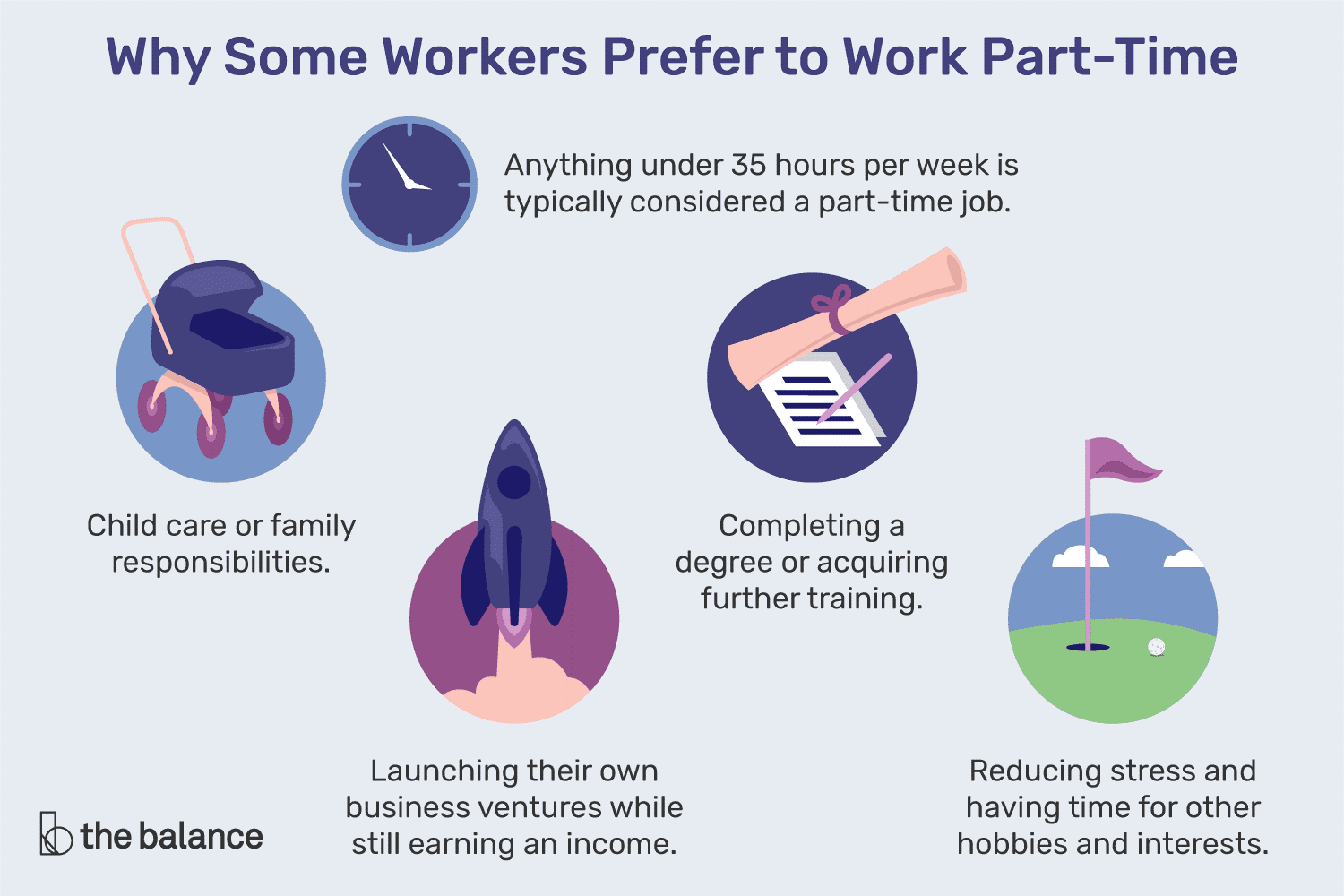 Image via The Balance
If you are taking a leap on a new career, or looking for just a reliable side hustle, you get to make your own hours! This means that you can begin your journey to an independent career while maintaining a full-time position.
This allows you to develop your skills and your brand while you still maintain the sense of security from your "day job". It is also a great option for students who are currently learning skills they can apply in the real world and will help you build a reputation and experience that will only build you into a more attractive candidate for whatever work you wish to pursue.
Do you aspire to run your own business someday? But, most businesses fail in the first year. Now, that does not mean you should give up on your dream of becoming a business owner.
So, what's the way out? Work as an independent contractor part-time. You will not only have a steady income, but you will also have time on your hands that you can dedicate to your business.
Working at a part-time independent contracting job means that you will not have to worry about your day-to-day finances. You can invest your capital in any business of your choice, whether it is a trucking business, cleaning business, consulting business, or something else.
Another benefit of being an independent contractor is that you will also have more time to make money online. From creating online courses to videos on YouTube or TikTok, there are several ways to use the internet to make money.
Here are a few of them.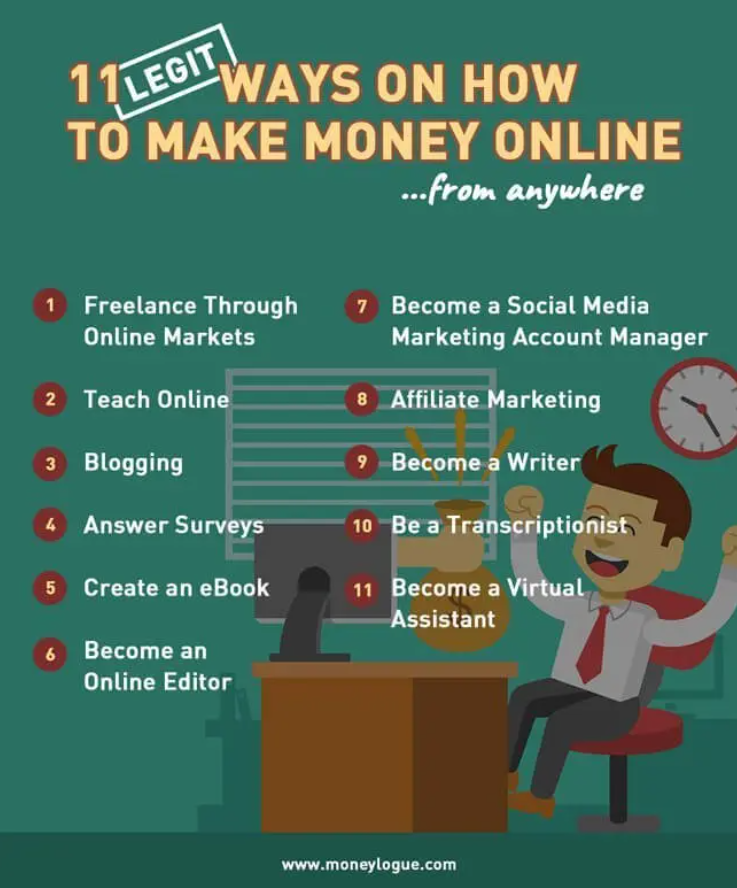 Image via Moneylogue
Contract Predictability
Many Independent Contractors operate within a contract. There are many fields that do this to this day. Due to the nature of the "gig" economy having contracts gives you a solid start and end date.
This means you can guarantee work for a certain amount of time and properly plan for more work after the contract is up. The good news is that if you do a good job, chances are they may wish to extend.
Contracts also offer a solid, documented guarantee of what you will receive for your work. A helpful sense of security that even some salaried workers don't manage to get!
Here's an example of an independent contractor agreement.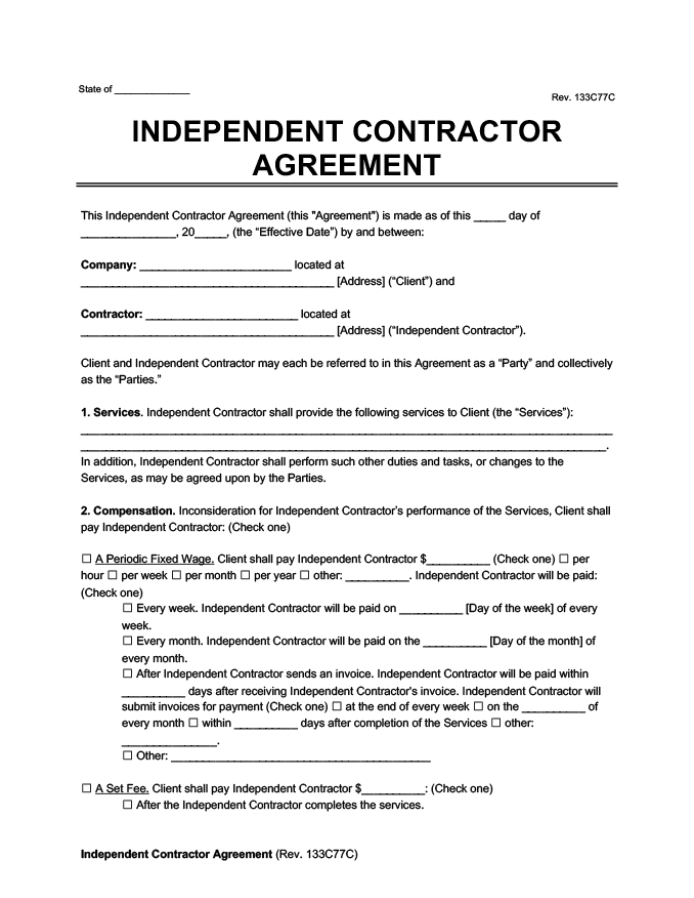 Image via Legal Templates
Independent contractors may not be entitled to employee benefits such as health insurance or unemployment benefits. But they must pay income tax.
That's why it is incredibly important for independent contractors to keep track of all their income. Whether you work with one or multiple clients, having a contract with each of your clients can make things a lot easier for you.
A correctly drafted contract is legally binding for both parties. If you ever get into a situation where the client refuses to pay you, a contract could be extremely helpful in remedying the situation.
Having a well-written contract before you begin working as an independent contractor protects you, both legally and financially.
If you want to reap the benefits of being an independent contractor, there are some things that must be included in your agreement. These are:
1. Names and Contact Information
Your full name as an independent contractor as well as that of the client should appear at the beginning of the contract, as well as throughout it. For instance, the client name should not be "Coke" but "The Coca-Cola Company."
Similarly, the physical address, phone number, and email address should also be included for both parties.
2. Payment Information
Being an independent contractor has many benefits but there are downsides too. One downside many independent contractors face is not getting payments on time.
That's why you should always ensure that the payment terms, method, and deadlines are explicitly mentioned in your contract.
Here is an example.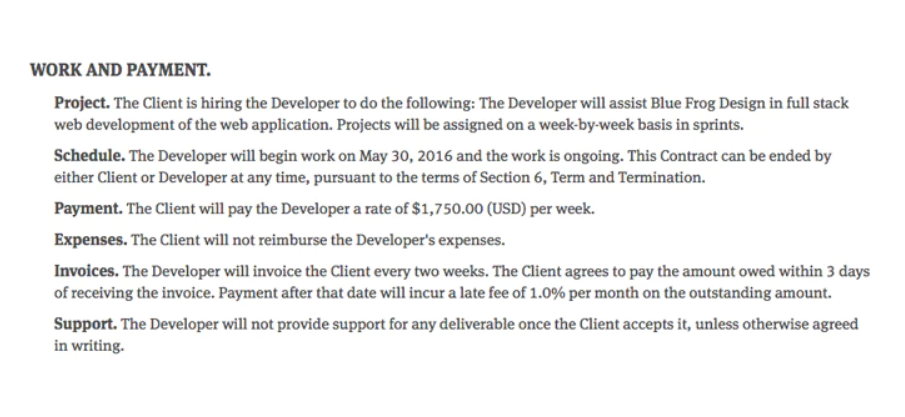 Image via Shopify
3. Deadlines
Many people associate deadlines with stress. But that's not entirely true.
Having a deadline can keep you focused, ensuring that you deliver your work on time. This not only enhances your reputation, but timely delivery of work also ensures that you get more work in the future.
Here is an example of deadlines included in an independent contractor agreement.

Image via Shopify
4. Ownership
Will your client own your work or will you get some credit too?
The ownership of the work should also be mentioned in your independent contractor agreement. This will avoid any potential disagreements and disputes in the future.
5. Independent Contractor Terms
The expectations from an independent contractor cannot be the same as that of a full-time employee. For instance, the client does not manage your schedule or that the clent pays for any tools you might need to do your job.
Ensure that these terms are also included in your contract.
You Will Probably Make More Money
If you are just starting out, depending on the field you may not make as much as you expect. However, as you gain more experience and depending on the market price of your skills, you can earn a ton of money.
In most cases, independent contractors earn more than regular employees. In fact, 59% of them feel that they earn more than their regular counterparts.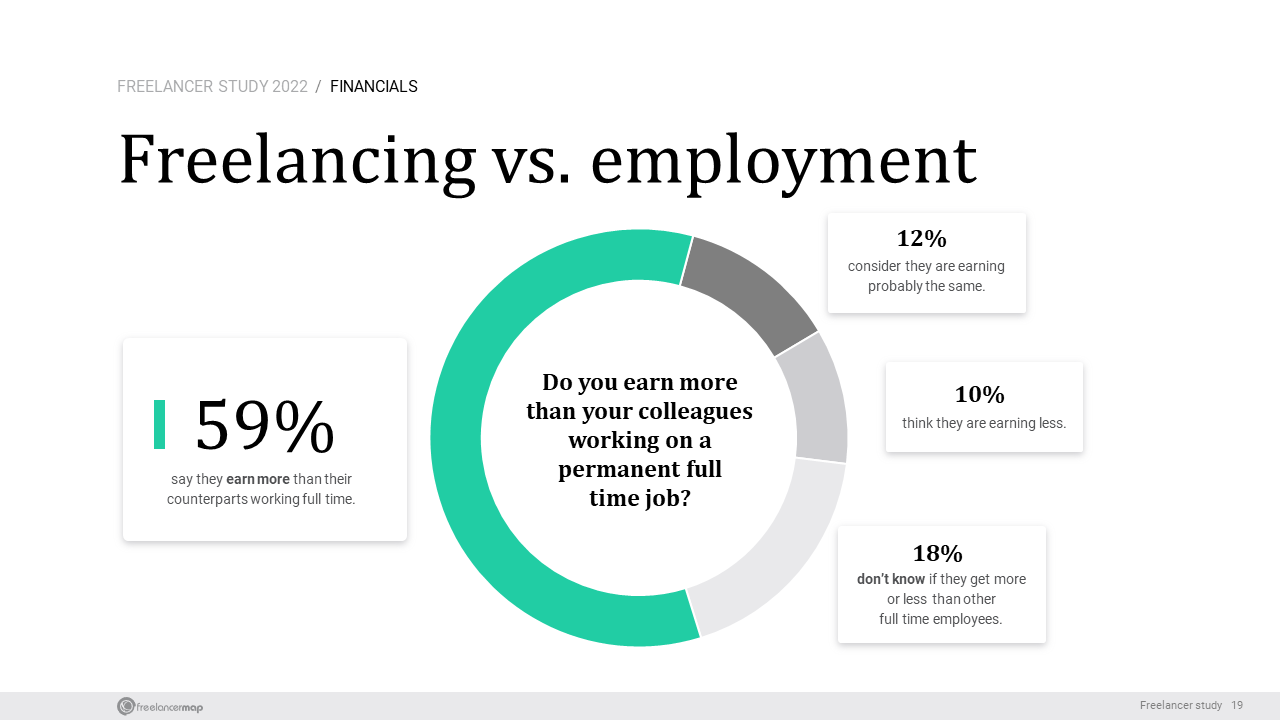 Image via FreelancerMap
Why are companies willing to pay independent contractors more?
One of the benefits of hiring independent contractors is that companies do not have to enter into long-term commitments.
To a full-time employee, a company would need to pay employee benefits, such as health insurance, unemployment benefits, workers' compensation, and so on. They will also need to pay social security taxes and other taxes for their employees.
By hiring an independent contractor, employers can not only save on these expenses, but also on utilities, equipment, workspace rent, and other expenses. These savings help them pay independent contractors more than their regular employees.
It is also possible that if a client needs extra work overtime rates, come into play, allowing you to make even more! Not having a company siphon profit from your skills allows you to see the full benefit of your work!
One of the benefits of being an independent contractor is that you can dictate your own payment terms. You have a greater say in what you get paid.
FAQs
1. Should I become an independent contractor? Is it worth it?
A. Yes. There are many benefits to being an independent contractor.
Independent contractors have greater freedom, earn more, and can maintain a work-life balance. However, they also have more responsibilities.
If you are a disciplined, organized, and focused individual, you can definitely reap the benefits of being an independent contractor.
2. What are the benefits of being a 1099 employee?
A. Here are a few benefits of being a 1099 employee:
Flexible working conditions
Good work-life balance
More time off
Greater control over your taxes
Higher income potential
3. Is it better to hire employees or independent contractors?
A. For an employer, both independent contractors and full-time employees, have their own benefits. Hence, there are many factors to consider when deciding whether to hire an employee or an independent contractor.
If you have short-term projects, hiring an independent contractor will offer greater benefits than hiring an employee. However, for long-term work, you may consider investing in an employee instead.
4. What are the pros and cons of being an independent contractor?
A. Being an independent contractor has its benefits as well as disadvantages.
Here are the benefits:
More ownership
Flexible hours
Choose your own clients
Maintain work-life balance
Earn more
Here are the disadvantages:
More responsibilities
No employee benefits
Limited job security
Deal with your own taxes. You will have to look for ways to save money.
5. How do you become a successful independent contractor?
A. Here are some tips that can help you:
Create a business entity. Sole Proprietorship and LLC are the most preferred by freelancers.
Have a strong plan for how to run your business
Develop a smart marketing strategy
Deliver high-quality work
Ask for referrals
Conclusion
As you can see there are several reasons why Independent Contractor work is becoming more desired. The ability to work from home, create a better work-life balance or just the thrill of being your own boss has encouraged millions of people to take the leap and start their own self-employed careers.
With the ability to start as a reliable side hustle, why not give it a shot? You may be surprised how things work out!
Most independent contractors decide to create a Sole Proprietor.  To do so you'll need to file for your federal EIN or Tax ID. Govdocfiling is a comprehensive filing and business support center for sole proprietors of all industries.
About the author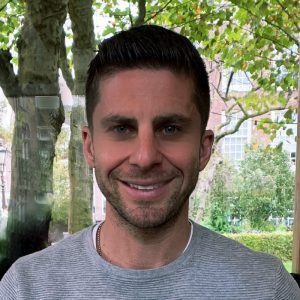 From selling flowers door-to-door at hair salons when he was 16 to starting his own auto detailing business, Brett Shapiro has had an entrepreneurial spirit since he was young. After earning a Bachelor of Arts degree in Global and International Studies from the University of California, Santa Barbara, and years traveling the world planning and executing cause marketing events, Brett decided to test out his entrepreneurial chops with his own medical supply distribution company.
During the formation of this business, Brett made a handful of simple, avoidable mistakes due to lack of experience and guidance. It was then that Brett realized there was a real, consistent need for a company to support businesses as they start, build and grow. He set his sights on creating Easy Doc Filing — an honest, transparent and simple resource center that takes care of the mundane, yet critical, formation documentation. Brett continues to lead Easy Doc Filing in developing services and partnerships that support and encourage entrepreneurship across all industries.