Choosing a domain and hosting provider is a key step in setting up an online presence. In this GoDaddy review, we aim to provide a detailed analysis of one of the biggest names in the web services industry. 
Known for its memorable marketing and a wide user base, GoDaddy has built a strong reputation over the years. Through this review, we'll provide a balanced look at what GoDaddy offers, highlighting its top features and pointing out any areas that need more attention. 
By the end, you should have a good idea of whether GoDaddy is the right choice for your online needs. Let's dive right in.
GoDaddy Review: Web Hosting Services
GoDaddy stands out among numerous hosting service providers, offering a blend of robust features and reliable performance. Let's begin our GoDaddy review by exploring its hosting services, features, and other essential details.
GoDaddy Review: Hosting Services Offered
GoDaddy offers different hosting packages. Each one serves specific purposes, catering to different needs and website sizes.
Here's a breakdown of GoDaddy's hosting plans: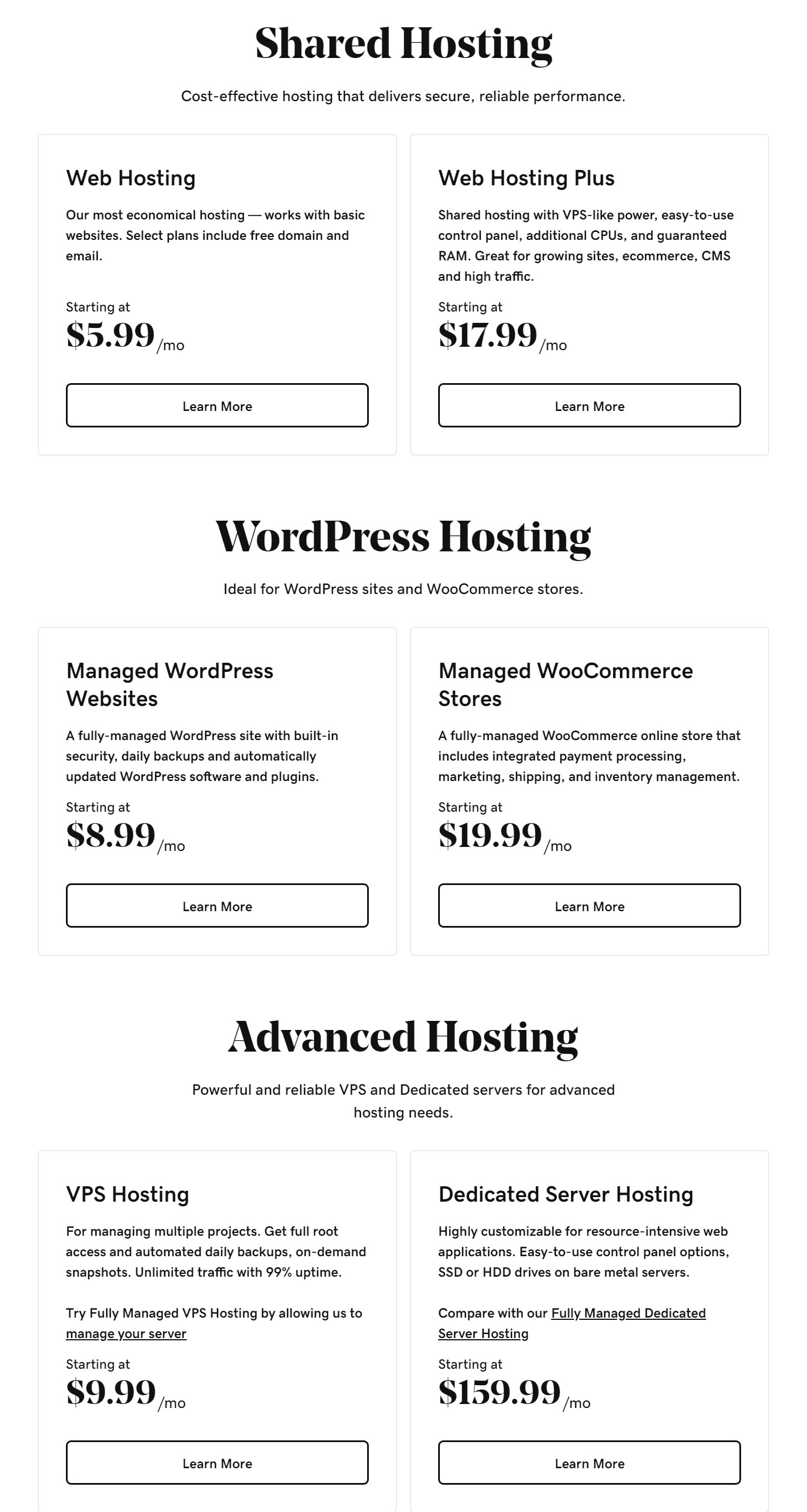 Image via GoDaddy
1. Shared Hosting
Shared hosting is when multiple websites share the same server resources. It's an ideal entry point for those new to the online world because of its affordability and ease of use.
To fully understand GoDaddy's shared web hosting service, let's delve into its features and occasional limitations:
Cost-Effectiveness: It's typically the most wallet-friendly hosting option available.
Ease of Setup: Most shared hosting plans come with cPanel access, which allows for simple site management.
Limited Resources: Since you're sharing server resources, there's potential for performance issues if a fellow site on the server experiences a traffic spike.
Security Concerns: While GoDaddy ensures basic security, shared environments are generally more vulnerable than isolated ones.
2. Web Hosting Plus
Web Hosting Plus is tailored for growing websites that need more horsepower.
Bridging the gap between shared hosting and a VPS, it provides enhanced features without the complexities of server management. Key highlights and considerations include:
Simplicity: Navigate with the user-friendly cPanel and avoid diving deep into server administration.
Guaranteed Resources: Get assured memory, disk space, and other resources, ensuring consistent performance.
Hands-off Management: GoDaddy takes charge of the backend, letting you focus on your content and audience.
Price Point: The advanced features come with a slightly premium tag compared to basic hosting options.
3. VPS (Virtual Private Server) Hosting
VPS hosting offers a middle ground between shared and dedicated hosting. While multiple sites share the same physical server, each website gets dedicated virtual resources.
Here's a closer look at the distinct advantages and a challenge you might face with GoDaddy's VPS hosting service:
Dedicated Resources: Provides more consistent performance than shared hosting.
Scalability: Easier to scale resources up or down based on your site's needs.
More Control: Offers root access, allowing for custom configurations.
Costlier than Shared: While more affordable than dedicated hosting, VPS is more expensive than shared options.
4. Dedicated Server Hosting
Dedicated server hosting means your website gets an entire web host server to itself, ensuring the most powerful and consistent performance.
Unpacking the potential of GoDaddy's dedicated hosting service, here are its standout features and an area to be cautious about:
Top Performance: With dedicated servers, your site's performance is maximized.
Enhanced Security: Your site is isolated, reducing vulnerabilities.
Complete Control: You get full root and administrative access.
Pricey: Given the dedicated resources, this is the most expensive hosting option.
5. WordPress Hosting
WordPress Hosting offers a tailored environment for WordPress sites, emphasizing speed and compatibility.
When choosing GoDaddy's WordPress Hosting, here's a brief on its highlights and a point of caution:
Hands-Free Management: GoDaddy manages updates for WordPress core, themes, and plugins.
Boosted Performance: Thanks to server caching and tweaks, WordPress sites tend to load swiftly, enhancing user satisfaction.
Test Before Going Live: One-click staging might be included, allowing previews of changes.
Plugin Restrictions: Some plugins might be off-limits to ensure performance and minimize conflicts.
6. Managed WooCommerce Stores
Venturing into ecommerce requires a reliable backbone, and GoDaddy's Managed WooCommerce Stores offers just that.
Built specifically for WordPress-based online shops, it delivers specialized features for a seamless shopping experience. Key offerings and points to note include:
GoDaddy Payments: Enjoy reduced transaction fees, saving potentially over 20% per transaction.
Extended Selling: Broaden your sales channels to Amazon, eBay, Etsy, Google, and Walmart.
High-Quality Hosting: Benefit from robust cloud hosting, prioritizing security and performance.
Usage Boundaries: Some plugins or tools might be limited to preserve the hosting environment.
GoDaddy Review: Additional Features and Limitations Across Hosting Types
Now that we've discussed the core hosting types, let's further investigate general features and a potential limitation you might encounter:
Uptime Guarantee: GoDaddy typically offers a 99.9% uptime guarantee, ensuring your site remains accessible most of the time.
One-Click Installations: Streamlining the website setup process, GoDaddy ensures platforms like WordPress, Joomla, and Drupal are a click away.
Storage and Bandwidth: Ample storage and unrestricted bandwidth even on basic plans set GoDaddy apart, allowing your site to grow without hindrances.
Customer Support: 24/7 support is available, but the quality may vary based on the complexity of the issues and the hosting plan chosen.
GoDaddy Review: Performance Metrics
GoDaddy's commitment to ensuring your website remains accessible and performs swiftly is evident in its high server performance. Here are key GoDaddy's performance metrics that you should know:
Uptime: With redundant server setups and vigilant monitoring, GoDaddy achieves over 99.9% uptime, ensuring your website is always accessible.
Speed: A global network of data centers and the inclusion of SSDs on select plans translate to faster website load times, catering to audiences from various regions.
GoDaddy Review: Supported Platforms
Your choice of platform defines the structure and functionality of your website. GoDaddy's hosting services shine in its adaptability and wide-ranging support for numerous platforms. Here are a few of these platforms:
WordPress: Catering to the platform's popularity, GoDaddy has tailored hosting solutions enriched with themes and plugins.
Ecommerce: Platforms like Magento, WooCommerce, and OpenCart are seamlessly supported, propelling your online store growth.
Diverse CMS Support: From Joomla to Drupal, GoDaddy ensures you're not confined to just a few content management systems.
GoDaddy Review: Domain Registration
The domain name is often your first handshake with the online audience. It's the address they'll type, remember, and associate with your brand.
GoDaddy, being one of the largest domain registrars in the world, offers a range of options and tools to simplify the process of owning a domain. In this section of this GoDaddy review, we'll unpack what you can expect when registering a domain with GoDaddy.
GoDaddy Review: Ease of Search and Registration
Choosing the perfect domain name can be a daunting task, but GoDaddy aims to alleviate this stress. Here's how:
Domain Name Search: GoDaddy's intuitive search tool provides instant feedback on domain availability. If your desired name is taken, it suggests relevant alternatives to keep your branding on point.
Bulk Registration: If you're an entrepreneur or a developer planning multiple projects, GoDaddy's bulk registration tool allows you to secure multiple domain names in one go, saving time and effort.
Domain Auctions: Ever eyed a domain name that's already taken? GoDaddy's domain auction platform allows you to bid on or even sell domains, providing a unique opportunity to acquire or monetize coveted names.
GoDaddy Review: Domain Management Tools
A domain isn't just a one-off purchase. It requires management and occasional tweaks. Here's where GoDaddy's tools come into play:
Domain Control Center: This centralized dashboard allows you to manage all your domains, renewals, and DNS settings seamlessly. It's user-friendly, ensuring even beginners can navigate without feeling overwhelmed.
Domain Locking: To prevent unauthorized transfers or potential cyber threats, GoDaddy provides domain locking, ensuring your domain remains secure under your control
GoDaddy Review: Website Builder
For non-coders, the GoDaddy website builder is a helpful tool. Let's dissect the features, ease of use, and the overall value proposition it presents.
GoDaddy Review: Ease of Use
Navigating a website builder should be intuitive, and GoDaddy's platform is designed with user-friendliness at its core. Here's what you can expect:
Drag-and-Drop Interface: Say goodbye to code! With GoDaddy's drag-and-drop feature, placing elements on your website is as straightforward as moving icons on your desktop.
Template Selection: GoDaddy offers a variety of responsive templates tailored for different industries. From restaurants to portfolios, you're likely to find a design that resonates with your vision.
Customizable Features: While templates provide a foundation, GoDaddy ensures you're not confined. You can tweak fonts, colors, and layouts to align with your brand.
GoDaddy Review: Features and Integrations
Beyond looks, a website's functionality is key. Here's how GoDaddy enhances your site's capabilities:
SEO Tools: Visibility on search engines is crucial. GoDaddy's built-in SEO tools guide you in optimizing your content, ensuring you rank higher and attract more visitors.
Ecommerce Capabilities: Planning to sell products or services? GoDaddy's builder supports ecommerce functionalities, from product listings to secure checkout processes.
Integration with Popular Apps: Whether it's connecting your site to social media platforms, embedding videos, or incorporating other third-party tools, GoDaddy offers seamless integration options.
Also Read:
GoDaddy Review: Templates and Design Options
When it comes to design, GoDaddy offers a variety of templates, catering to different industries and purposes. Here's why GoDaddy's design options stand out:
Diverse Selection: Whether you're creating a blog, portfolio, or online store, there's likely a template suited to your needs.
Customizable: Each template can be tweaked to align with brand colors, fonts, and overall styling preferences.
Preview Function: Before committing to a particular design, users can preview how it looks both on desktop and mobile platforms.
GoDaddy Review: Customer Support
Even the most seasoned webmasters occasionally need a helping hand. Whether it's a technical glitch or a query about a feature, having a responsive customer support team can be a lifesaver. Let's assess the depth and quality of GoDaddy's customer service:
GoDaddy Review: Availability and Reach
A global clientele demands a globally available support team. GoDaddy doesn't disappoint with the following:
24/7 Support: Whether it's dawn or midnight, GoDaddy's team is accessible round the clock, ensuring that time zones aren't a barrier to getting the assistance you need.
Multiple Contact Avenues: Apart from traditional phone support, GoDaddy offers live chat support, allowing users to choose their preferred mode of communication.
Global Reach: Recognizing its diverse customer base, GoDaddy provides localized support in multiple languages, catering to users from different regions.
GoDaddy Review: Knowledge and Responsiveness
Having a support team is one thing, and ensuring its efficiency is another. Here's how GoDaddy fares in this area:
Trained Professionals: GoDaddy prides itself on a team of experts who are not just familiar with their offerings but are also equipped to handle a variety of technical challenges.
Prompt Responses: No one likes to be kept waiting, especially when facing a hiccup. GoDaddy's average response time, particularly on live chat, is commendable, minimizing potential downtime.
Extensive Knowledge Base: For those who prefer self-help, GoDaddy offers a comprehensive knowledge base, complete with articles, tutorials, and FAQs, addressing a wide range of issues and topics.
GoDaddy Review: Feedback and Continuous Improvement
Customer feedback is the compass for improvement. GoDaddy's approach to this is noteworthy:
Feedback Channels: GoDaddy encourages users to share their experiences, concerns, and suggestions. These channels allow them to refine their services based on real-world user insights.
User Forums: Community forums provide a platform for users to discuss, share, and collaboratively solve challenges. GoDaddy's active forums foster this sense of community and shared knowledge.
GoDaddy Review: Security Measures
Ensuring a website's security isn't just about safeguarding data, but about instilling confidence in every click, every upload, and every user session.
GoDaddy, known for its vast online presence, takes this responsibility seriously. As part of our GoDaddy review, let's navigate through its key security provisions.
GoDaddy Review: An Overview of GoDaddy's Security Architecture
GoDaddy's security integrates layers of protection against a variety of threats. Here are security protocols put in place to ensure your account and data stay safe:
Firewalls
Every fortress needs a wall, and in the digital space, this comes in the form of firewalls. GoDaddy's Web Application Firewall (WAF) vigilantly monitors incoming traffic, filtering out dubious requests and ensuring only legitimate interactions reach your website.
Additionally, intrusion prevention systems (IPS), an adjunct to firewalls, continuously scan traffic patterns, identifying and neutralizing threats early enough.
DDoS Protection
Few threats are as formidable as Distributed Denial of Service (DDoS) attacks. Thankfully, GoDaddy's robust DDoS protection measures stand guard, ensuring that your website remains accessible and uninterrupted, even when facing large-scale attack attempts.
GoDaddy Review: Other Key Security Implementations
Security is a vast domain, and GoDaddy's measures don't stop at the aforementioned features. The tool offers other website security protocols, including:
SSL Certificates: Ensuring that data exchanges between websites and visitors remain confidential, GoDaddy provides SSL certificates, which have become a hallmark of trusted online platforms.
SiteLock Security: This advanced suite, available as an add-on, routinely scans for vulnerabilities and potential threats, ensuring an added shield against cyber-attacks.
Two-Factor Authentication: A testament to GoDaddy's commitment to safeguarding user accounts, this feature requires a secondary verification step, keeping unauthorized intruders at bay.
In essence, GoDaddy's security approach is both comprehensive and evolving, providing a robust, secure digital experience to all clients.
GoDaddy Review: Pros of GoDaddy
Every brand has its shining moments, and GoDaddy has quite a few to boast. Over the years, the company has garnered praise for its extensive range of services and customer-centric approach.
What exactly makes GoDaddy stand out? Let's find out.
GoDaddy Review: The Good
From domain handling to superior hosting services, GoDaddy brings several core strengths to the table. The following features have consistently been highlighted by users, making GoDaddy a preferred choice for many:
1. User-Friendly Interface
GoDaddy's dashboard and control panel are designed with both novices and tech-savvy users in mind. The intuitive design makes tasks like domain registration, hosting management, and website building a breeze.
2. 99.9% Uptime Guarantee
In web hosting, uptime is critical. GoDaddy's commitment to a 99.9% uptime ensures that websites remain accessible to visitors almost all the time, building trust and reliability.
3. Extensive Domain Options
GoDaddy's vast domain registrar services offer a variety of TLDs (Top-Level Domains) options, enabling businesses and individuals to find the perfect domain name for their brand or idea.
4. Integrated Website Builder
For those looking to get a website up and running without delving into code, GoDaddy's Website Builder is a robust, drag-and-drop tool that simplifies the website creation process.
5. Advanced Security Features
With products like SSL certificates, Premium DNS, and Website Security, GoDaddy provides layers of security to safeguard websites against potential threats.
6. Scalable Hosting Solutions
From shared to dedicated hosting, GoDaddy offers solutions for every scale, allowing businesses to upgrade seamlessly as they grow.
7. Dedicated Customer Support: With a 24/7 customer support framework and extensive knowledge base, GoDaddy prioritizes user experience and ensures that help is always within reach.
GoDaddy Review: Cons of GoDaddy
Even with its impressive range of services and undeniable market presence, GoDaddy, like all brands, has its imperfections. Let's go over some of Godaddy's cons.
GoDaddy Review: The Bad
These are some areas where users have felt GoDaddy could do better:
1. Renewal Rates
One of the most frequent grievances revolves around GoDaddy's renewal rates. While their introductory offers are enticing, the jump in renewal pricing can be steep for some, especially for those on a tight budget.
2. Upselling Tactics
GoDaddy's dashboard and checkout process are sometimes flagged for aggressive upselling. Users might feel overwhelmed or even slightly deceived when presented with multiple add-ons and "recommended" services, some of which they might not need.
3. Website Builder Limitations 
While GoDaddy's website builder is user-friendly and adequate for basic sites, it might not be as flexible or feature-rich as some dedicated website builder platforms out there.
4. Domain Privacy Charges
Some competitors offer domain privacy (WHOIS protection) for free, but GoDaddy usually charges for this service. This additional cost can be a point of contention for users who believe such a feature should be standard.
5. Performance Inconsistencies
Consistent performance is crucial for retaining website visitors. While GoDaddy guarantees 99.9% uptime, there have been instances where users experienced slower website load times or minor downtimes.
GoDaddy Review: Pricing and Plans
A comprehensive GoDaddy review wouldn't be complete without a deep dive into its pricing and plans. Cost, after all, is a significant factor when choosing a hosting service, domain registrar, or website builder. With that in mind, let's dissect the monetary aspects of GoDaddy.
GoDaddy Review: Hosting Plans
Web hosting needs can vary drastically, from personal blogs to large-scale ecommerce platforms. GoDaddy's pricing structure reflects this diversity, through the following plans:
Shared Hosting
Ideal for beginners and small websites, GoDaddy's shared hosting offers a cost-effective way to get online. These plans come with free domain name registration (for the first year), 1-click installs, and ample storage.
Here are the shared web host packages Godaddy offers: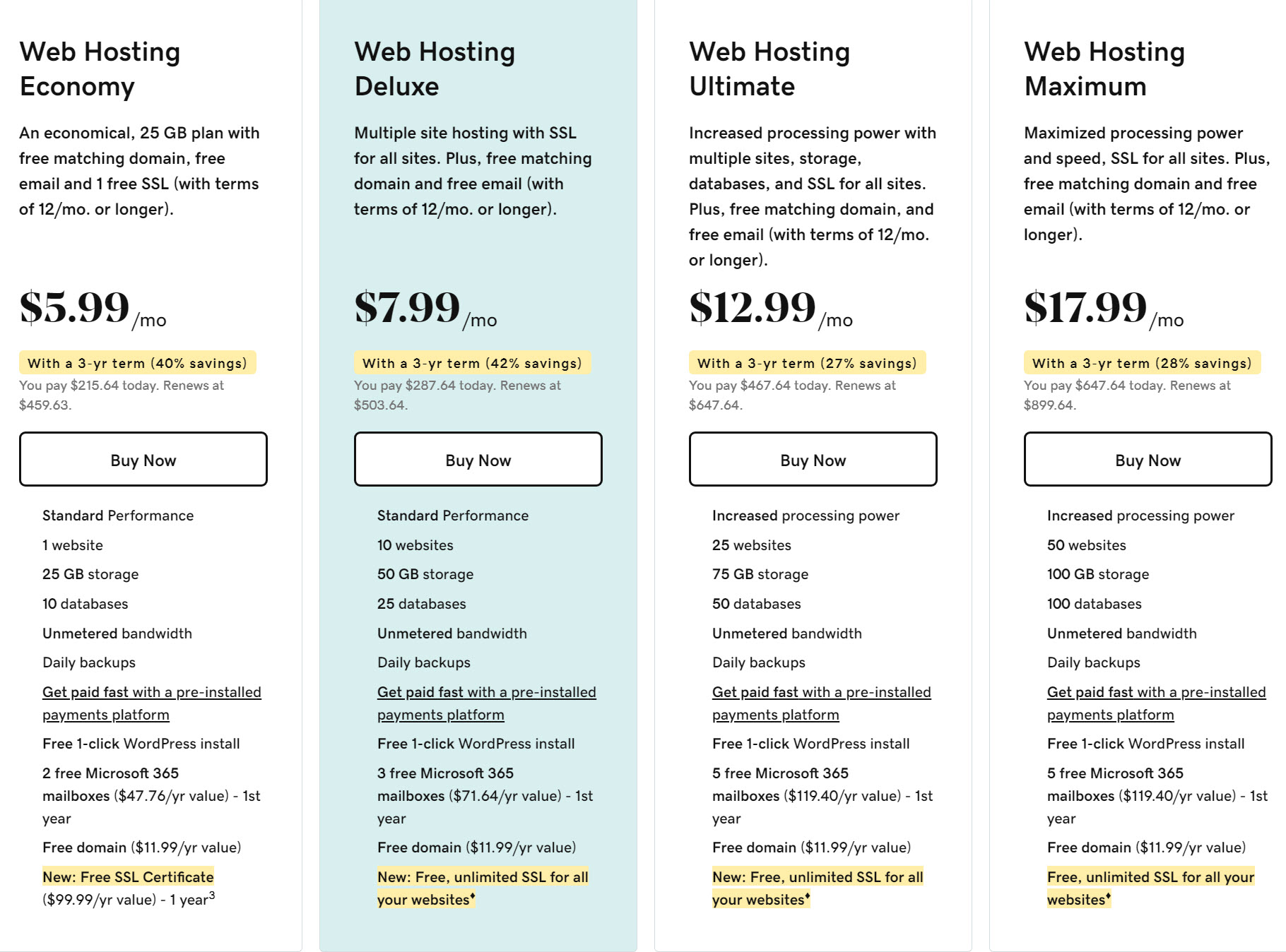 Image via GoDaddy
Web Hosting Economy: $5.99/month
Web Hosting Deluxe: $7.99/month
Web Hosting Ultimate: $12.99/month
Web Hosting Maximum: $17.99/month
Web Hosting Plus
Web Hosting Plus offers the robustness of a Virtual Private Server (VPS) without the intricacies of server administration. It allows you to experience the advantage of enhanced RAM, CPU, and bandwidth without the need for an IT specialist.
Here are the GoDaddy Web Hosting Plus plans available: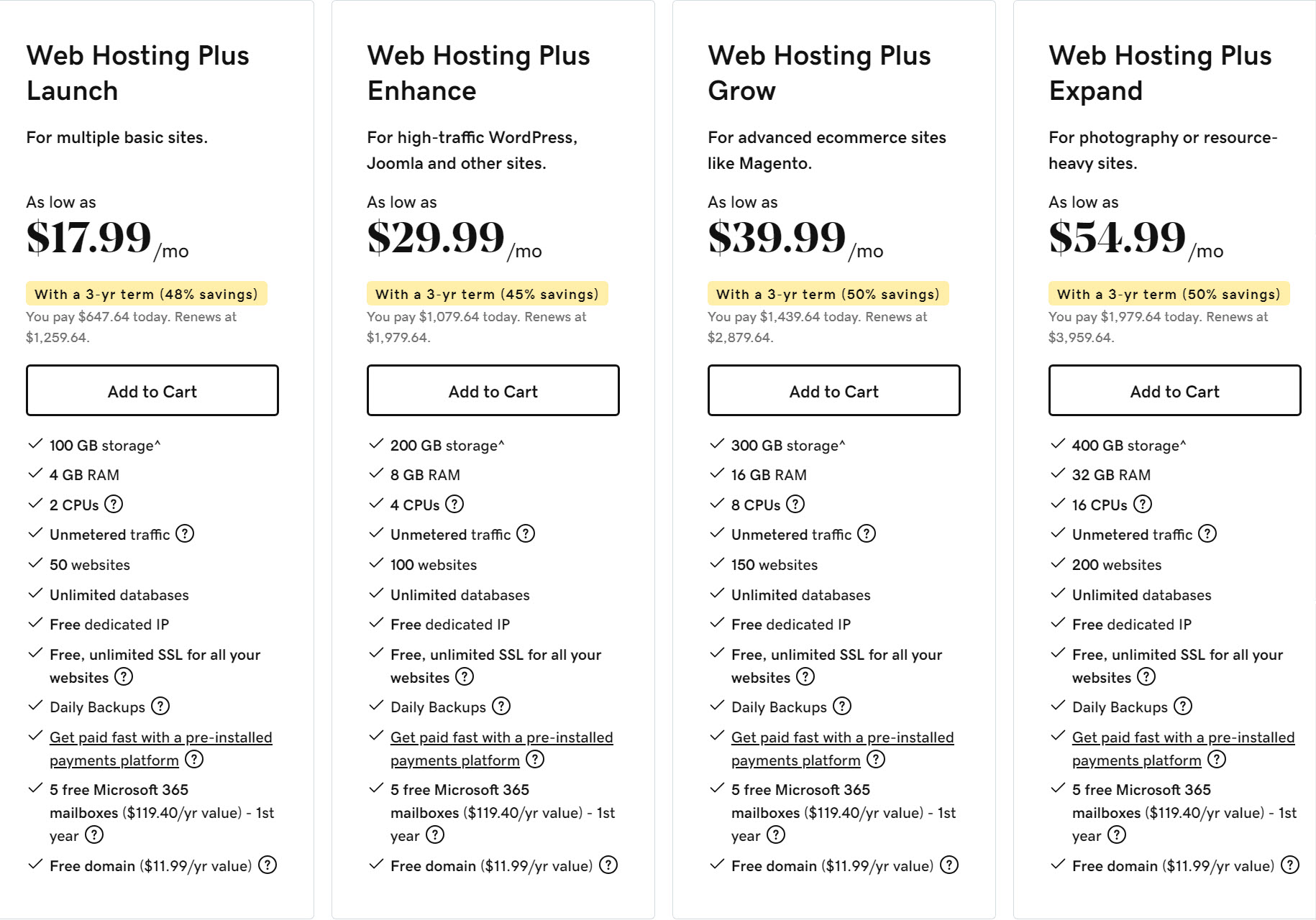 Image via GoDaddy
Web Hosting Plus Launch: $17.99 per month.
Web Hosting Plus Enhance: $29.99 per month.
Web Hosting Plus Grow: $39.99 per month.
Web Hosting Plus Expand: $54.99 per month.
VPS (Virtual Private Server) Hosting
Catering to websites that require more resources and control, VPS hosting bridges the gap between shared and dedicated hosting. GoDaddy's VPS plans offer increased power, flexibility, and root access.
Here are the VPS web host plans available:
a. Standard Performance Plans: Range from $9.99/month for 1 vCPU, 2 GB RAM to $49.99/month for 4 vCPU, 16 GB RAM.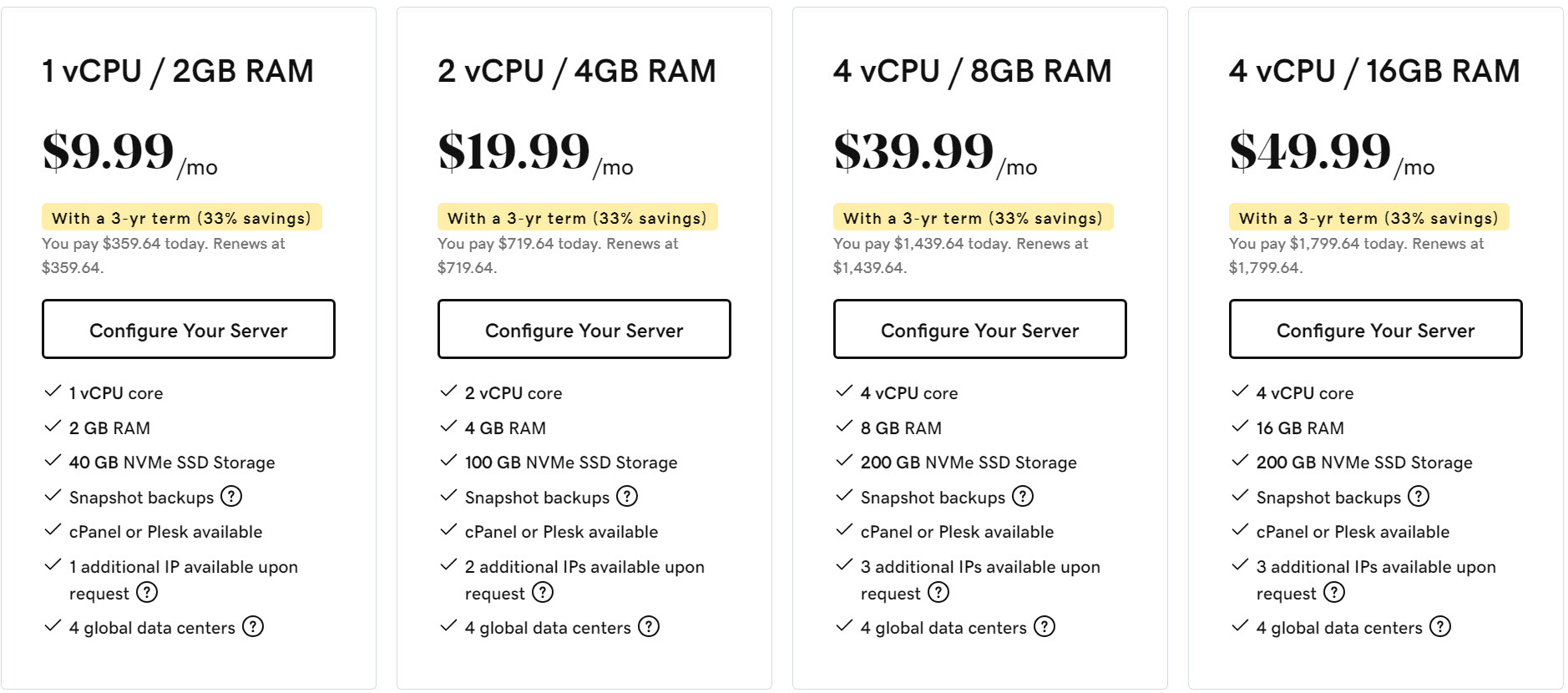 Image via GoDaddy
b. High Performance Plans: Range from $69.99/month for 8 vCPU, 16 GB RAM to $169.99/month for 16 vCPU, 64 GB RAM.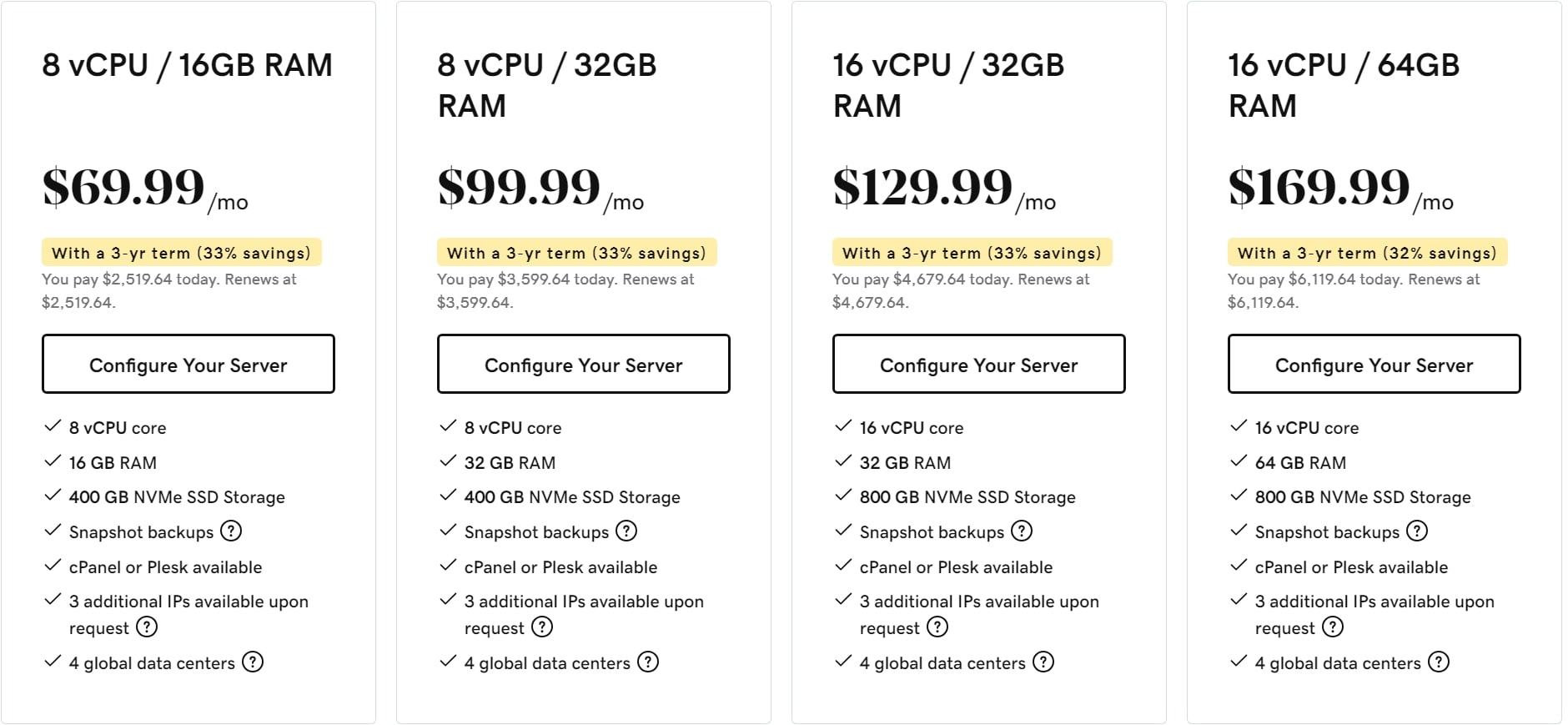 Image via GoDaddy
Dedicated Server Hosting
For large-scale operations and websites with heavy traffic, GoDaddy's dedicated hosting provides a dedicated server (solely for your website). This translates to enhanced performance, website security, and customization options.
Here's how much GoDaddy's Dedicated Server Hosting plans cost:

Image via GoDaddy
DS-32: $159.99/month with 4 CPU cores, 32 GB RAM.
DS-64: $199.99/month, offering 6 CPU cores, 64 GB RAM.
DS-128: $339.99/month with 16 CPU cores, 128 GB RAM.
DS-256: $469.99/month with 16 CPU cores, 256 GB RAM.
WordPress Hosting
Specifically optimized for WordPress, the plans below ensure your WordPress site runs smoothly, benefits from faster load times, and receives automated updates.
Here are the GoDaddy WordPress Hosting plans available: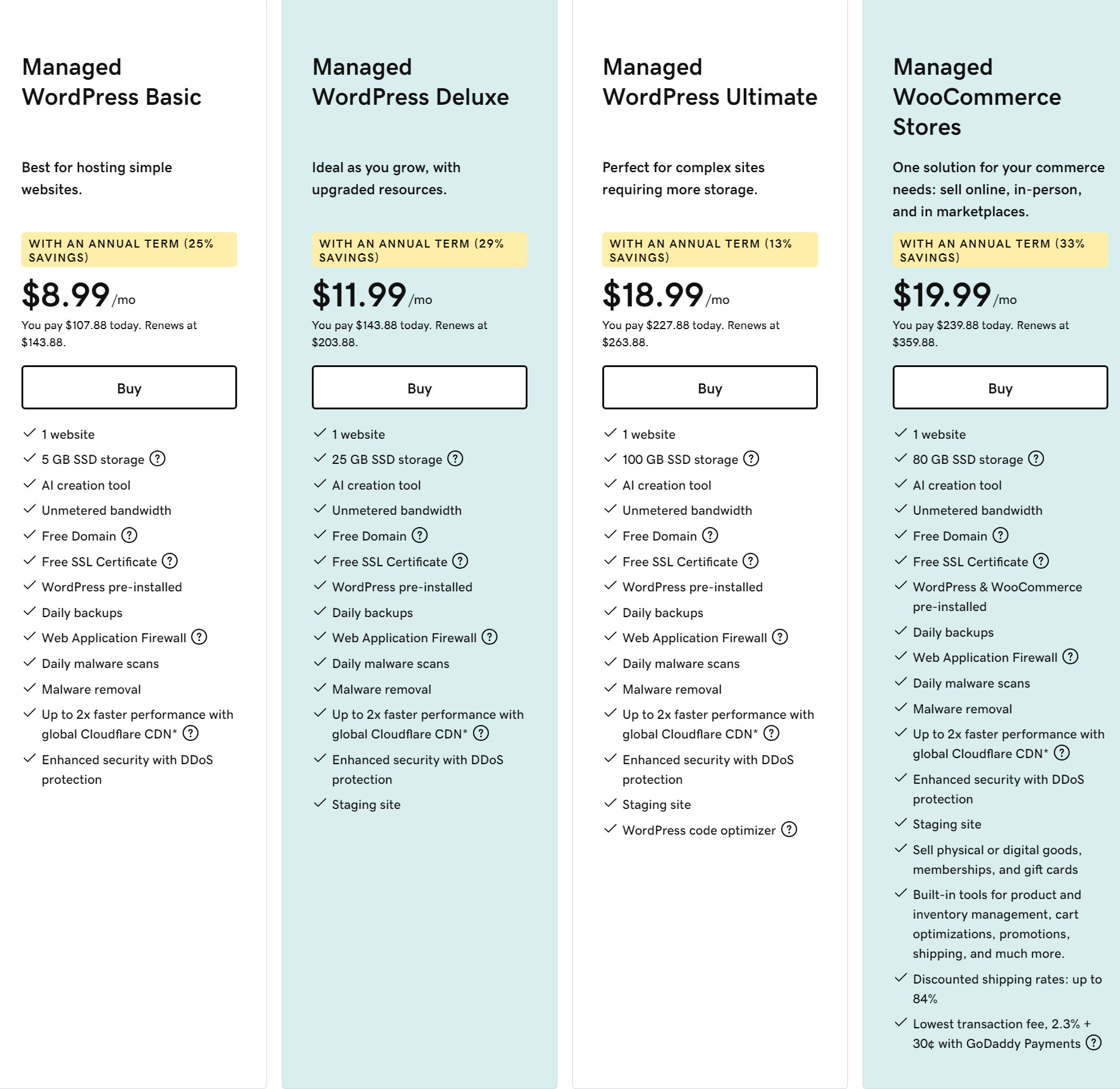 Image via GoDaddy
Managed WordPress Basic: $8.99/month
Managed WordPress Deluxe: $11.99/month
Managed WordPress Ultimate: $18.99/month
Managed WooCommerce Stores
Managed WooCommerce Stores by GoDaddy ensures your online store operates at its best on WordPress. The plan earns you benefits such as minimized transaction fees via GoDaddy Payments and integrated marketplace selling across renowned platforms.
Here are the GoDaddy Managed WooCommerce Store plans available:
Image via GoDaddy
Essentials: $19.99 per month
Flex: $79.99 per month
Expand: $129.99 per month
GoDaddy Review: Other Costs
In addition to the prices above, there are other costs that you need to know so that you won't be caught unawares when they arise. Here are the extra costs:
Domain Registration & Renewal
A .com domain typically costs around $11.99/year for registration and around $21.99/year for renewal. Prices for other TLDs may vary.
While certain GoDaddy's hosting plans often come with a free domain name for the first year, users should be aware of the renewal rates, which may differ based on the TLD (e.g., .com, .net, .org).
SSL Certificates
An SSL certificate ensures the security of data transferred between your website and visitors. Some plans come with free SSL certificates for the first year, but there's an associated cost after that period.
If purchased separately, an SSL certificate might cost around $69.99/year, though there are often promotions or bundles that can reduce this cost.
Website Backup
GoDaddy offers daily backups with one-click restore options at an additional fee. Daily backup services start at $2.99/month.
Website Security
The cost for Website Security starts at $6.99/month. It is an advanced security feature that scans for vulnerabilities and malware.
Premium DNS
While basic DNS is usually included in GoDaddy's hosting plans, a premium DNS service, which offers faster speeds, uptime guarantee, and advanced security features, is priced at around $4.99/month.
Professional Email
If you wish to have an email associated with your domain (e.g., yourname@yourdomain.com), there's a cost linked with GoDaddy's professional email services. The service attracts a small fee of $1.99/month for the Microsoft 365 Email Essentials package.
Additional Resources
If you exceed your allocated resources, such as bandwidth or storage (especially in unmetered plans), there might be fees or a need to upgrade to a higher plan.
These costs can vary widely based on the specifics of what's being exceeded. For instance, additional storage might cost a certain fee per GB, or there might be tiered plans to upgrade to.
Renewal Rates
It's essential to highlight that many hosting providers, including GoDaddy, often have promotional prices for new customers. However, renewal rates can be higher than these introductory rates.
Renewal rates for the GoDaddy hosting plans can be anywhere from 20% to 100% higher than introductory rates, depending on the plan and duration chosen.
Remember, while some of these services might seem like added expenses, they often enhance the functionality, security, or professionalism of a website. Always carefully review any service or feature to understand its value proposition relative to its cost.
GoDaddy Review: Discounts and Promotional Offers
GoDaddy offers occasional discounts. You may want to watch out for the following promotions as a GoDaddy user:
Introductory Discounts: GoDaddy often presents discounted rates for the first year of hosting or domain registration, making it attractive for newcomers to hop on board.
Bundle Offers: Combining services, like hosting with domain registration or SSL certificates, often fetches users a better deal. GoDaddy's bundled offers provide an integrated solution at a reduced price.
Seasonal Promotions: Keep an eye out for festive seasons, special events, or milestones. GoDaddy is known to roll out promotional offers during these periods, leading to considerable savings.
GoDaddy Review: User Reviews and Testimonials
Real feedback from genuine users often paints a clearer picture of what one can expect from a service.
With a 4.7/5 star rating and an impressive 80,883+ GoDaddy reviews on Trustpilot, there's undoubtedly a wealth of user feedback to delve into.
Here are some carefully selected user reviews of GoDaddy:
"After over 20 years, GoDaddy has been fantastic. It's been virtually seamless. Of the very few times I've had issues, the staff has been outstanding. Most of the calls have simply been to add or change my service. Only one or two issues over the years and they were resolved during the call to the staff. I can't say enough good about GoDaddy and their awesome staff!" – Larry S.
"My new email account (GoDaddy/Microsoft 365) was compromised and I wasn't sending/receiving emails. It was so good to be able to get someone on the phone to walk me through next steps, how to correct the issue and how to prevent it from happening again. Brandon was AWESOME. He was very patient, detailed in his explanations to me and reassured me all was going to be taken care of." – Fitch M.
"I was completely baffled by the process of establishing a business email address, as well as a domain. I could not figure out how the email and domain related to each other. Philisha was really great to work with – she explained everything very clearly and was very patient. She answered all my questions and by the end of the call my business email was established, as well as my domain. Couldn't have done it without her. Don't hesitate to use GoDaddy to establish your business credentials on the web." – Donna H.
Above are a few opinions, and as with any service, individual experiences can vary. Overall, GoDaddy is a reliable choice and a top consideration for many website owners.
Comparing GoDaddy: How It Stands Against Competitors
In the domain registration and web hosting space, several players vie for the top spot. Before concluding our GoDaddy review, here's a comparative view of GoDaddy and its noteworthy competitors, shedding light on their strengths and differences.
1. GoDaddy vs. Bluehost
Bluehost, a favorite among many website creators, especially those inclined towards WordPress, is a formidable opponent. Let's see how the two giants match up:
Pricing: Both companies offer attractive introductory rates. While GoDaddy might have slightly higher renewal rates, it often includes additional features and services that enhance value for the user.
Performance: Both GoDaddy and Bluehost commit to excellent uptime. Even though Bluehost sometimes gets a nod for speed, GoDaddy's consistent performance backed by its expansive infrastructure is highly dependable.
Features: GoDaddy's vast portfolio includes a variety of services, making it a one-stop shop for many digital needs. Bluehost, while noteworthy for its WordPress website integration and certain freebies, doesn't match GoDaddy's breadth of offerings.
2. GoDaddy vs. HostGator
With a legacy stretching back to the early 2000s, HostGator has been a familiar web hosting provider. Here's how it squares off against GoDaddy:
Pricing: GoDaddy and HostGator offer similar price points, but with GoDaddy's frequent promotional offers, users can sometimes get better deals.
Performance: Each guarantees steady uptimes. While HostGator often gets praise for its server performance, GoDaddy's extensive infrastructure ensures consistent website operation.
Features: GoDaddy stands out with its all-in-one offerings, from domains to website builders. HostGator does well with its diverse hosting options, but GoDaddy's wide range of tools offers users a comprehensive experience.
3. GoDaddy vs. Namecheap
Namecheap has always been a go-to choice for domain seekers prioritizing affordability. Let's delve into the contrasts between these two providers:
Pricing: While Namecheap may offer lower prices for domain registrations and renewals, GoDaddy's bundle deals and promotional offers provide excellent value. These offers have the potential to offset the price difference in many cases.
Performance: Both GoDaddy and Namecheap deliver robust hosting performance and uptime. GoDaddy's vast infrastructure ensures reliable service for businesses of all sizes.
Features: GoDaddy shines with its wide range of services and tools, making it a one-stop shop for many online needs. While Namecheap provides domain privacy at no extra charge, GoDaddy's comprehensive service suite can cater to a broader audience.
4. GoDaddy vs. SiteGround
SiteGround, renowned for its technological edge and premium hosting solutions, offers an intriguing comparison point. Here's how the two stack up:
Pricing: GoDaddy often presents more budget-friendly options, especially for those just starting out. SiteGround may command higher prices for certain plans. However, GoDaddy's diverse range of offerings provides flexibility for different budgets.
Performance: SiteGround is known for its rapid speeds and solid uptime. On the other hand, GoDaddy, with its vast infrastructure and global data centers, ensures reliable and consistent performance, making it suitable for a wide audience.
Features: While SiteGround leans into cutting-edge tech and offers features like free daily backups, GoDaddy boasts a broad portfolio of services. This portfolio caters to both novices and experienced users, making it a comprehensive solution for diverse needs.
Although GoDaddy boasts numerous outstanding features and thousands of positive customer reviews, your choice of a hosting provider and domain registrar ultimately depends on your specific needs.
Who Should Use GoDaddy?
GoDaddy, with its wide range of services and features, is tailored for a diverse audience. Whether you're taking your first steps into the digital world or scaling an established business, GoDaddy might be the right fit.
Here's who could benefit the most:
Beginners seeking an easy-to-use interface with drag-and-drop tools.
SMEs wanting competitive hosting prices and bundled domain services.
Bloggers and content creators needing WordPress hosting with optimized speeds.
Ecommerce stores valuing strong security features like SSL certificates and daily backups.
Domain investors leveraging domain tools and expansive domain marketplace.
Who Shouldn't Use GoDaddy?
Every platform has its strengths, and while GoDaddy excels in many areas, it may not be the perfect fit for everyone. Certain users might find alternatives that align more closely with their requirements.
Here's who might want to explore other options:
Highly technical users desiring advanced customization like root access, specialized server setups, and granular control.
Those on a tight budget seeking the cheapest hosting solution without considering renewal rates.
Large enterprises requiring specialized hosting solutions like dedicated cloud environments.
Users searching for very specific niche features, such as particular development tools or applications.
Enthusiasts dedicated to open-source platforms preferring a community-driven approach.
FAQs
Given GoDaddy's prominence, numerous people have questions about its offerings, quality, and reputation. Here, we'll directly tackle some of these common questions:
Q1. How trustworthy is GoDaddy?
GoDaddy has been in the industry for over two decades and is one of the largest domain registrars and hosting providers globally.
Its longevity and expansive customer base testify to its reliability. Additionally, GoDaddy employs robust security measures and protocols to safeguard users' data and websites.
Q2. What are the cons of using GoDaddy?
While GoDaddy offers a wide range of services, some users have flagged concerns such as higher renewal rates after introductory periods, aggressive upselling tactics, and occasional inconsistencies in website performance. Like all providers, it has areas where it excels and areas where there's room for improvement.
Q3. Is GoDaddy expensive?
GoDaddy offers competitive introductory prices for its services. However, it's worth noting that its renewal rates can be higher than some other providers. When determining value, consider the range of services, features, and support provided.
Q4. Why is GoDaddy so popular?
A mix of strong marketing, a wide range of services, and a user-friendly platform contribute to GoDaddy's popularity. Its longstanding position in the industry and ongoing innovation also play a role in its strong reputation.
Q5. Is GoDaddy free to use?
While GoDaddy might have some free trials or special offers, most of its main services like domain registration and hosting come with a fee. Always check the specifics of any deal to understand renewal or upgrade costs.
Conclusion
Throughout our GoDaddy review, we've discussed its wide range of features, fair pricing, reliable performance, and its position among competitors. With many years in the industry, GoDaddy continues to be a favored option for both newcomers and well-established businesses.
If you're considering GoDaddy, it's important to understand your requirements, keeping in mind both introductory deals and future expenses. It's also wise to keep up with GoDaddy's latest services and tools.
In conclusion, while GoDaddy offers a wide range of services, the right fit will vary depending on individual needs. It's essential to make a well-informed decision.
About the author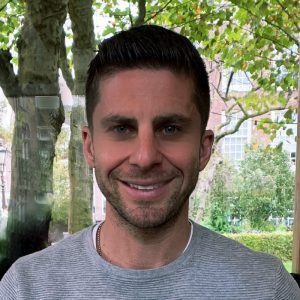 From selling flowers door-to-door at hair salons when he was 16 to starting his own auto detailing business, Brett Shapiro has had an entrepreneurial spirit since he was young. After earning a Bachelor of Arts degree in Global and International Studies from the University of California, Santa Barbara, and years traveling the world planning and executing cause marketing events, Brett decided to test out his entrepreneurial chops with his own medical supply distribution company.
During the formation of this business, Brett made a handful of simple, avoidable mistakes due to lack of experience and guidance. It was then that Brett realized there was a real, consistent need for a company to support businesses as they start, build and grow. He set his sights on creating Easy Doc Filing — an honest, transparent and simple resource center that takes care of the mundane, yet critical, formation documentation. Brett continues to lead Easy Doc Filing in developing services and partnerships that support and encourage entrepreneurship across all industries.