Rocket Lawyer is a reputable platform in the legal technology sector, offering users various online legal services. This Rocket Lawyer review delves into its offerings, highlighting its core features, advantages, and areas of improvement. 
Whether you're actively seeking legal help or merely exploring your options, this review aims to provide clarity on what you can expect from Rocket Lawyer.
Ready to dive in? Let's begin by exploring Rocket Laywer's core features.
Rocket Lawyer's Legal Services: Features Breakdown
Rocket Lawyer offers a wide range of features to address the legal needs that you, as an individual or business owner, might encounter.
In this part of our Rocket Lawyer review, we delve deeper into its primary offerings, enabling you to uncover the comprehensive benefits of the platform.
Here's a detailed breakdown of Rocket Lawyer's main features:
Creation of Legal Documents
Rocket Lawyer provides an expansive library of legal document templates tailored to your needs.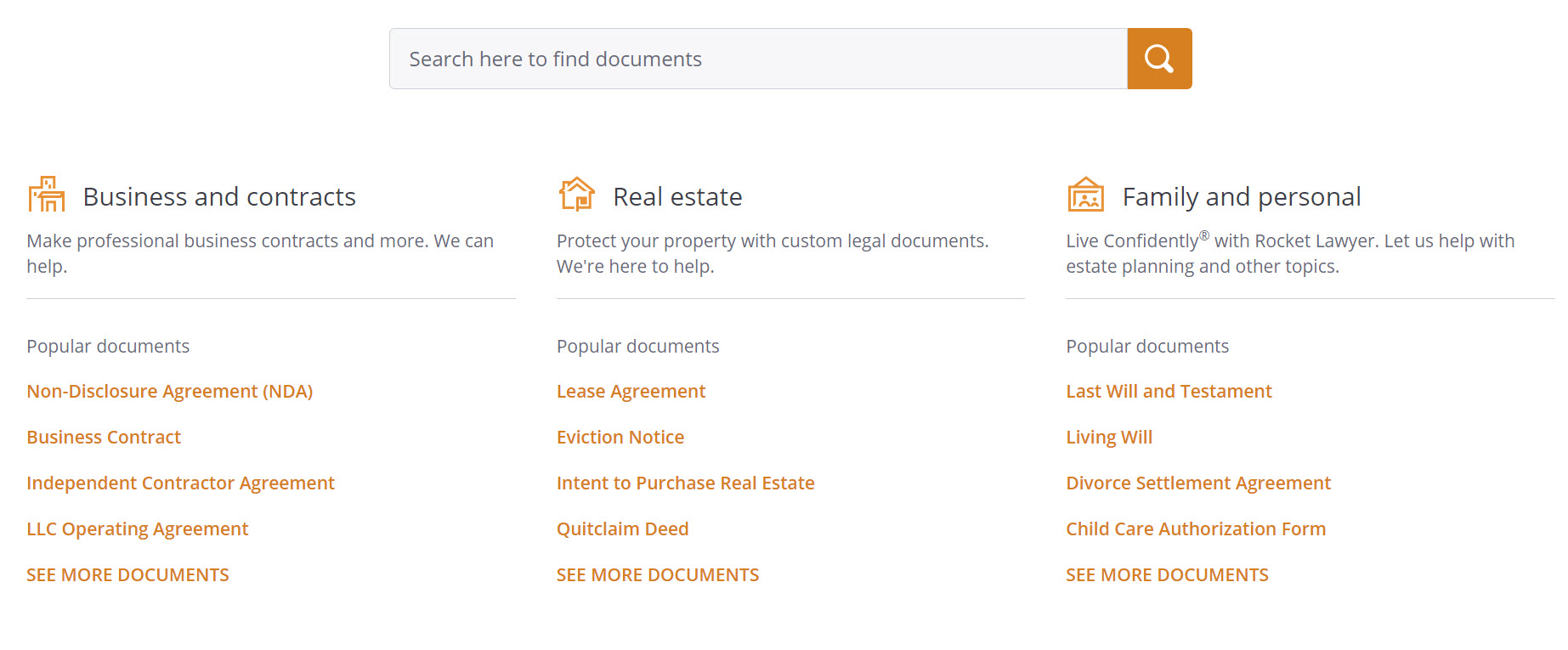 Image via Rocket Lawyer
By accessing this library, you can quickly adapt these templates to various legal scenarios. Some of the commonly used templates include:
Last Will and Testament
Power of Attorney
Lease Agreements
Business Contracts
Non-disclosure Agreements
Operating Agreement
Independent Contractor Agreement
Eviction Notice
Intent to Purchase Real Estate
Quitclaim Deed
Rocket Lawyer's legal document services enable individuals without legal expertise to create legal documents with just a few clicks.
Attorney Services
There are moments when expert advice is invaluable. In view of this, Rocket Lawyer connects you to a trusted network of vetted attorneys. As you engage with the platform, you can take advantage of the following:
Free 30-minute consultations
Discounted rates for extended consultations
Direct reviews of your documents by qualified lawyers
Business Incorporation
If you're an entrepreneur looking to establish a business entity, Rocket Lawyer's incorporation service is ideal for you.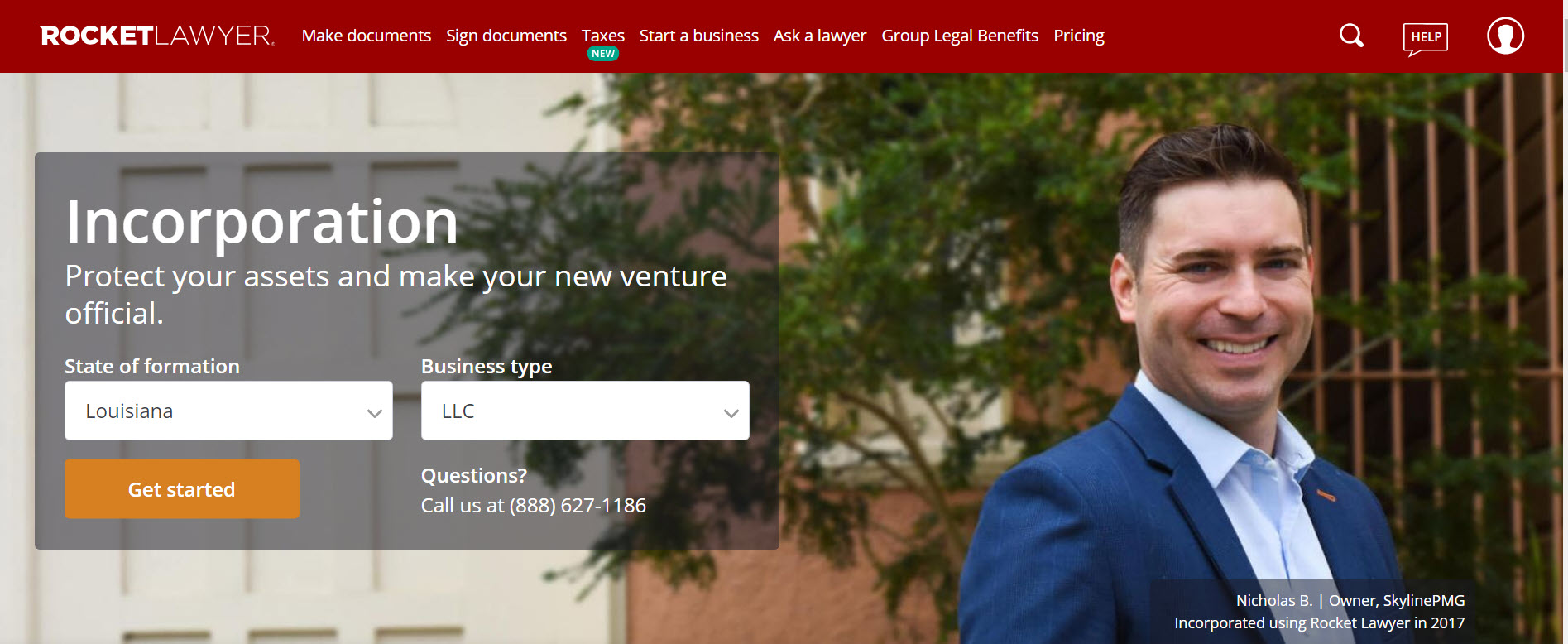 Image via Rocket Lawyer
The platform offers a guided approach to business incorporation, covering essentials like:
Choosing the appropriate business entity (LLC, S-Corp, C-Corp, etc.)
Completing and submitting necessary forms
Insights into potential tax implications
Furthermore, the platform's transparent pricing ensures you know exactly what you're committing to, financially.
Also Read:
Ask a Lawyer
Rocket Lawyer's "Ask a Lawyer" feature is a game-changer. Our Rocket Lawyer review will be incomplete without mentioning it.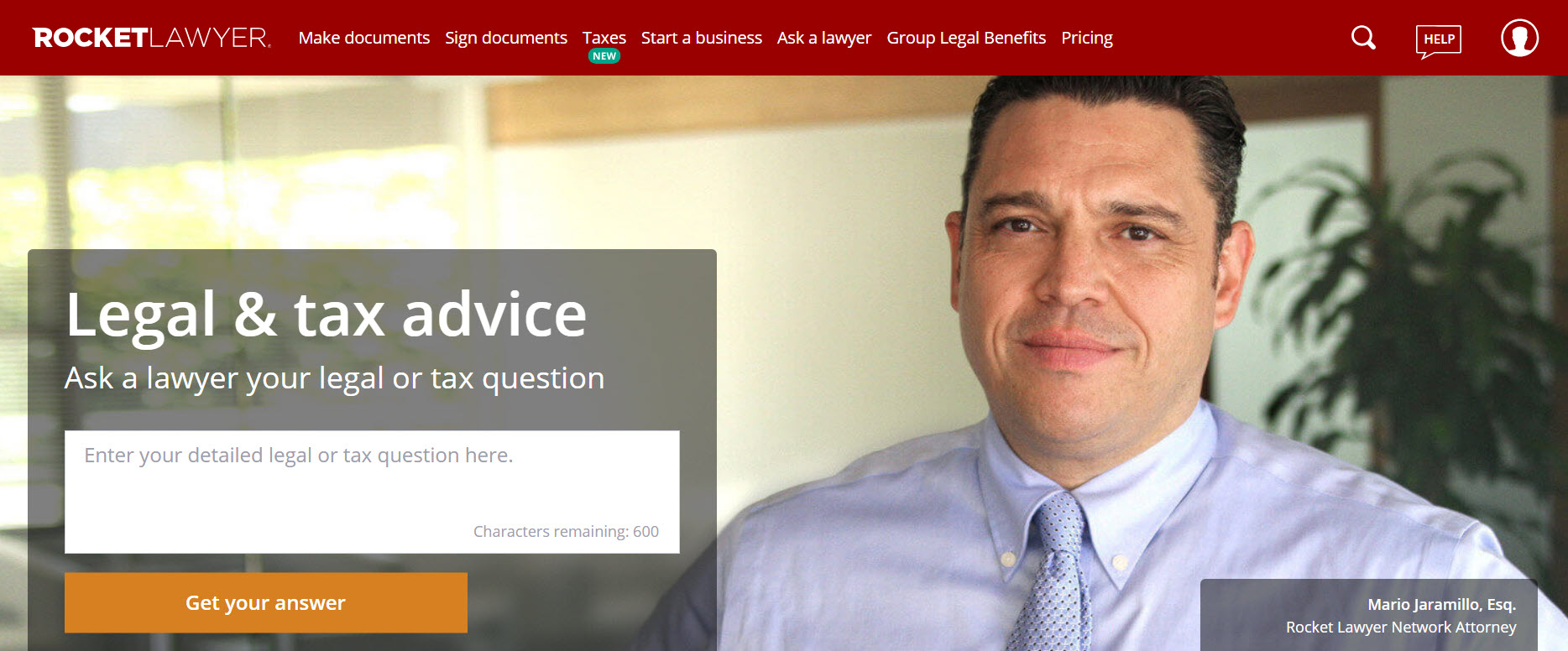 Image via Rocket Lawyer
Rather than wasting hours on unreliable internet searches, you can pose your pressing legal questions and receive expert responses from practicing attorneys.
You can seek legal help for questions, including (but not limited to):
Starting a business
Business contracts
Employment law
Wills and trusts
Taxes and tax law
Family law
Real estate law
Landlord/tenant matters
The "Ask a Lawyer" feature guarantees that the advice you get is both timely and authoritative.
Rocket Tax
Rocket Lawyer has recently expanded its online legal services to include Rocket Tax, designed to take the weight off your shoulders and ensure you're filing with accuracy.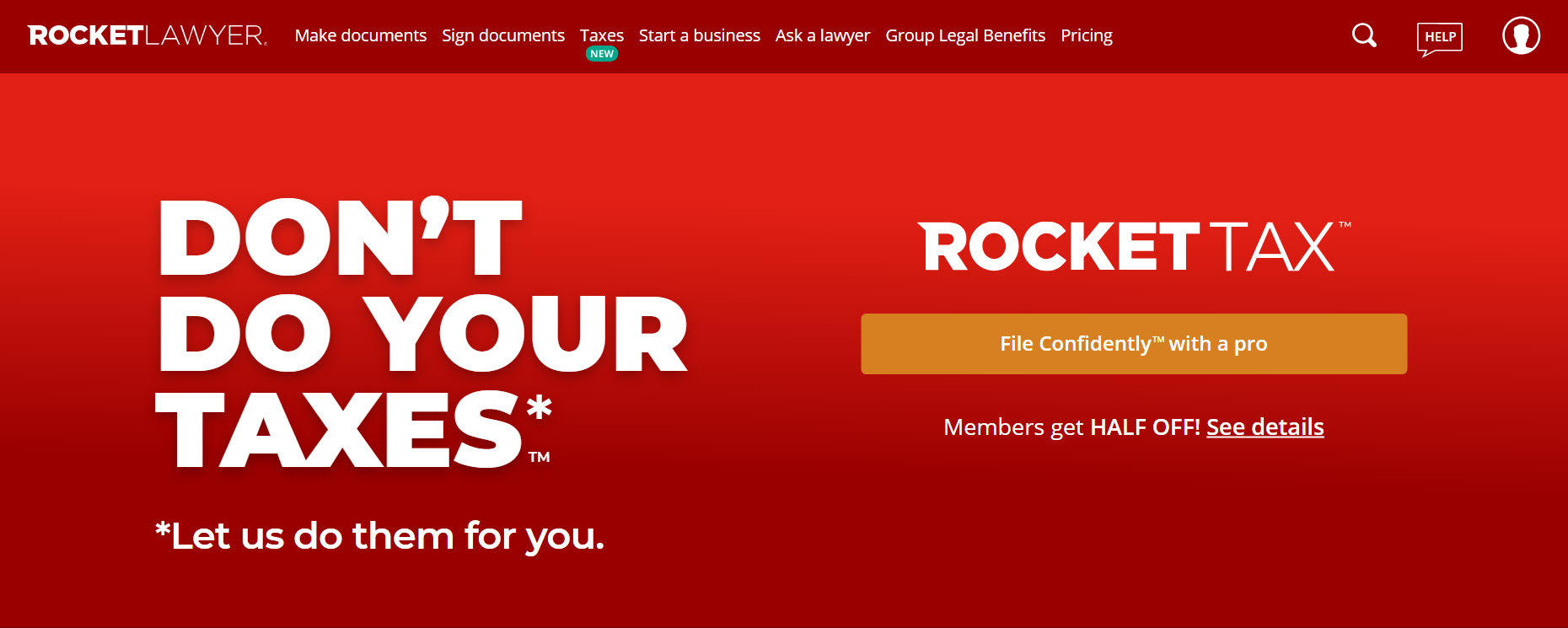 Image via Rocket Lawyer
Here are some of the various benefits that come with choosing Rocket Tax for your filing needs:
Rocket Tax pairs users with experienced professionals boasting an average rating of 4.5/5 and at least 5 years of experience.
RocketSign streamlines the tax process by allowing users to authenticate and complete necessary documents seamlessly.
After an online checkout, users can quickly submit documents via a photo and get matched with a tax professional.
Using Rocket Tax significantly reduces the chances of filing errors and helps in availing all qualifying credits.
Users can directly communicate with their tax pro for queries, ensuring an average tax return completion time of just 7 days.
With the introduction of Rocket Tax, Rocket Lawyer continues to demonstrate its commitment to offering comprehensive legal solutions. From drafting a contract to filing taxes, Rocket Lawyer remains a one-stop shop for all your legal needs.
RocketSign
Rocket Lawyer makes e-signing easy with RocketSign — a feature designed to simplify, expedite, and secure your document signing experience.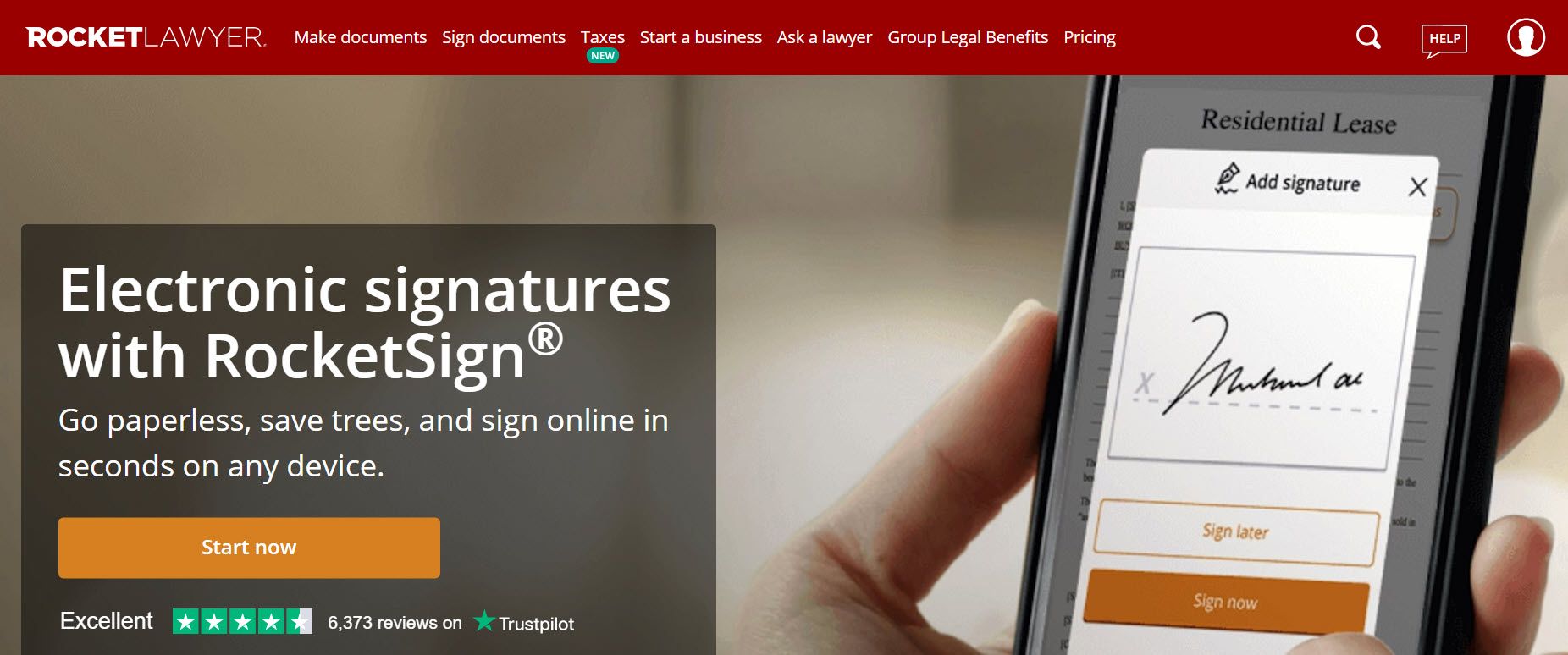 Image via Rocket Lawyer
Rocket Lawyer promotes eco-friendly practices. With RocketSign, you not only streamline your operations but also contribute to saving trees by transitioning to online signatures.
This means you can sign any document, at any time, and on any device without the need for paper.
Furthermore, Rocket Lawyer ensures that preparing your documents for signature is a hassle-free experience. Key functionalities include:
An intuitive interface allowing users to easily add or select their documents, then designate signature and date fields.
Flexible sharing options that let users decide who gets to view and sign the document. Plus, if you want legal oversight, you have the option to share it directly with an attorney.
A dedicated storage system to securely archive your signed documents, providing easy access whenever and wherever you might need them.
Through the integration of RocketSign, Rocket Lawyer remains committed to its mission of transforming and streamlining the legal process for all. Through this, it solidifies its position as a leading platform in the legal technology sector.
Rocket Lawyer Review: Mobile and Desktop Experience
Accessing legal services on the go or from the comfort of one's home is no longer a luxury but a necessity. In this section of our Rocket Lawyer review, we'll dive deep
into the user experience provided by Rocket Lawyer across both mobile and desktop platforms.
Rocket Lawyer Review: Mobile Application Insights
Rocket Lawyer understands the importance of mobile accessibility, ensuring that legal services are just a tap away from its users. Here's how Rocket Lawyer's mobile access benefits users:
App Availability: Rocket Lawyer offers a dedicated mobile application available for both Android and iOS devices.
User Interface: The app has a sleek design, intuitive navigation, and easy-to-use features, mirroring the simplicity and efficiency of the platform's desktop version.
Features: Key features, such as document customization, attorney consultations, and notifications, are seamlessly integrated into the mobile experience.
Performance: With fast load times and minimal glitches, users can rely on the Rocket Lawyer app for efficient and uninterrupted services.
Rocket Lawyer Review: Desktop Platform Efficiency
While mobile access is crucial, the bulk of detailed legal work and document handling might still be preferred on a desktop for many users.
Here's what Rocket Lawyer offers on that front:
Layout & Design: Rocket Lawyer's desktop platform presents a clutter-free and organized layout. Information is structured logically, making it easy for users to find what they're looking for.
Functionality: From drafting custom legal documents to scheduling attorney consultations, every feature is optimized for the desktop experience.
Whether you're a busy professional needing to draft online legal documents or someone who prefers the extensive workspace a desktop provides, Rocket Lawyer streamlines the process.
Rocket Lawyer ensures a consistent and efficient experience on both its desktop and mobile platforms.
Rocket Lawyer Review: International Reach and Localization
Rocket Lawyer's services cut across continents. This gives businesses and individuals access to premium-level legal assistance irrespective of their physical location.
In this section of our Rocket Lawyer review, we'll evaluate its offerings for a global audience and how it tailors its services to different localities.
Rocket Lawyer Review: Availability in Different Regions
Rocket Lawyer's service extends far beyond the borders of the United States. The platform seamlessly caters to the diverse legal needs of individuals and businesses in various countries, ensuring global accessibility.
Some of the regions where Rocket Lawyer provides its comprehensive services include:
United Kingdom
France
Spain
Netherlands
Brazil
Rocket Lawyer's international presence ensures that wherever you are, be it in Europe, South America, or beyond, you can count on a consistent and reliable legal experience.
Rocket Lawyer Review: Language Support and Localization
Effective legal assistance isn't just about language translation—it's about understanding regional nuances. Rocket Lawyer impresses with its multilingual support and localized content.
Multilingual Platform
Rocket Lawyer ensures users can navigate the platform in a language they're comfortable with. Available languages include:
English
Spanish
French
Dutch
Portuguese
Users can easily switch between languages by clicking on their preferred region in the footer of the homepage.

Image via Rocket Lawyer
Localized Content
Rocket Lawyer's commitment goes beyond translation. It also involves crafting content that truly resonates with the unique needs and preferences of local audiences. This dedication is exemplified through the following key offerings:
Legal templates suited to the legal standards of each country.
Guidance that considers the specific legal peculiarities of regions.
Customer support that's informed about local queries and concerns.
In essence, Rocket Lawyer's approach is not just about offering online legal services in multiple languages, but about creating a comprehensive and localized legal experience.
Cultural Sensitivity
Beyond language and legalities, Rocket Lawyer also prioritizes cultural nuances. This commitment ensures that:
Advice and documents generated are in line with local customs.
The platform remains sensitive to cultural practices, ensuring a more personalized user experience.
Rocket Lawyer's international provisions and its attention to local details make it a go-to platform for users worldwide. If your legal requirements span different regions, Rocket Lawyer's offerings could be precisely what you need.
Rocket Lawyer Review: Security and Confidentiality
Ensuring that sensitive data and personal information are protected is of paramount importance in any online platform, especially in legal services.
With Rocket Lawyer, you're not only entrusting the platform with your legal needs but also with vital personal and business information.
Going forward in our Rocket Lawyer review, let's break down how Rocket Lawyer fares when it comes to security and confidentiality.
Rocket Lawyer Review: Data Protection Measures
Cybersecurity is a concern for many online users, and Rocket Lawyer recognizes the weight of this responsibility. Here's how the platform handles your data:
Encryption: All transactions and data transmissions on Rocket Lawyer's platform are encrypted using industry-standard protocols. This ensures that any data you input, be it payment information or personal details, is kept secure from prying eyes.
Regular Audits: To keep their security measures up-to-date and robust, Rocket Lawyer undergoes periodic security audits. This proactive approach identifies potential vulnerabilities and rectifies them.
Rocket Lawyer Review: Confidentiality Assurance
Beyond cybersecurity, maintaining client confidentiality is a major part of legal services. Rocket Lawyer upholds this principle in the following ways:
Non-disclosure Agreements: Any third-party or contractor working with Rocket Lawyer signs stringent NDAs, ensuring that your data isn't shared or misused.
Professional Code: Rocket Lawyer's network of licensed attorneys adheres to the professional code of conduct. This code mandates confidentiality regarding any client interactions and the details shared therein.
Clear Data Policies: Rocket Lawyer has clear policies on data retention and deletion. If you opt to close your account or remove certain documents, you can trust that the platform will handle this data appropriately, ensuring it doesn't fall into the wrong hands.
Create Your Free Rocket Lawyer Account
Rocket Lawyer Review: Pros and Cons
Every tool and service comes with its unique strengths and potential pitfalls. This part of our Rocket Lawyer review involves a thorough examination of its benefits and drawbacks.
Rocket Lawyer Review: Pros
Rocket Lawyer offers numerous advantages, making it a favorite for many seeking online legal services. Here's a deep dive into its strengths:
Extensive Document Library
Rocket Lawyer prides itself on its expansive library of legal document templates. Whether you're drafting a last will and testament, creating a rental agreement, or setting up a business contract, the platform has a template for you.

Image via Rocket Lawyer
Each document can be customized to your specific needs, ensuring that the final product aligns with your unique situation.
User-Friendly Interface
For those who are new to legal procedures, Rocket Lawyer offers an intuitive and easy-to-navigate platform. The design prioritizes user experience, with clear prompts and a straightforward process. This ensures that even those unfamiliar with legal jargon can maneuver the site with ease.
Affordable Legal Consultations
Beyond online legal document creation, Rocket Lawyer introduces an invaluable "Ask a Lawyer" feature.

Image via Rocket Lawyer
With this, you can get your pressing legal questions addressed by licensed attorneys. It's a cost-effective way to receive accurate legal advice without the heavy price tag usually associated with legal consultations.
Comprehensive Business Services
Entrepreneurs and business owners will find Rocket Lawyer especially beneficial. The platform provides a suite of services tailored to business needs.
From incorporating a new venture to ensuring that your business remains compliant with local regulations, Rocket Lawyer is equipped to guide you every step of the way.
While the platform offers numerous advantages, no service is without its areas for improvement. Let's consider a few of Rocket Laywer's drawbacks.
Rocket Lawyer Review: Cons
Every platform has room for enhancement. Let's examine some areas where Rocket Lawyer might fall short for certain users:
May Not Suit Large Corporations
While Rocket Lawyer is versatile, it might not fully cater to the complex legal demands of larger corporations. Such entities often require specialized services, which the platform might not offer in its current capacity.
Lacks Specialization in Niche Areas
If you're in a niche industry or have a very specialized legal requirement, you might find Rocket Lawyer's offerings a bit generalized. For more tailored solutions, seeking a specialized attorney might be the way to go.
Over-reliance on Online Interactions
While the digital age has made online consultations convenient, some users still value the traditional face-to-face interaction with their attorneys. Rocket Lawyer's model primarily revolves around online interactions, which might not resonate with everyone.
Subscription Model
While Rocket Lawyer's subscription model can be advantageous for those with ongoing legal needs, it may not be the most cost-effective option for individuals with one-time requirements.
If a user forgets to cancel their subscription after addressing a short-term legal issue, they could inadvertently rack up unnecessary charges. This aspect of the subscription model may inconvenience some users and make them hesitant to engage with Rocket Lawyer for fear of unexpected financial burdens.
Varied Attorney Quality
Rocket Lawyer diligently vets its attorneys to ensure a certain level of quality and professionalism. However, due to the diverse pool of attorneys available, users may encounter varying levels of expertise and responsiveness.
It's possible for some users to discover that their assigned attorney does not align with their expectations or specific legal needs, potentially leading to dissatisfaction and the need to seek alternative legal assistance.
This variation in attorney quality could impact the overall user experience and trust in Rocket Lawyer's services.
Explore Rocket Lawyer Free for 7 Days
Rocket Lawyer Review: Pricing and Subscription Packages
Legal services often bear hefty price tags. This is why understanding Rocket Lawyer's pricing structure is important.
In this segment of our Rocket Lawyer review, we'll dissect the cost implications, ensuring you're well-informed about what you're investing in.
Rocket Lawyer Review: Monthly Membership Costs
Rocket Lawyer offers a monthly membership package designed to provide continuous legal assistance.
For those considering a commitment, the platform provides a 7-day free trial, allowing you to test the waters before diving in. Once the trial ends, you gain:
Unlimited access to their vast library of legal document templates.
One free 30-minute consultation with an attorney for each new legal matter.
Discounted rates on subsequent attorney services.
The exact cost fluctuates based on your region and any ongoing promotions, but the standard price stands at a monthly fee of $39.99.
Rocket Lawyer Review: One-time Services Fees
For those who don't require ongoing legal services, Rocket Lawyer offers a pay-per-service model. You can access specific legal services on a one-time basis.
The fees for these individual services vary, but here's a general breakdown:
Business incorporation services: Range from $99.99 to $299.99 based on the intricacy and state-specific fees.
Rocket Tax: Rocket Lawyer's tax filing services are priced in the three tiers below.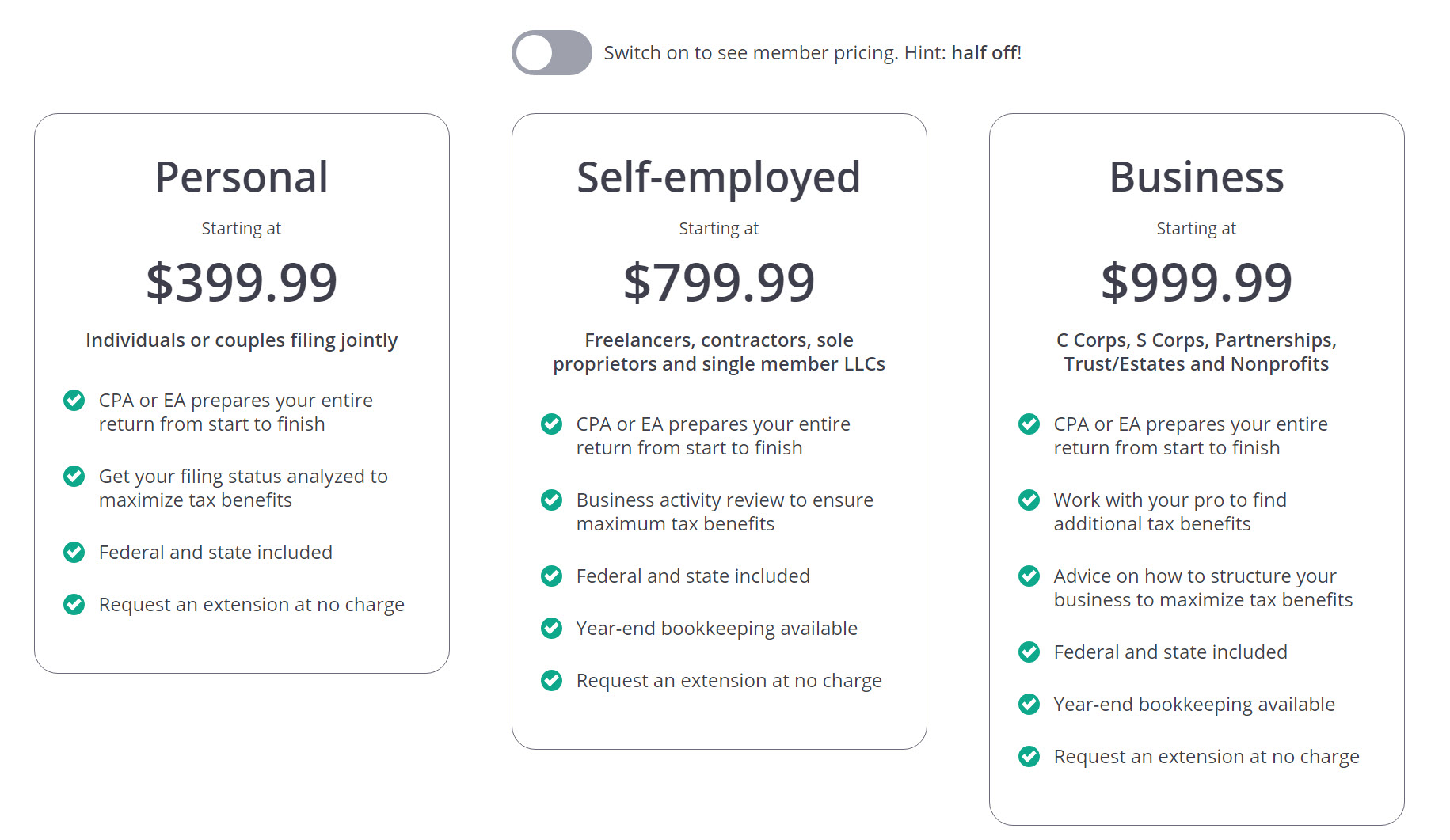 Image via Rocket Lawyer
Personal: Starting at $399.99
Self-employed: Starting at $799.99
Business: Starting at $999.99
It's worth noting that existing Rocket Lawyer members receive a 50% discount on these prices.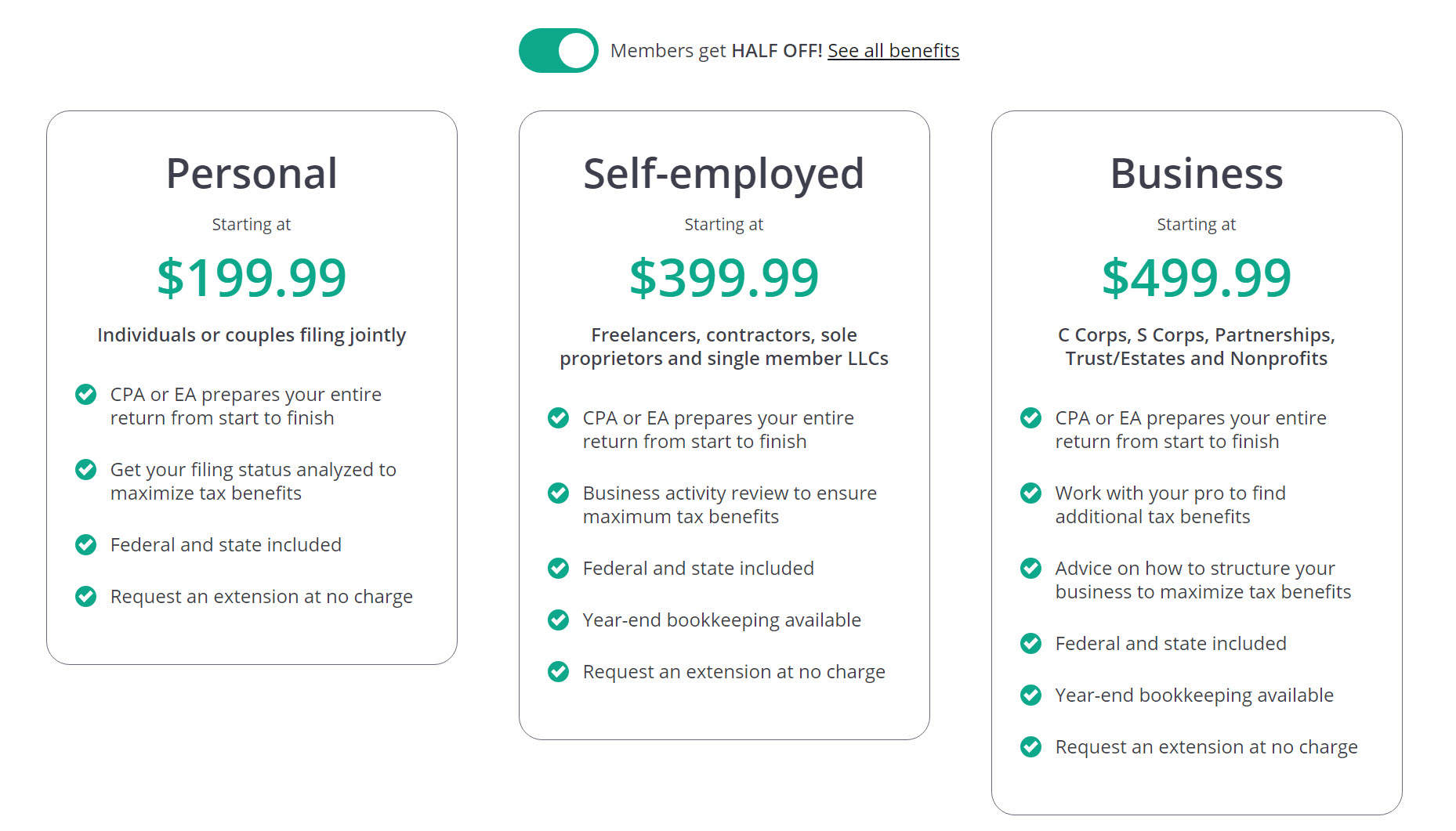 Image via Rocket Lawyer
With a clearer understanding of Rocket Lawyer's pricing, let's delve into what actual users think about the platform. User reviews and testimonials often offer invaluable insights into real-world experiences and expectations.
Also Read:
Rocket Lawyer Review: User Feedback
Knowing what a platform promises is one side of the coin. How users perceive it provides the other, often more enlightening, perspective.
In this section of our Rocket Lawyer review, we'll delve into the opinions and experiences of actual users. Their feedback provides insights that mere feature listings can't.
Rocket Lawyer Review: Customer Reviews and Testimonials
With a commendable 4.8-star rating on Sitejabber from over 2723 reviews, Rocket Lawyer has evidently made a significant impact on its users.
To give you an idea of what the platform's users enjoy, here are a couple of handpicked testimonials:
"I needed an official Warranty Deed to sell land to my sister. She had cash and we didn't need all the costly Appraisal, real estate agent or closing agents. We just needed a legal Deed that we could get notarized. Rocket Lawyer provided it for free with a free trail that could be canceled at no charge. They kept their end of the bargain and made the document needed available with an easy to use interface. I will use them again in the future and would recommend them to anyone!" – Daniel K.
"I spoke with a woman named Katie who was so incredibly helpful and knowledgeable. She informed me of alternative plans that would be more affordable than the $40 a month and I plan to sign up next month. You all are lucky to have such a great employee who is a prime example of what a customer service and sales person should be. She was fabulous and great to talk to. Super nice yet completely professional and knowledgeable about your products. A+++++ for Katie! Give her kudos and a raise!" – Joanna M.
"I signed up for Rocket Lawyer in a desperate need to write up a cancellation for a time share. Called up the next month to cancel because I couldn't justify the $39 charge for a document here and there. Rather than just cancelling my subscription and sending me off I was offered another one for $1 a month which would cover my own personal documents whenever I needed. 
Apparently the one I signed up for offered me direct counseling when I needed it from a lawyer. Which come to think of it is a hell of a deal. The attendant who worked with me was so helpful and informative that I couldn't pass up this offer. I appreciate it when I'm offered better programs, forms, subscriptions or what have you, that meet my own personal needs. This kind of service is exactly why I stay loyal to certain brands. Thank you so much for that." – Susanah L.
Such testimonials shed light on Rocket Lawyer's commitment to customer satisfaction and the efficiency of its services. The platform's reputation is definitely well-deserved, considering the overwhelmingly positive feedback.
Rocket Lawyer Review: Customer Support
While the testimonials above provide a hint about Rocket Lawyer's customer support, it's essential to recognize that effective customer support forms the backbone of any successful online service.
Feedback suggests that Rocket Lawyer excels in this regard. Whether users are seeking clarity on pricing, facing technical challenges, or needing assistance with their legal documents, the team appears dedicated and responsive.
You can reach out to the customer support team via phone call, live chat, and e-mail.

Image via Rocket Lawyer
A platform's features and user feedback are crucial. However, how does Rocket Lawyer stack up against its competitors? In the next section, we'll dive into a comparative analysis.
Explore Rocket Lawyer's Features
Rocket Lawyer Review: Comparison to Alternatives
The legal tech space is teeming with platforms, each vying for user attention with its unique offerings. Our Rocket Lawyer review will be incomplete without understanding its position in this competitive space is crucial.
Let's put Rocket Lawyer against three of its well-known competitors: LegalZoom, Incfile, and Nolo.
Rocket Lawyer vs. LegalZoom
LegalZoom, like Rocket Lawyer, has established itself as a go-to platform for legal assistance online. Let's see how the two match up:
Service Variety: Both Rocket Lawyer and LegalZoom provide a comprehensive range of legal documents. However, Rocket Lawyer's "Ask a Lawyer" feature may be a distinguishing factor for those seeking direct consultations.
Pricing: While Rocket Lawyer's monthly subscription is priced at $39.99, LegalZoom's pricing varies based on the type of service and may sometimes be on the higher side.
User Interface: Rocket Lawyer's platform is known for its intuitive design. LegalZoom, while offering robust features, has received feedback about its interface being less modern.
Customer Feedback: Rocket Lawyer, as mentioned earlier, boasts a 4.8-star rating on Sitejabber. LegalZoom, although reputable, often receives mixed reviews, particularly regarding its pricing transparency.
Rocket Lawyer vs. Incfile
Incfile specializes more in business incorporation and related services. Let's contrast it with Rocket Lawyer:
Niche Services: Rocket Lawyer offers a broad range of services, while Incfile has carved a niche in business incorporation and management services. For individuals specifically looking for business incorporation, Incfile might be more appealing.
Pricing: Rocket Lawyer's monthly subscription offers consistent value across various legal needs. Incfile, however, stands out with its free basic business incorporation service, charging only state fees.
Ease of Use: Both platforms prioritize user experience, though their interfaces cater to their respective specialties. Rocket Lawyer is more of an all-rounder, while Incfile's platform is tailored towards business formation.
Customer Service: Both Rocket Lawyer and Incfile have received praise for their customer service, but Rocket Lawyer's more extensive range of services might offer more touchpoints for user interaction.
Rocket Lawyer vs. Nolo
Rocket Lawyer and Nolo are both giants in the online legal service space. Here's how they stack up against each other:
Range of Services: While Rocket Lawyer primarily focuses on legal document creation, attorney consultations, and business formation services, Nolo offers an expansive library of do-it-yourself legal books and forms.
Document Customization: Rocket Lawyer provides a user-friendly interface for customizing legal documents. Nolo's strengths lie in its extensive collection of fillable forms and DIY legal guides.
Attorney Services: Rocket Lawyer boasts its "Ask a Lawyer" feature, giving users direct access to an actual lawyer for consultations. Nolo, on the other hand, provides a directory to help users find lawyers but doesn't directly facilitate consultations.
Pricing: Rocket Lawyer's subscription model offers unlimited document access and discounts on attorney consultations. Nolo sells its forms and books individually, with prices varying based on complexity and topic.
Who Should Use Rocket Lawyer?
While Rocket Lawyer caters to a variety of legal needs, its efficiency and suitability depend largely on the user's specific needs. Before we conclude our Rocket Lawyer review, let's explore who stands to benefit the most from what the platform has to offer:
Startups and small business owners looking for affordable legal solutions.
Individuals in need of quick and legally sound document templates.
Businesses and individuals preferring electronic methods to authenticate and sign documents.
People with occasional legal queries wanting expert advice without hiring full-time attorneys.
Freelancers and independent contractors in need of tailored contracts and legal documents.
Taxpayers seeking expert assistance during tax season without the usual hassles.
Who Shouldn't Use Rocket Lawyer?
No platform is one-size-fits-all, and Rocket Lawyer is no exception. To provide a complete Rocket Lawyer review, here are some cases where individuals or businesses might seek alternatives:
Large corporations requiring advanced, customized legal solutions.
Users in search of in-depth specialization in niche legal areas.
Individuals preferring in-person consultations over online interactions.
FAQs
Q1. Is Rocketlawyer.com legitimate?
A. Absolutely. Rocket Lawyer has established itself as one of the leading platforms for online legal services.
Since its inception in 2008, the company has catered to millions of users, providing reliable legal documents and attorney consultations.
The platform's commitment to quality is further evidenced by the positive reviews and ratings they've garnered on trusted review platforms.
Always remember, though, that while online platforms can offer robust legal assistance, some cases may require a specialized attorney's attention.
Q2. How does Rocket Lawyer work?
A. Rocket Lawyer operates as an all-in-one legal service platform. Here's a quick breakdown of how it works:
Document Creation: Choose from a wide range of legal templates for tasks like will drafting, business contracts, or rental agreements.
Customization: Answer a series of questions to tailor the selected template to your specific needs automatically.
Legal Advice: Schedule consultations with attorneys for guidance on complex legal matters or general advice.
Additional Features: RocketSign for electronic signatures and Rocket Tax for tax filing expand its services beyond document creation, making it a comprehensive solution for various legal needs.
Q3. Is Rocket Lawyer hard to cancel?
A. While some users have raised concerns about the cancellation process, Rocket Lawyer maintains a dedicated customer support team to assist with such requests.
If you encounter any issues or are unsure about the steps, reaching out to customer support is advised.
While the platform strives to make the process as seamless as possible, always ensure you understand the terms before initiating any service or subscription.
Q4. Is Rocket Lawyer really free?
A. Rocket Lawyer offers a 7-day free trial, allowing users to experience its services without immediate financial commitment.
However, following the trial period, users are required to pay a subscription fee of $39.99/month to continue accessing the platform's full range of services.
Always review the terms of the free trial and understand when billing will commence to avoid unexpected charges.
Q5. Why am I being charged from Rocket Law?
A. Charges from Rocket Lawyer can arise from various services, including monthly subscription fees or additional legal services like Rocket Tax. If you've signed up for the monthly membership, recurring charges are expected.
For any uncertainties or discrepancies in billing, it's best to contact Rocket Lawyer's customer support for a detailed breakdown and clarification.
Q6. Is Rocket Lawyer safe?
A. Security is important, especially when dealing with legal documents and personal information. Rocket Lawyer employs tight security measures to ensure the safety and confidentiality of its users' data.
The platform uses encryption protocols and advanced cybersecurity tools to fend off potential threats and unauthorized access.
Q7. Are Rocket Lawyer documents legal?
A. Absolutely. Rocket Lawyer provides legal document templates that are crafted and vetted by experienced legal professionals. These templates are designed to be compliant with general laws and regulations.
Get Started with Rocket Lawyer Today
Conclusion
Rocket Lawyer offers a broad range of legal document templates and attorney consultations, as featured in our Rocket Lawyer review. Its transparent pricing model and attentive customer service cater to both individuals and businesses.
While there are areas for improvement, its benefits largely stand out. In summary, Rocket Lawyer is undoubtedly one of the best options to consider if you're seeking a reliable online legal service platform.
About the author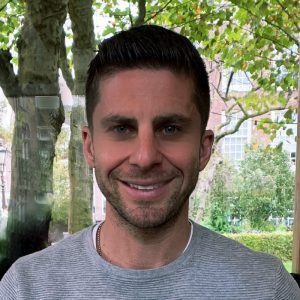 From selling flowers door-to-door at hair salons when he was 16 to starting his own auto detailing business, Brett Shapiro has had an entrepreneurial spirit since he was young. After earning a Bachelor of Arts degree in Global and International Studies from the University of California, Santa Barbara, and years traveling the world planning and executing cause marketing events, Brett decided to test out his entrepreneurial chops with his own medical supply distribution company.
During the formation of this business, Brett made a handful of simple, avoidable mistakes due to lack of experience and guidance. It was then that Brett realized there was a real, consistent need for a company to support businesses as they start, build and grow. He set his sights on creating Easy Doc Filing — an honest, transparent and simple resource center that takes care of the mundane, yet critical, formation documentation. Brett continues to lead Easy Doc Filing in developing services and partnerships that support and encourage entrepreneurship across all industries.