It's hard to overstate how much the internet changed our working lives. Many of the functions of the global economy moved online, phasing out the need for paper and connecting the entire world to an instantaneous teleconferencing network.
People have now embraced the idea of working from home. The pandemic showed us that workers don't have to be in a traditional office space to get work done. This has pushed people to find remote work opportunities that allow them to work from home and spend more time with their families.
The most recent Department of Labor report found that 4.1 million people quit their jobs in September 2022. This has been the trend for the better part of the year, with many people quitting jobs in construction, warehousing, and manufacturing to find flexible and high-paying jobs online.
From making extra cash through a side hustle, to building a freelance career, to starting a prosperous business, the internet has never been richer with opportunities for remote work. Here are the top 21 ways to make money online in 2023.
1. Do Odd Jobs On the Web
Top on our list of the best ways to make money online is to perform odd jobs on the internet.
Several websites, including general sites Swagbucks and Clickwork as well as more specialized sites, allow you to earn money for doing minor tasks throughout the web.
Tasks can include filling out surveys, playing games, answering user questions, watching videos and trailers, or reviewing websites and apps. The pay-per-hour is pretty low, but there's no barrier to entry for this side hustle you can start making money online immediately!
Before doing any odd job online to make money, take the time to understand the following:
Most sites require a minimum account balance before paying out earnings. Ensure you are comfortable with the minimum balance.
Find out how the site pays workers. Several payment options include gift cards, cash transfers, and PayPal. Make sure the payment channel works for you, otherwise, it will be difficult to receive payment for the work you've done.
Take Swagbucks for example. Online users earn SB points for completing tasks, such as playing video games, watching videos, or filling out online surveys. Users can then redeem the points for gift cards or get payments via PayPal.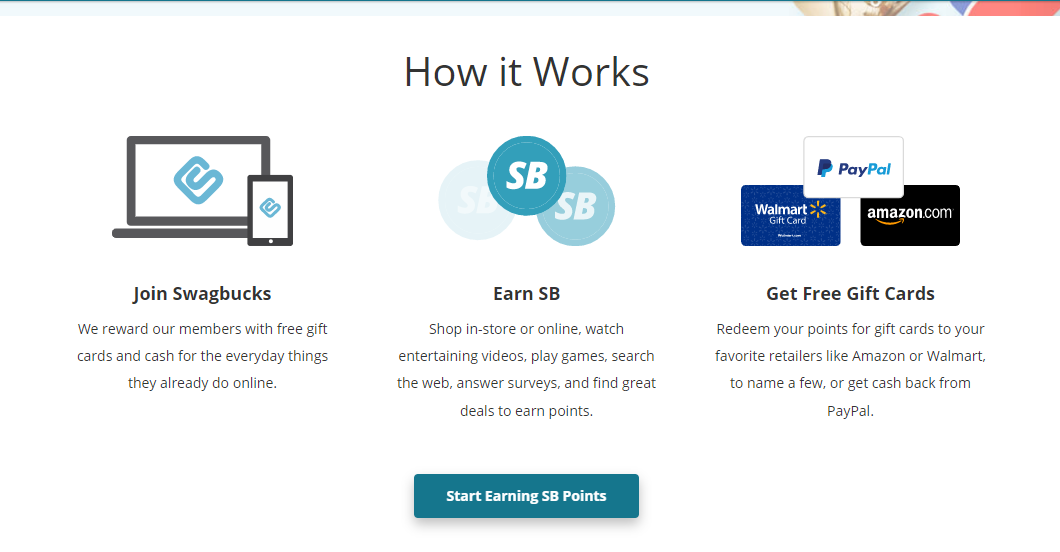 Image via Swagbucks
2. Teach and Tutor
Online education is a growing market. If you are a fluent English speaker, there is a huge demand for English teachers and tutors in China, the most populous country in the world. You could earn a TEFL certificate online and sign up with websites that offer online classroom environments, including Teach Away, italki, VIPKID, and iTutorGroup.
The good thing about teaching online is that you don't have to be a trained teacher to make money on online teaching platforms. In italki, for example, as long as you are a native speaker you can get a teaching certificate and make money online by teaching English to foreigners.
The platform operates an online marketplace like Airbnb where teachers can showcase their skills to potential clients. You get to set prices for your services and earn reviews for every lesion you deliver.
Earn good reviews from your students to attract more clients and earn more money as an online tutor.
Moreover, it gives you the freedom to set your schedule and choose the students you want to teach. You also get to plan classes around your schedule and work from anywhere.
English and Spanish are some of the most popular classes, but you can choose any subject. You can even teach sign language or rare languages like Swahili and Basque.
So, is teaching online one of the effective ways to make money online?
Dave Trotter who published this post on Medium thinks so. Dave quit his job in politics to teach English to foreigners on italki in July 2019.
His career as an online tutor didn't get off to a great start as he only made $87.55 in his first month. However, things got better as he kept earning positive reviews on the platform and this helped him attract more clients.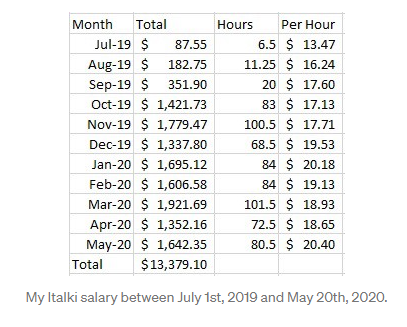 Image via Medium
4 months later in October 2019, his earnings had increased to $1,421.73. This was enough for him to pay his bills and travel the world.
3. Become an Interpreter
Becoming an interpreter is one of the most lucrative ways to make money online.
If you are bilingual or multilingual, you can find lots of remote work in this global, multinational economy. Today, with hundreds of multinational companies across the globe, there are many opportunities to work in the translation business.
By working as an interpreter, you can offer your bilingual skills to organizations that want to interpret content that's in a foreign language for their own use.
Companies like Telelanguage hire people to interpret phone conferences conducted in multiple languages. You may also find online work as an interpreter at online job boards or freelancer sites.
4. Become a Transcriptionist
Are you looking for ways to make money online where you can make up to $25 an hour?
Then you should try transcription.
Transcription involves listening to audio content or watching video content, and writing down all the words spoken by the subjects.
Many companies need video and audio content transcribed to repurpose the content for blogs or books, add subtitles, harvest pull quotes, or make the content searchable. Online transcription providers to seek online work from include Rev.com, Transcribeme.com, and Scribie.com.
To make money online as a transcriber requires you to improve your grammar and typing skills. Your work should be error-free and delivered on time.
Start practicing with short audio files to gain the necessary skills to apply for high-paying jobs with a transcription company. You can also create a transcription-based CV that you can use when applying for jobs.
Once you gain the skills that companies are looking for, you can choose to work part-time for one company or work for several companies as a freelancer.
5. Become a Data Entry Specialist
Data entry is a great option if you are looking for flexible ways to make money online. It's not a difficult job and doesn't require a lot of experience or background knowledge to start.
Often, the work can be done from home and on your own time.
Data entry jobs usually involve compiling data and arranging it in a simple format based on the employer's requirements.
Many companies need entry-level workers to compile and enter data. If the information is not sensitive and confidential, you could easily do this side hustle from home. Data entry specialists could find remote work on job boards or as freelancers.
Data entry jobs don't pay a lot of money but are a great fit if you're looking for ways to make money online working from home.
6. Work As a Virtual Assistant
If you enjoy planning, organizing, or doing administrative work, becoming a virtual assistant could be one of the best ways to make money online for you.
More accurately described as a remote assistant, virtual assistants help executives with daily tasks like calendar management, email management, lead generation, and other critical tasks, including several we have already discussed like data entry or transcription.
Virtual assistants can find executives to work for on freelancer sites, on job boards, or through virtual assistant agencies like BELAY, and Boldly.
Besides being able to work from home, becoming a virtual assistant has minimal startup costs. All you need is a computer and reliable internet connection.
The skills you need to succeed as a virtual assistant include:
Communication
Time management
Writing
Resourcefulness
Organization
Bookkeeping
Also, knowing how to use online productivity tools is essential. Some of the tools used by virtual assistants include Google Drive, Trello, QuickBooks, and Asana.
7. Be a Travel Agent
All the ways to make money online we've highlighted so far involve providing a service to clients for a fee. That's still the case when you become a travel agent.
The travel agent profession is making a comeback online. Travelers are always looking for exotic destinations to visit and you can help them find the best places to visit.
As a travel agent, you help travelers find the best locations for their vacation. Hotels, cruise ships, and airlines are looking for customers for their services and you can help make the connection as a travel agent.
Once you become certified as a travel agent, you can earn commissions from travel companies like hotel brands by building affiliate relationships and promoting their products.
Besides commissions for referring clients, there are other ways to make money online as a travel agent, such as:
Service fees – You can set a service fee that's charged to all the clients who book their travel plans through you. As a travel agent, you can charge between $100 and $250 for your services.
Consulting fees – You can share your expertise with hotels, tour companies, and cruise ships to help them come up with the best packages. You can also offer to handle bookings for these organizations for a fee.
Private fares – A travel agent can buy private fares from vendors in advance and sell them to travelers at a higher price. This can be particularly lucrative during the holidays when there's a huge demand for vacation services.
8. Become a Phone Support Agent or Telemarketer
What does a job where you are paid for talking on the phone sound like?
If this is something you can do, then working as a phone support agent can be one of the top ways to make money online for you.
Phone support and sales do not need to be conducted at a call center. If you have a great phone manner, you can do remote work as a phone support agent or telemarketer.
You also need to be over 21, have a great internet connection, and have some experience as a customer support agent.
Companies that hire remote phone or chat support agents include Apple, Amazon, and American Express. Companies that hire remote telemarketers include The Appointment Pro and Virtual Marketing Consultants.
The company that hires you as a phone support agent or telemarketer will give you a short training, telling you what to do or say when talking to a customer.
As a support agent, you need to be familiar with the information provided during training.
9. Become an Online Real Estate Wholesaler
If you understand the property market, then you can add virtual real estate wholesaling to your list of ways to make money online.
Investors are always looking for houses and other properties they can buy below market price. If you can learn to track down motivated sellers, often distressed homeowners facing foreclosure, you can learn to negotiate a bargain price, get the house under contract, and then sell that contract to an investor for a fee.
Your end buyers are often contractors, professional investors, and high-net-worth individuals. These deals can result in big money.
Make use of the following strategies to succeed as an online real estate wholesaler if you are new in the industry:
Do your research – Familiarize yourself with the wholesaling laws in your state. Some states require you to form a corporation or partnership for your real estate business.
Find the best property – Many investors are looking for homeowners who want to sell. Use online networking groups, direct email campaigns, and online networking groups to find properties that are listed below market value.
Crunch the numbers – Assess the property to see if it makes financial sense to you. To do this, find the property's fair market value and the cost of repairs. Also, calculate the maximum allowable offer to see if you will make money selling the property.
10. Become a Social Media Community Manager
Becoming a social media manager is one of the enjoyable ways to make money online.
Most companies understand the importance of social media channels like Facebook, Instagram, and Twitter. They even hire socially-savvy remote workers to manage their social media accounts. You could get paid to manage a Facebook channel or Instagram, something you might already do for yourself, for free!
As a social media manager, you will be responsible for posting content on the company's social media handles. You will also interact with their followers and respond to any issue they raise.
Most people use social media to communicate with brands. As such, the social media manager needs to actively monitor a company's social media accounts and deal with customer queries, comments, and feedback.
The skills you need to succeed as a social media manager include:
Writing – You should be able to create many high-quality posts in a day.
Research – Social media community managers should stay up-to-date with the latest trends.
Communication skills – You should be able to respond to comments and DMs and build a good relationship with a company's followers.
11. Write Articles
Next on our list of the top ways to make money online is writing.
If you are a talented writer, the demand for written content is massive. Various websites pay up to $500 for submitted articles, or you could sign up for specialty freelancer sites like iWriter.com or WriterAccess. If you are bilingual, you can tap into the demand for written translations.
To succeed as a writer, it's best to focus on a particular niche. Many people try to be generalists, writing about anything under the sun from fashion to tech.
However, establishing yourself in a specific niche sets you apart from other writers and makes it easy to attract clients. Companies in your niche will pay you well to create content for them.
When applying for jobs as a writer, always send relevant samples to the hiring manager. If the client is looking for a writer for their blog, send the best blog posts you have written.
Don't send them case studies or the research papers you've written. This is because it will be hard for the hiring manager to evaluate your skills when you don't send them a relevant sample.
12. Sell Photos
There are many ways to make money online as a creative, and one of them is by selling photos.
If you are a talented photographer, try putting some of your work for sale on Alamy or Shutterstock. There is also a huge demand for freelance photographers to do product photography for eCommerce stores.
The process of selling photos online is pretty straightforward. With Alamy, all you have to do is upload your photo and describe it.
Alamy will then make the image available to customers around the world. When a customer buys your image, you'll get a share.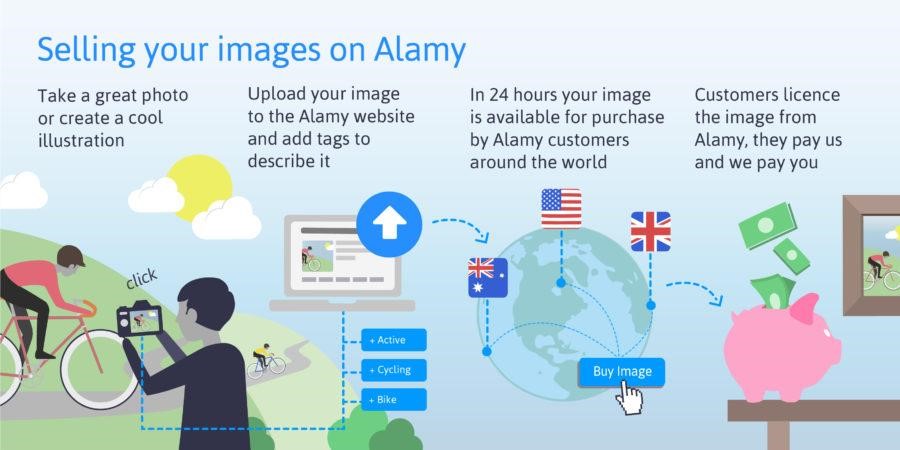 Image via Alamy
A home product photography studio is cheap and easy to set up. In fact, photography is one of the low-cost online businesses you can start today.
With nothing but your phone, you can take great photos that you can sell in online stores. You can also partner with a site like Printful to have your photos added to products like phone cases, caps, and clothes.
The good thing about services like Printful is that you don't pay anything to the platform until the product is sold. By eliminating the entry barrier to lucrative online marketplaces, such services provide photographers with more opportunities to make money online.
Back to the issue of selling photos to photo sites. When you are starting, you may want to provide your photos for free just to expose your content to many people.
This will help create awareness for your talent and brand, which can lead to more sales in the future.
13. Become a Freelancer
An incredibly popular sole proprietorship idea and one of the best ways to make money online is to provide freelance services online.
Many of the remote work opportunities mentioned above are freelance assignments. You could also offer anything you are good at as a freelance service on sites like Fiverr, Upwork, or specialty sites.
Freelancer tasks include web design, graphic design, audio, and video editing, voiceover recording, and just about anything you could think of.
However, you want to target business clients with the freelance services you offer. This is because business clients are ready to spend more and prefer freelancers because they are cheaper than corporates that provide similar services.
For example, a business that wants to rank high on search results will likely hire an SEO freelancer to optimize its web content for search engines.
If you provide such services, you want to convince the client about what kind of results you can deliver and prove it through customer evidence, case studies, and testimonials.
When you start a freelance business, you can make lots of money by working with a small pool of high-paying clients. However, the cash dries up when you stop providing the services. So, it's one of the risky ways to make money online.
14. Produce an E-book, Audiobook, or Online Course
The demand for educational content is massive. Anything you are an expert in, chances are there is someone who wants to learn it. Consider writing a book or making notes and hiring a writer to write the book! Hire a graphic designer and put it for sale on Amazon.
You can also make training videos and assemble a course using specific web platforms like Udemy or Teachable The audiobook market is exploding faster than any other market. You could record your content and sell your audiobook on Amazon, but beware they have exacting audio requirements.
It may be more effective to hire a professional voice recorder. Note that this method of earning money online works better if you already have a popular platform, with many social media followers, blog visitors, YouTube viewers, etc.
15. Start a YouTube Channel
Creating content on YouTube is one of the most effective ways to make money online.
If you can make entertaining or informative YouTube videos and attract a large following, you can monetize that following by activating YouTube AdSense. Ads will appear before your videos, and you will receive a small commission for each view.
Note that producing decent YouTube videos requires some effort and specialized equipment. YouTube followings take a lot of time and experimentation to build, so choose a channel topic you are passionate about.
Take Jimmy Donaldson for example. Also known as MrBeast, Jimmy has many ways to make money online but his main channel is on YouTube.
MrBeast has 112 million subscribers on his channel. He usually performs bizarre stunts that he uploads on his channel.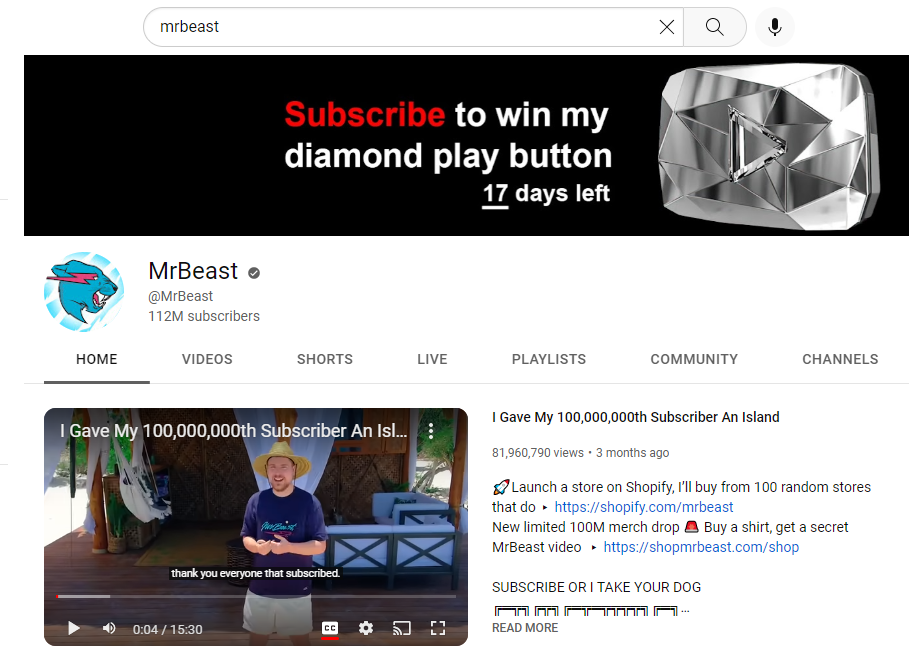 Image via YouTube
On average, his videos receive more than 50 million views from his fans. This has pushed him to the top of the earnings chat, making him the highest-paid YouTuber in 2021 at $54 million.
Another YouTube high-earner is Jake Paul. In 2021, Jake earned $45 million on YouTube for creating pranks and boxing content.
Jake Paul has 20.3 million subscribers and has used his short boxing career fame to increase his YouTube views and earnings.
You probably didn't think you could make such huge sums of money on YouTube. Well, people are earning millions from YouTube and living the lives of their dreams.
The trick with YouTube is to find ways to build a large following. To do this, focus on a single niche to build a large, loyal audience.
If you are a makeup artist, you can create makeup tutorials for your audience. If you are a gamer, you can stream video games on your channel.
Other content formats you can consider for your YouTube channel include:
Reviewing products
Performing short comedy skits
Teaching a skill
Creating prank videos
Once your video is ready for publishing, write a catchy headline to attract more viewers. Additionally, use keywords in the description to optimize your content for YouTube search.
16. Start a Podcast
It's not possible to talk about ways to make money online without mentioning podcasts.
Podcasts are wildly popular, inexpensive, and easy to start. Studies show that the number of people listening to podcasts in the US has been rising steadily.
In 2022, 140 million people in the US tune in monthly for a podcast episode, up from 46 million in 2016.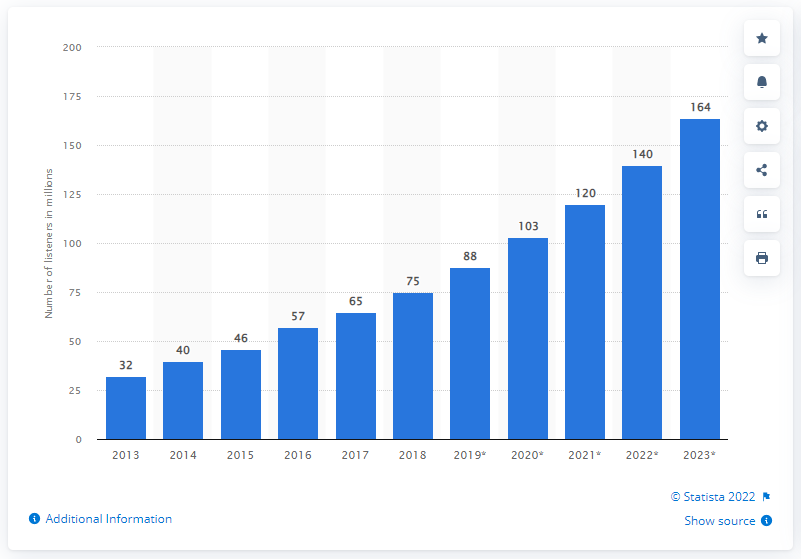 Image via Statista
What makes podcasts attractive to audiences worldwide is the manner of delivery. Audio content is easier to consume than textual content, thus making them appealing to young people who want to listen to something interesting on the go.
As a content creator, podcasts allow you to reach new audiences and build a loyal following.
Again, it takes time and specialized equipment, so choose a subject you are passionate about. Chances are, others are passionate about that topic. You can launch your podcast using services like BuzzSprout or PodBean. As your following grows, there are different ways to monetize your podcast, such as:
Sponsorship deals
Affiliate programs
Premium content offerings
Donations
Selling merchandise
Hosting live events
Advertising networks
While it may take time to make money with a podcast, pay attention to the feedback from your audience and make improvements.
With time, you will have many people tuning into your podcast and you'll be able to use any of the channels above to make money.
17. Become an Affiliate Marketer
Do you know that affiliate marketing is one of the most lucrative ways to make money online?
If you have a popular blog, YouTube channel, social following, email list, or other platforms, you could build affiliate relationships with related businesses and promote those businesses to your following. High-paying affiliate relationships can be built at affiliate marketplaces like ClickBank and Pepperjam.
The affiliate marketing industry has been growing steadily in the US and is now worth $8.2 billion, up from $1.6billion in 2010. Businesses love affiliate marketing because it's a performance-based form of marketing where they only pay when an affiliate sends them a customer.
Affiliate marketers earn a commission when a customer makes a purchase using their dedicated link. The commission earned depends on the product being sold and the affiliate marketing program.
For example, Amazon pays commissions between 0% and 20%. Products that don't attract a commission include gift cards, alcoholic products, and Kindle products purchased as a commission.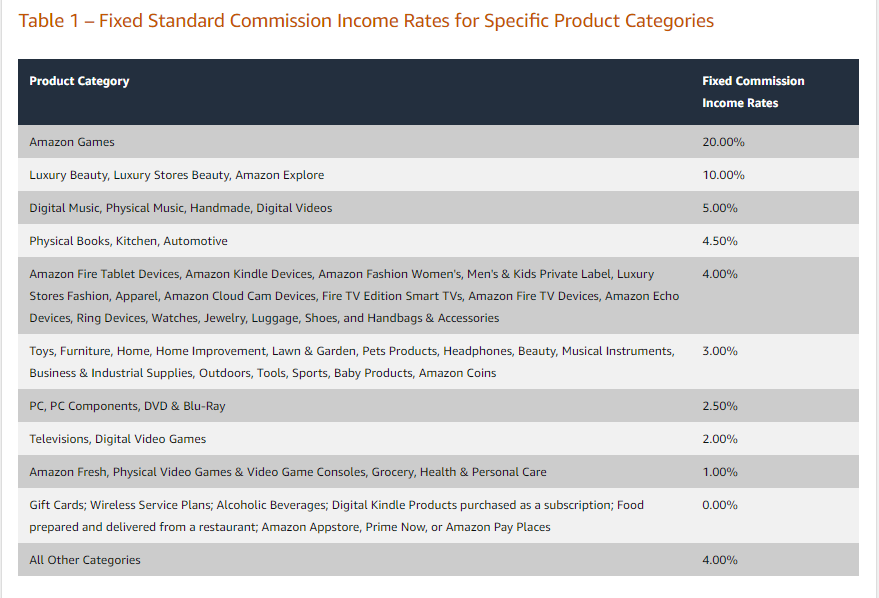 Image via Amazon
You can earn more money by promoting high-value products on your affiliate site. Luxury beauty and Amazon Games, for example, can give you commissions of 10% and 20% respectively.
To make money online as an affiliate marketer, you need to create useful content that helps visitors understand why they need a certain product.
Search engine optimization will also play an important role in the success of your online business. You want your website or blog to be high in the search rankings when customers perform a search.
This will help you drive high-quality traffic to your affiliate website where visitors learn more about a product before clicking on your link to buy it.
Before getting started with affiliate marketing as one of the best ways to make money online, you should take note of the following:
Success with affiliate marketing is usually slow at first. But when you persevere and improve your strategies, it can be a great side gig.
Earning the trust of your audience is the most important aspect of affiliate marketing.
You will be required to add a disclaimer on your website that you earn money when a client uses your affiliate link to make a purchase.
18. Make Online Trades in Security Markets
Online market trading isn't necessarily one of the easiest ways to make money online.
But if you can develop a talent for identifying good times to buy and sell securities like stocks, options, and commodities, you can make big money by making small or large trades. Note that this takes money to make money, and even experts get it wrong sometimes.
The advantage of online market trading is you don't have to work with a broker and pay them a commission. Trading in security markets online means you don't have to fund the extravagant lifestyles of the "Wolf of Wall Street" type of stock brokers.
Online trading platforms such as eToro.com allow you to buy and sell stocks from your smartphone. They also offer investment education to help you find the best stocks to invest in.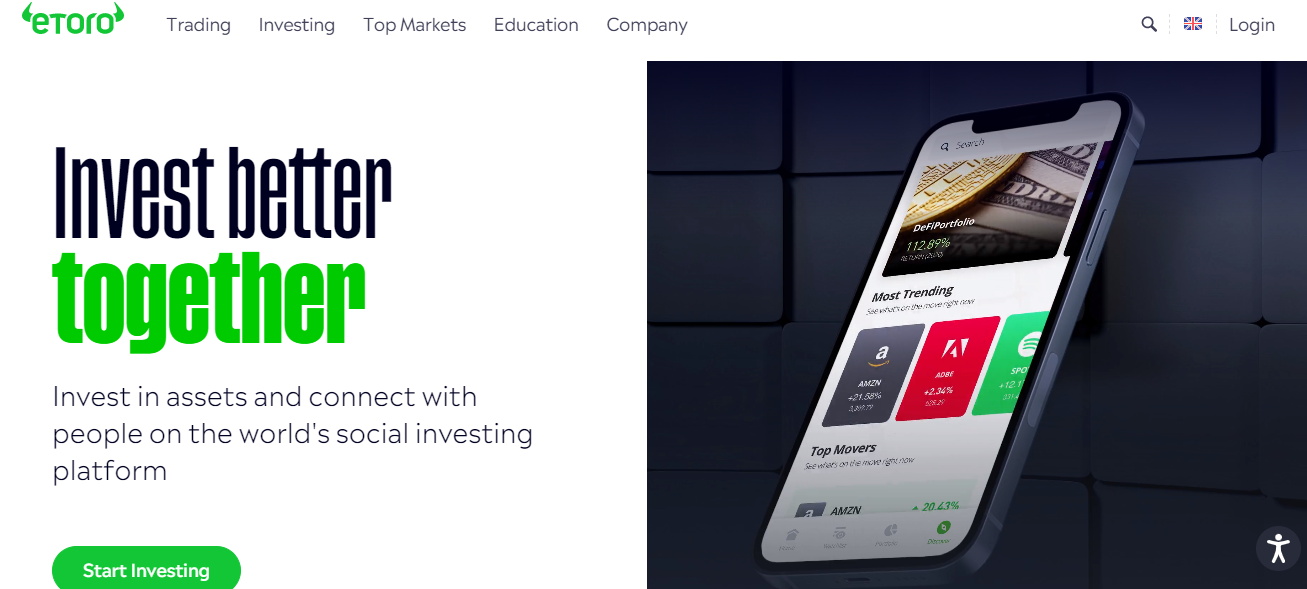 Image via eToro
19. List Your Spare Rooms on Airbnb
Technology has introduced many ways to make money online, and one that you can get started with right now is by renting rooms in your house on Airbnb.
If you have extra sleeping space in your home, consider renting out extra rooms on Airbnb. This is a particularly good side hustle if you live in a desirable area.
The process of listing a spare room on Airbnb is simple. Decide the price and set the date when the room will be available.
Next, fill in details about the space you are renting such as home type, location, and amenities. You will also be allowed to set the maximum number of people that can fit in the room.
Lastly, add pictures of the room and add a description of the room.
Airbnb will take 3% of the amount you charge when someone books your room.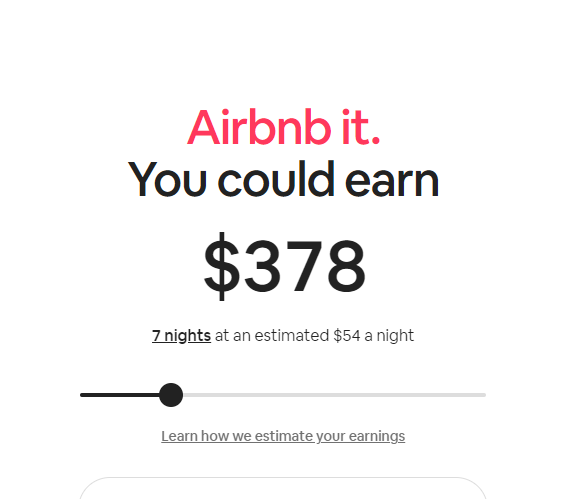 Image via Airbnb
But before adding Airbnb to your other ways to make money online, be prepared to spend time and money to clean your home.
Lastly, review your rental agreement and city by-laws to ensure you're complying with the rules governing short-term rentals.
20. Sell Merchandise on Craigslist, Amazon, eBay, or Etsy
You can sell just about anything online as a side hustle. It's easy to get started browsing garage sales and thrift stores for juicy merchandise, then sell them secondhand on Craigslist or eBay for more than you bought it for. Broken cell phones are particularly popular, but don't overpay for phones because most of them have bad ESNs and command low prices.
If you like doing this, then you can start an LLC to operate your reseller business. With a registered business, you run the business legitimately and also enjoy liability protection.
If you make arts and crafts, Etsy is a good marketplace to sell them. Amazon has a huge architecture called Fulfillment By Amazon (FBA), designed for sellers to stock large inventories in Amazon warehouses and have Amazon ship them to Prime buyers. It's an involved process, but if you learn it, you can scale a huge business.
Sell your products on several marketplaces to reach more prospective customers. You should also bear in mind that marketplaces have their own rules and fees.
Make sure to read and understand the rules before posting your merchandise. If you need to create an account and get verified before you sell your products, get all the needed documents to hasten the process.
21. Start an Ecommerce Store
Lastly, consider starting an eCommerce store if you are looking for ways to make money online.
Platforms like Shopify, BigCommerce, and WooCommerce allow you to set up your own standalone online stores, selling anything you can imagine.
If you don't want to stock inventory, look into dropshipping, a process by which purchases on your store are forwarded directly to the manufacturer and fulfillment center without you having to touch any product.
Dropshippers even have to purchase inventory in advance, but it's harder to drive traffic to your store at prices that justify the smaller margins. If you can thread that needle, though, there's no limit to how big you can scale your store.
FAQs
1. How can beginners make money online?
A. There are numerous ways to make money online for beginners as seen in this article. As you can see, some of these ways to make money online entail utilizing a skill or expertise that you have, while others require you to use assets you may have to generate revenue. Choose the one that suits you best.
2. What are the best ways to make money online?
A.  Thanks to the digital era we are living in today, there are more than enough ways to make money online. These can be in the form of starting an online business, offering virtual services, or leveraging your social following to make money.
3. What are easy ways to make money online?
A. Though making money online is rapidly becoming the new normal, it is crucial to note that there are no easy ways to make money online. Whatever channel you choose, rest assured that it will require time and effort to create a stray stream of income.
4. What is the fastest way to make money online? 
A. While there are many ways to make money online, there isn't one way that can be considered faster than the rest. This is because each of these ways to make money online calls for a different level of investment and commitment to start bearing fruit.
5. Which social media platform is the best for making money online? 
A. When considering the best ways to make money online, the best social media platform is relative. Essentially, the best social media platform is dictated by where you are most likely to reach your prospective clients for your business. This also applies to Apps and websites.
Conclusion
Anyway you look at it, there are many ways to make money online. When you're ready to launch your next $1 million idea, let Govdocfiling.com help you start your new venture by taking the guesswork out of your formation filing and laying a solid foundation for success.
About the author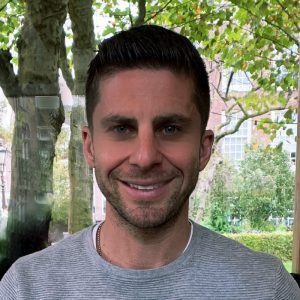 From selling flowers door-to-door at hair salons when he was 16 to starting his own auto detailing business, Brett Shapiro has had an entrepreneurial spirit since he was young. After earning a Bachelor of Arts degree in Global and International Studies from the University of California, Santa Barbara, and years traveling the world planning and executing cause marketing events, Brett decided to test out his entrepreneurial chops with his own medical supply distribution company.
During the formation of this business, Brett made a handful of simple, avoidable mistakes due to lack of experience and guidance. It was then that Brett realized there was a real, consistent need for a company to support businesses as they start, build and grow. He set his sights on creating Easy Doc Filing — an honest, transparent and simple resource center that takes care of the mundane, yet critical, formation documentation. Brett continues to lead Easy Doc Filing in developing services and partnerships that support and encourage entrepreneurship across all industries.