While there are various payment processing solutions, Square is a top choice for businesses of all sizes. Founded in 2009, Square has gained massive attention and positive reviews over the years—proving its reliability and efficiency.
In this Square review, we will do a comprehensive breakdown and review of Square's capabilities. You'll discover its features, pros and cons, and other information you need to decide if it's the right solution for your business.
Square Review: Key Features
Square has a wide range of functionalities that help streamline business operations. To help you fully understand Square's features, we've grouped them into several categories, each addressing the specific needs of businesses.
Let's explore these features in detail.
1. Point-of-Sale (POS) System
Square's POS system is one of the standout features of the tool.
Want to discover its capabilities and see how it could benefit your business? This section of the Square review dissects Square's POS system and its range of functionalities.
Customizable Checkout Experience
Square's POS system empowers businesses to customize the checkout process to their specific requirements.
This includes adjusting screen layouts, implementing discounts or loyalty schemes, and introducing custom items in real-time.

Image via Square
The wide range of customization options allows businesses to elevate the user experience, reduce transaction time, and boost operational efficiency.
Streamlined Inventory Management
Managing inventory can be daunting, particularly for businesses handling a diverse range of products.
Square addresses this challenge with its automated inventory tracking system. With every sale, the system instantly updates the inventory count.
Moreover, it proactively alerts businesses when stock levels dip, minimizing the chances of "out-of-stock" situations. This ensures customers consistently find what they need.
Resilient Offline Mode
System interruptions can significantly impact sales. To counteract this, Square's POS system boasts an offline mode, allowing businesses to process payments even without internet access.
You can activate this feature with one click: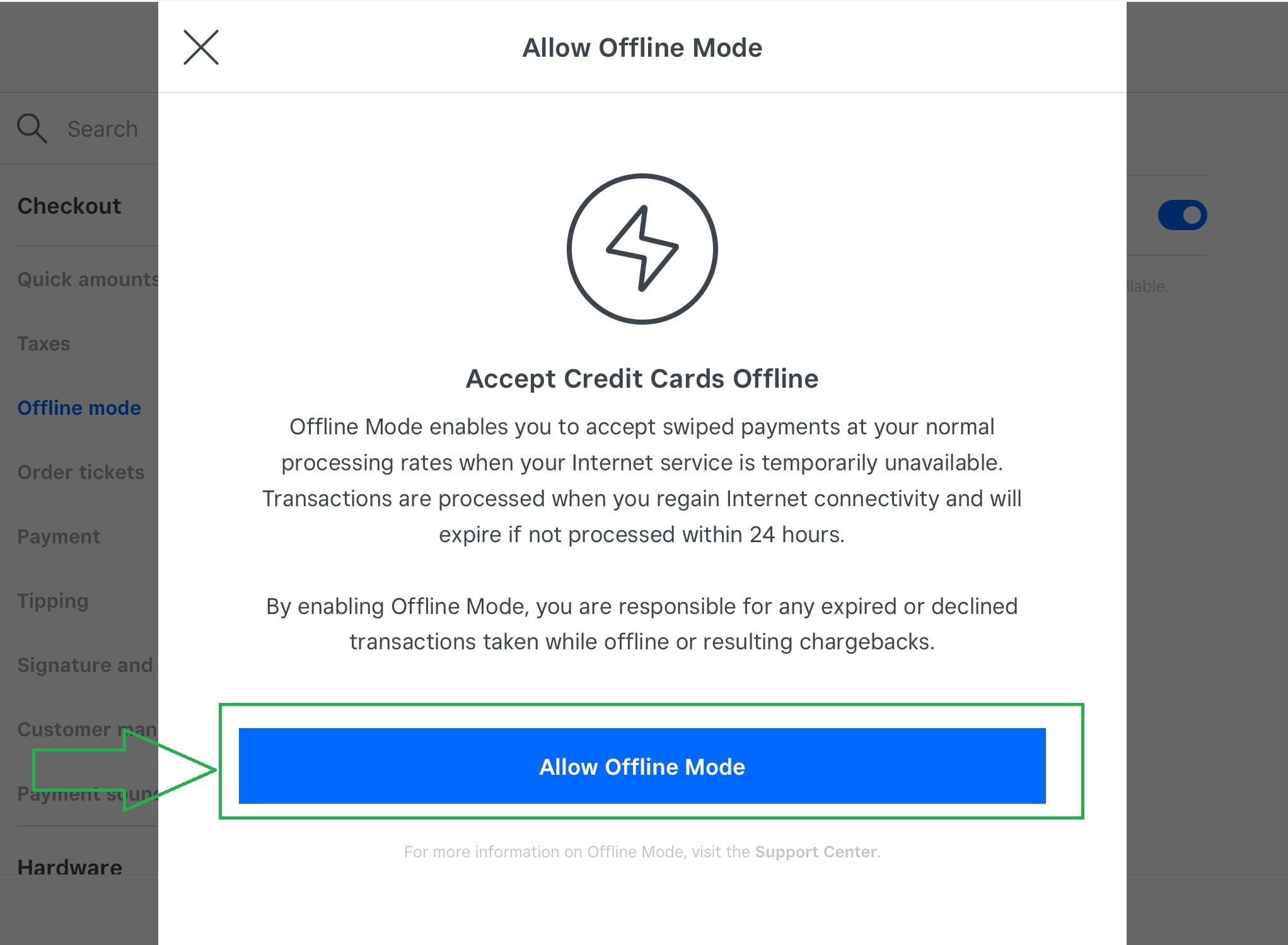 Image via SalesVu
Offline transactions are securely stored and then processed once connectivity is restored, ensuring no sales opportunity is lost due to connectivity disruptions.
Eco-Friendly Digital Receipts
Embracing sustainable practices, Square offers a digital receipt feature. Customers have the choice to receive their receipts through email or text.
This initiative slashes operational expenses tied to paper and presents businesses with avenues to engage customers post-purchase via digital platforms.
2. Invoicing and Online Payments
Square, through its primary services, brings simplicity to online payments. However, its invoicing capabilities take things a step further. In this section, we'll closely examine how Square brilliantly handles invoicing and online payments.
Flexible Invoicing
Square's invoicing system is quite robust. Whether you're dealing with a one-time project, setting up periodic charges, or invoicing for physical items, Square's adaptive invoicing system has you covered.
You can even utilize ready-made invoice templates, as shown below.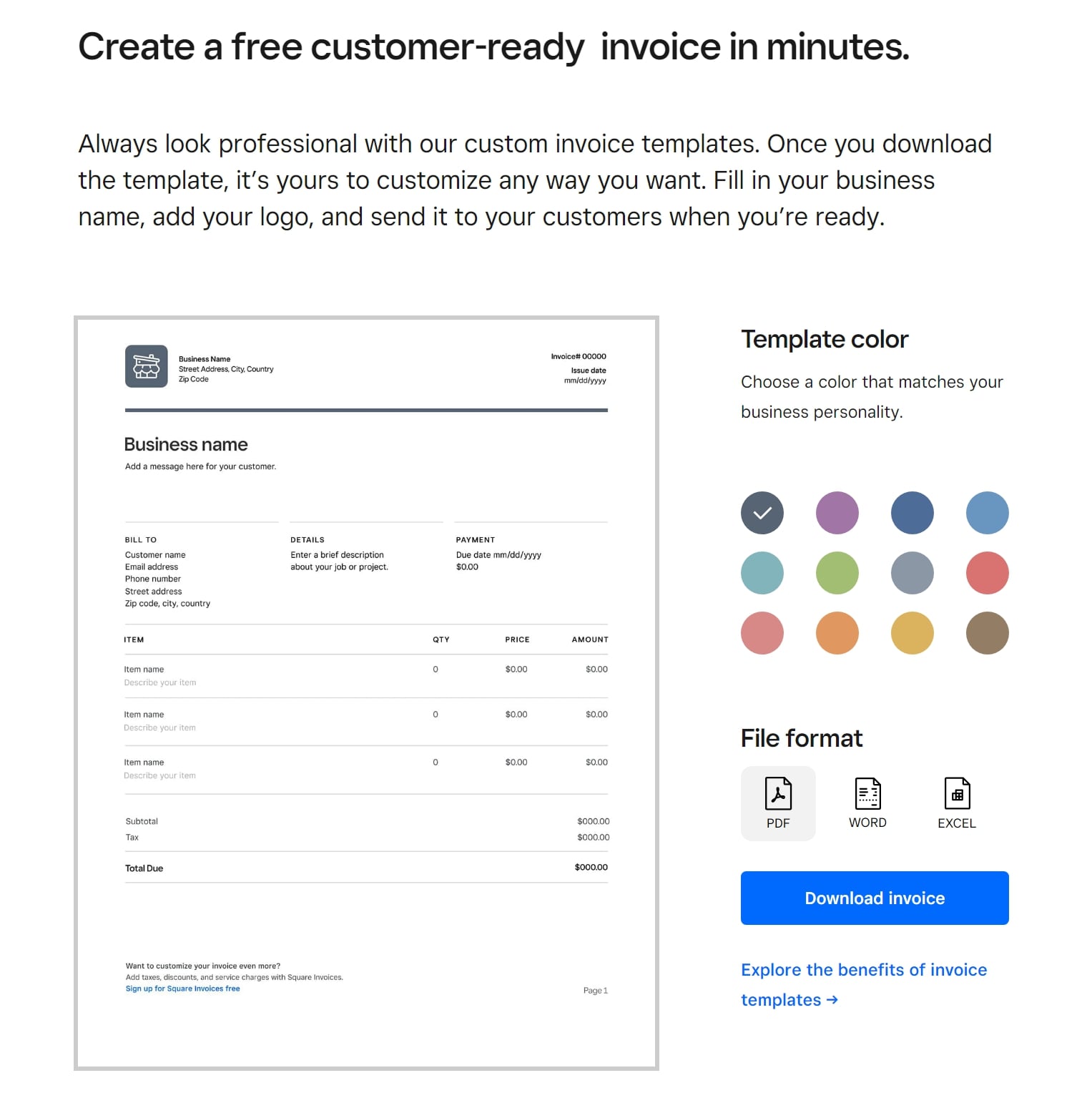 Image via Square
The system seamlessly integrates branding, facilitates detailed item descriptions, and even sends automatic reminders for unpaid bills. This approach not only assures timely payments but also a cohesive brand image.
Secure Online Payments
Utilizing the latest encryption techniques, Square guarantees the security of every online transaction, whether payments are made via Google Pay, Apple Pay, or using a credit card.
Instant Deposit Option
Every small business owner knows the importance of maintaining a steady cash flow. In fact, cash flow issues contribute to the reasons why small businesses fail. In light of this, Square offers an instant deposit feature.
It deposits payments directly to your bank account so you can swiftly access your funds. This paves the way for smooth operations.
Pro Tip: Include a personalized thank-you note in your Square invoices to foster goodwill and encourage prompt payments.
3. Square for Retail and Square for Restaurants
Square, in its bid to cater to industry-specific needs, has tailored systems for both retail businesses and restaurants.
These aren't just off-the-shelf solutions—they're designed to address the unique challenges each sector presents. Let's take a close look at these solutions.
Retail-Specific POS
The retail space, be it a brick-and-mortar establishment or an online platform, has its distinct set of requirements.
Square's retail-focused POS system offers capabilities like sophisticated inventory management, real-time sales data insights, and integration with leading ecommerce platforms.
It is also very easy to set up: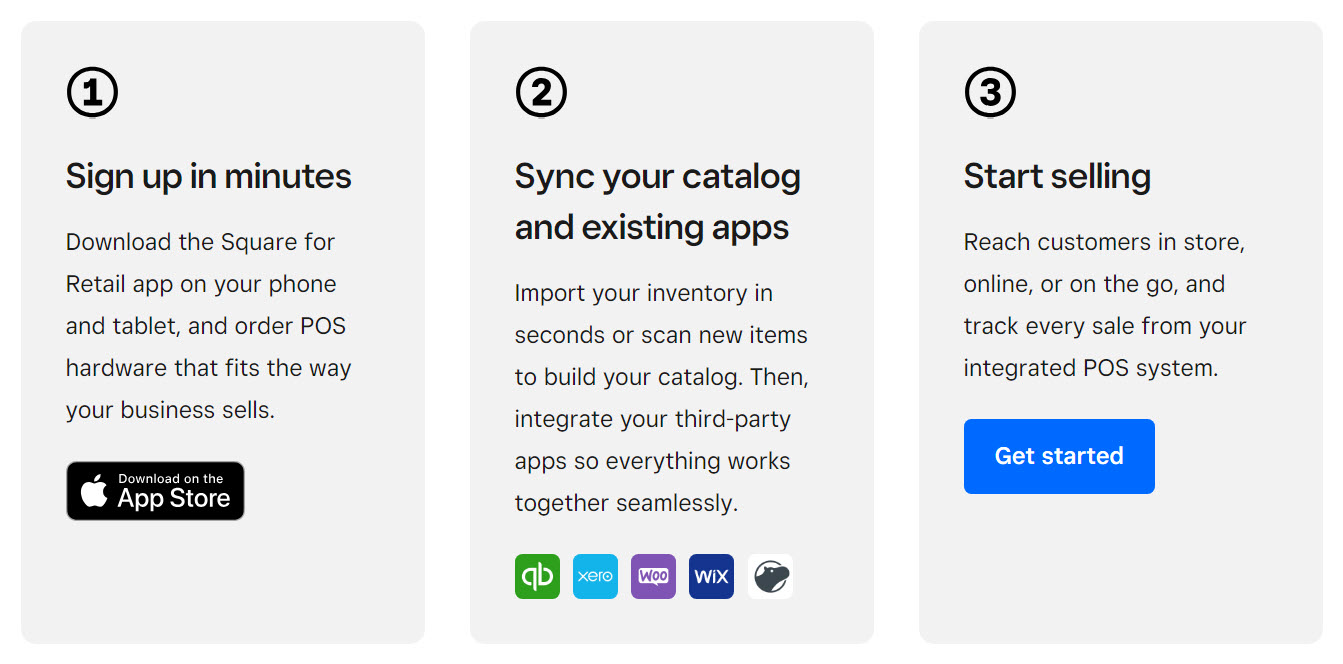 Image via Square
Whether you're keeping tabs on stock levels, analyzing sales patterns, or harmonizing with an online setup, Square has got you covered.
Restaurant POS
Although vibrant, the restaurant business is very demanding. Fortunately, Square's restaurant POS system provides solutions that allow restaurant owners to operate more effectively.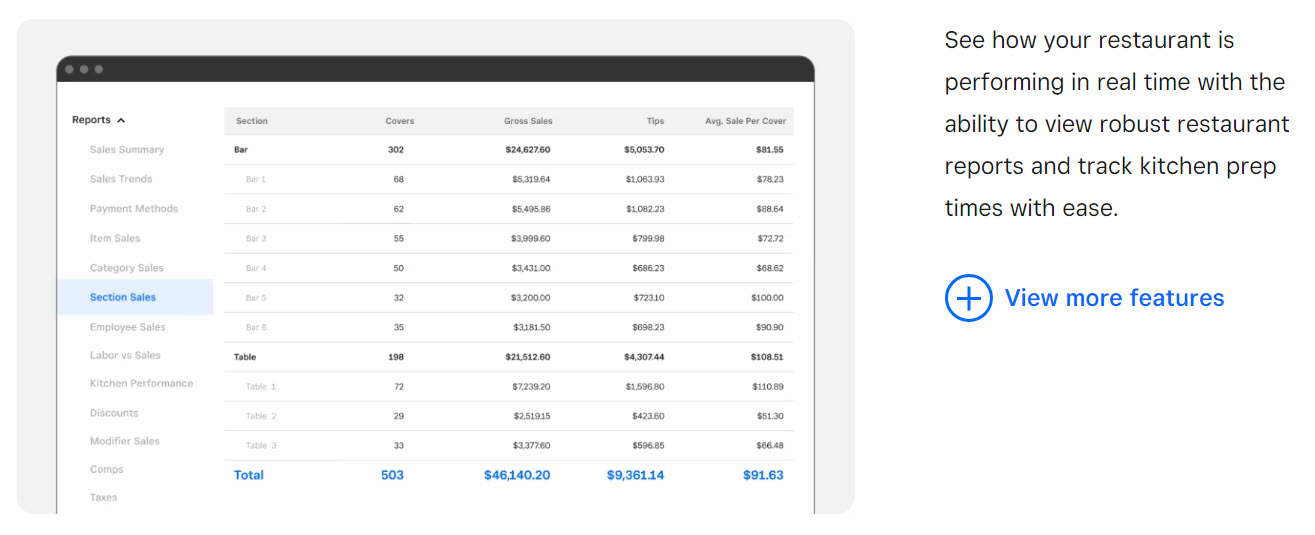 Image via Square
With functionalities that cater to table management, customizable menu settings, and bill splitting, Square ensures that the dining experience, no matter the setting, is seamless and efficient.
Also Read:
4. Ecommerce Integration
Merging physical and online sales is a brilliant strategy for amplifying sales. Square's ecommerce solutions simplify the process of establishing an online store. Let's review these solutions in this section of the Square review.
Square Online Store Builder
The Square online store builder is versatile. Whether launching a new website or rejuvenating an existing one, Square's website builder simplifies the task
Here's the quality of websites you can create (in minutes):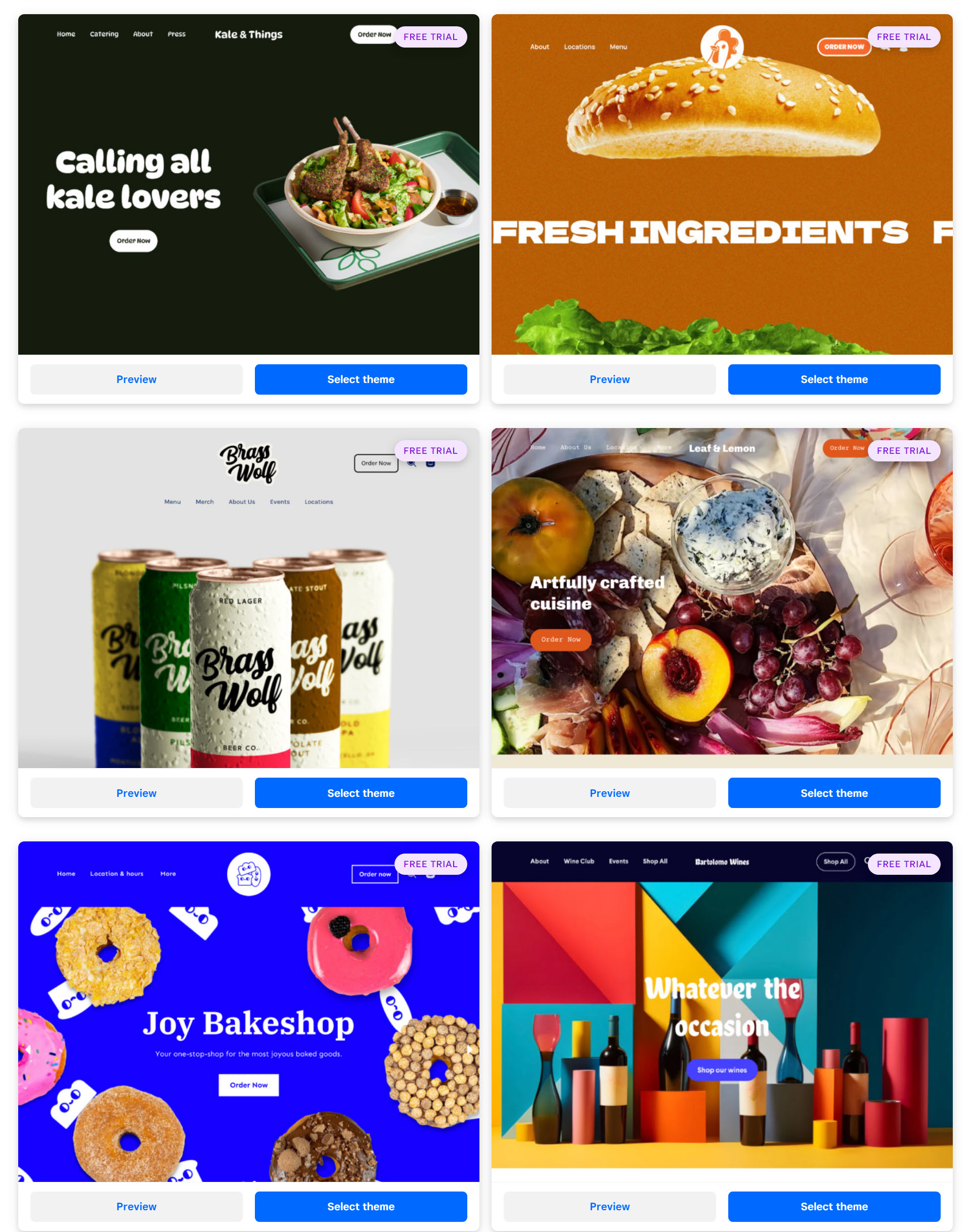 Image via Square
It has an intuitive interface with drag-and-drop functionality and diverse themes. The integration with the Square POS ensures real-time inventory coherence across all sales platforms.
Pro Tip: Exploring ways to make money online? Start an online store using Square's online store builder and integrate its other offerings as your business grows.
Third-party Integrations
Square's compatibility with various third-party apps—from accounting solutions like QuickBooks to CRM platforms like Salesforce—ensures integrated operations and data uniformity.
Not to mention, you can easily perform third-party integrations via the Square dashboard.
Secure Checkout Experience
Square's dedication to secure transactions extends to ecommerce. With top-tier encryption, two-factor authentication, and fraud detection, every transaction remains safeguarded.
5. Business Analytics and Reporting
Analyzing business metrics is crucial for sustained growth. Square's analytical tools offer game-changing insights.
Let's check out some of its analytics features in this part of the Square review.
Real-Time Data
Square's dynamic dashboard provides a performance snapshot of your business in real-time. From sales metrics to inventory status, it collates all essential data, facilitating swift and informed decisions.
Detailed Sales Reports
Understanding intricate sales patterns and the preferences of your customers can guide your business strategies.
Square's comprehensive sales reports offer deep insights that can shape marketing endeavors, inventory decisions, and staffing strategies.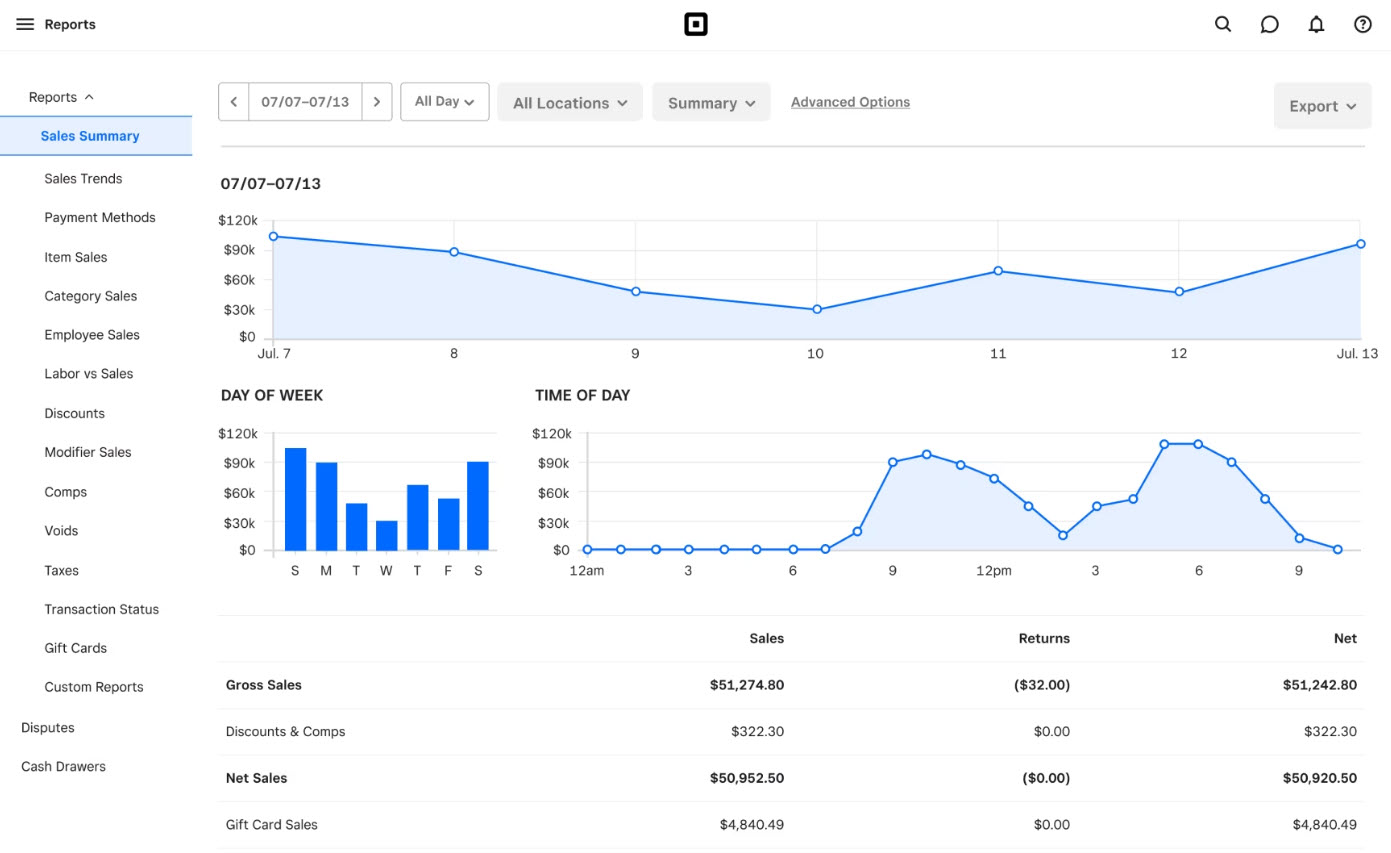 Image via Square
Employee Performance Tracking
Square enables sales tracking per employee, offering insights into efficiency, sales prowess, and improvement areas.
These insights are easily accessible via the Square dashboard, as shown below: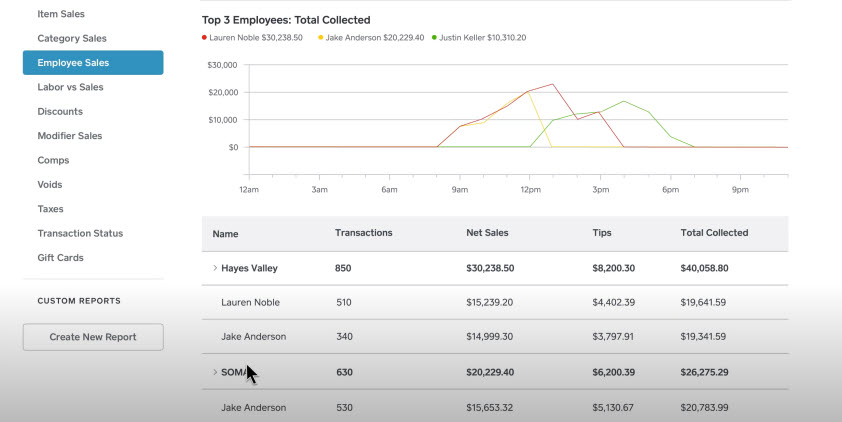 Image via Square
6. Hardware Integrations
What distinguishes Square from its competitors is its holistic solution approach, which includes hardware integrations.
In this section of this Square review, we'll go through some of the important ones.
Contactless Payment Terminals
Following the COVID-19 pandemic, contactless payments have become the norm.
Square's payment terminals, including the Square Reader, accommodate this trend effectively. These help improve the overall customer experience with convenient and secure contactless payment options.
POS Stand with Integrated Reader
For those desiring a fixed setup, Square's POS stand, paired with an integrated reader like the Square Reader, provides both utility and aesthetic appeal.
This hardware seamlessly combines efficiency with a professional presentation, making it an ideal solution for many businesses.
Mobile Card Readers
For businesses without fixed locations, Square's mobile readers, including the Square Reader for magstripe, are invaluable.
Be it pop-ups, trade shows, or any external event, these compact devices allow for easy transaction processing via your mobile device.
Here's what the device looks like.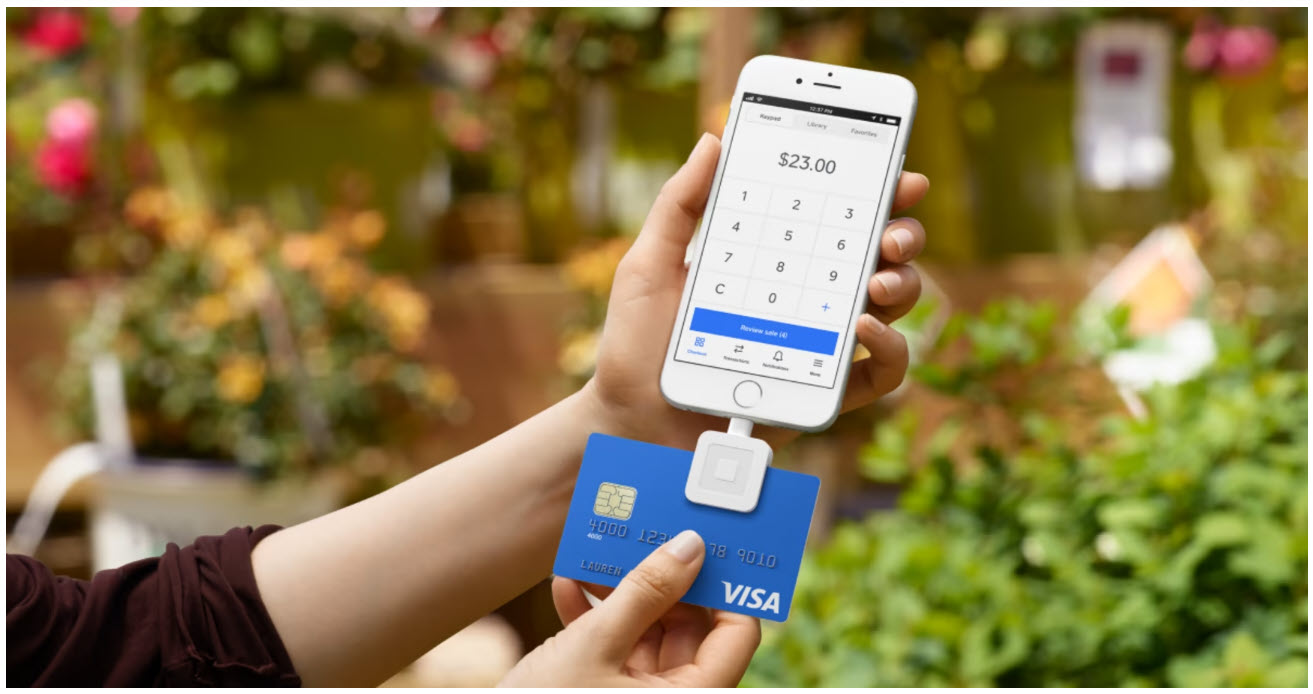 Image via Square
Square's mobile card readers ensure your business can accept payments on the go, ensuring flexibility and convenience for both you and your customers.
Also Read:
7. Loyalty Programs and Marketing Tools
Every business owner knows that retaining existing customers is as important as acquiring new ones. In this section of our Square review, we'll explore areas where Square shines when it comes to building customer loyalty and engagement.
Digital Loyalty Cards
Physical punch cards are restrictive. Square's digital version modernizes the concept. Through an integration with the Square app, businesses can offer rewards, monitor visits, and even tailor loyalty programs based on buying behavior.
Email Marketing Integrations
Communicating timely offers or updates can boost sales. Square's integration with email marketing platforms ensures businesses can design and send emails effortlessly.
It also provides analytics to further help businesses assess campaign performance.
Feedback Collection
Our Square review will be incomplete if we don't assess Square's feedback collection capabilities. Square prioritizes this aspect, empowering businesses to gather and analyze customer feedback directly via digital receipts.
Here's an example of a receipt that also collects customer feedback.

Image via Square
Here's what a customer sees after clicking on the sad face smiley.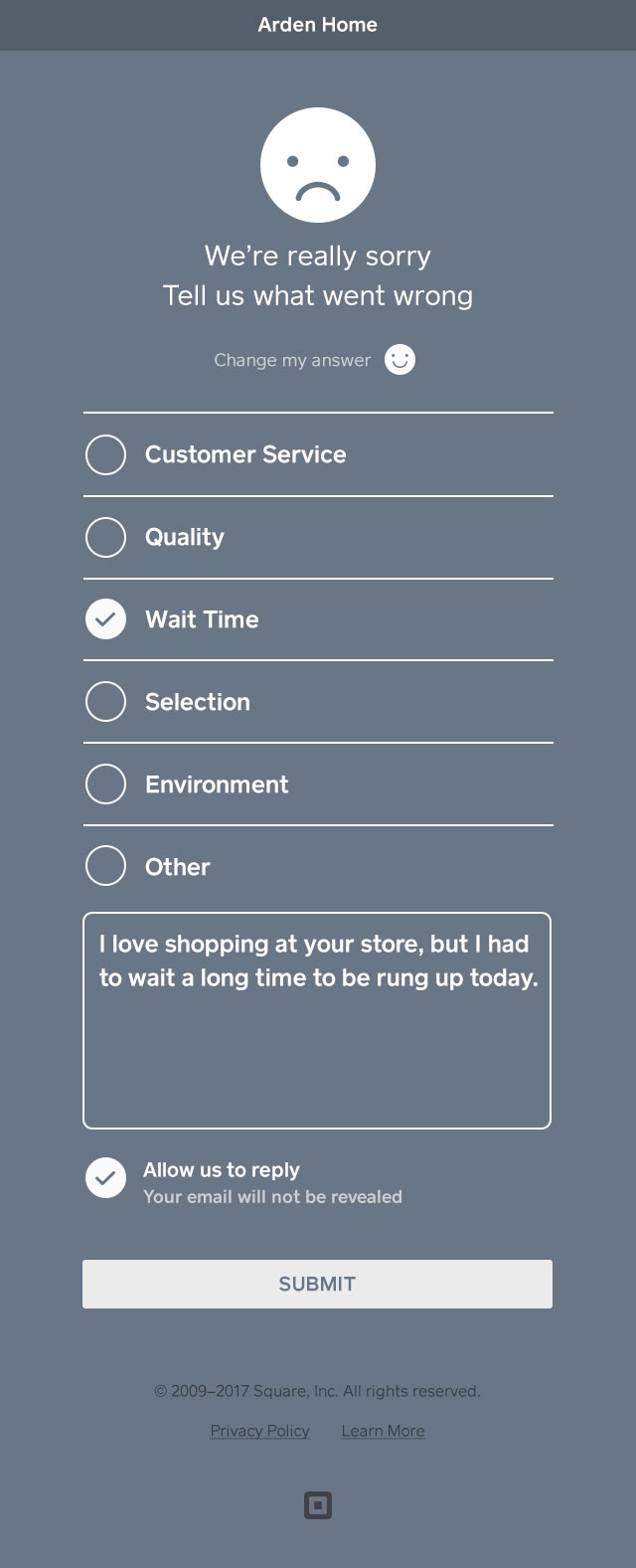 Image via Square
Pro Tip: Utilize Square's analytics for your email marketing campaigns to segment and target your audience more effectively in future promotions.
Explore Square's Features Today
Square Review: Security Measures
Security is a major concern when dealing with financial transactions and sensitive customer data. Square shines in this area.
Wondering how Square ensures that user data remains uncompromised and transactions are safeguarded? Let's find out in this section of our Square review.
Fraud Prevention Tools
Square is meticulously designed with robust tools to prevent fraudulent activities. Let's discuss some of these fraud prevention measures:
Machine Learning Algorithm: Square taps into advanced machine learning algorithms, which analyze transactions in real-time, pinpointing patterns indicating the possibility of fraud. Businesses receive an immediate alert when red flags are spotted.
Card and Address Verification Protocols: These procedures solidify the transaction's authenticity, ensuring the card in use is legitimate.
Prompt Dispute Notifications: When a transaction seems questionable, businesses are instantly informed, empowering them to take swift action.
Guarding Against Chargebacks
Chargebacks are one of the financial nightmares of business owners. Square stands by its users with initiatives to reduce these incidents.
Here are two ways it does that:
Evidence Gathering: In the event of a dispute, Square jumps into action, collecting pertinent transaction evidence.
Comprehensive Reporting: Using Square, businesses can assess in-depth reports with insights into chargeback scenarios. This helps businesses refine their strategies to prevent future occurrences.
Utilize Square's Secure POS Solutions
Square Review: Customer Support and Resources
One of the vital concerns of any user is the accessibility of a customer support team when it's most needed. Fully understanding this need, Square offers various customer support channels:
Live Chat: Square provides a live chat option on its website, offering instant support for pressing concerns.
Phone Support: You can also get phone support for your more pressing needs during regular business hours on weekdays.
Email Support: For non-urgent inquiries or detailed questions, Square's email support ensures users receive thorough and comprehensive responses, usually within 24-48 hours.
Online Resources and Community Support
Square boasts an impressive collection of online resources. These include:
Knowledge Base: Square's help center is a repository of articles, guides, and troubleshooting tips. It's organized intuitively, ensuring users can quickly find solutions to common problems.
Status Page: For those concerned about system outages or disruptions, Square's status page provides real-time updates on any ongoing issues and their resolution status.
Community Forums: These forums serve as a platform where users can share experiences, offer solutions, and discuss challenges. Square representatives occasionally chime in, but the main advantage here is peer-to-peer support.
Image via Square
Square Review: Integrations with Other Software
In this section of our Square review, we'll consider how Square seamlessly integrates with other tools.
Here's what Square has to offer:
Custom Integrations: For businesses with unique requirements, Square offers an API that allows for tailored integrations. This is a game-changer for companies with specialized software needs.
Unified Systems: Square's integrations ensure data consistency across platforms. This means that when a sale is made, inventory numbers are automatically adjusted in both Square and any integrated ecommerce platform.
Vast App Marketplace: Square's App Marketplace boasts a collection of third-party apps. From accounting software like QuickBooks to ecommerce platforms like Shopify, it provides seamless integrations with various tools.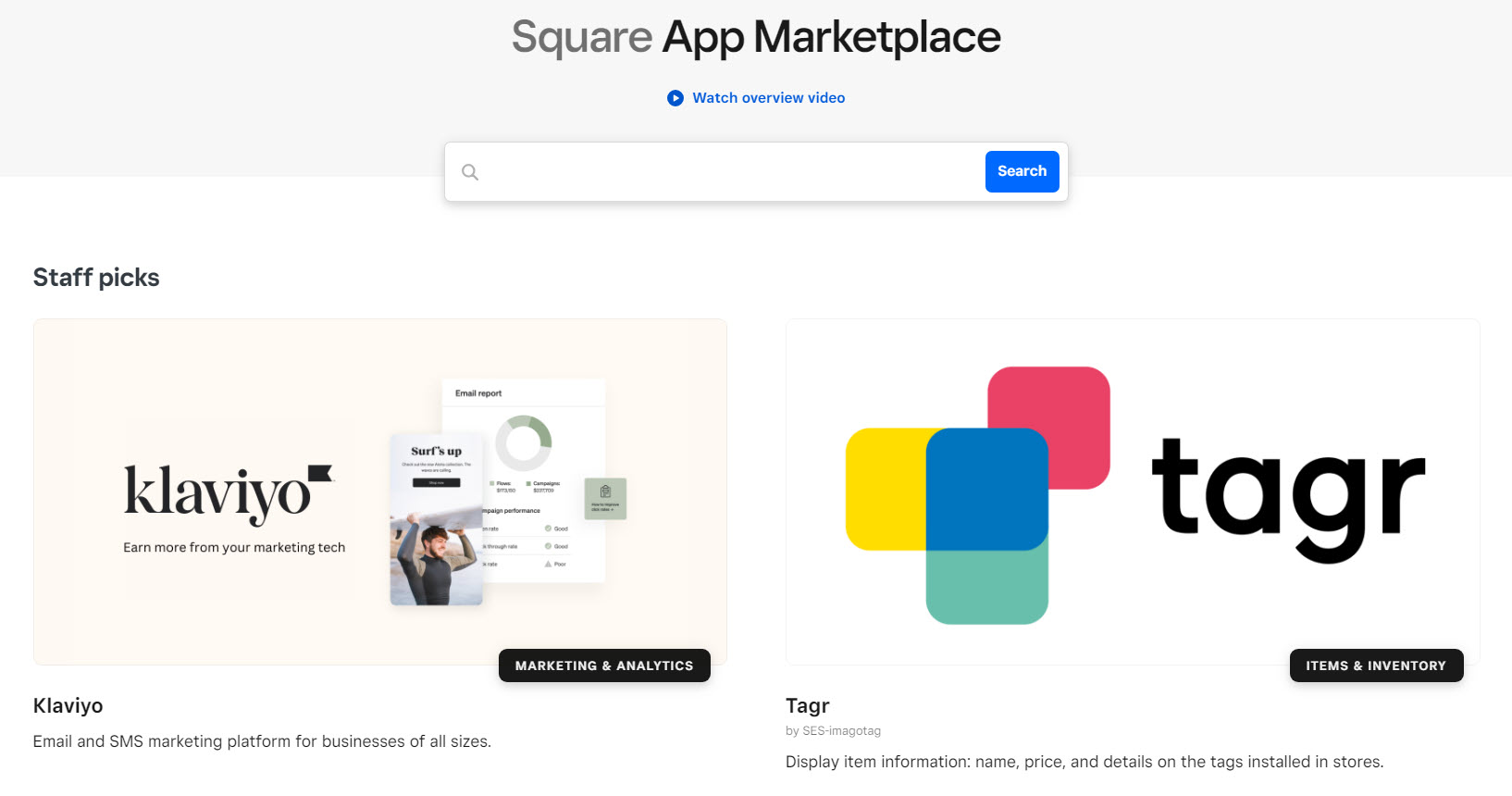 Image via Square
Square Review: Pricing and Costs
Square's pricing model is tailored to cater to businesses of all sizes. The platform offers both a free plan and several paid subscription options. This makes it easy for you to choose the features that best fit your operations and budget.
For this part of the Square review, we'll take you through its plans.
Free Plan
Square's free basic plan is designed to help businesses unlock some of its functionalities without any upfront costs. Here's what you'll get:
Online Checkout: Create and share QR codes, payment links, or buy buttons via email, text, social media, or even your website. 
Point-of-Sale App: Gain access to the basic Square POS system, which includes sales tracking, item management, and basic reporting.
Invoicing: Send unlimited invoices and estimates to clients or customers.
Virtual Payment Terminal: Key in card payments directly on a computer without requiring additional hardware.
Customer Directory: Perform basic customer management, including tracking purchase history and contact details.
Paid Plans
Square provides tailored paid plans to meet the unique demands of various businesses. Each plan has specialized features suited for different business sizes and needs.

Image via Square
Below is a quick comparison of Square's paid plans:
Plan
Target User
Key Features
Pricing
Square for Appointments
Retail businesses

– Online booking

– Automated reminders

– Multi-staff calendar

– No-show protection

Starts at $29/month
Square for Retail
Service providers

– Advanced inventory management

– Multi-location management

– Vendor management

– Purchase order creation

Starts at $60/month
Square for Restaurants
Restaurants/Food service

– Table layouts

– Order management

– Menu management

– Integrated tipping

Starts at $60/month
In this part of the Square review, we'll go in-depth and give you a detailed breakdown of the paid plans to help you pick the ideal one for your business.
Square Appointments
Service industries, consultants, and solo professionals often find their needs covered by Square Appointments.
This plan, starting at $29/month (per location), simplifies appointment management, client communications, and reminders. It also makes it easy for professionals to accept payments from clients.
Here are the benefits that Square Appointments provides:
An integrated platform for service bookings
Timely reminders and client alerts
Personal calendar synchronization
Measures against no-shows with prepayment options
Square for Retail
Specifically designed for the retail sector, this plan emphasizes seamless inventory management, efficient checkouts, and optimized operations.
Here are the features included in this plan:
Tailored solutions for retail businesses
Efficient multi-location inventory management
Quick barcode creation and label printing
Retail-specific sales reporting
Advanced settings for employee roles and permissions
Pro Tip: If you want to start a retail business, using Square for Retail early can set a strong foundation for efficient inventory and sales management.
Square for Restaurants
Square for Restaurants enables restaurant businesses to manage in-person/online orders, seating, and deliveries with ease.
Here's the value this plan provides:
Solutions fine-tuned for restaurants
Table layout management and order monitoring in real-time
Adaptable menu management
Integration with renowned delivery services
Flexible billing with tip adjustments
Also Read:
In-Depth Look at Square's Costs
One of Square's distinguishing attributes is its transparent pricing. There are no hidden fees, and businesses can confidently predict their expenses.
Here's a breakdown of the costs associated with Square.
Transaction Fees
Every time you make a transaction using Square, there are some fees involved. These vary depending on the type of transaction and play a crucial role in determining the overall cost of using Square for your business.
Below is a detailed breakdown of these transaction fees:
Card Present Transactions: When customers pay using a physical card through a reader or terminal, Square charges a fee of 2.6% + 10¢ per transaction.
Online Transactions: For ecommerce, invoices, and other online payment methods, the fee is 2.9% + 30¢ per transaction.
Manual Entry: For transactions where the card isn't present, and the details are manually entered, the fee is 3.5% + 15¢.
Invoices: When customers pay an invoice in person, online, or via platforms like Apple Pay and Google Pay, Square charges a fee of 3.3% + 30¢ per transaction.
Hardware Costs
While the Square app is free to download, you may want to invest in hardware for smoother operations.
Here are the hardware costs you need to know about:
Square Reader for Magstripe: Free, but additional readers cost around $10.
Square Reader for Contactless and Chip: Approximately $49.
Square Stand: Square POS (iPad) requiring no readers; priced at $149.
Square Stand Mount: Square POS (iPad) that can be carried around; priced at $149.
Square Terminal: A portable all-in-one credit card machine priced at $299.
Square Register: A fully integrated point-of-sale system; it costs around $799.
Square Review: Pros and Cons
Every tool, regardless of its capabilities, has its strengths and limitations. This Square review will be incomplete if we fail to assess some of Square's pros and cons.
Let's get right to it.
Pros
Square remains a recognizable name in the competitive payment processing market. Here are some reasons why:
User-Friendly Interface: Square's intuitive design ensures that even those new to POS systems can navigate its platform with ease. This user-centric approach significantly reduces the learning curve.
Transparent Pricing: Square's upfront pricing, devoid of hidden fees or long-term contracts, ensures businesses can budget and plan their expenses without unpleasant surprises.
Versatile Integrations: With a vast app marketplace and API availability, Square caters to both off-the-shelf and custom integration needs.
Holistic Business Solutions: Beyond mere payment processing, Square offers tools for inventory management, HR, team management, etc., making it a comprehensive business solution.
Robust Security Measures: As previously detailed, Square's security protocols, including encryption, fraud prevention, and chargeback protection, are top-tier, ensuring peace of mind for businesses and their customers.
Cons
While Square offers numerous benefits, it's essential to consider these potential limitations:
Holding Funds: Some users have reported occasional holds on funds, especially for high-value transactions. This can be inconvenient for businesses that rely on quick cash flow.
Costs for Large Businesses: While Square's pricing might be a godsend for small businesses, larger businesses might find custom solutions more cost-effective.
Customer Support Concerns: There have been instances where users felt that Square's customer support was less responsive than expected, especially during peak times.
Limited Offline Functionality: While Square does offer some offline transaction capabilities, there are limits, which might pose challenges for businesses in areas with unstable internet connections.
Ready for Business Growth? Try Square
Square Review: How Does it Fare Against Competitors?
Square is among the big names in the payment processing space. However, it's essential to see how Square stands shoulder-to-shoulder with key industry players.
Here's a comprehensive comparison of Square with its major competitors.
Square vs. PayPal Here
PayPal Here, an extension of PayPal, offers mobile point-of-sale features tailored to cater to businesses on the move.
As a competitor, it has been in the market for a considerable time, allowing it to refine its offerings and establish a great reputation. Let's compare both tools.
Ease of Use: Both platforms are designed with the end user in mind, but Square's POS system is often regarded as more intuitive, especially for traditional retailers.
Pricing: While PayPal Here provides a transparent fee structure, Square's flat rate becomes especially advantageous for businesses handling a higher number of transactions.
Functionality: Each platform offers enough ecommerce integrations, invoicing capabilities, and inventory tracking. Yet, Square manages to have a slight edge with its expansive suite of additional business tools.
Square vs. Shopify POS
Shopify, a name synonymous with ecommerce, has ventured effectively into the POS domain, targeting businesses that blend online and offline operations.
Here's how Shopify POS compares against Square:
Ecommerce Integration: Being a pioneer in online selling platforms, Shopify delivers a seamless online commerce experience. However, Square also has robust ecommerce solutions that challenge even seasoned players like Shopify.
POS Features: While both platforms offer a treasure trove of features, Shopify leans more towards online retailers. In contrast, Square extends its offerings to both online stores and physical storefronts.
Pricing: When you account for advanced features, Shopify's prices can rise quickly. Square, with its predictable costs, remains a more cost-effective option for businesses.
Square vs. Intuit QuickBooks POS
Intuit's QuickBooks POS system is an offshoot of its highly regarded accounting software solution.
Tailored for businesses keen on streamlining finances and sales, it offers a blend of payment and bookkeeping features. Let's explore these features.
Accounting Integration: Given QuickBooks' roots in accounting, its POS system offers unrivaled integration with its accounting tools. Square, however, offers a well-rounded suite that goes beyond just bookkeeping.
Features: Square offers a more extensive set tailored for retailers, covering everything from inventory management to customer loyalty programs.
Usability: QuickBooks, while undoubtedly powerful, can sometimes come across as a bit difficult to use. Square, keeping simplicity at its core, ensures users find their way around without a steep learning curve.
Step Up Your Business with Square
Who Should Use Square?
Square provides a suite of tools that are beneficial to professionals and businesses (of various sizes), such as:
Businesses that want an all-in-one platform for payments, inventory, and customer relationships.
Startups and small businesses looking for an affordable and efficient payment gateway.
Mobile operations like food trucks or pop-up shops that need a flexible payment method.
Service providers like consultants or therapists who value online booking and payment features.
Join Successful Businesses Using Square
Who Shouldn't Create a Square Account?
While Square offers numerous advantages, it's not a one-size-fits-all solution. Square might not be the ideal solution for the following businesses:
Businesses within high-risk industries that are prone to frequent chargebacks.
Large enterprises needing highly tailored solutions.
Businesses prioritizing the lowest transaction fees due to heavy transaction volumes.
International merchants operating mainly outside of Square's supported regions or heavily in multiple currencies.
Square Review: Customer Testimonials
The real test of a product's effectiveness and reliability often lies in the feedback from those who use it daily. Square has amassed numerous reviews from diverse businesses.
Here's what a few customers have to say about their experience:
"I have used Square for 8 years for accepting payment and recently upgraded to inventory management. Everything has been simple to use and reliable. I trust Square the most out of all the others because they are upfront with their claims and the are consistent. They don't try and sneak stuff by you." – Paddy Kuhn
"Square products last–I replaced my original chip/tap reader after a long 10 years of use and I still have my original swipe reader. Square's offline mode allows me to accept credit card charges even at art festivals in remote areas where cell phone/wifi connectivity are not available." – Gayle Knapp
FAQs
Q1. What are the downsides of Square?
While Square offers a comprehensive suite of tools for diverse businesses, a few concerns have been raised by users. These include:
Funds Holding: At times, Square may unexpectedly freeze suspicious transactions, which can disrupt cash flow.
Customer Service: Some users have expressed dissatisfaction with Square's customer support, particularly during critical situations.
Transaction Fees: Businesses with exceptionally high transaction volumes may find that the flat-rate fee model is less budget-friendly compared to tiered pricing.
Q2. Is using Square a good idea?
For a variety of business sizes, especially small businesses, Square emerges as a top choice. Its user-centric design, transparent pricing, and comprehensive ecosystem have endeared it to many entrepreneurs and retailers.
However, since every business has its nuances, it's vital to assess everything covered in this Square review before setting up your Square account.
Q3. Can Square be trusted?
Since its inception in 2009, Square has established itself as a top player in the payment processing domain.
It employs a multi-faceted security approach—from encryption measures to fraud prevention—to ensure both business and customer data remains under lock and key.
Q4. Is Square worth the fees?
Square's flat-rate fees are a notable selling point, offering predictability and simplicity. Yet, businesses with high sales turnover may find alternative pricing structures more cost-effective.
To make an informed choice, it's advisable to project your transaction volume and specific needs to determine if Square is your best option.
Q5. Is Square a POS?
Absolutely. Square functions as a Point-of-Sale (POS) system. It presents both software and hardware solutions, helping businesses streamline transactions, manage inventory, and cultivate customer relationships.
Maximize Profits with Square's Tools
Is Square Right for You?
Square has carved its niche, especially for medium-sized and small businesses, with its:
Comprehensive POS system
Transparent pricing
Robust security
Responsive support
All these features (and others covered earlier) make Square a top choice for businesses looking for a reliable payment processing solution.
When determining if Square is the optimal choice for your business, consider your unique needs and requirements. While Square offers a wide range of functionalities, your business might have specific needs or desire certain integrations that Square might not cater to.
In the end, the focus should be on selecting a platform that propels your business forward in the most efficient manner. Good luck!
Utilize Square's POS System Today
About the author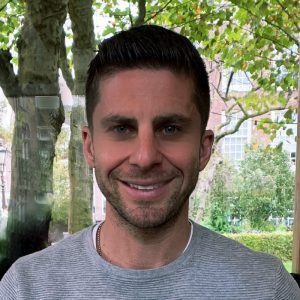 From selling flowers door-to-door at hair salons when he was 16 to starting his own auto detailing business, Brett Shapiro has had an entrepreneurial spirit since he was young. After earning a Bachelor of Arts degree in Global and International Studies from the University of California, Santa Barbara, and years traveling the world planning and executing cause marketing events, Brett decided to test out his entrepreneurial chops with his own medical supply distribution company.
During the formation of this business, Brett made a handful of simple, avoidable mistakes due to lack of experience and guidance. It was then that Brett realized there was a real, consistent need for a company to support businesses as they start, build and grow. He set his sights on creating Easy Doc Filing — an honest, transparent and simple resource center that takes care of the mundane, yet critical, formation documentation. Brett continues to lead Easy Doc Filing in developing services and partnerships that support and encourage entrepreneurship across all industries.