Virginia has 783,977 small businesses, which make up nearly 99.5% of all businesses in the state. 
These companies employ a massive chunk of the population as well. Nearly 47% of the entire working population of the state, i.e. 1.5 million people, works at these small businesses.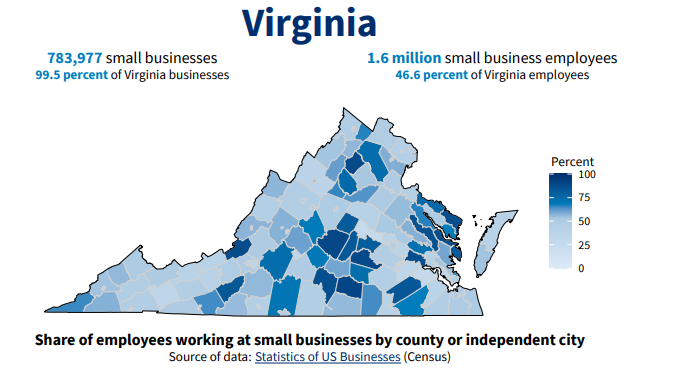 Image Source: Small Business Administration (SBA)

To become one of them, you must know the steps to starting a business in Virginia. After all, you don't want to end up missing out on the "Golden Age" of entrepreneurialism in the city of Richmond. 
So, how can you start a company in Virginia?
Let's find out.
Steps to Starting A Business in Virginia in 2023
Here's how you can start your company in Virginia in a few easy steps. 
1. Decide on an Idea
The very first step that you need to take to start a company in Virginia is that of coming up with an idea for the business.You must be clear on what it is that you want to do through your small business.
Sit down and think about the feasibility of the business idea before you charge ahead and establish your business model.Research the competing businesses in the state and figure out if they're faring well. It's a good benchmark to get an idea of the probability of your success.
It's also crucial to understand the consumer sentiment and figure out if they want to purchase the product or service that you plan to offer. 
Deep Dive Into Research
As you set on the course of starting your business in Virginia, why not put your best foot forward? Having a seemingly good business idea is not good enough on its own. You need to conduct thorough market research to answer preliminary questions such as:
Do you have a target market for the product/service you have in mind?
Is there an existing demand for the business idea you have?
How is your offering different from the ones that already exist?
Would you be opening a brick-and-mortar store or selling your services online?
Ready a Business Plan
Next, draft a blueprint of your business idea. It does not have to be set in stone or too detailed either. Its main aim should be to chart the path of your business entity with careful planning.
For example, your business plan ought to mention how you plan to raise your funds and spend them over a period. Including financial forecasts for your business entity is another excellent point that you can add. It can help you make sense of your business and understand what your financial journey would be like.
2. Choose Your Business Structure
The next step to starting a business in Virginia is that of deciding on the legal structure of your company.
This step is extremely crucial as it can determine how your business entity will get taxed. The business structure you choose will also decide whether or not you have any legal protection for personal assets.
Some of the business structures that you could choose in Virginia are:
Sole Proprietorship: In this structure, you're the only one doing the business. In the eyes of the law, you and your business are the same. In other words, there is no separate legal identity. If, for any reason, your business gets sued, you become personally liable for all the debts and actions of your sole proprietorship.
Partnership: If you've got a partner (or partners), it's a partnership business. Similar to sole proprietorships, a general partnership does not have any formally incorporated business structure. You can choose to file a Statement of Partnership Authority, if you wish. The absence of legal separation makes you personally liable for the debts incurred by the partnership, i.e. with unlimited liability.
Corporation: A corporation is a separate business entity that has a structure that includes directors, shareholders, and even officers. It's the most complex business structure of all. However, it offers personal assets protection for business owners. If you are a larger business, registering as a corporation would make more sense. It would allow you room for growth and investment.
Limited Liability Company (LLC): An LLC is a formal type of business structure that encompasses features of both corporations and partnerships. It provides limited liability to the members while having a separate legal identity. If you want to enjoy the flexibility of a simpler business entity with the same protections that corporations enjoy, start an LLC.
Many small businesses choose to form an LLC in Virginia to conduct business because LLCs are easier to form, require minimal compliance, and offer flexibility in management structure. However, you can also choose more complex business structures such as a Corporation to start your company in Virginia.
Read more about the best entities for starting a retail business.
3. Select a Business Name
The next step to starting a business in Virginia is to select a business name.
If you pick a generic business name, it might make your business unnoticeable. Your target audience may not even figure out what the business is all about. On the other hand, a very specific name may limit your audience.
You also need to check if you're not infringing on some other business' trademark or copying their name. So, you need to sit down and find a unique name for your business that doesn't lead to any legal ramifications.
Here are some tips that can help you select the right name for your Virginia business:
You might want to steer clear of names that are hard to remember or spell. Go for names that are memorable and have a better chance of clicking with your target audience.
Remember, some years down the line you may plan to add more products or services to your offerings. So, avoid picking a business name that is too specific to what you currently plan to offer.
If you have shortlisted a few business names in your head, it's best to check if a similar business name exists. It will be much easier to market a unique business name than compete with an existing one.
Apart from scanning Virginia State sites, you can go through the US Patent and Trademark Office (USPTO). It will help ensure there are no conflicts with the business name you have in mind.
Besides your registered name, you might want a DBA (Doing Business As) name for your brand identity. Many Virginia businesses use DBA to separate their legal business name from the ones they use in their marketing materials. We can help you apply for your DBA to help conduct your business smoothly.
4. Register the Business
The next step in starting a business in Virginia is that of registering the business name.
Here's how you can go about the process:
For Establishing an LLC
You need to file your Articles of Organization for starting an LLC in Virginia.
Once that's done, you can hold an Organizational Meeting to accept contributions from your members and issue Member Certificates. This needs to be done for even a single-member LLC. You also need to write your company Operating Agreement.
For Establishing a Corporation
Just like limited liability companies, you must file your Articles of Incorporation to register a corporation in Virginia

Hold an Organizational Meeting where you can organize the corporation and accept contributions from your shareholders. In the meeting, you should also elect the directors and offers, adopt Corporate Bylaws, and issue stock.
However, getting your new business registered in Virginia can be complex and time consuming, if done directly through the state's websites.  To make the process easier, we have created the following start-up packages with ease and affordability in mind: LLC Filing Package and Corporation Startup Package. We can handle all of your registration work so that you can concentrate on starting your company in Virginia.
Additionally, all businesses in Virginia are required to have a registered agent. In simple terms, a registered agent is an individual or business entity that can accept your legal and tax documents on your business's behalf. The chosen registered agent must have a physical address in Virginia and be available at the given address during normal business hours.
Your registered agent becomes your main point of contact for the state to send all the government communication of your business. If you wish to hire a registered agent, we can help.
5. Obtain Your Federal Employer Identification Number (EIN)
The next step in starting a business in Virginia is applying for an EIN.
The Federal Employer Identification Number (EIN) is the most important number for your company. It's the equivalent of the Social Security Number for companies.This 9-digit tax identification number issued by the Internal Revenue Service (IRS) serves as a unique identifier for your business.
But is it mandatory for every business entity in Virginia to have an EIN? Not really.
For sole proprietorships or single-member LLCs with no employees, an EIN is optional. In both these cases, the business owner's personal social security number can be used to identify the business.
However, we suggest, regardless of the type of business entity you are, it is best to have an EIN. If you need to apply for a business loan or open a business bank account, you will need an EIN.
The EIN is also needed for obtaining certain business permits, filing tax returns, and enjoying the benefits of a self-employed retirement 401(k). It can prevent identity theft too as you don't have to fill out paperwork using your social security number.
When it comes to LLCs and Corporations, it's a necessity to get EINs. Without an EIN, you can't hire employees or open a business bank account. Even if you don't intend on hiring employees, it's essential to have an EIN for your company in Virginia.
To get your EIN from the IRS, and to file your Virginia Articles of Organization or Incorporation, all you need to do is fill out this simple form to start your Corporation or LLC in Virginia. We'll file for your EIN with the IRS as a part of the business formation package. If you are starting an S-Corp, there is a separate application here. 
6. Create Business Bank Accounts
Now that you've got your EIN, your business will be eligible for a bank account in Virginia. That's your next step. Having a separate account for your business ensures that you can keep your personal and business-related expenses separate. 
Keeping your personal and business bank accounts separate can help you isolate your business expenses from personal transactions. It can help you maintain your liability protection while managing business transactions with ease.
Even though it's not a legal requirement for sole proprietorships and general partnerships to open a separate business bank account, it is recommended to do so.
Both these forms of business entities can then benefit from better-organized finances, especially during tax season.
Once you've created a business bank account in Virginia, you can apply for a business credit card as well. This can help you build up your credit profile which can come in handy at a later stage to get loans and credit.
The process for opening a bank account is subjective to the bank you decide to open an account with. You can call your bank and inquire about the steps involved and accordingly go ahead with the process.
Some of the documents that might be required are:
EIN
Company resolution to open a bank account
Filed paperwork
With our start-up packages, you get up to $450 cash back from two of the top banks for new and small businesses: Chase and Bank of America.
7. Get Relevant Licenses and Permits
Registering your business, getting an EIN, and opening a bank account aren't all you need to do to start a business in Virginia. Each business also has numerous licenses and permits that are needed for it to operate. This is an important step in trying to establish a business in Virginia.
There is no state-wide business license requirement that all businesses in Virginia must have. However, depending on the business you are in, your location, and how you structure your business, you may need different permits and licenses.
Does your business in Virginia require specialized training? If so, it will require professional business licenses from the licensing authority in your state. For example, occupations such as cosmetology, professional wrestling, or personal care services may require special licensing and certifications.
Furthermore, many local jurisdictions require business licenses for all types of businesses. For example, if your business is located in Virginia Beach, it requires all businesses operating within the city limits, even home-based ones, to obtain a business license.
These licenses are set by city ordinances and are often subject to change without prior notice. It is best to stay updated with your local jurisdiction for your licensing requirements. More so, if you are in a business where you need to renew your registration yearly.
The business license and permits are issued by different agencies. You can check their websites for relevant information.
What else, you ask?
Some of the licenses are also subject to the state of Virginia. For these, you'll need to check out the state government's website such as the Virginia Department of Professional and Occupational Regulation (DPOR). The site can let you know the necessary qualifications for applying for each license and where you can apply. Or, you can always take the help of professionals to help you obtain your licenses and permits for starting a business in Virginia.
8. Check Zoning and Your Business Location
Once you've got everything in place, the next step is to find a location for your business in Virginia. Without a business location, you'll not be allowed to start your business. Even if you're working from home, it's essential to your business location specified. 
Before you zero in on a location, we suggest you take the time to evaluate the costs of running your business in the desired spot. Will you be able to afford the rent and utilities in the long run? Keep your business plan and financial forecasts next to you as you chalk out your finances to ascertain your affordability.
Another key point to consider before finalizing a location for your business in Virginia would be to understand the demographics of the town or city in consideration.
Will your business work in the area you have in mind?
Are there competitors nearby who can eat into your profits?
Will the local residents have an interest in your offering?
Asking these questions can help you make an informed decision.
Once you establish your affordability and understand the demographics, ensure the desired spot is zoned to start your business in Virginia. You can do this by looking at the zoning regulations for the specific town or city you are considering for your business. You may even reach out to your town's planning or zoning department for it.
A good alternative could be to consider starting a home-based business. For this option too, you will need to check the local zoning regulations. Additionally, if you rent your home, you will have to review your lease together with homeowners association rules (if applicable). There is a chance that the terms and conditions laid out in these documents may prevent you from running a home-based business.
9. Get Business Insurance
The next step in the process is getting your business insured against possible risks.
While insurance isn't a necessity for all businesses, it's essential for many businesses, especially ones which have a brick-and-mortar presence. When you start a company in Virginia, you should try to safeguard it from catastrophes through your insurance. That's why it's necessary to select the right type of business insurance.
Some of the common ones are:
Workers' Compensation Insurance – Workers' compensation insurance is a necessity if you've got more than two employees. This includes subcontractors that you may hire. Workers' Compensation Insurance covers everything from medical bills for injured workers to compensation for lost wages. It also covers costs associated with internal employee disputes and victims of crime at the workplace.
General Liability Insurance – The general liability policy is helpful for all sorts of businesses. It protects your business against any lawsuits resulting from negligence, injuries, or accidents.
Professional Liability Insurance – If you offer professional services, you can opt for professional liability insurance that'll protect you from negligence claims made by clients.
If you want to get the word out about your new busCommercial Property Insurance – In case of theft, fire, or weather damage, Commercial Property Insurance can protect your business and provide a safety net.
Cyber Liability Insurance – If your business in Virginia experiences a data breach, this insurance cover can protect your company.
Commercial Auto Policy – All the vehicles you use for your business can be insured using this specific insurance cover.
Umbrella Insurance – This can be used to extend coverage to exceed the policy limits of your other business insurance plans.
We recommend HISCOX insurance for protecting your business you are working so hard to build.
10. Secure Funding
Starting a business requires money, lots of it. More often than not, you may require funds before your business can start turning in a profit. This automatically brings in a need to raise adequate funding for your business to cover startup costs and conduct business for the first few years.
Here are a few funding options you can explore for starting your business in Virginia:
Bootstrapping: If you have enough capital saved up from your personal savings and current income, you can use it to start your business. As your business starts to pick up the pace and bring you profit, you can reinvest it back.
Friendly Loans: If you can loan some money from your friends or family, it can help you get your business started. It's best to have a written agreement in place along with a repayment plan to avoid any misunderstandings later on.
Grants: Depending on where you plan to register your business, you may be eligible for some small business grants. Find out if you are eligible for any business grants and complete the application process with a grantor.
Bank Loans: You can approach a bank or a lending institution to grant you a small business loan. However, this may not always be easy considering you don't have a financial history to back you up.
Angel Investors or Venture Capitalists: Angel investors are wealthy individuals who typically invest in a startup in the initial stages. Venture capitalists are private equity investors who can offer capital to a company in exchange for an equity stake. These are ideal for corporations.
Crowdfunding: Depending on the nature of your business, you could be a good candidate for crowdfunding. This method involves receiving small donations from an audience that believes in your business plan.
11. Market Your Business Online
iness, you must leverage the power of the internet to build an online presence. Your target audience should be able to find your company when they search on Google.
Here are some tips to get you started:
Set up a Google My Business account which can allow you to see how your business appears on the search engines result pages (SERPs).
The account can be used to improve traction on your website. It can link to insightful information about your business such as customer reviews, hours of operation, physical address, website, and more.
Build a user-friendly and robust website to attract more traffic to your business. Ensure that your site is SEO-friendly so it can rank higher on the SERPs.
Social media has become an intrinsic part of our lives. Don't forget to harness the power of your business social media accounts to drive attention to your offerings. Consider platforms such as Facebook, Instagram, and Twitter that have millions of users to grab more eyeballs for your business.
Consider creating accounts on review sites such as Yelp and Google Reviews. This also helps build credibility for your business online.
Whether you hire an agency to handle your business's advertising or opt for the DIY route, leverage paid advertising to reach more people.
For organically increasing your visibility, check out your local media outlets that can give your business a positive review.
FAQs
1. How much does it cost to start a business in Virginia?
The cost to start a business in Virginia can vary significantly depending on the type of your business and the location you choose. Some of the common costs that you can expect to spend on include:
Formation of business entity
City business license
Registered Agent fee
Other licenses and permit
2. What licenses are needed to start a business in Virginia?
You don't require statewide business licenses to operate in Virginia. However, based on the location and nature of your business, you may require special licensing or certifications.
For example, if you want to open a restaurant, you will require food permits and other such licenses. These permits and licenses are issued and regulated by different agencies.
It's best to call your local government office to confirm whether you are complying with all the regulations required for your business.
3. Which business structure should I choose for my business in Virginia?
LLCs are usually the best option to choose for your business. They offer the best of both worlds—the flexibility of sole proprietorships and the personal asset protection of corporations.
The tax advantages offered by LLCs make them a superior option among business structures. However, it's always recommended to look at your funding requirements and the nature and size of your business to make an informed choice.
4. How long does it take to start an LLC in Virginia?
It hardly takes any time to start an LLC if you file it online. For the mail filing, it may take 7 business days. If you hire a professional LLC service, then it can be done faster with expedited processing of your LLC application.
5. Would I need another registered agent if I expand my business outside Virginia?
Yes, you require a registered agent in each state your business is in. In case you expand your business outside Virginia, you will have to appoint a registered agent who has a physical address in the new state.
Ready to Start a Company in Virginia?
When you're just starting a business, you might find it challenging to figure out how to start a company in Virginia. However, the process, though lengthy, can be streamlined. 
You need to come up with an idea, choose your business structure, register the business, obtain an EIN, and start off. It's also necessary to create bank accounts, check zoning regulations, obtain relevant permits, and get business insurance and secure funding.
It doesn't stop there. Once you have started a business in Virginia, make sure you start drawing more people to it by building an online presence too. Showcase your offerings, communicate with your customers and promote your business through various social media platforms for success.
With professional help from GovDocFiling, this process is quick and easy. Learn more about what the LLC and Corporation start-up packages include, and get started today!